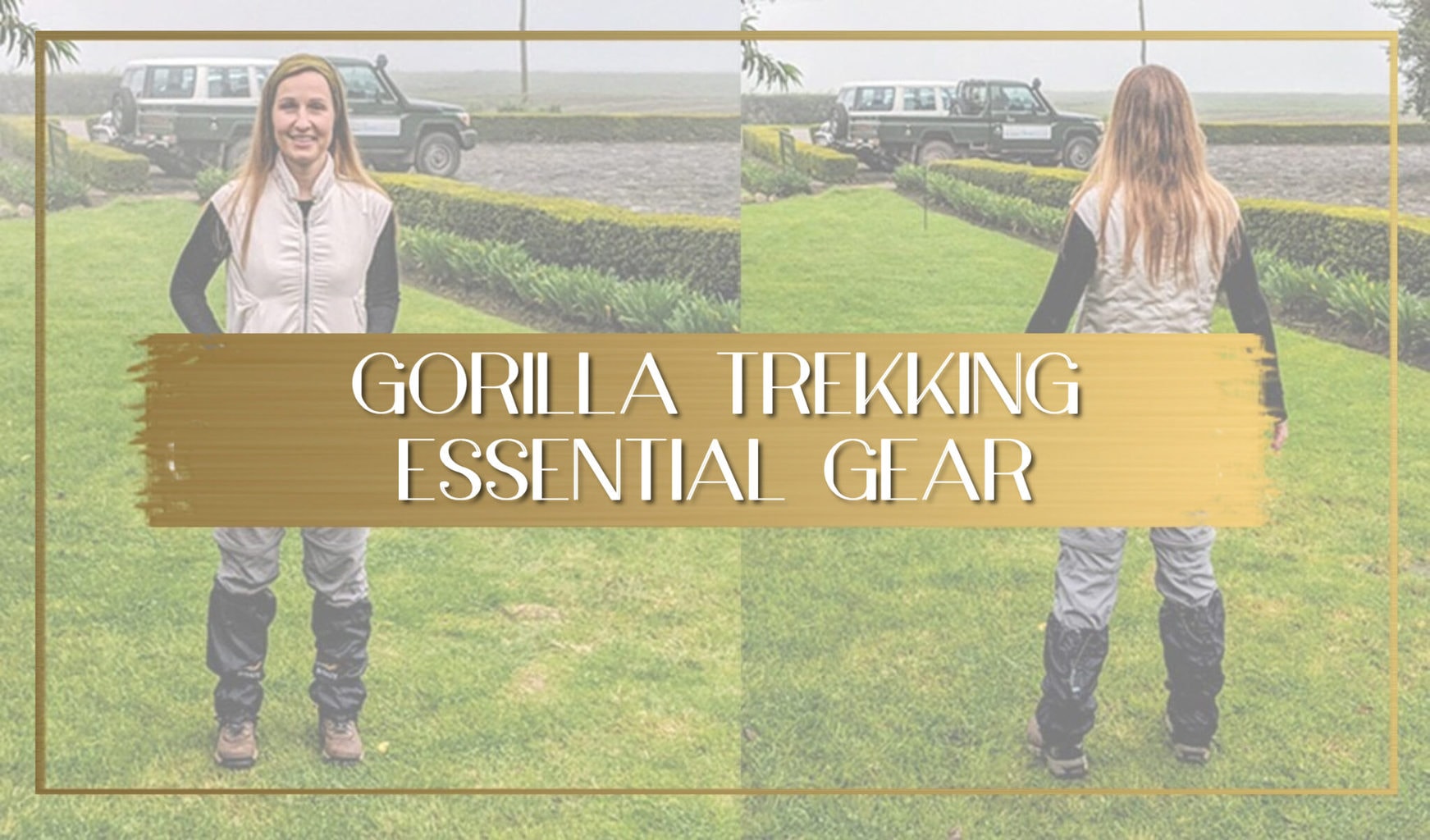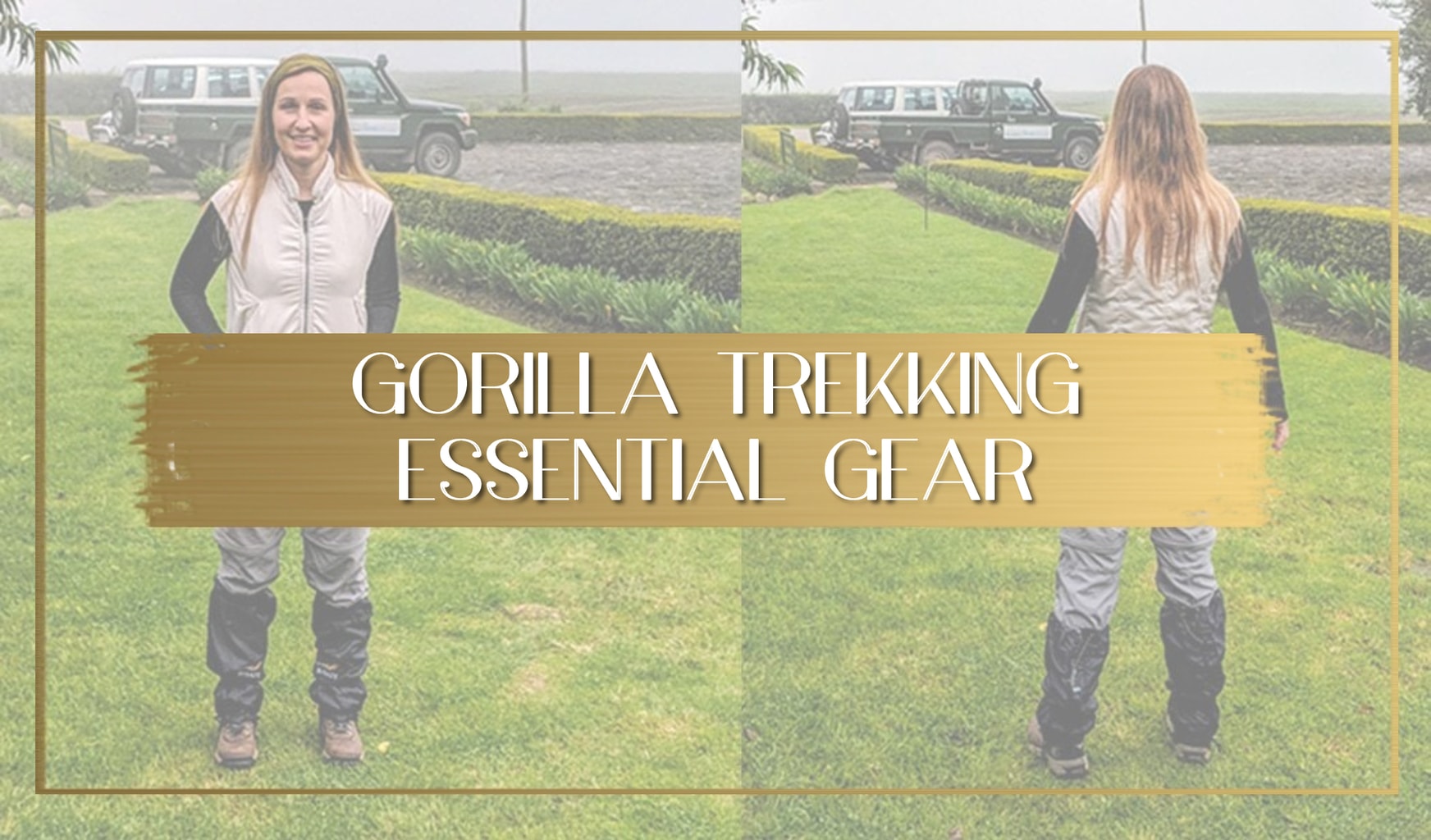 I have been to see gorillas both in Rwanda as well as Uganda so I can compare the experience in both and with the DRC. I decided to put together this gorilla trekking packing list to help you plan your trip. What you wear to a gorilla trekking excursion is critical to ensure you make it to the gorilla family assigned to you unscathed, dry and unharmed in the rough weather and terrain. Packing the right gorilla trekking gear is essential because you will not be able to buy anything while on the ground (or it may be very expensive).
Although gorillas both in Rwanda and in Uganda are spread across the Virungas Mountain Range and Bwindi Impenetrable Forest, what you need to wear for a gorilla trek will vary slightly depending on what park or country you see the gorillas at.
This article covers your packing list and gorilla gear for both Rwanda and Uganda with a common section for items you should bring with you to either of the two and then a separate section with items that are specific to Rwanda or Uganda. If you are visiting the gorillas in the DRC, you should pack the same as for Rwanda since the terrain and park are the same.
Gorilla trekking gear packing list – What to wear to gorilla trekking in Uganda, Rwanda and the DRC
Whether you are going gorilla trekking in Uganda, Rwanda or the DRC, there are some packing items you need to bring to both. The following is an essential gorilla trekking list. I had all these items with me and they were all invaluable.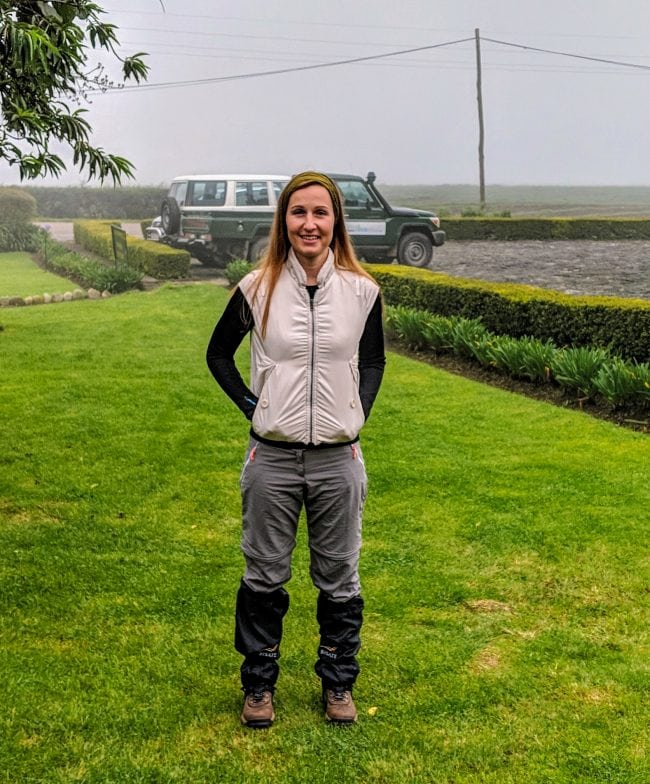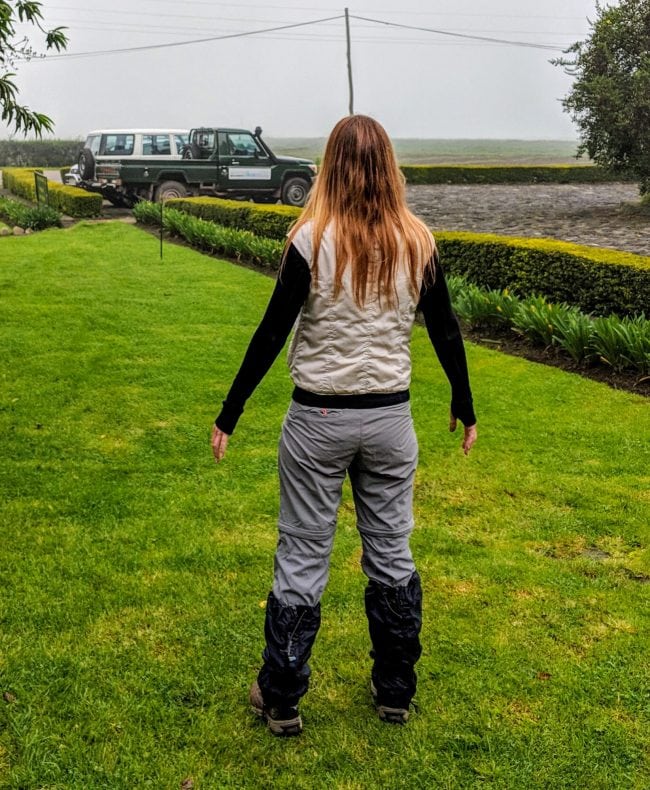 1. Long safari style trousers
No matter where you go gorilla trekking, the vegetation will be thick, lush, high and filled with plants, bushes and tree branches. Wearing long trousers is critical to ensure you do not return covered in bruises, scratches and rashes from reactions to plants like nettles which are particularly nasty in Rwanda.
You should always wear clothes in colors which abound in the wild to camouflage and minimise the impact on wildlife. It is therefore recommended that you wear shades of green or brown. White trousers would be a real mistake as they will return black from the mud.
Other things to consider when choosing the right trousers for gorilla trekking:
Your gorilla trekking trousers should be easy to tuck into socks and give you the ability to trek up and down mountains and have freedom of movement so it is best to avoid really tight clothes.
Pockets are useful but it is likely you will have a backpack and enlist the help of a porter to help you carry your stuff.
Waterproof trousers are a good idea but do not worry too much. In case it rains, keeping your feet and body dry is the most important thing and water repellent trousers do a good job if you are walking in the rain.
Packing detachable trousers that are typical of safari will also help you be more efficient as you will be able to use them as shorts in other parts of you trip when it might be hotter.
Here are some of my favorite items from Amazon.
2. Long safari style shirts or t-shirts
The weather can change and get cold in the higher altitudes of the parks, or it can turn into really warm and humid so the best top to wear, in my opinion, is a merino wool layer which can keep you really warm if necessary but will not suffocate you if it is warmer.
I was wearing my icebreaker 210 gram merino wool base layer under my rain jacket and I was warm and did not get to sweat. While Bwindi Impenetrable Forest is thick, it is not as high as the Volcanoes National Park so a thinner layer is advisable.
What you should consider when picking your gorilla trekking shirt:
Again, your top should ideally be of the same safari type of colours, khaki, green or brown, but it can probably be any other colour if you are going to wear a rain jacket on top, which you should always bring on gorilla trekking.
Long sleeves to protect you from the plants and bushes.
Ideally, one of those t-shirts that have a thumb hole will also protect the back of your hands. My merino wool icebreaker had this and I found it quite useful.
Here are some of my favorite long-sleeves tops to bring gorilla trekking.
3. A rain jacket or waterproof jacket
This is probably the most essential of the gorilla trekking gear items to bring. Why? Because the tropical areas mountain gorillas inhabit are lush and green for a reason and rains can occur anytime, even in the dry season. The last thing you want is to be in the middle of the jungle and for it start pouring down without sufficient covering.
Things to consider when choosing a waterproof jacket for gorilla trekking:
Make sure that your waterproof jacket is light, especially if you are going to see the gorillas in the drier summer months when it can get pretty warm. But make sure that you do not buy one of those incredibly lightweight and paper thin jackets that will probably end up being pierced by the many branches and vegetation you will be walking through.
It should also be breathable and not trap your body heat inside or you will be wearing a lot as you exert yourself walking around the mountains.
Opt for safari colours. Khaki, green, brown and avoid bright neon colours that cannot be found easily in the wild.
A hoodie is a must, make sure your rain jacket has one so your head and body actually stay dry.
Read the reviews of other people and make sure the rain jacket is not just water resistant but actually waterproof so you and your camera and other electronic equipment stay dry. There is a big difference between water resistant and waterproof if you need to be walking in the pouring rain for a while, water resistant jackets eventually get wet and let the water and moisture seep through.
Here are some thoroughly reviewed suggestions for waterproof jackets that fulfill the criteria above.
4. Hair bandana or hat
If you have long hair, an easy way to ensure your hair doesn't get stuck in the branches or end up filled with stuff falling from trees is to wear a hat or bandana. I found bandanas to be quite useful because they are light and you can pull them down as soon as you get out of the park if it is hot.
Here are some options:
5. Waterproof, hiking shoes with grip
The type of shoes you bring gorilla trekking will be your salvation or your fall. The local park rangers and guides all wear gumboots. They serve the main purpose of keeping you warm, even if you have to cross rivers, and have the necessary grip and shape to walk in the mud, the sliding soil and the uneven terrain. However, gumboots may not be the easiest to pack so alternatively, pack waterproof gore-tex hiking boots. The boots need to be ankle high at least and keep you dry should it rain or should you step in puddles, mud or rivers.
Under no circumstance should you wear open shoes or hiking sandals. Your feet need to be protected from the many stinging plants, branches and insects which inhabit this rich ecosystem.
Some things to consider when buying a pair of waterproof, gore-tex hiking boots:
Make sure the boots reach at least your ankle so they protect you from twisting it in case of a fall or if you slip in the very slippery and muddy terrain.
Do not be afraid to spend some money on these, they can make the difference between a miserable experience and a memorable one. Also, they will probably last you a lifetime and you can use them for all your outdoor trips.
Brands like Timberland have been making gore-tex boots for decades. In fact, the one below is the one I first bought for my gorilla trekking in Uganda 10 years ago and then used again for my gorilla trekking excursion in Rwanda. They were perfect.
Make sure they are hard leather so that the tip of the boot protects your toes from hitting any rocks. The Timberland ones below do that, the leather at the tip of the boot is so hard that you can pretty much kick a rock and your toes will feel nothing.
Pick a size that can fit a pair of thick socks.
6. Waterproof backpack
All of your belongings will be stored inside a backpack which you can carry with you on the trek or hire local porters to carry for you. Either way, it is important for that bag to be waterproof so that all your camera equipment stays dry.
7. Mosquito repellent
Bringing mosquito repellent to Africa is a no brainer as you should have it with you for your entire time in Rwanda, even in the rural capital of Kigali, or Uganda where malaria is still pervasive and the tsetse flies can give you a horrible bite.
But the important thing is to pack repellent that is powerful and can actually protect you in the thick tropical forest areas of the parks. The mosquitoes and other bugs here are supersized and they are immune to the softer version of repellent so make sure to pack a strong version with at least 30% DEET.
Beware that this is a very toxic component and is guaranteed to send you to the toilet if you accidentally put it in your mouth (e.g. if you don't wash your hands after spraying and then lick your fingers or eat a cereal bar).
I always use these two brands of mosquito repellent and have found them to be quite effective.
Packing list for gorilla trekking in Uganda – Additional items to bring
Aside from the basic gear that you need to bring for gorilla trekking anywhere, trekking in Uganda has other specificities that require extra items. Having trekked in both Uganda and Rwanda I found the packing list and the requirements for what to wear for gorilla trekking to be different, contrary to what other people may tell you.
The soil, the landscapes and the altitude is different so your clothing should also adapt.
1. Extra high and thick socks
The most important thing to remember for gorilla trekking in Uganda is the fact that Bwindi Impenetrable Forest gets its name for a reason. That means that, as soon as you stand still, all sorts of crawlies will come out and try to climb your feet and legs. Some of them are pretty dangerous or will simply give you awful reactions, like the red fire ants. And they are tiny so not easy to spot.
Therefore, the most important gorilla gear item in Uganda should be a pair of tall socks that you can put over your trousers. This way, if you need to stop to have a snack or to wait for the trackers to give more info on your gorilla troop location, you are sure that all the crawlies will not get to your leg.
This is equally important in Rwanda, but there, you should also be wearing gaiters, which are not required in Uganda because there are no nettles. I did not see any crawlies or insects coming out of anywhere or climbing anyone's legs in Rwanda. High socks are more useful to protect you from the stinging nettles instead, a very different risk.
2. Extra snacks and water
While your lodge will probably pack snacks for you, it is important to remember that gorilla trekking in Uganda is done from the same starting point for all visitors. That is, there is only one entrance to Bwindi Impenetrable Forest and all visitors seeing gorillas on the day will enter through the same gate and then disperse to find their gorilla family.
That means that you are likely to hike for longer periods than in Rwanda where there are dozens of park entrances and so you will go into the Volcanoes National Park through the gate that is closest to your gorilla family for the day.
As you will be trekking for longer, it is more advisable to bring extra snacks and water in case your trek extends and you are out for a few hours. In my case, we trekked for 2,5h before finding our family. Then spent an hour with them and hiked back. That made a total of 6h in the forest, enough to make you peckish and thirsty.
On the other hand, in Rwanda we barely trekked for one hour, spent and hour with the gorillas then exited the park via another gate that was only 50m from the gorillas so our trekking time was very minimal.
Packing list for gorilla trekking in Rwanda – Additional items to bring
Gorilla trekking in Rwanda differs from Uganda because of the terrain, mostly volcanic and made of loose soil, and the wider more open spaces, especially when the gorilla trekking happens in the Volcanoes National Park areas that are bamboo forests. In those cases, the sun will peek through so you can get sunburnt. The walk from the park's gate to the park also involves a hike through farmland, again, cleared skies means risk of sunburn.
Volcanoes National Park is also more filled with more nettles than Bwindi so you need to make sure to protect any exposed skin from nasty rashes.
1. Gaiters
Your lodge may lend you a pair of gaiters but it pays to check in advance. If they don't then make sure to bring a pair with you. They are absolutely essential or you will return home with painful legs.
Nettles are everywhere in the Volcanoes National Park and they grow tall and lush. No wonder they are one of the gorilla's most common dietary items. These are the wild, super strong variety so if you touch them or they touch you, expect a bad memory of the experience.
Things to know when choosing your gorilla trekking gaiters:
The best gaiters are the ones which reach up just under your knee and are hooked under your hiking boots so they do not get lost as you hike. Make sure they reach your knee or you will not be properly protected from the nettles.
Waterproof ones are also useful so they keep your feet and ankles dry in case of rain.
Make sure they can be tightened and are not too big for you, especially if you get loaner gaiters from the lodge. One of my gaiters kept sliding down.
2. Gardening gloves
This is something that nobody advised me to pack for Uganda and which I did not see the need for. However, if you have them or the lodge gives them to you, better safe than sorry.
Gardening gloves are particularly useful as part of your gorilla gear if you are trekking in Rwanda because of the lower vegetation and, again, the nettles. I found the trekking here to be through narrower parts of the forest with lower branches and more ups and downs than in Uganda. The gloves come in handy so that you can have some leverage when grabbing parts of the forest like branches or tree trunks, to help pull yourself forward.
If you are going to hire a porter it is likely that they will be there to hold you instead. I had the gloves with me but did not use or need them because the porter was there instead.
Some tips for picking the right garden gloves for gorilla trekking:
Since you will be wearing long sleeves and a rain jacket, you do not need the gloves to go all the way up.
Make sure to pick gloves which are thorn proof, like some of the ones selected below and which come with padding on your palm.
What not to wear on a gorilla trek
Apart from the above, it is also important to remember what you should not wear to a gorilla trek. Here are a few items that you should leave behind.
Colours other than neutral nature ones
Obviously, white clothes will get absolutely filthy in the mud and rain and you will never get them clean again. Black and dark colors are no issue but they are said to attract the tsetse flies so put on extra repellent. Camouflage patterns are for the exclusive use of the army so make sure not to end up being confused with them.
In Uganda, as we were trekking looking for our gorilla family, I saw an oncoming militia member carrying a bazooka. I was more shocked than scared but it can happen so avoid these colours. Solid khaki green or brown colors are best.
Expensive clothing that you do not want ruined
Like with white clothes, do not bring your latest and bestest gear to the tropical rainforest of Africa. It can get ruined. You will be better off with an old pair of sturdy boots than with a newly bought pair which may end up giving you blisters.
Food and drinks close to the gorillas
When you have spotted your assigned family and are ready to approach, your guide will ask you leave all your gear and equipment behind, take only your camera and binoculars and leave the rest with the porters a few meters away from the gorillas.
This is a safety measure and ensures that you do not leave anything behind and you do not cause the gorillas to be close to the smell or food. Make sure not to take any food with your in your pockets in this last stretch when you finally spend time up and close with the gorillas.