Sometimes we travel to escape routine. We look for far away places to experience new landscapes and immerse ourselves in new cultures. To me, travel is also a way to nurture the mind and body. Away from the busy day to day schedule I can explore at my own pace, linger in bed a bit longer or get up early to start the day with the sunrise and some sun salutations.
In the recent years, with an increased focus on wellness and health, more retreats are springing up across the world. Asia, with a tradition in ancient healing dating back to centuries, is a hot bed for these new approaches as apposed to vacationing. Get away from it all and come back re-energised and renewed. Here are my picks for the best retreats in Asia.
1. Ananda in the Himalayas
Ananda is a destination spa in the Indian Himalayas, about an hour's flight or two hour's private helicopter ride from Delhi. They have detox plans lasting from 7 days onwards which leverage the Ayurvedic principles and approach to massage and techniques.
Their Yogi detox program includes several yoga and breathing sessions, massages and other beauty treatments like facials. For those looking for a more in-depth meditation journey, there is a Self-realisation program too. Ananda believes in the strength of the mind so, even the weight loss management programs have a strong meditation element.
There is also trekking and cooking demonstrations on site for the guests to take part in.
What I love about Ananda: The setting, high up in the Himalayas above Dehradun in an old Maharajas Palace near Rishikesh and the Ganges. I am a fan of Ayurveda. I spent time at the Dhara Devi in Chiang Mai where I joined an Ayurvedic doctor on a wellness retreat and highly appreciated the approach, though it may not be for everyone and I may not agree with all its components.
What to know about Ananda: Some of their packages, especially their signature detox program, may include Ayurvedic treatments that may not be comfortable to all, especially enemas, so you are best to make the right choice. As Ananda cannot be reached from most international destinations, a connection via Delhi is almost a sure thing. If you don't have 7 days, there are also shorter getaway packages from 3 nights on.
Book your stay now on Booking.com | Agoda
2. Thanyapura
This is the place to come not just for the health and mind component but mostly for the body elements. Thanyapura offers training packages tailored for swimming, tennis or even to prepare for a triathlon. It is said that professional sports people come to the resort to train. Their facilities are some of the finest in Asia.
What I love about Thanyapura: This is not a mushy place, it is the destination for those looking for a tough workout or to get started on their triathlon journey. No slow meditation sessions and massages but rather hardcore sessions to kick ass.
What to know about Thanuaypura: Given the main focus is on the sports and fitness facilities this may not be the most conducive environment for relaxation or mindfulness in the peaceful sense of the way.
Book your stay now on Booking.com | Agoda
3. Chiva Som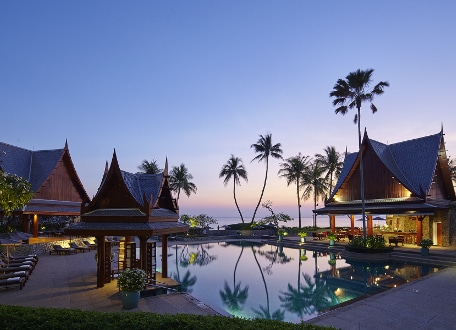 Chiva Som started the wellness retreat concepts years back and brought the trend to Thailand, turning it into one of the best known destinations in Asia for this type of vacation. Many of my friends swear by their programs, from the 3 day long weekend getaway to reset to the longer programs.
Chiva Som is a professional retreat and, as such, it may feel a bit stiff to some. The beauty of the surroundings will take all your worries away as the gentle waves of the Gulf of Thailand wash the shores of Hua Hin.
What I love about Chiva Som: This is luxury at its best and you can go alone for an even more in-depth search within yourself, to concentrate on mindfulness. Their shorter packages are long weekend ready and provide a good basis. As Chiva Som is the expert, you will be well taken of by a range of professionals in the various wellness and fitness disciplines.
What to know about Chiva Som: Their packages don't come cheap so expect to pay top prices for the retreat making it, most likely, a short one. You will be asked to leave your electronic devices behind in your room and not to use them in public areas.
Book your stay now on Agoda