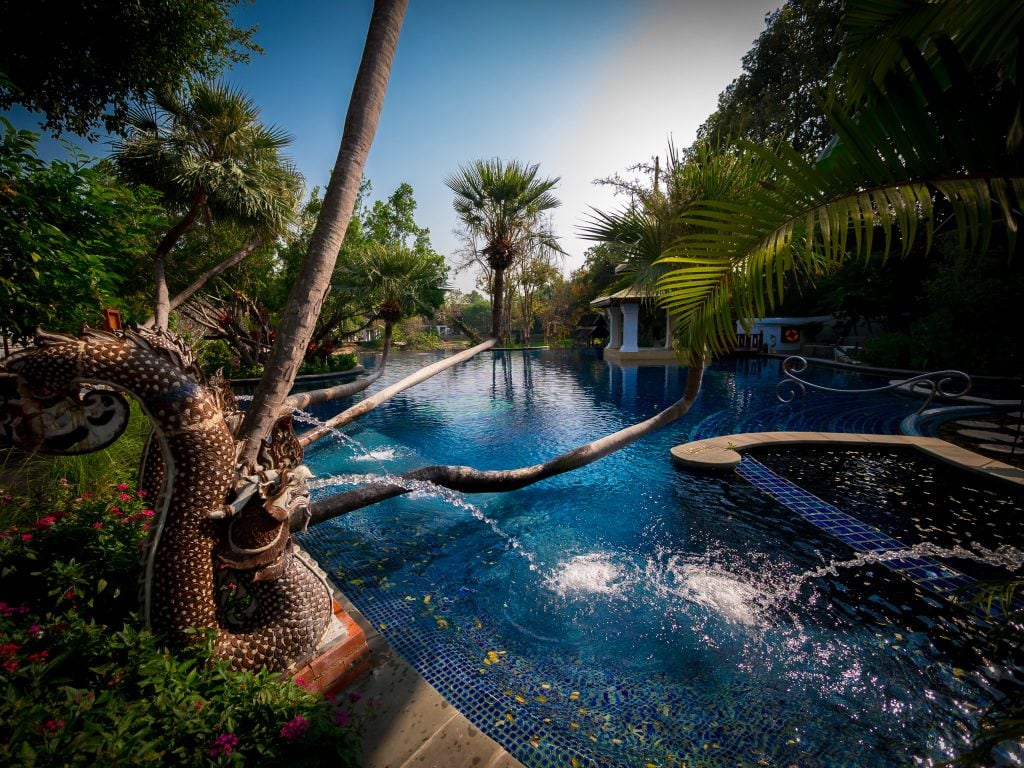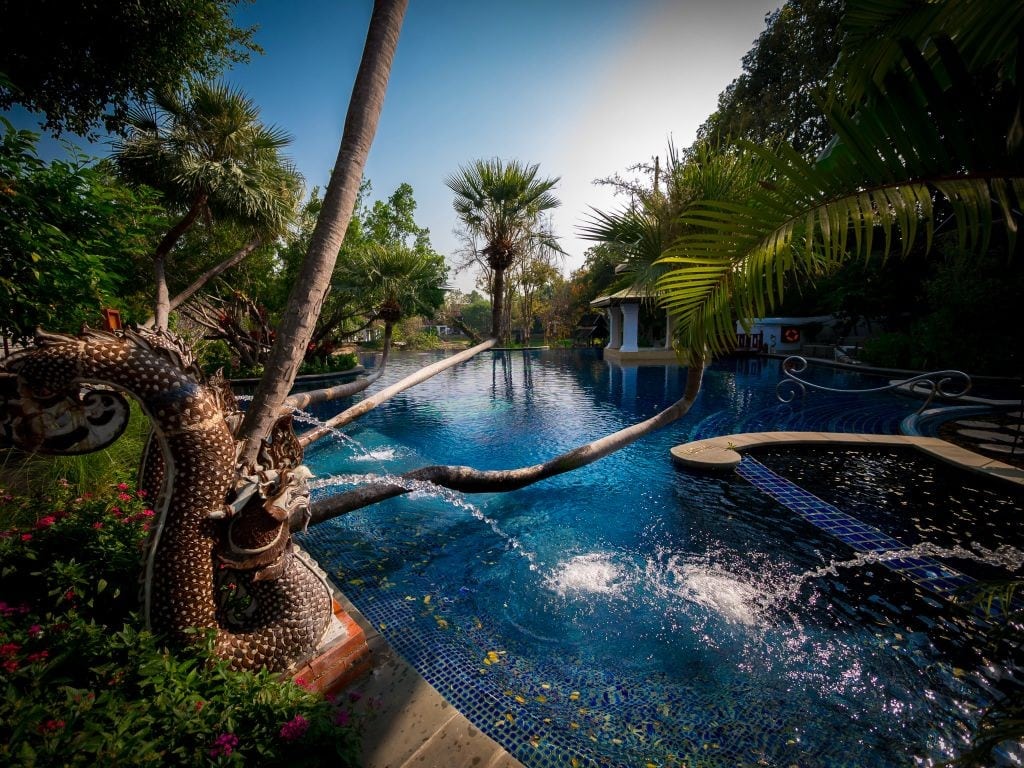 A 2014 American study found that 77% of employees suffered from stress. Whereas it is believed that stress is not just caused by a situation but by our perception if it, we will all agree that being able to manage and reduce that stress is beneficial and something we almost all strive towards.
Proof is the large amount of luxury wellness retreats in Asia that have sprung in the recent years trying to provide solace to the multitude of suit cladded people in search of respite.
Luxury Wellness Retreats – Why are they so popular?
Having a full time job and this blog to keep up with, together with a relationship, friendships, hobbies, interests and tons of travel is tough. I finish work at 5-6pm and I then run around trying to get chores done, seeing friends for drinks, writing and finally settling in at home with Alex.
By that time, it may already be passed 11pm. It is not that I am necessarily negatively stressed, to the contrary, I feel blessed and very lucky, but I suffer from "positive stress", having too many things, mostly good, to think about I wake up early with an urge to get out of bed and get going, "I have too much in my head to stay in bed snoozing", is a usual argument I will use when asked how I have so much energy in the morning.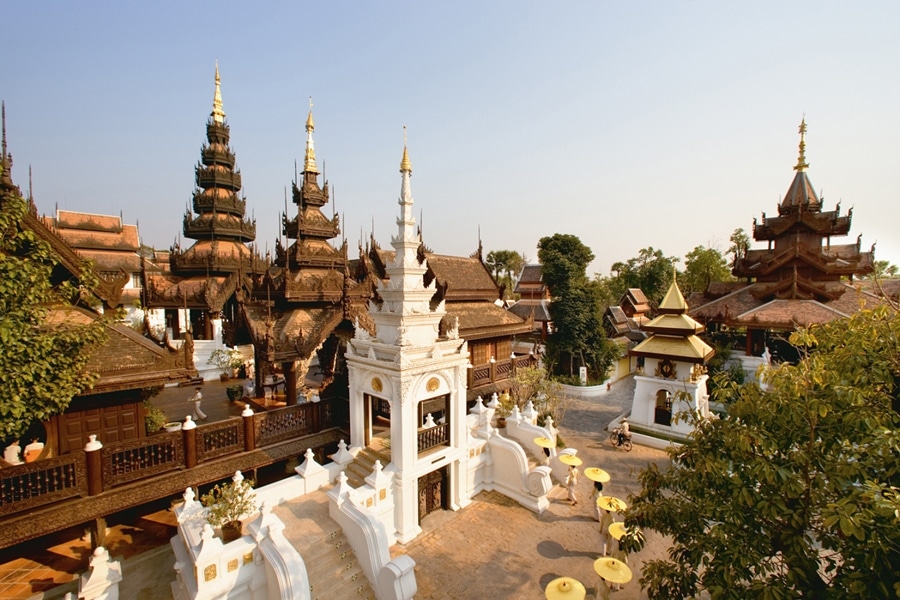 Although this is productive and positive stress, it still makes me nervous, rushed and regularly feeling like I am not in the moment, and feel frustrated. Apparently, I am not the only one as health and spa retreats in Asia have sprouted in the recent years with wellness packages in Thailand being the most popular. Spiritual retreats are also becoming more popular with those focused on meditation taking the lion's share.
With The Dheva Spa and Holistic Center Stress Management Retreat I focused on bringing back the consciousness and calmness that had been lost in my very busy life. And it did work, almost like a miracle, even on someone as nervous and active as me. A good spa holiday can help re-align and re-set priorities and needs.
Here's what one of the best Asian wellness retreats at The Dhara Dhevi consisted of and what the results were.
Dhara Dhevi Spa and Wellness Center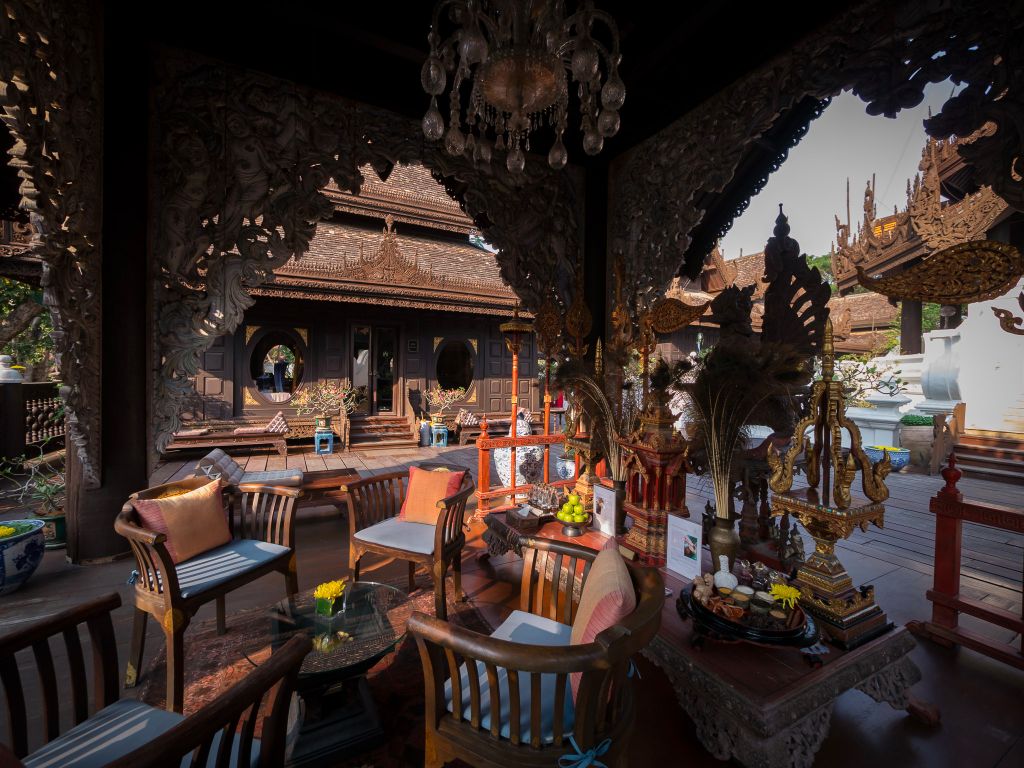 The spa and wellness center occupies 3,100 square meters of glorious suites, facilities and courtyards at The Dhara Dhevi Chiang Mai hotel. the building was designed to replicate the Mandalay Temple in Myanmar and it took a group of 150 artisans three and a half years to hand craft.
The level of detail is so painstaking that one cannot but be mesmerised as soon as the roof of the building comes into view. From the moment you step in, you are transported to a world of peace and wellness where body and mind align to energy flows and nature.
It is not just the building which is impressive, the interiors are equally grand with gold and marble taking enter stage. The indoor aqua yoga pool and various Vichy showers and Hamman are lavishly appointed.
Ayurveda consultation and Dosha survey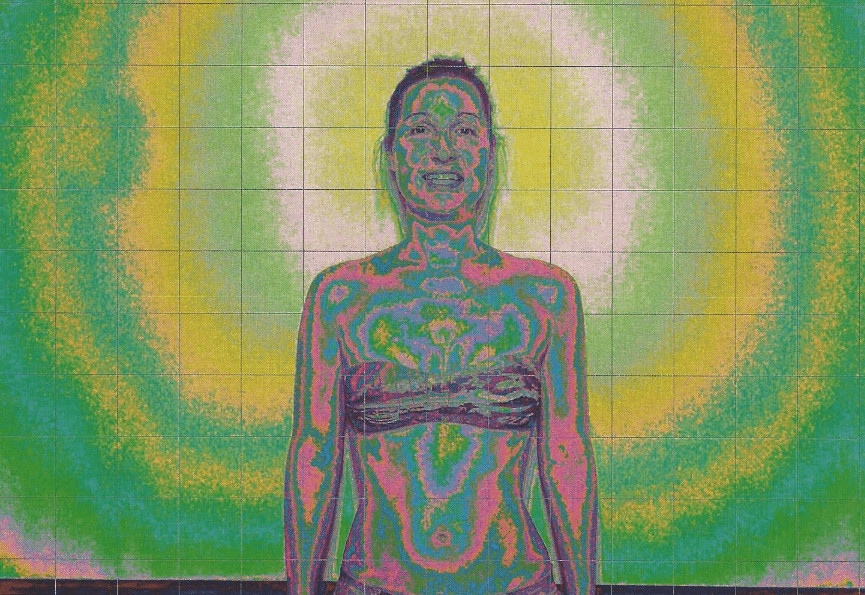 My treatments and course for the following three days started with a Dosha survey which was aimed at determining my Mind-Body type. Based on that, the Ayurveda doctor, Sunita, suggested the treatments and exercises best suited to my situation and the specific details of my wellness retreat.
Ayurveda believes that humans are made of a combination of three forces: Vata (Wind), Pitta (Fire), and Kapha (Earth), and that they are responsible for the characteristics of our mind and body. If Vata dominates, we are thin, light, enthusiastic, energetic, and changeable.
If Pitta is strongest, we are intense, intelligent, goal-oriented and excited about life. When Kapha prevails, we are easy-going, methodical, and nurturing. Most of us have one or two of these forces dominating over the other and the combination and proportions determine our nature.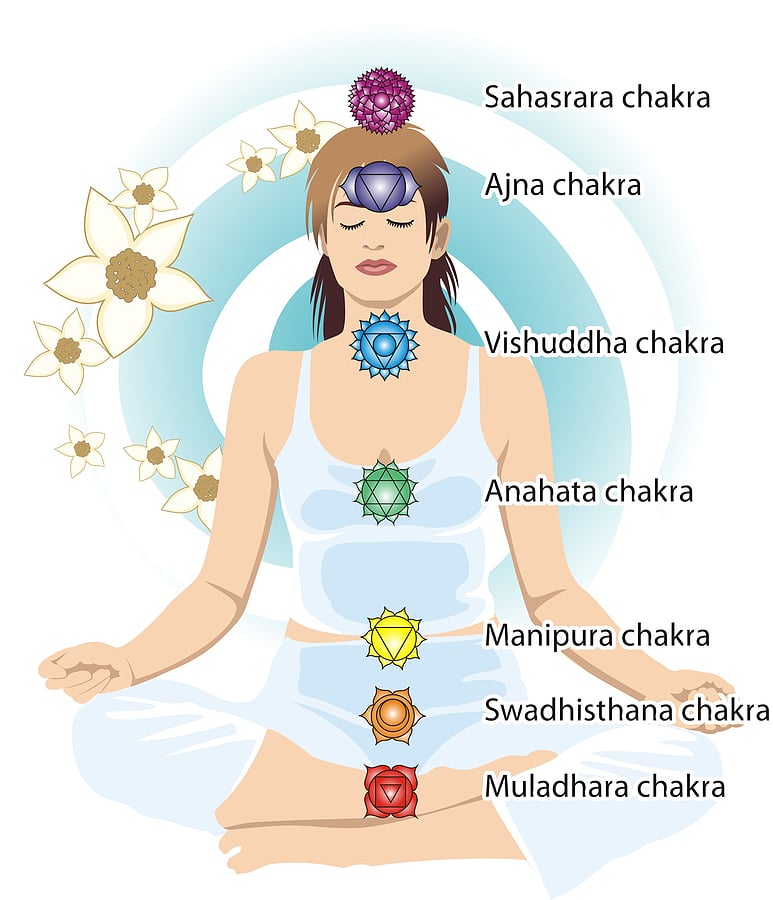 If there are imbalances in any of these forces we may experience unhappiness, stress, anxiety or any other mind or body problem. For example, if Vata is imbalanced, there is too much movement in the system and we feel anxiety, insomnia, dry skin, constipation and difficulty focusing. With too much Pitta the person is compulsive and irritable.
Excess Kapha causes sluggishness, weight gain and sinus congestion. The questionnaire asked me about all these symptoms as a way to identify possible areas of imbalance. This served as the basis for the spa retreat course of action.
Energy Field Imaging Scan (EFI scan)
To complement the questionnaire and fine tune the details of the spa retreat, Sunita also did an EFI scan. Invented by John Rogerson, Energy Field Imaging is, in his own words "a sensitive light meter which safely shows the body's energetic status in vivid colours and dynamic patterns".
EFI is a safe and non invasive sensitive light energy system that reveals and captures electromagnetic energy biofields, chakras, meridians and life forces based on photos of an individual. In more simple terms, it measures how much energy is coming off the body.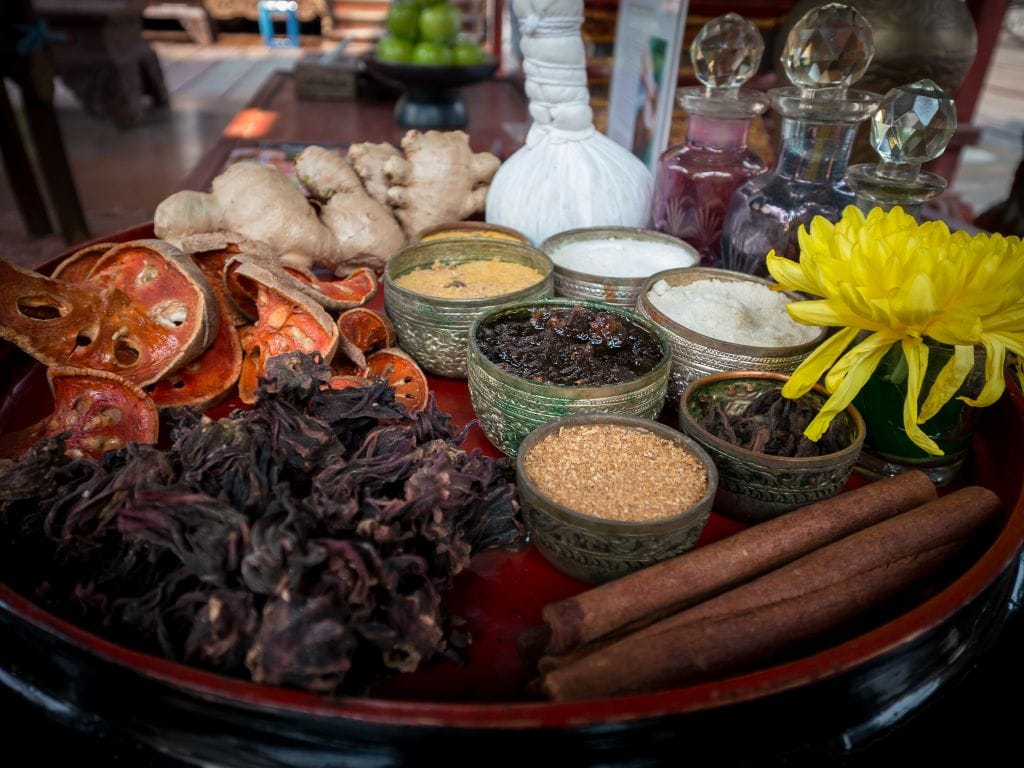 I had to stand against a white wall while Sunita took photos of my torso and head from all four sides. These images were processed by the software and returned something like a rainbow of colours which indicated the light waves and possible areas where there were issues, congestion or inflammation.
EFI also revealed posture imbalances and the body's energy flows. The colours of the scan could be indicative of where energy got stagnant. They were not explanatory of the cause, just of the existence of an issue.
My photos were pretty colourful. When analysing them, Sunita was looking for patterns where the rainbow of colours did not show all of the shades and instead got stuck with one only (for example directly to red circles) as that could determine that I had only one type of energy or chakra in a specific area.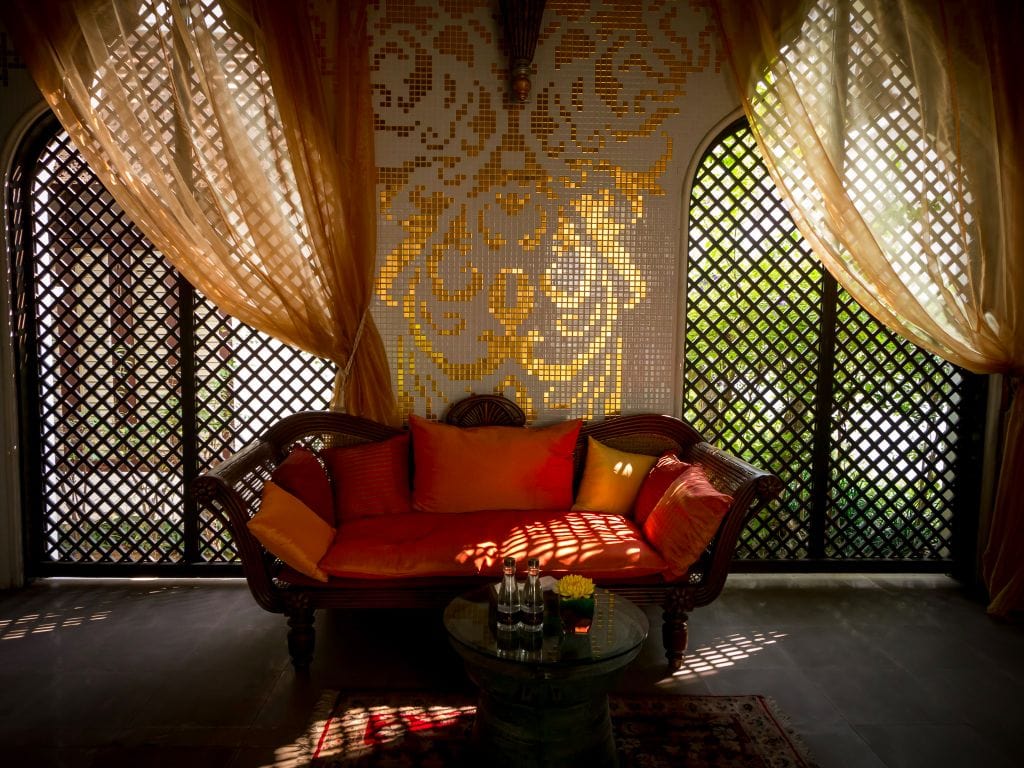 There are believed to be seven major chakras, which are arranged vertically along the axial channel (sushumna nadi). If one of the colours was missing, then we talked about it and what that might mean or what type of discomfort it might have caused. Usually, I was able to determine the cause through either my habits, the dosha survey, my dominang energy types of my known concern areas.
In my case, my front and lateral photos showed no issues. All my circles were pretty good and Sunita thought that there was no stress or area of concern on those. The images showed that I have a very healthy and strong digestive system, something that I am very proud of and lucky for. After years working and living in Africa and never caring about what I ate I realised that I had a pretty resistant stomach that could literally stomach anything.
My back images were not exactly as rosy, or rather, they were too rosy! My upper and lower back photos showed basically just red energy waves indicating that I have intense back issues. This was not news to me. I am seeing a physiotherapist almost every week to address the bad posture and the mild scoliosis, but it was quite interesting to see that the photos had caught it so clearly.
Ayurveda Massages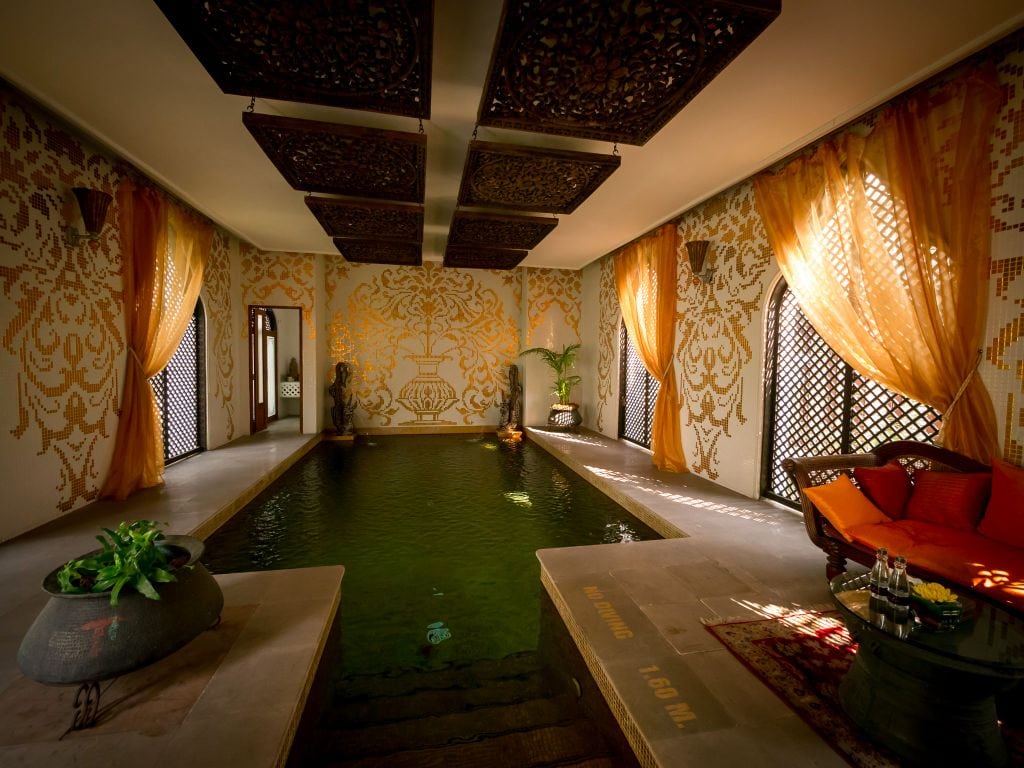 No spa retreat in Asia would be so without a fair dose of massages. Every massage at the opulent Dheva Spa and Holistic Center started with a relaxing herbal tea, to choose from three hot and three cold options, specifically brewed to order, and a foot scrub to "demonstrate humility, warm touch and high respects to our guests as owners of the house".
By the time I was showed to my spa suite I was already floating thanks to the chant of the birds, the soothing surroundings and the elegant design of the 3,100 sq meter Spa retreat.
Based on my EFI and Dosha analysis, Dr. Sunita recommended I take a Pottali abhyanga treatment consisting of a therapy using freshly prepared herbal rice compresses, 'boluses', that were dipped in warm fragrant oil and applied to the body using special techniques which helped to enhance immunity and circulation, creating deep relaxation for the body and mind.
The treatment lasted 1.5h and it also included elements of deep tissue massages as well as the rice compress. The compresses looked like lotus flowers and they were warmed up by the hot oil used. I was indeed fully relaxed after the treatment.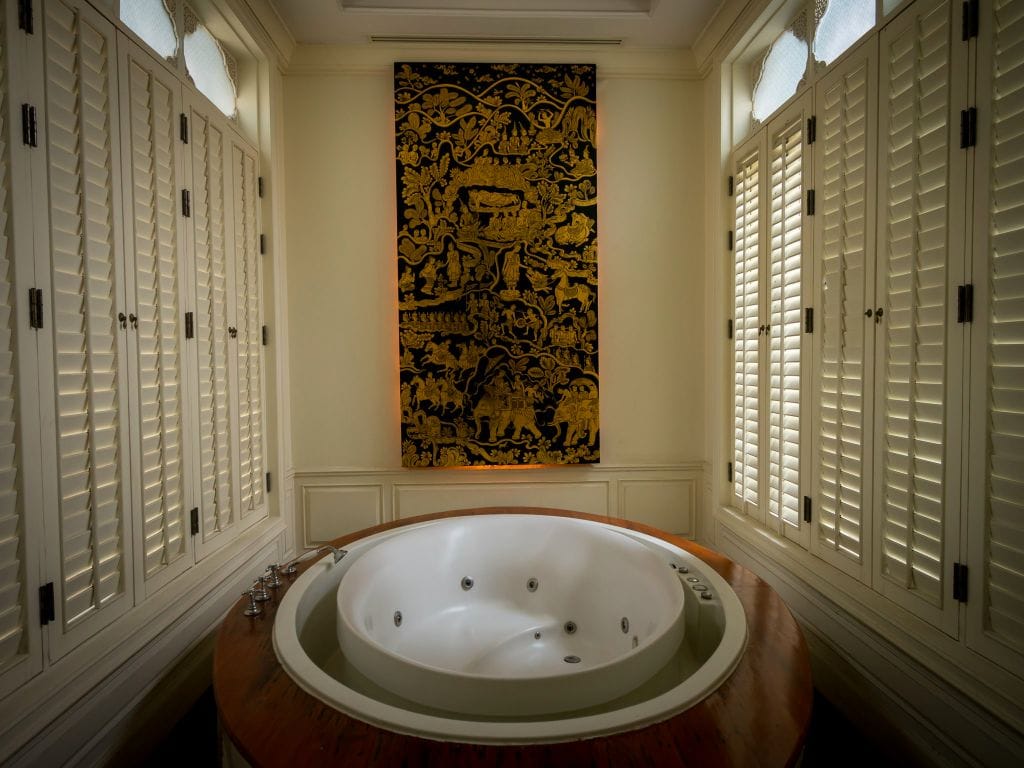 It would not be the best wellness retreat in Southeast Asia if it all ended there. I was indeed scheduled to come back for me to ensure that any stress was ironed out. The next day, I came back to the beauty of the The Dheva Spa and Holistic Center for my next round of treatments.
This time, it was a head oil massage. The therapist applied oil between my hairs until I was completely covered in it. Sunita insisted it was really good for the hair and scalp and I put up with it despite utterly hating feeling oily.
Fitness assessment
As part of the holistic Ayurveda wellness package, I was also to take a fitness test at the Health Center. Sunita recommended that I take a yoga session after the test. The Health Center staff and yoga teacher measured me around waist, arms, legs, and then I had to complete a series of physical exercises like cycling.
The yoga session was private and conducted at the rooftop yoga pavilion, above the swimming pool. It focused on deep stretches and on meditative elements so I was again, fully in peace after the session. He concluded that I was in pretty good shape, something that still baffles me to be honest, but I guess it is all relative.
Sunita also thought that I enjoyed very good health and was mostly well balanced. I heard her wonder why I was interested in a Stress Management Retreat when I did not appear to be stressed at all.
Stress management techniques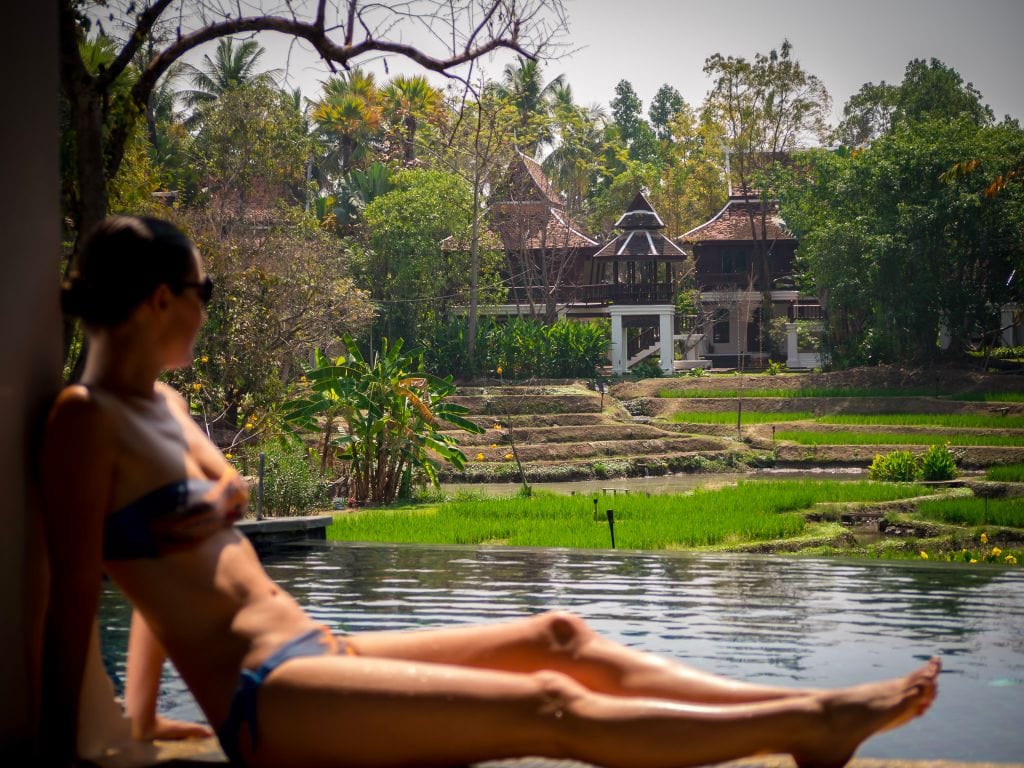 After the EFI scan, dosha survey, treatments, yoga sessions and fitness tests I went back to the Spa and Holistic Center one last time before departure to chat to Sunita about making the alignment and mindfulness reached last. The Spa Retreat was not meant to be a one off but to have durable and sustained impact on my lifestyle.
Sunita had prepared a complete report of 15 pages with my EFI scan results, my survey results, an assessment of my chakras and a list of recommendations in terms of food intake, food combining and meditation/relaxation techniques.
Given my wind and earth energy forces were dominating, she suggested I do not mix certain foods together, like hot and cold in the same meal or fruits with dairy. She also suggested I avoid certain other because they may cause inflammation. Something that today, my stomach can perfectly break down, but which may become as issue as I age.
But the most valuable take away were all the relaxation and meditation techniques and simple exercises she recommended. When I looked at the list I thought it was an easy to follow one and felt slightly skeptical that such small things could have any noticeable impact. To put them to the test even more, I also "submitted" Alex to the same techniques.
For an entire week before I had to set off to another trip, I made him wake up 30min before the usual alarm went off to have an oil back massage and repeat the relaxation exercises Sunita recommended before going to work.
We both did them for 6 days straight before I had to leave, then I continued on my own. Surprisingly, his usual "snoozing 10 times" routine disappeared with the massage I was giving him and after a couple of nights he was more than keen to forgo these 30min in the morning. That just goes to show that the recommendations worked like a charm.
I saw him and I more calm, more relaxed and less stressed. More importantly, I saw a visible difference in the level of mindfulness, we were both much in the moment.
The verdict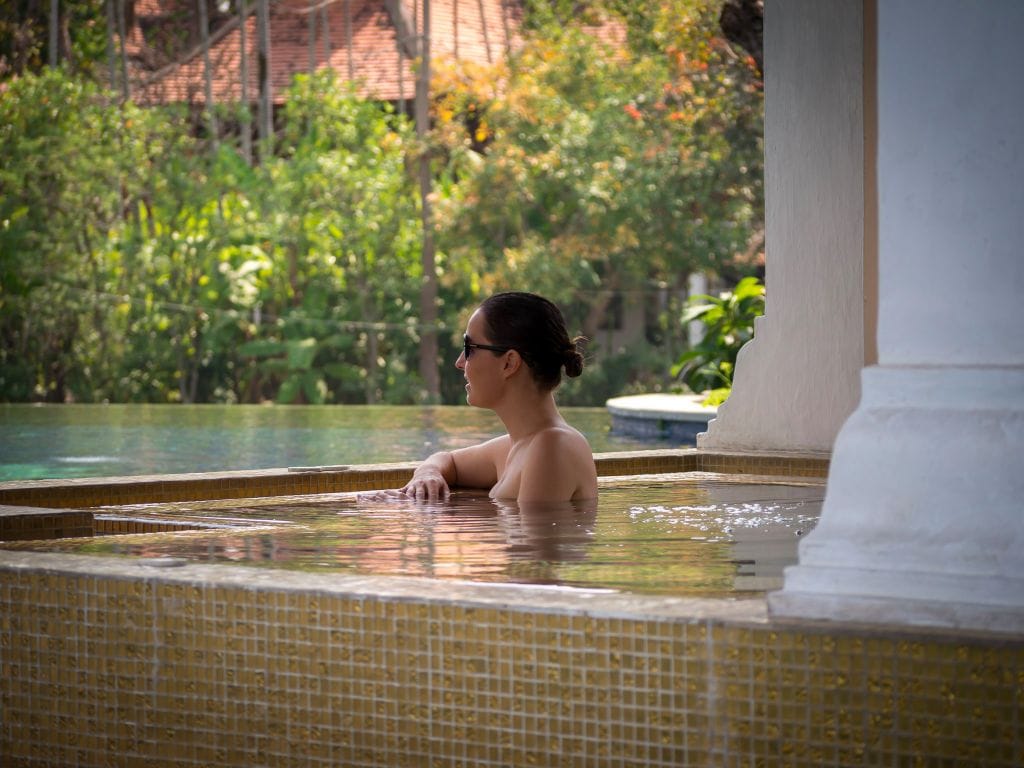 I cannot finish in any other way than by saying that, of all the massages, spas and wellness retreats in Southeast Asia I have been on, which are not few, this was one that gave me a different perspective and something more than just a great experience. It gave me something to think about and a newfound life practice that I hope to continue on.
The Dheva Spa and Holistic Center Stress Management Retreats start at 74,000 Baht plus 18.7% tax for single occupancy in a Colonial Suite for three nights all inclusive. For latest rates and availability check here or to The Dheva Spa and Holistic Center promotion site to book the retreat.
Once in a Lifetime Journey was a guest of Dhara Dhevi Chiang Mai. As always, the opinions expressed here are my own.