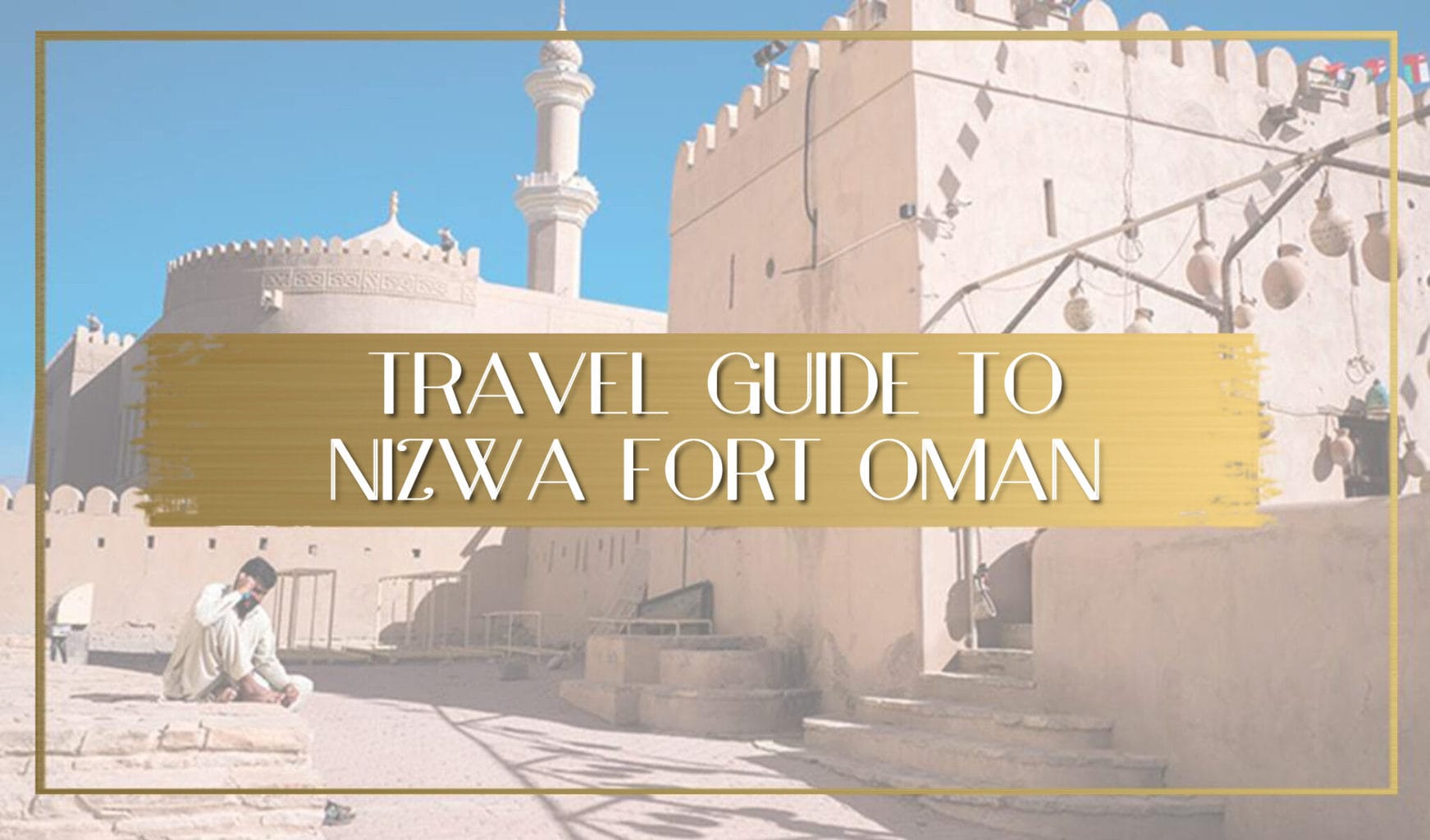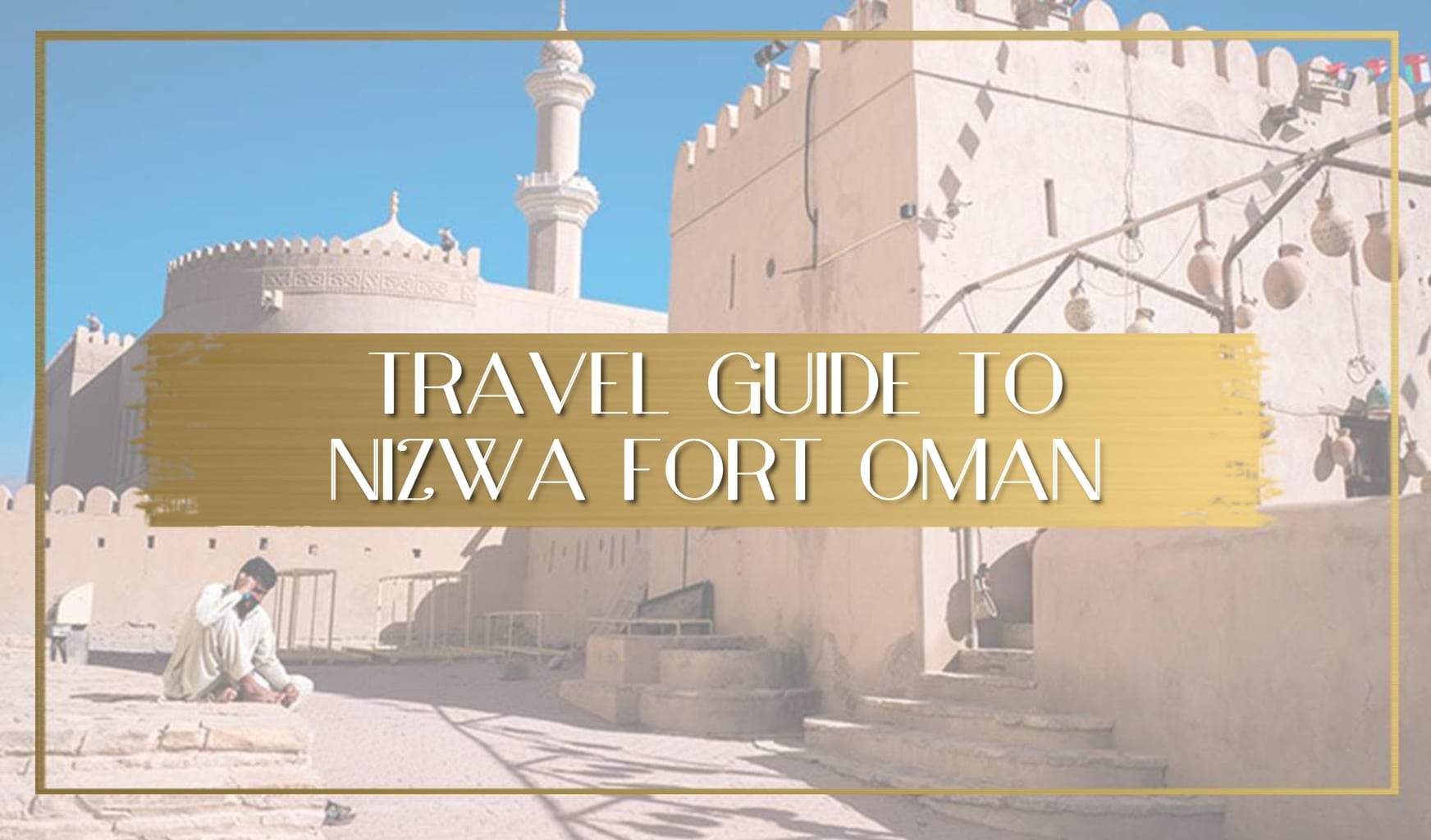 Unlike Bahla Fort, which is Oman's only UNESCO-listed fort, Nizwa Fort is well signposted, well researched and with lots of exhibits to explain its history and the ways of life in Oman at the time of its splendour. It is no surprise that this is Oman's most visited sight.
Visiting Nizwa Fort is a fabulous experience and one which you should not miss if you are staying at Alila Jabal Akhdar or Anantara Jabal Akhdar, both of which are about 1,5h drive from the fort. If you are visiting Oman's capital of Muscat, Nizwa and its fort are also a couple of hour's drive away so they make for a great day trip.
In this article, I will go through what you can expect when visiting Nizwa Fort as well as explain the history of the fort itself and the many rooms inside. A lot of the information contained in this post has been collected through extensive research and reading of online articles as well as all the material available at the fort.
Watch our video here:
History of Nizwa Fort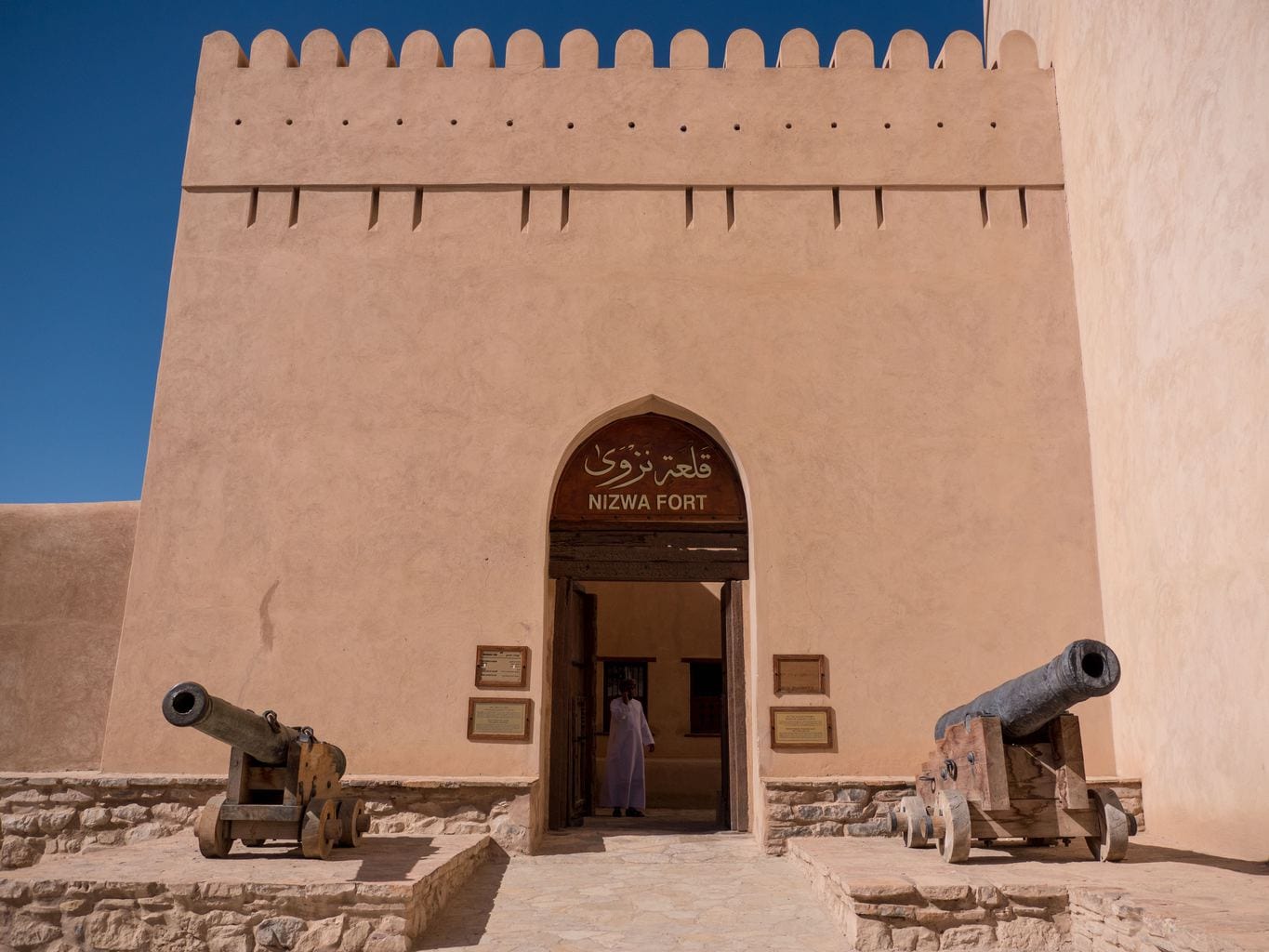 Nizwa Fort dates back to the 17th century and was built in a dozen years by the Ya'arubi tribe and its most relevant Imam, Sultan Bin Saif Al Yarubi. The castle portion of the fort was built on the 9th century by the imam Al Sult bin Malik Al Kharusi.
Exploring the inside of Nizwa Fort
Nizwa Fort is well known for its massive round tower which protected the fort from any invasions. The tower, as well as the entire fort, were built when gunpowder was already available in Oman so, unlike Bahla Fort, there were lots of openings for fire and canons for defense. Traditional defensive mechanisms and elements common in the area, like narrow slits above doors for pouring boiling water or date juice, known as machicolations, can also be seen above all the strategic doors in the construction.
Nizwa Fort is an excellent example of an Omani defensive structure of the time with several clever elements that ensured the structure was well protected from any attacks. Its location, over an underground stream, ensured that there would be permanent clean and safe water supply should there be a siege, and the cellars were stockpiled with food and supplies. The four wells that were dug from the stream could not be poisoned from outside so a siege would not be successful.
The massive tower is 45m in diameter and 34m high and was built to support gunnery attacks. Its foundation goes down 30m below the ground and was filled with earth to withstand the power of canon shots. The fort was surrounded by a water filled mote and access was only available via a bridge. The two main Fort gates had thick doors with iron spikes that were extra hard to bring down. The rest of the doors were protected by "Murder Holes", slits above the doors on the upper floor from where soldiers could attack intruders or pour boiling date juice over them.
The best part of Nizwa Fort is the many exhibits explaining life in the castle and fort and the surrounding areas. They are all informative, with maps, images and drawings to support the explanations. All of the defensive structures and tricks are well explained through the exhibits and make it a very fascinating read. This map shows where each of the defensive elements were located.
On the weekends, the fort hosts performances with live Omani music, dancing and singing. There are also food stations where the local women make and sell snacks like meat pastries or breads.
Some other interesting things to see at Nizwa Fort are the background and history of Indigo, which I also learned about in El Salvador (I even made my own table runner), and the face masks (burqa), which can still be seen in the more rural parts of the Middle East on the faces of older women. The masks' shapes determine the region and status of the wearer and, if fashioned from Indigo, they are believed to be a talisman. The date store room at Nizwa Fort, where date juice was collected is also very interesting.
Other things to do and see around Nizwa Fort and suggested itinerary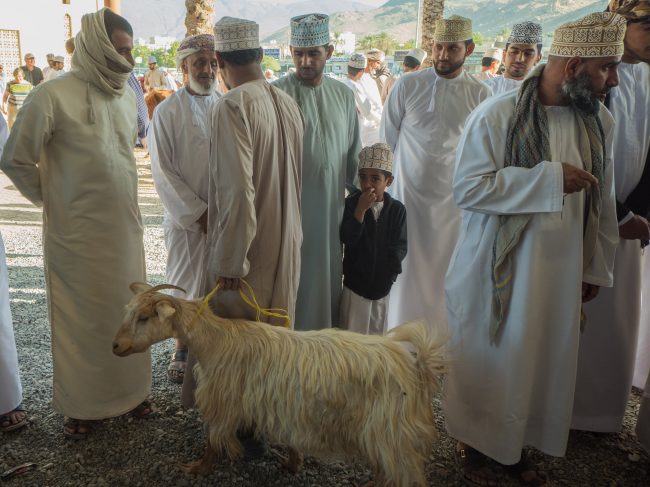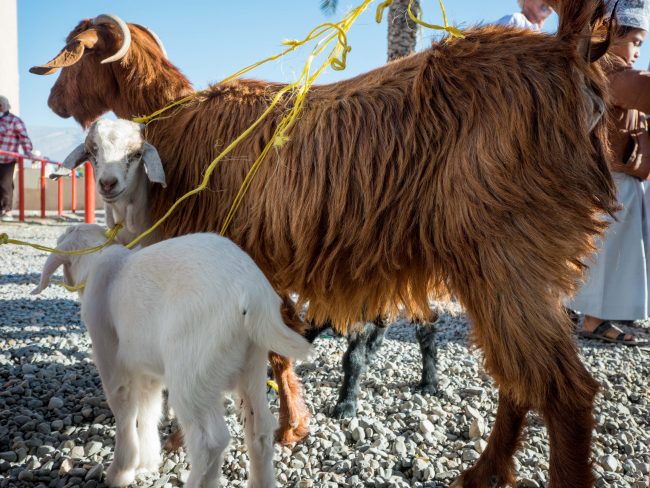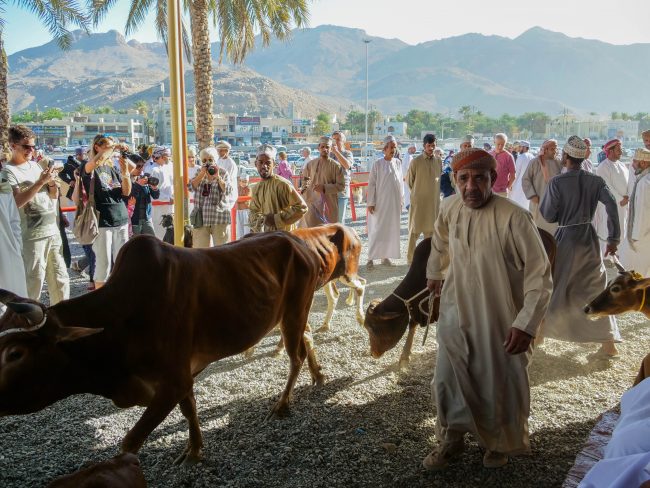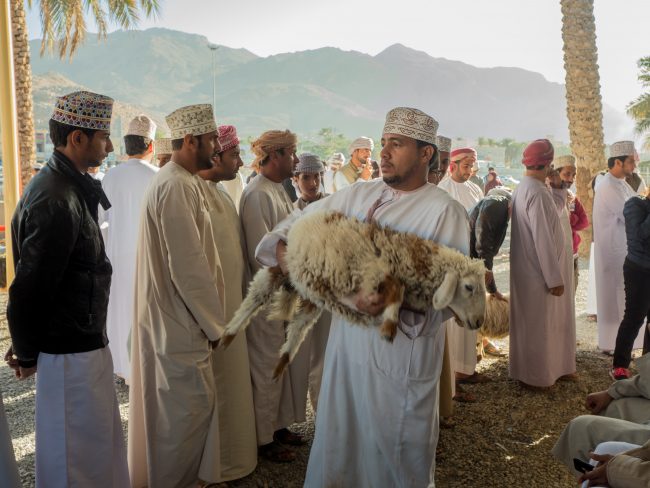 If you are visiting on a Friday, make sure to arrive early to see the goat market where local herders will parade their goats, camels and cows on a circular catwalk where willing buyers bid their amounts. You can observe the spectacle and take photos, a really interesting show.
Next to the goat market is the Souq where you can browse or buy dates or date syrup, pottery, souvenirs, spices and even weapons, all of which are on display and for sale. These are not automatic weapons but hunting ones.
If you are making the journey to Nizwa Fort you should make sure to visit some of the other places of interest around Nizwa like the UNESCO-listed Bahla Fort, Jabreen Castle and Nizwa's goat market and souk. As mentioned above, you will not be able to visit it all on the same day if you go on Friday because they all close by 11am, but it is worth it to see the goat market.
Alternatively, you can skip the market and go on any other day of the week to see them all in a day's trip from Muscat.
If you go on a Friday, I would suggest the following itinerary around Nizwa:
Depart Muscat very early at around 6:30am, so you can be there by 8:30am.
At 9:15am head to one of the three places as you will only have time to visit one:

Nizwa Fort
Jabreen Castle
UNESCO-listed Bahla Fort

At 11am go back to the market area and visit the souk area around it, including the date market, the pottery stalls and the labyrinthic alleys of the spice market.
Have lunch in the area and drive back to Muscat.
You would have to go back for the rest of the sites on another day.
If you go on any other day of the week, this is what I would suggest:
Depart Muscat early at around 7am, so you can be at Nizwa Fort by 9am. Visit this stunning fortification and all its exhibits which are very enlightening and filled with learning about that time in Oman.
At 10:30am head to Jabreen Castle and explore the beautiful castle.
At 12noon head for lunch at a nearby restaurant. Your driver will be able to suggest a place and if you are driving yourself, I suggest Ayadina Restaurant. We ate there and their traditional slow-cooked Omani rice and meat dishes are great, they are known for goat but if you do not fancy the fatty meat, the chicken was also great. There are also plenty of international options if you prefer including Indian dishes, pizza and all sorts of other dishes. You can park the car right in front.
After lunch, at around 2pm, head to Bahla Fort, Oman's only UNESCO-listed fort.
The fort closes at 4pm when you can either head back to Muscat or make a final stop at Misfat Al Abriyyin, a quaint small town that feels like an oasis in the desert.
Book your Oman excursion
Looking for an adventure in Oman? I've hand picked some of the best tours from Muscat for your convenience. Visit my page on Viator
here to make your booking
.
Organising a trip to Nizwa Fort – What you need to know
Nizwa is 140km from Muscat, or about an hour/ hour and a half drive so it is a great day trip where you can combine Oman's most visited monument with the Friday goat market, the pottery and spice market as well as Jabreen Fort, Misfat Al Abriyeen and, if you have time and are visiting on a day other than Friday, Bahla Fort (closes at 11am on Friday). Read my guide for Bahla Fort here.
Nizwa Fort is open everyday from 9am to 4pm except on Friday when it opens from 8am to 11am only. Entrance ticket is about 5 rials per person. Make sure to dress conservatively without shorts or uncovered shoulders (both men and women).
For recommendations on where to stay in Oman and the best luxury hotels in Oman check out this link.
Pin this to your Middle East bucket list Pinterest board