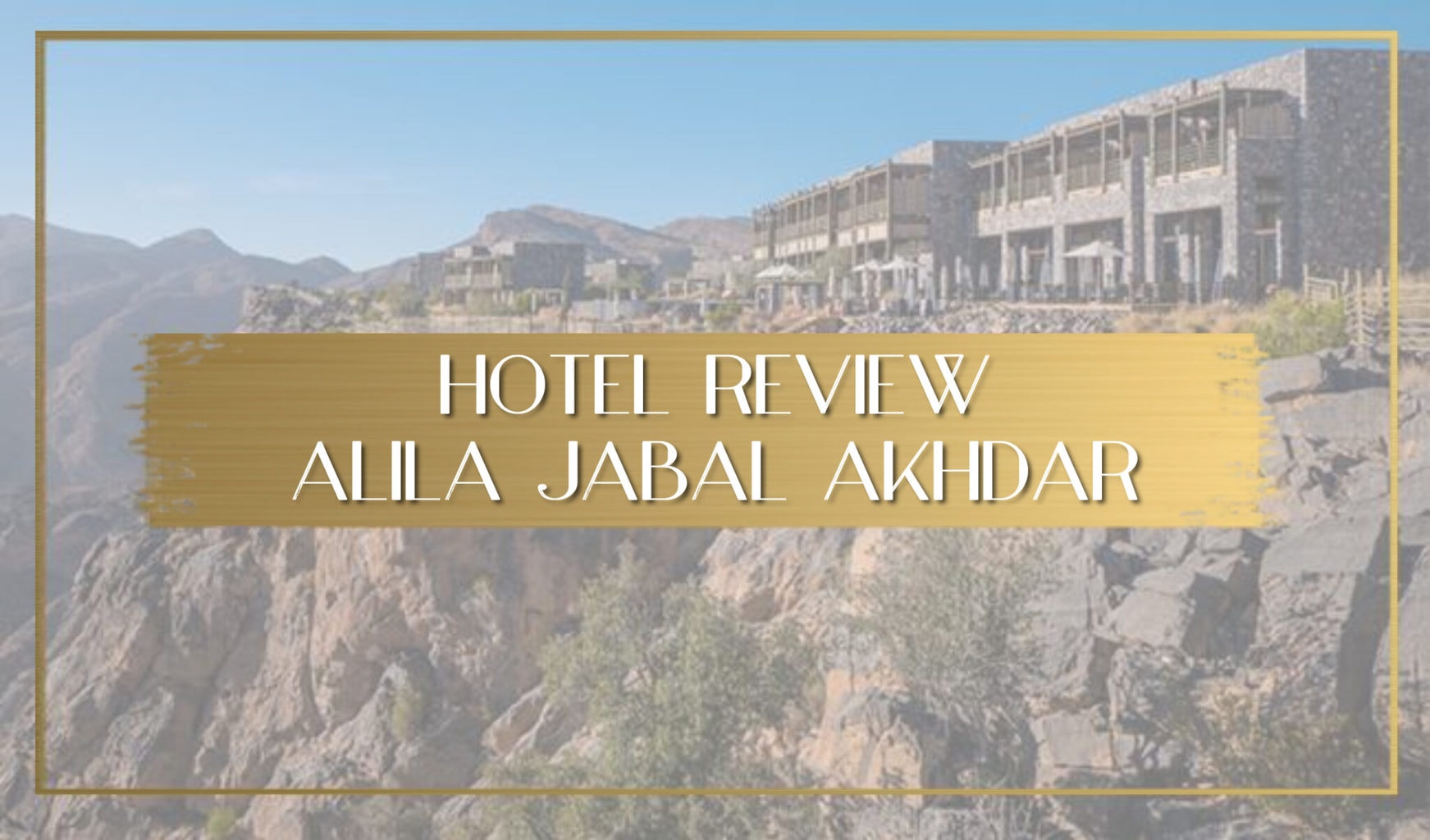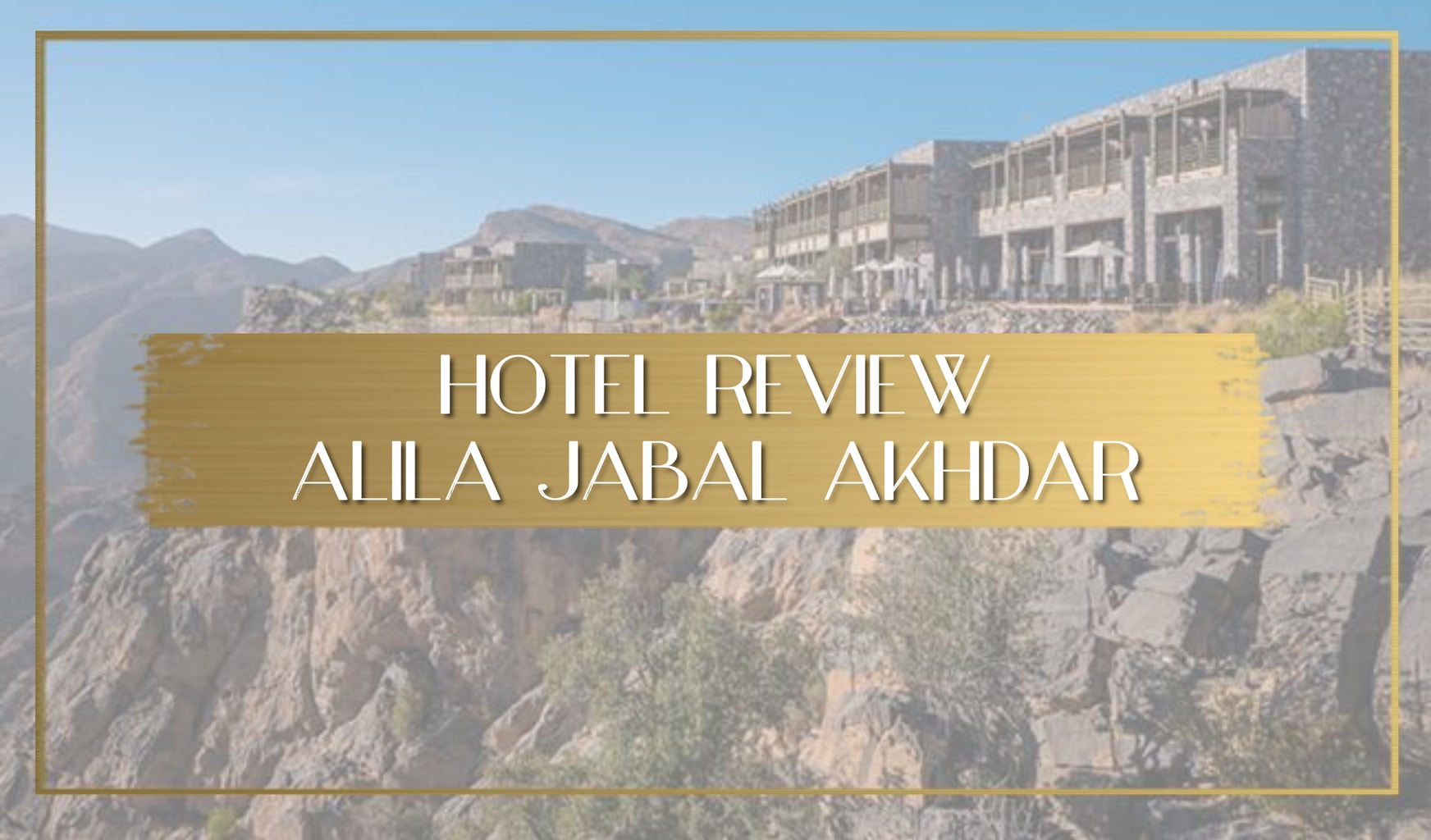 The well known Asian brand, Alila, is synonymous with unique designs and a kind of pampering that only Asian brands know how to give, especially those originating from Bali. I was pretty thrilled to be able to convince Edwin to head to the mountains with me to stay and review Alila Jabal Akhdar, up in the Al Hajar Mountains of Oman. We booked last minute, just a few days before check in after I was sure that my commitments in Dubai were complete and I still had a few days left before returning to Singapore.
The weather in Dubai was fast evolving into the winter temperatures when evenings can reach a cooling 15 degrees while the days are still warm and perfectly sunny. Muscat has a similar climate but, up at the top of Jabal Akhdar, the Green Mountains in Arabic, the weather was similar to the altitude desert of Tibet, albeit a bit lower.
At 2,000m above sea level, Alila Jabal Akhdar is one of the best places to escape the Middle East's summer heat. At the beginning of December, when I visited, the thermometer showed temperatures close to freezing at night, while during the day, down below in the valleys, it was still warm. It was properly cold and, because of the altitude and the landscapes, incredibly dry, more so for someone living at sea level in the 100% humidity of Singapore. I remembered my time in Sudan when, in winter, the desert dryness made it essential to carry eye drops and vaseline to avoid any nose bleeding.
Watch our video here:
Booking Alila Jabal Akhdar
This was my first stay at an Alila property although I had signed up for my membership into their loyalty program before despite not remembering when or how. But since I noticed that as a member of their loyalty program I was entitled to a 10% discount in their racked rates, I signed in and went to make a booking only to realise, to my surprise, that the rates for members were significantly higher than for non-members, about 50% more expensive. Needless to say, I signed out of the loyalty program and then booked.
After booking, I received a pre-arrival email asking me to fill in a series of questions about us and our preferences. The questionnaire was the most complete I have filled in in a while. Both Six Senses and Aman also send pre-arrival questionnaires which usually need to be printed and scanned back so I was happy that Alila had an online guest folio instead.
It was not so good to receive the same form again two days later, asking me to fill it in and then again a couple of days before our arrival asking for our pick up details, which were specified in the form. The follow ups defeated the purposed and killed my great first impressions when I had filled the form in the first time.
Looking for an adventure in Oman? I've hand picked some of the best tours from Muscat for your convenience. Visit my page on Viator by clicking the button below to make your booking. Click here to book
Arrival and check in to Alila Jabal Akhdar
The drive from the airport to Alila Jabal Akhdar is on paved rods all the way, half on relatively flat land and the other half up the hill through the mountains of Jabal Akhdar. The landscapes are absolutely breathtaking and only comparable to the same views on the way to the Six Senses Zighy Bay or through Tibet. Think a blend between the arid landscapes of Djibouti and a desert that just got the first rain after several months.
Jabal Akhdar appears lifeless and dry to anyone not living in the Middle East but it is actually one of the greenest parts of Oman and the country's gardens. After the winter rains Jabal Akhdar is covered in greenery and lush pomegranate. Springtime brings the blooming roses that make the area so famous for rose water. Even in the driest months, juniper trees thrive from the underground streams that wash the area. The famous falaj irrigation systems that manage the water from underground reservoirs and criss-cross the mountainous area making the villagers here some of the most prosperous farmers.
After the checkpoint at the entrance to the park, only 4×4 cars allowed up to the hotel, although the road is perfectly paved, but the authorities probably want to avoid offroad driving that may end up badly.
As soon as we got out of the car and into the reception, we were welcomed to a seat and someone brought us kahla, Arabic coffee, and dates as burning frankincense filled the air. I absolutely love kahla and it always reminds me of First Class flights at Emirates where the coffee is given as a welcome drink – who wants champagne when you can enjoy a tiny cup of cardamom laced coffee with the sweet sticky flavor of dates?
Alila Jabal Akhdar has 86 rooms and villas so it is quite a big resort, although the fact that most suites are spread across several small stone buildings around the property makes it feel cozy. At dinner time is when you realise how many other guests there are as there is only one restaurant to eat at so all guests congregate in the same space.
The villas and suites at Alila Jabal Akhdar
There are six types of rooms at Alila Jabal Akhdar.
The entry level Mountain View Suites are on the first floor of the main hotel building and have very nice views over the cliff edge and into the sunset.
The Horizon Suites are on the ground floor of the several suite buildings. Some have great views, some are not as great, some can be quite far from the main building. I stayed at this one. They have outdoor balconies from which you can walk down onto the cliff edge and an outdoor sofa.
Ridge View Suites are above the Horizon rooms and have a better view and perspective.
Jabal Terrace Suites are located on the first floor and are corner units with great views and an outdoor sunbed and terrace area.
Loft Suites have two levels and come with balconies on the upper floor. They are the same size as the Terrace Suites.
The two bedroom Jabal Villa is for families or groups of friends and have their own swimming pools with the two rooms at either side of a common living room. There are only two Jabal Villas.
Inside, the rooms are very neutral, nothing flash about them, but earthy tones with mostly white walls, dark wooden furniture, local Omani fabrics as well as all the necessities from an international luxury hotel. Splashes of warm orange in cushions and other accessories add a bit of the sunset color that fills the sky at every sunset.
Each room has a solid bathtub cut from a single rock, smoothed inside and still showing the craftsmanship on the outside, and a rain shower. Both have amazing views via the small window on the side. The bathroom came with shampoo, shower gel and conditioner as well as ear buds and cotton disks. There were also bath salts by the bathtub. A small walk-in closet ensured all our luggage was tucked away neatly.
Nespresso machines were provided but our minibar was empty. As part of the pre-arrival form I filled in, we were given the option to choose specific minibar packages combining food and drinks which were priced accordingly. I assumed these were extra but it turned out they were essential if you wanted to enjoy a drink in your room. We also had binoculars which we had asked for as part of the form.
As part of the pre-arrival choices we picked special pillows which were placed every night on the bed. The room had its own AC and heater which you could fight with. I say this liberally because it seems that the staff must have had it as part of their daily duties to switch off the heating or turn on the AC even when outside temperatures were 10 degrees and every evening we would return to a freezing room only to crank the heating up and wake up in the middle of the night sweating. This happened all three nights and it was very unpleasant.
Each of the rooms had branches of a juniper tree and leaves hand painted by a local artist on the walls. The room's lighting system was not very thoughtful and, despite we were told there was a master switch, it either did not work or did not work properly so every night we had to go around switching lights off. This is a pet peeve of mine which terribly annoys me.
The food at Alila Jabal Akhdar
The prices for the rooms can be booked with just room and breakfast or with half board, breakfast and dinner. Given that there is no option to eat anywhere else and that the hotel does not let guests drive at night, the half board option makes a lot of sense as the food is the same as offered on the menu. I would not choose full board unless you are not planning to leave the resort during your stay. Judging by my fellow guests during our stay, lots of people come to Alila Jabal Akhdar to explore the area and not just to chill by the pool, although that is a very enjoyable option too.
Lunch can be taken at either the Rose Lounge or the Juniper Restaurant both of which have indoor and outdoor spaces. Even in the dead of winter, when temperatures reach freezing point, outside eating is possible thanks to the many heaters strategically placed between the tables.
Rose Lounge is the poolside bar as well as the lounge. Drinks and snacks can be ordered for lunch and the menu is mostly international with a long list of juices that feature local favorites with pomegranate and lemon mint juices. Inside, Rose Lounge has some comfortable sofas and outside there are a few tables scattered at various levels around a set of stairs. We enjoyed lunch there everyday as the views were stunning. This is a also a good place to see the sun come down.
Juniper Restaurant serves breakfast and dinner. Breakfast was excellent with lots of options in the buffet area plus a hearty hot dish menu including lots of egg options, Arabic, international, Indian and Omani dishes. The buffet had a great pastry and bread selection, three kinds of fresh juice, four kinds of freshly cut fruits, cold cuts and salmon, Arabic mezze options, and a large selection of cereals and nuts/seeds.
It was a welcoming way to start the day. At dinner, Juniper Restaurant has two options; either an Omani set meal with two options as a main, four starters to share and one dessert, or an a la carte menu with international recipes. We had the Omani set dinner two of the nights and chose from the a la carte on the third night. I would have gone for the Omani meal instead on our last night but the food quantities were always more than we could eat, despite trying to get them to give us only half portions, and we had a very late lunch in town at almost 4pm.
The cellar menu featured a few wine options from around the world so we chose to pick a bottle and drink it across two meals.
I found the food to be excellent. It was yummy, well presented, fresh and loyal to the expected tastes of the Middle Eastern flavors with a bit of interpretation by the chef. It was well deserving an indulging weekend.
What to do at Alila Jabal Akhdar – Activities, excursions and facilities
A lot of people go to Alila Jabal Akhdar to escape from it all and do nothing, however, I think that this is a shame. Alila Jabal Akhdar is a great base to explore this beautiful part of Oman, especially some of its UNESCO sites like Bahla Fort or the country's most visited monument, Nizwa Fort. And if you are into hiking or climbing, there are routes for all levels, from easy hiking to full-on via ferrata climbing.
The villages and park where Jabal Akhdar is located were closed off to tourists a couple of decades ago but it is a blessing that you can now explore them from the luxury of Alila Jabal Akhdar or Anantara Jabal Akhdar, about 15min from Alila in an equally breathtaking setting.
At the resort, there is an outdoor infinity pool with views over the canyon, as well as an indoor small plunge pool/jacuzzi with heated water. Although the outdoor pool water is warmer than room temperature, it was still too cold for me, even though during the day, even in winter, the sun is very strong and warm enough for sunbathing, as most of our fellow guests from Europe chose to do. The outdoor area also has a few small plunge jacuzzis carved on the rock. There are several cabanas around the pool for extra privacy and some sun loungers.
Cultural tours from Alila Jabal Al Akhdar
In terms of cultural activities you can explore from Alila Jabal Akhdar, the highlight of our trip were the visits to Nizwa Fort, Bahla Fort, Jabreen Castle, the Friday goat market at Nizwa and the walk around the village of Misfat Al Abriyeen. These are not all the options available as there are other tours you can go on but I would highly recommend booking them. You can do Nizwa Fort and the goat market (plus the Splendour of the Saiq if you want) in a day and then return for Bahla, Misfat and and Jabreen Castle. This is because the goat market is in the morning on Friday when most of the monuments close at 11am so you will only have time to visit Nizwa Fort which is the one located nearby.
The goat market is a great experience. You need to arrive early by departing from the resort at 7am, so that you can see the action. The farmers, herders and anybody interested in buying cattle will all gather around at 8am on Friday morning to buy and sell. Herders take all the animals they want to sell, cows, camels and goats, and walk them around a raised, two-tier circular podium where potential buyers are seated.
It is like a catwalk of animals where the herders shout the latest bid they got from a buyer and keep walking around pulling the animals who are tied to a rope. Once they have a final price, they give the animal to the new owner and collect payment. The performance continues until there is nothing else to sell starting with goats and going up to bigger size animals. Right next to the goat market you can wander the dates souq, the pottery souq and the spice souq. Some parts of this souq are new whereas some of the alleys, like the area around the spice souq, are ancient. Weapons are also available for purchase as are the traditional Omani knives.
If you want to read more about the Bahla Fort, Jabreen Castle or Nizwa Fort, you can read my respective reviews, which you should because I did extensive research to write them and our driver/guides at each of them had limited knowledge, especially the one to Nizwa Fort who was more a driver than a guide.
Splendour of Saiq
As part of our package we had the Splendour of Saiq tour included. This tour takes you through three villages not too far from the resort which are located just under the Anantara Jabal Akhdar. The walk takes about an hour and we took it on our own as our guide told us to simply follow the path's marks which were placed there by the Oman Tourism Board.
Hiking and climbing at Alila Jabal Akhdar
The mountains around Alila are filled with trails, hiking paths and proper climbing walls. You can set off from the resort's entrance itself and follow the three red, yellow, white lines to complete a hike along wadi beds. If you are interested in professional climbing, there are many places to do so, including a via ferrata. The resort's in-room brochure has many more excursions and trekking routes than what is listed on the website or on the pre-arrival form. The good thing is that you can usually organise it all on the spot on the day of your arrival.
Star gazing
Ben, an amateur astrologer had just been hired when I visited and he offered daily sun gazing and star gazing which is a real blessing in the clean and clear nights at Alila. The evenings were cold but the light pollution minimal so we could see galaxies, nebulae and constellations.
We were lucky enough to be there during the super moon so the moon was extra large and only rising later in the night so it did not affect our star gazing. As the sun was setting just after 5pm at that time of the year, star gazing could be done before dinner.
Suggested excursion and itinerary from Alila
If you are planning on taking a day excursion from Alilia you should make sure to visit some of the other places of interest around Nizwa like the Nizwa Fort, UNESCO-listed Bahla Fort and Nizwa's goat market and souk. You will not be able to visit it all on the same day if you go on Friday because they all close by 11am, but it is worth it to see the goat market.
Alternatively, you can skip the market and go on any other day of the week to see them all in a day's trip from Muscat.
If you go on a Friday, I would suggest the following itinerary around Nizwa:
Depart Muscat very early at around 6,30am, so you can be there by 8:30am.
At 9:15am head to one of the three places as you will only have time to visit one:

Nizwa Fort
Jabreen Castle
UNESCO-listed Bahla Fort

At 11am go back to the market area and visit the souk area around it, including the date market, the pottery stalls and the labyrinthine alleys of the spice market.
Have lunch in the area and drive back to Muscat.
You would have to go back for the rest of the sites on another day.
If you go on any other day of the week, this is what I would suggest:
Depart Muscat early at around 7am, so you can be at Nizwa Fort by 9am. Visit this stunning fortification and all its exhibits which are very enlightening and filled with learning about that time in Oman.
At 10:30am head to Jabreen Castle and explore the beautiful castle.
At 12noon head for lunch at a nearby restaurant. Your driver will be able to suggest a place and if you are driving yourself, I suggest Ayadina Restaurant. We ate there and their traditional slow-cooked Omani rice and meat dishes are great, they are known for goat but if you do not fancy the fatty meat, the chicken was also great. There are also plenty of international options if you prefer including Indian dishes, pizza and all sorts of other dishes. You can park the car right in front.
After lunch, at around 2pm, head to Bahla Fort, Oman's only UNESCO-listed fort.
The fort closes at 4pm when you can either head back to Muscat or make a final stop at Misfat Al Abriyyin, a quaint small town that feels like an oasis in the desert.
The service at Alila Jabal Akhdar
I found the entire team at Alila Jabal Akhdar very warm and friendly especially the team during meal times. We were quite low maintenance guests, did not request anything in-room and had easy meals without any special requests. I found the correspondence pre-trip slightly confusing with so many emails asking for what I had already provided in the pre-arrival form but once we were there the service was affable and nice.
Value for money at Alila Jabal Akhdar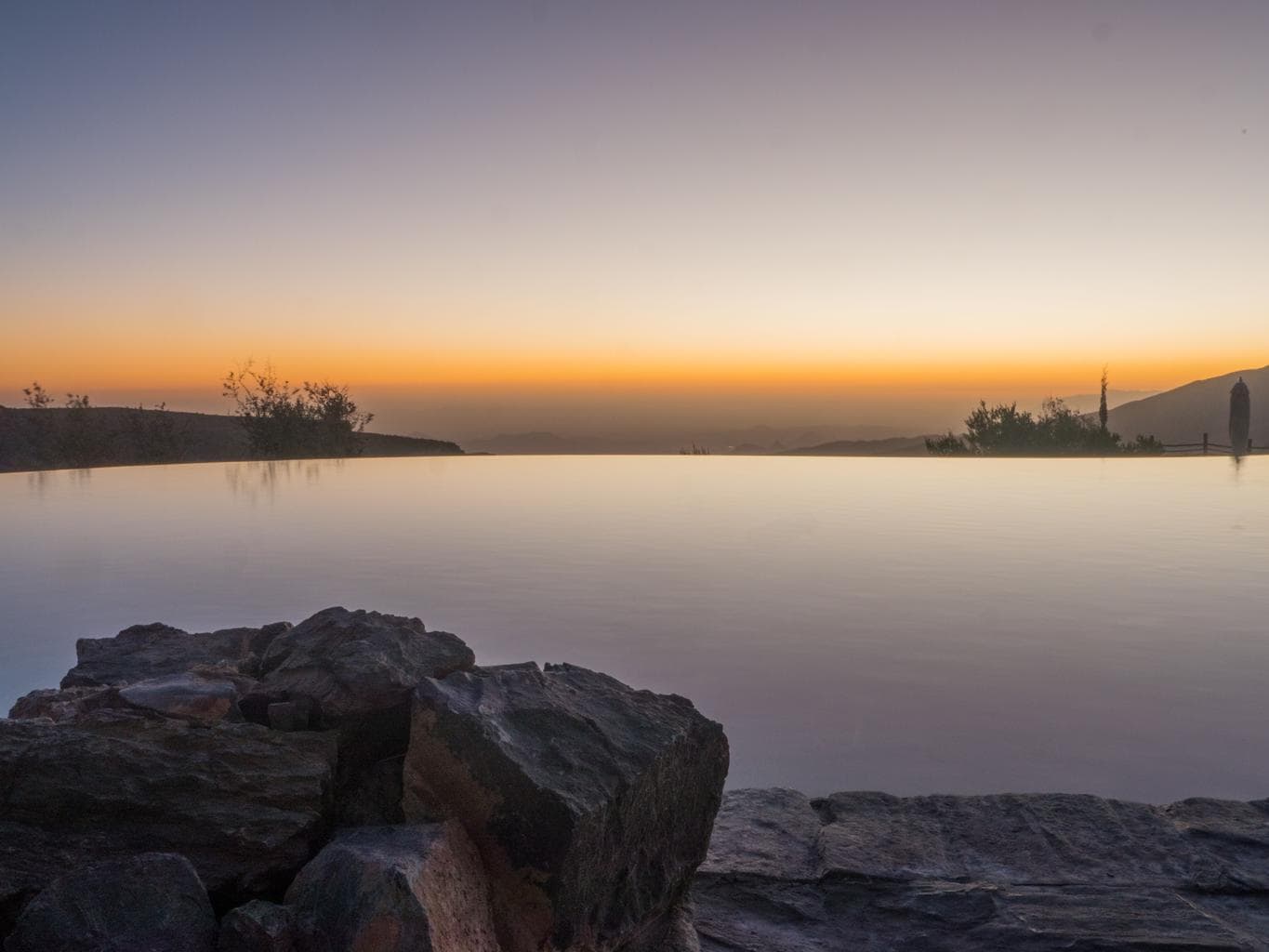 Rates at Alila Jabal Akhdar vary significantly across the year and depending on the package you pick. As I mentioned, we had a room, breakfast and dinner rate which included the Splendor of the Saiq village walk which was around $520 per night for two. This rate was not cheap, but it was not outrageous. The half board packages are best because you will be eating in anyway.
I am not sure I would upgrade to the Terrace Suites because I would probably not enjoy the terrace and outdoor space as this is available in the common areas anyway and I prefer to have a drink with my view and book when I am on holidays so I think the lower category rooms are probably a good enough option. The rooms above the swimming pool in the main building did seem to be the best so I would try to book those next time. Of course, if splurging is not an issue, go for the villas which come with pools, only worth it in the summer months, for extra indulgence.
How to get to Alila Jabal Akhdar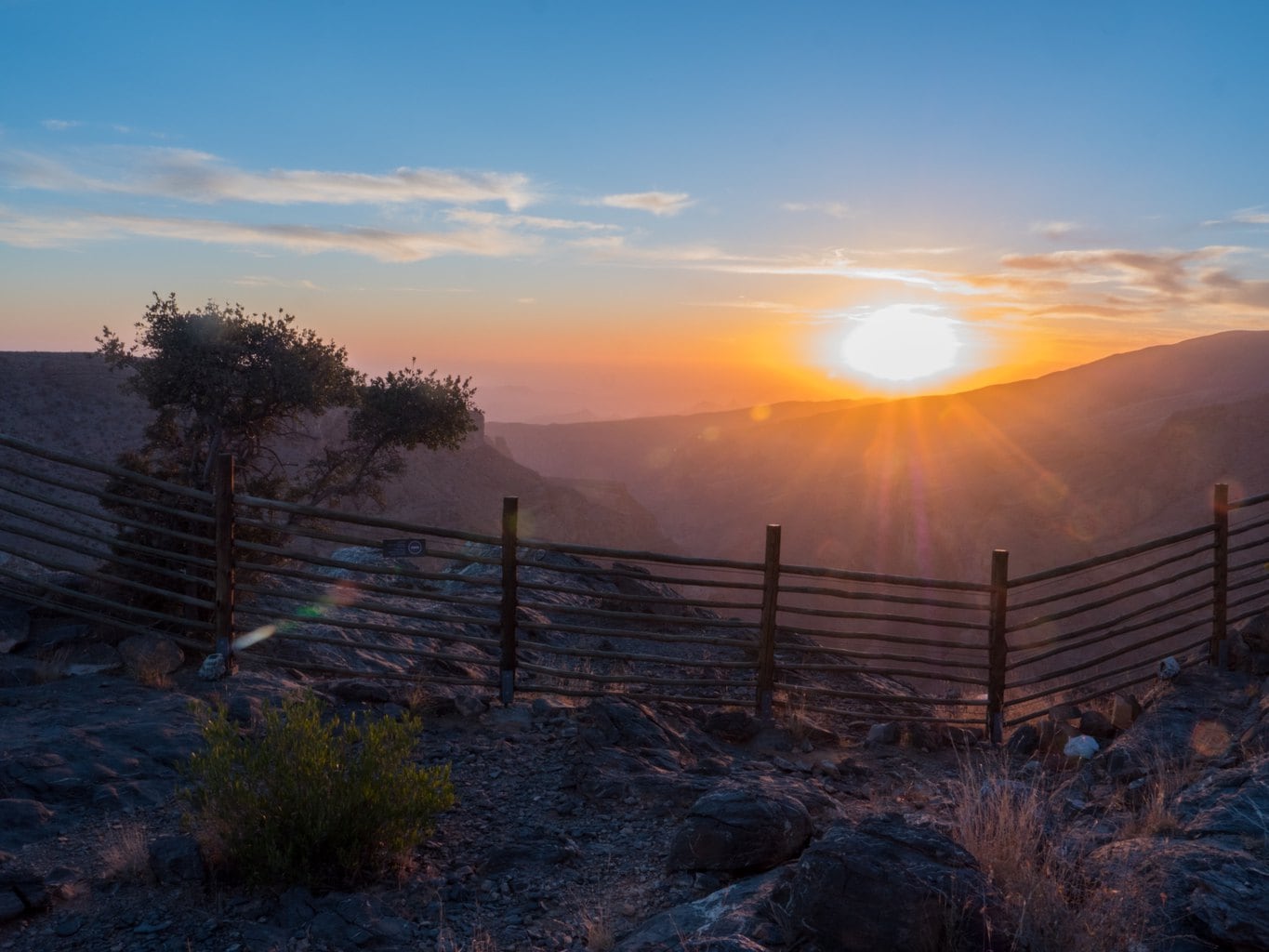 If you are coming from overseas, you will be flying into Muscat and then driving for 2h to the hotel. However, if you are in Dubai, you could also drive.
We decided to fly into Muscat although Alila Jabal Akhdar is an estimated 5,5h from Dubai according to Google. The flight from Dubai to Muscat is an hour long followed by two additional hours drive from the airport to the hotel. If you add the time you need to be at Dubai airport and the waiting time at immigration and passport control in Muscat, you get about the same door to door time from Dubai to Alila Jabal Akhdar. The advantage of the flight is that you do not have to take care in the long drive, but it is more expensive as flights to Muscat are usually priced at $250 per person and the transfer to the hotel is almost the same amount per person.
Beware that if you are driving, you will not be able to explore the area on your own, the hotel did not really provide us any guides anyway so there was little value added and the charges were very high (and unjustified for just a driver). The park authorities only allow 4×4 cars.
Review of Alila Jabal Akhdar – The verdict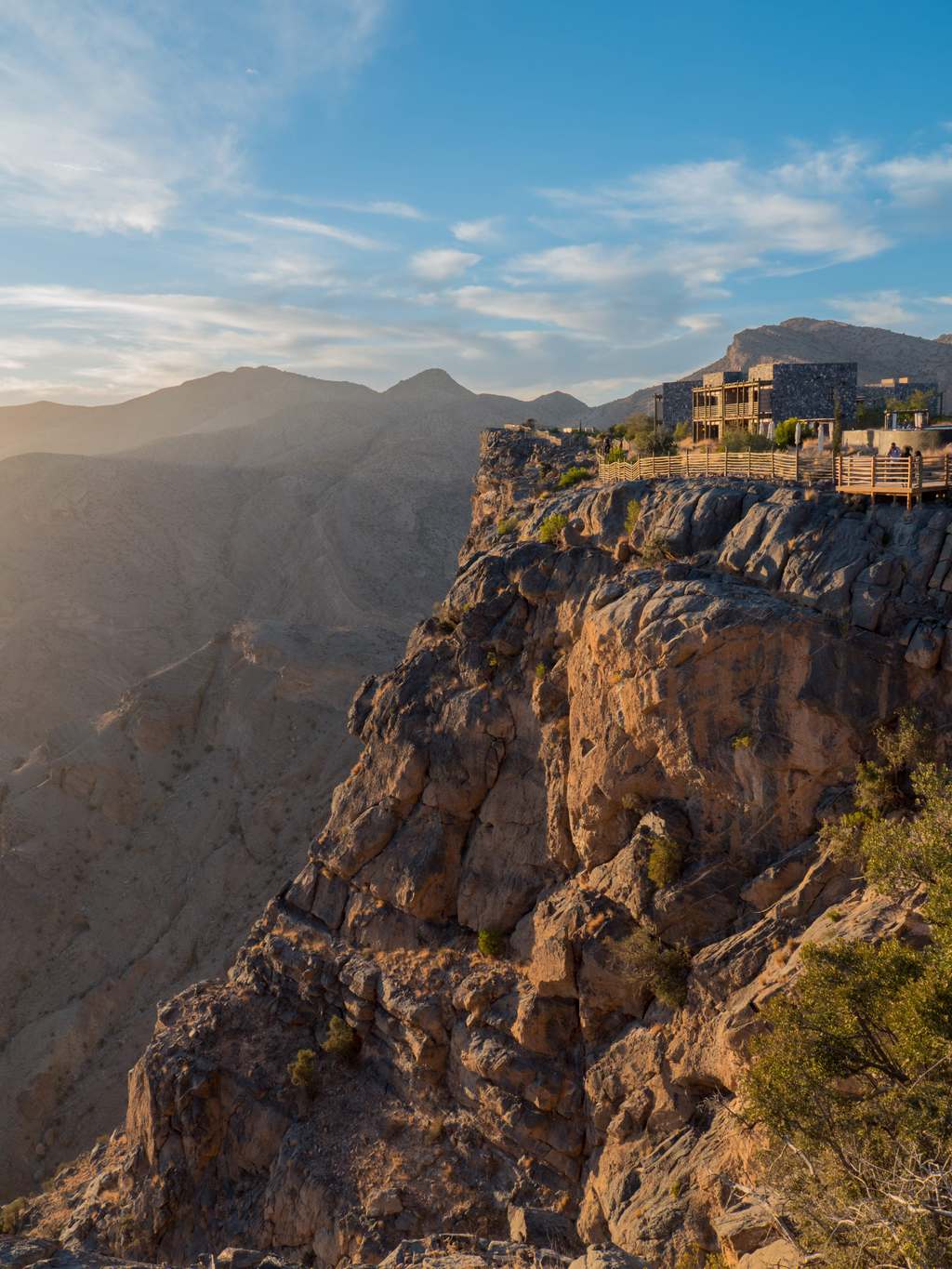 I very much enjoyed my visit to Alila Jabal Akhdar but I wish I had gone a month earlier, when temperatures were still warm during the day and I could have enjoyed the pool, admittedly, most other guests were still sunbathing and taking dips despite the weather.
I would have liked the resort to provide knowledgeable guides as we did not get much of an explanation in our first day from our guide who was essentially just a driver. On the second day, the guide was more of a guide, but still lacked some knowledge. Yet it seems that even the government was lacking as Bahla Fort has no exhibits, no explanations and there is practically no information online either.
Lastly, the fiddling with the lights and heating in the room meant that I caught a cold and went home with a runny nose and watering eyes not helped by the extra dry weather which the hotel could have done something to ease. For example, in Bhutan, Amankora filled the bathtub every evening to make sure the ambience was a bit more moist.
This post would be a awesome addition to your luxury hotel Pinterest boards