The writer was a guest of Context Travel. All opinions are always our own.
We love food and food tours and if they happen at a market all the better. Food tours are great for everyone and they are also one of the many great thing to do in London with kids as they can try new foods and also get entertained people watching. This article is a review of Context Travel Borough Market Food Walk in London.
Update 2019: The Borough Market Food Walk tour is no longer available with Context Travel. However there is a fantastic 3-hour London Food Tour, led by a local chef or food writer, which you can book here. You can also visit Borough Market, as well as Westminster Abbey, the Changing of the Guard, St James Park, Buckingham Palace, the Thames, and the Tower of London, on this London in a Day tour.
The history of Borough Market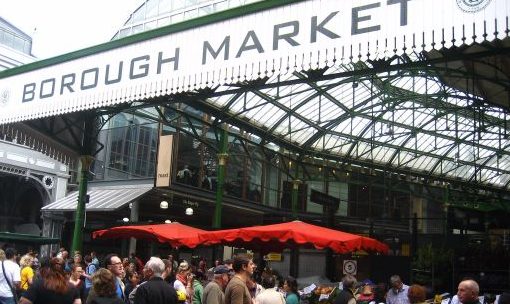 The Borough Market, opened about 1000 years ago, is one of London's best known landmarks and a great place to eat and shop for groceries. It's extensive history started with the birth of the London Bridge, creating a busy passage between London, Southwark and Southern ports and cities.
The high levels of human traffic were ideal for commercial trading, creating markets full of merchants selling their wares. In 1754, the authorities declared that the market was a hindrance to trade and commerce as the bridge was painfully overcrowded. In the interests of better business, the market was to cease its operations by March 1756.
A petition was then started by the residents of Southwark, asking for a new market to be built. Parliament stated that parishioners of civil parish St. Saviour's could set up a market if the attained land was away from the main road. The parishioners raised a total of £8000 (more than £1000,000 today) to buy and enlarge a site, as well as to build a market house. Borough Market opened for business in March 1756 on the west side of the high street of the Borough, where it still stands today.
Borough market tour with Context Travel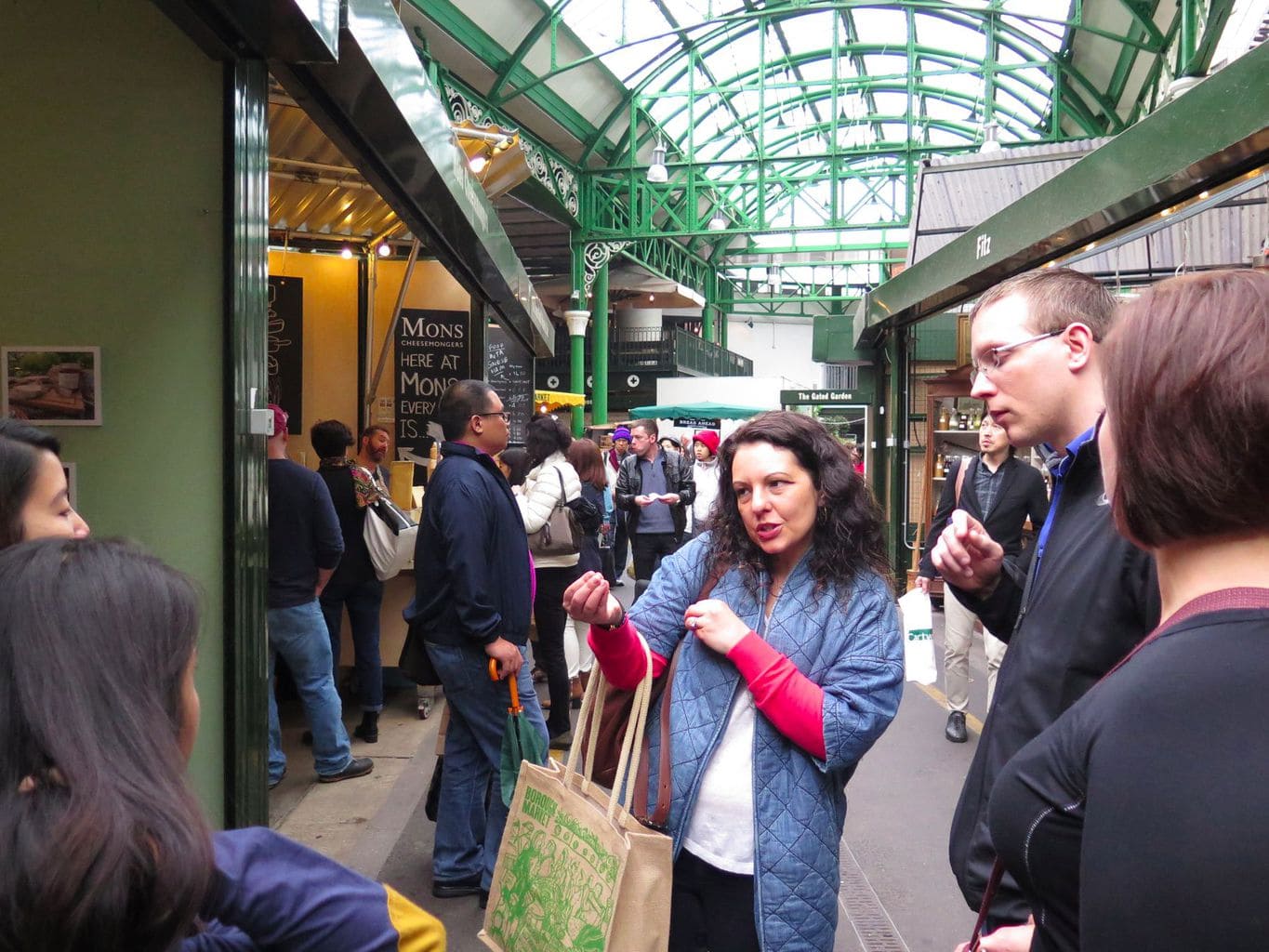 Our Context Travel guide for a day out on a London food market tour was the lovely Kathy Kordalis, a Leith's School of Food and Wine graduate with her finger in many pies. Kathys holds a wide range of skills, from food styling to menu development, and it was a pleasure to be led around Borough Market by someone who loved food as much as we did, with her expert knowledge as an added bonus!
Fully prepared with cutlery, napkins and a grocery bag, Kathy began the tour by passing around a box of traditional Scotch eggs. Surprisingly, Scotch eggs do not originate from Scotland but from Fortnum and Mason, a luxury department store founded in London. The ones we had were from Scotchtails, handmade in Hackney and selling in Borough Market.
Our tour was adapted to our preferences and the weather, always a feature of England's life. Blessed with good weather, we agreed as a group to begin a couple of steps away from the market at Neal's Yard Dairy. Founded in the early 1980s, the strong smell tells you that Neal's is the real deal. Working with approximately 40 cheesemakers, they offer selections from the UK and Ireland.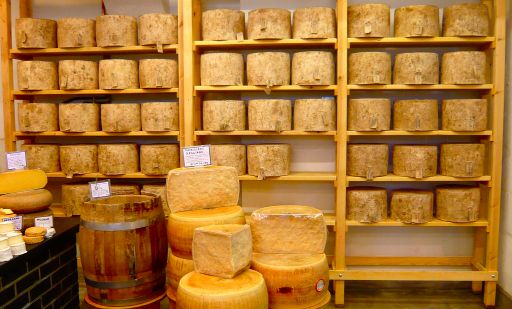 Although loved by many, consumers can be picky with the many strong flavours of cheese. Thankfully, Neal's understands this and generously offers samples and recommendations upon request. Even though I am not usually a fan, I adored their choice of blue cheese. Strong but not overwhelming, the perfectly balanced flavours lingered pleasantly on my tongue.
Experienced as she was, Kathy seemed just as impressed and bought cheese and crackers for us to share. If you'd like to know more, Neal's Yard Dairy has a couple of films about them and their methods on their website, check it out here!
Borough Market is known for their wide variety of artisan food crafted by small businesses, often with locally sourced ingredients. More often than not, the people tending to the stall were the owners, happy to share the stories and processes behind their goods. When sampling a range of honey from From Field and Flower, friendly founders Stefano and Sam shared their expertise on how the flavours in each type of honey were created and where each kind came from.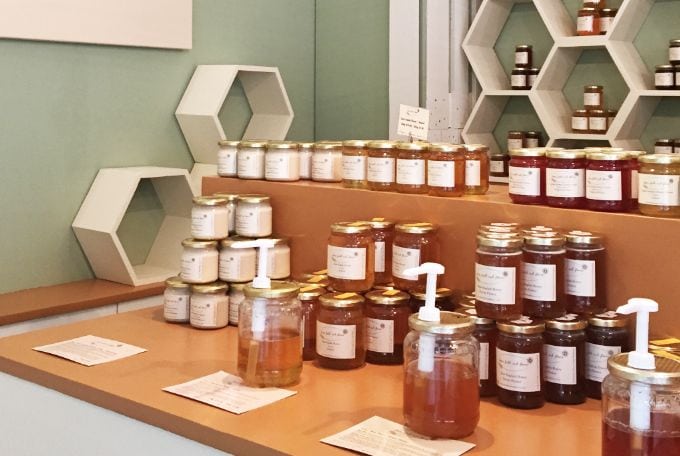 I highly recommend giving the chili infused honey a go, the hint of spice that came after the initial sweetness was excitingly delicious! Do check if you can buy any of their honey to take home as they sell it unpasteurised which is not allowed in some countries like Australia.
The variety of foods available at Borough Market was inspiring. We tried khanom krok, a delicious thai dessert that brought me back to the streets of Bangkok and Indian curries with an authentic level of heat (have water prepared!). Must tries included the doughnuts from Bread Ahead, the pies from Pieminister and a visit to the incredible Spice Mountain, their selection of spices will leave you spoilt for choice.
By sharing interesting information on the many foods we sampled, Kathy enhanced the joy of discovery as we ate our way through the afternoon. She would often tell of the events of history that led to a creation of a dish, or give expert advice on how to best use an ingredient found in the market. Participants are not limited to her personal preferences, she brought us to a shop offering fresh, succulent oysters, even though she never liked them herself!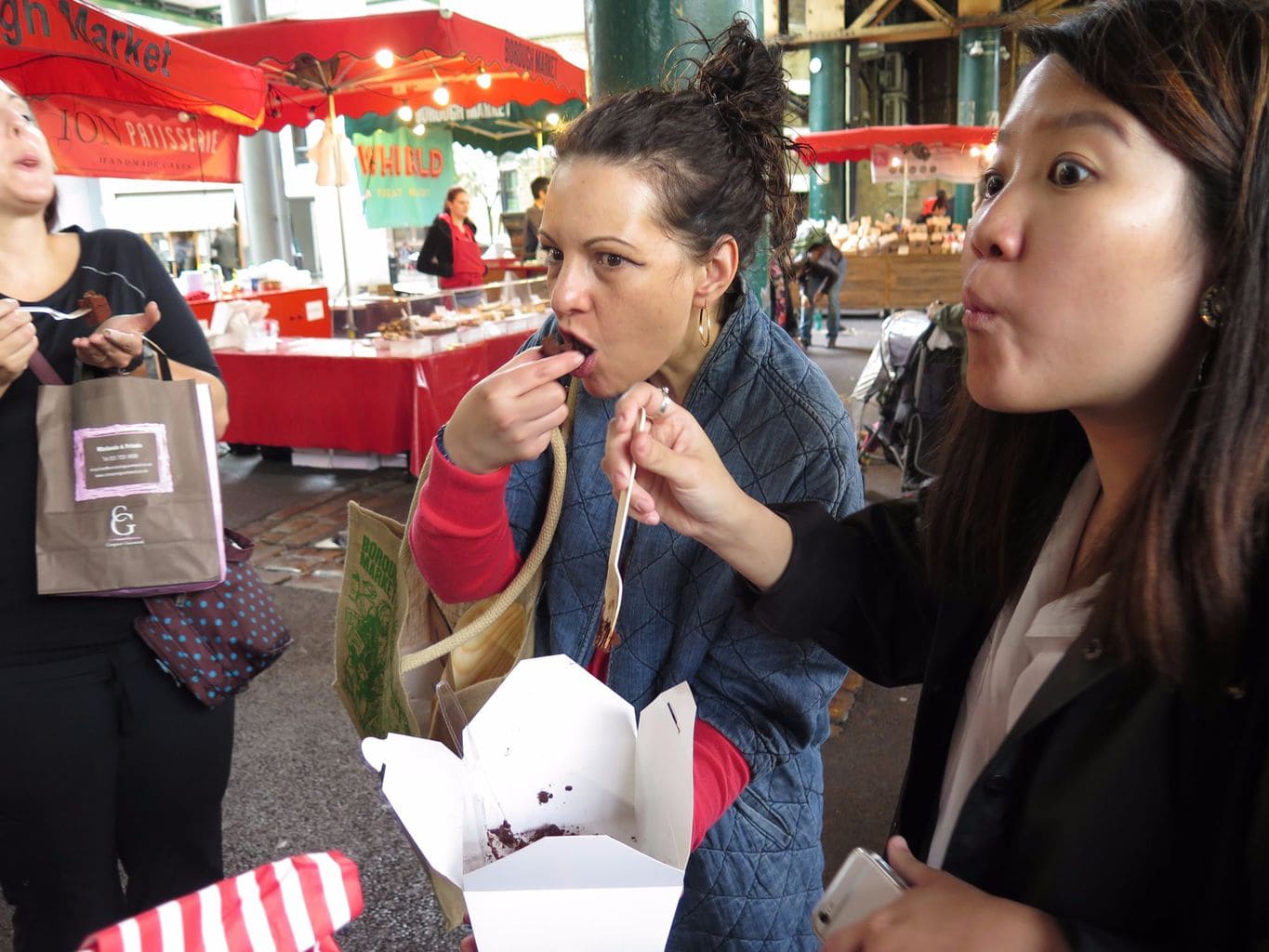 Kathy's company and expertise was a delightful privilege, like a friend happy to share a taste of London's best offerings. Follow Kathy on Instagram for mouthwatering photographs of food!