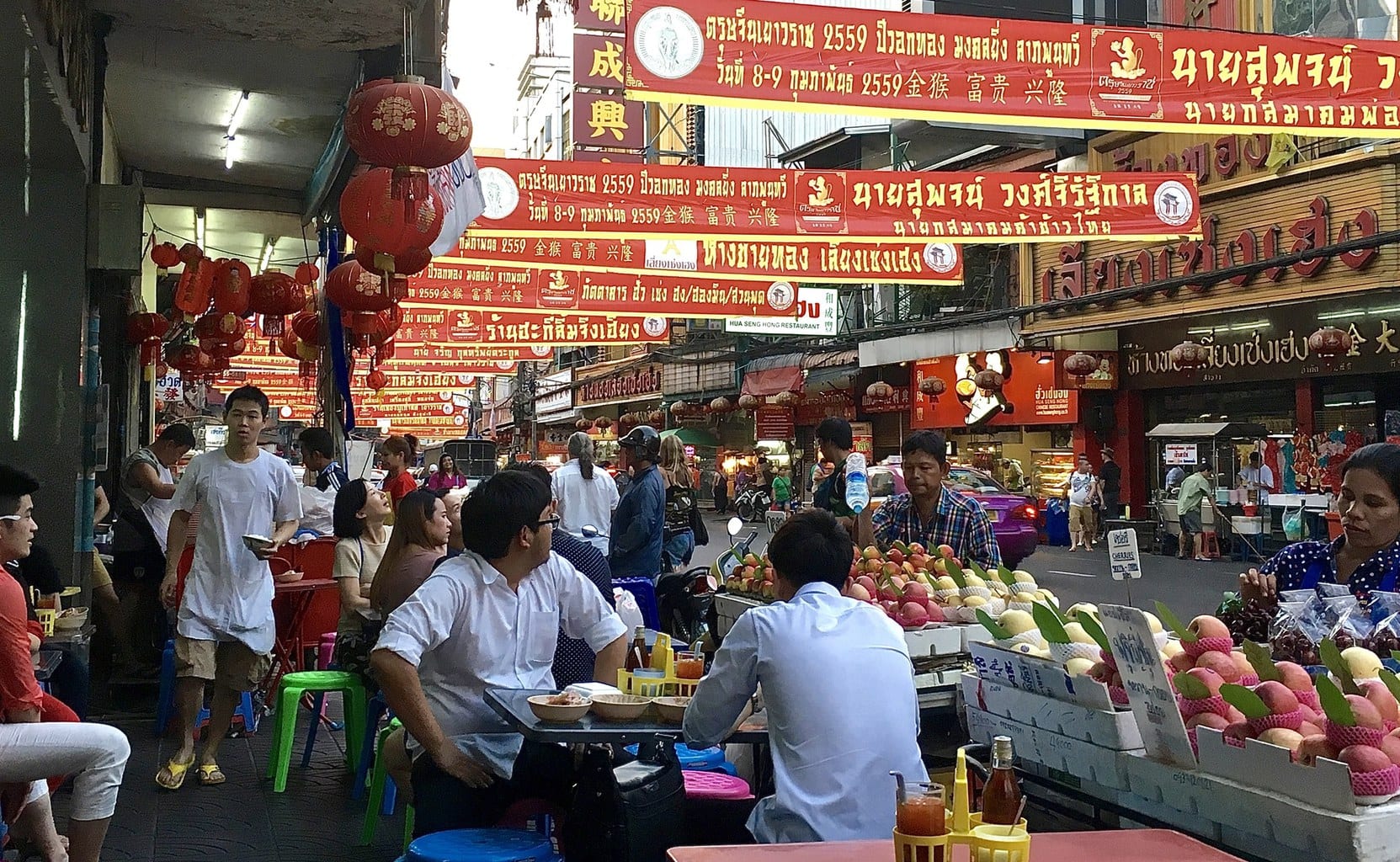 Bangkok's Chinatown is possibly one of the largest Chinese neighbourhoods in the world. Created after the resettlement of Chinese migrants from the bank of the Chao Praya River to make way for the construction of the Grand Palace in the 18th Century, it remains an authentic piece of history.
History of Bangkok Chinatown
Chinese migrants used the river as the main thoroughfare to trade between the then Kingdom of Siam and China bringing merchandise up and down the water. In the 1930s, the area was notorious for being the center of opium dens and brothels but these practices are today illegal and the area has since evolved into a clean and safe, if rather confusing, neighbourhood.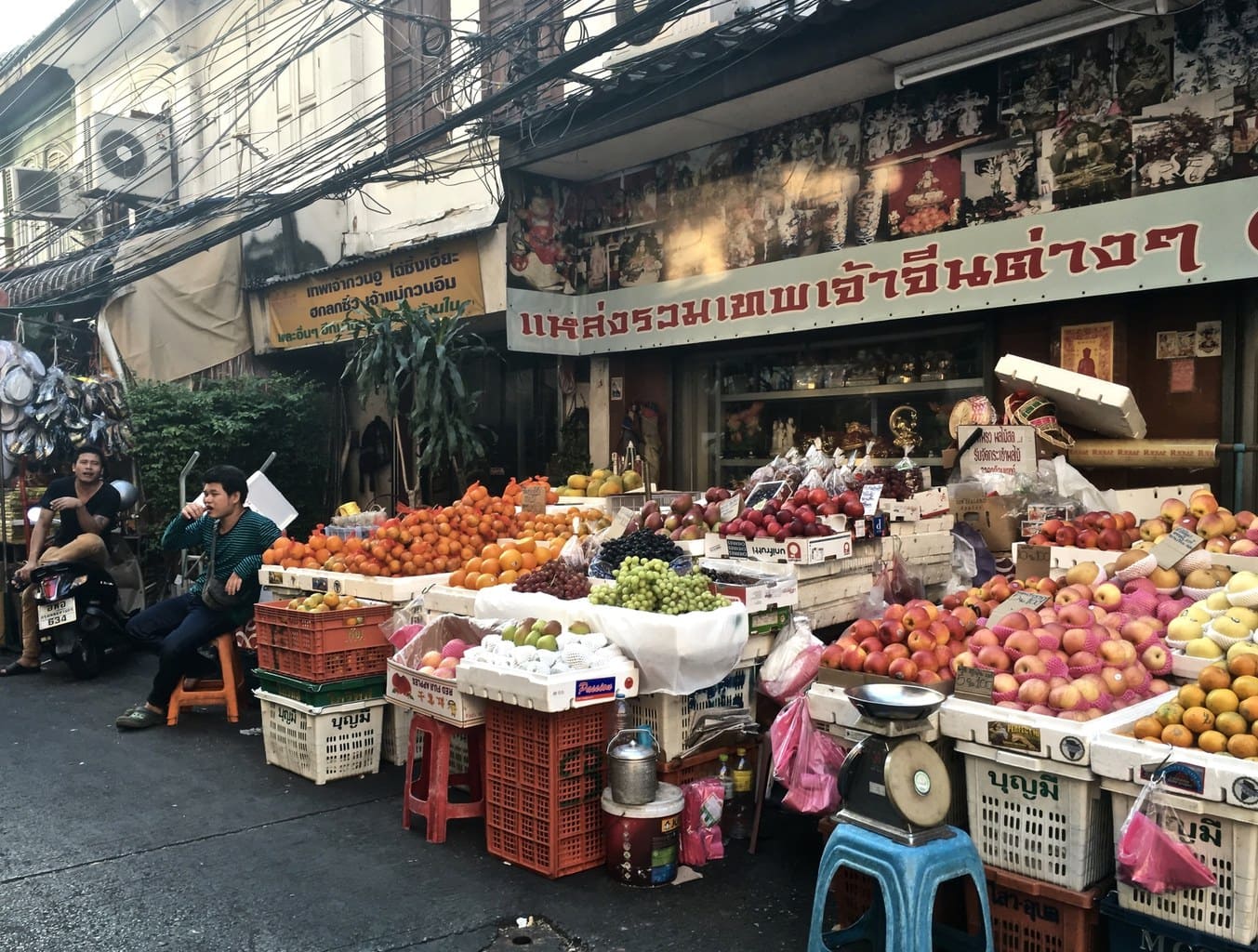 During the day, Chinatown is alive with stores selling anything from clothes or spare parts to stationary or gold, a favourite investment alternative, and all sorts of ingredients in Chinese Medicine and recipes. At night, Yaowarat Road, the main artery, turns into a massive open air food market with stalls cooking and serving hundreds of Chinese, Thai and "fusion" dishes to locals and visitors.
On Yaowarat Road, neon signs, noisy tuk tuks and red lanterns adorn the Thai-Chinese shops and fight for attention. In this crowded area, real estate is said to be one of the most expensive in the city as land is limited and the dragon shape of the road is believed to be auspicious.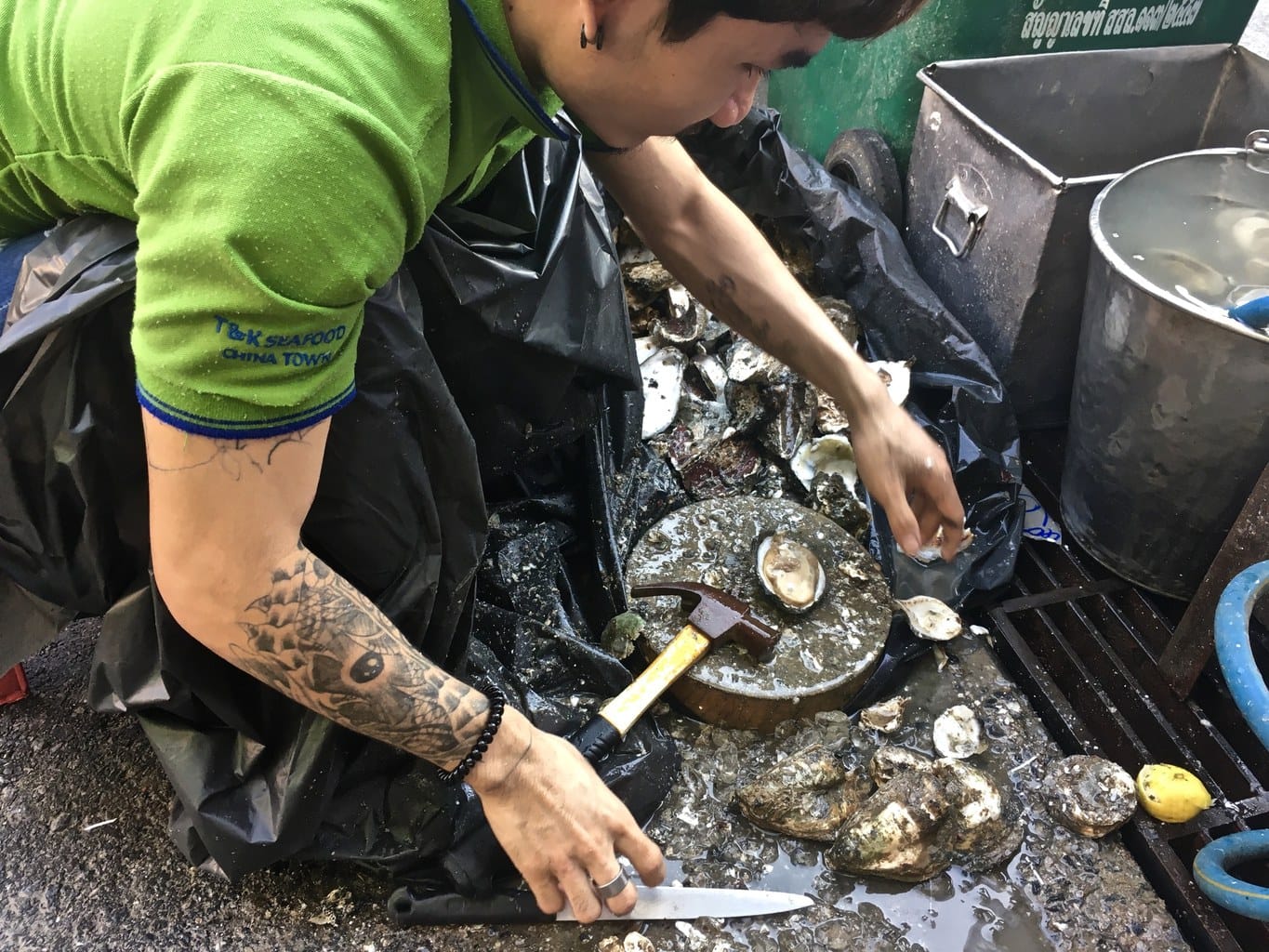 Although Yaowarat Road is the busiest part of Bangkok's Chinatown, the fun only begins there. Head to the small alleys out from the main road and immerse yourself in the real sounds and smells of the Chinese community.
Surrounded by the tidy piles of exotic fruits and gold and red souvenirs you will feel as if you have landed in Beijing's old quarters. Descendants of Chinese migrants brought with them their traditions. Chinese New Year, at the end of January or beginning of February every year is a celebration worth experiencing.
Chat, in sign language, to the local store owners in the covered narrow alleys selling dried and preserved foodstuff and try to figure out what the crinkled and dried out goods are, from dried fish to Chinese Traditional Medicine concoctions to pickled vegetables and fruits.
All of your Chinese recipes can be made in Chinatown. Expect to find all types of teas and legumes fighting for space side by side with offerings to the gods in the form of paper versions of goods or real life 20 Thai Baht notes hanging from spirit houses.
Before the sun sets, the activity and movement on the main streets and side alleys is at its peak. Stall owners start setting up shop at around 5pm and the first dishes are churned out from 6pm when visitors flow to Bangkok Chinatown for a food tour. Hot spicy pork soups mix with fresh coconut, salads, dumplings, noodles and fried snacks.
The area comes alive as the day's shift comes to an end. Chinatown's double personality as a day trader and a night gluttonous addict is visible at the time when the two converge. Watch the stall owners set up and prepare all the foods in plain sight. But don't be fooled, everything is cooked with clean water and you will observe great care for cleanliness and hygiene.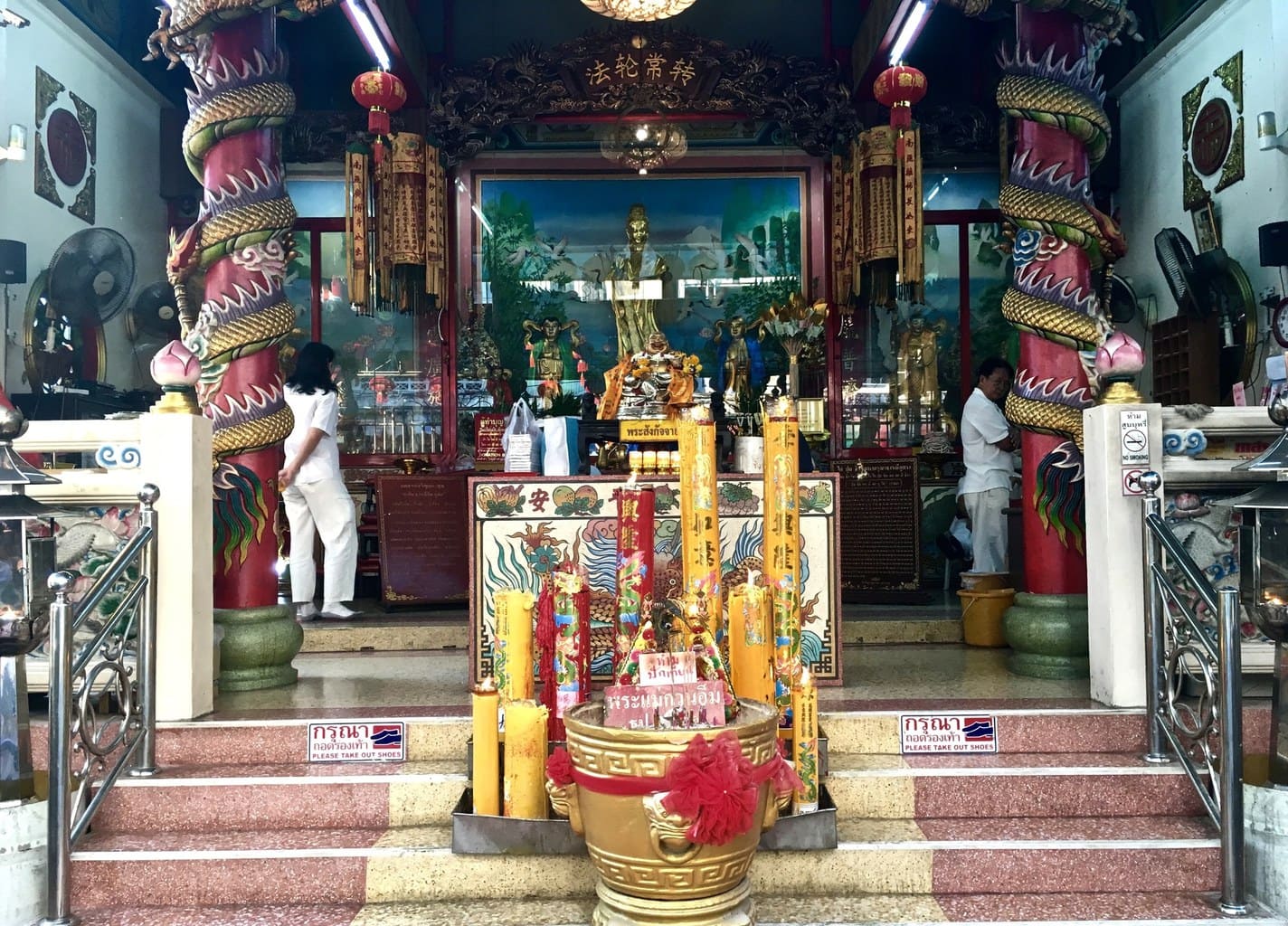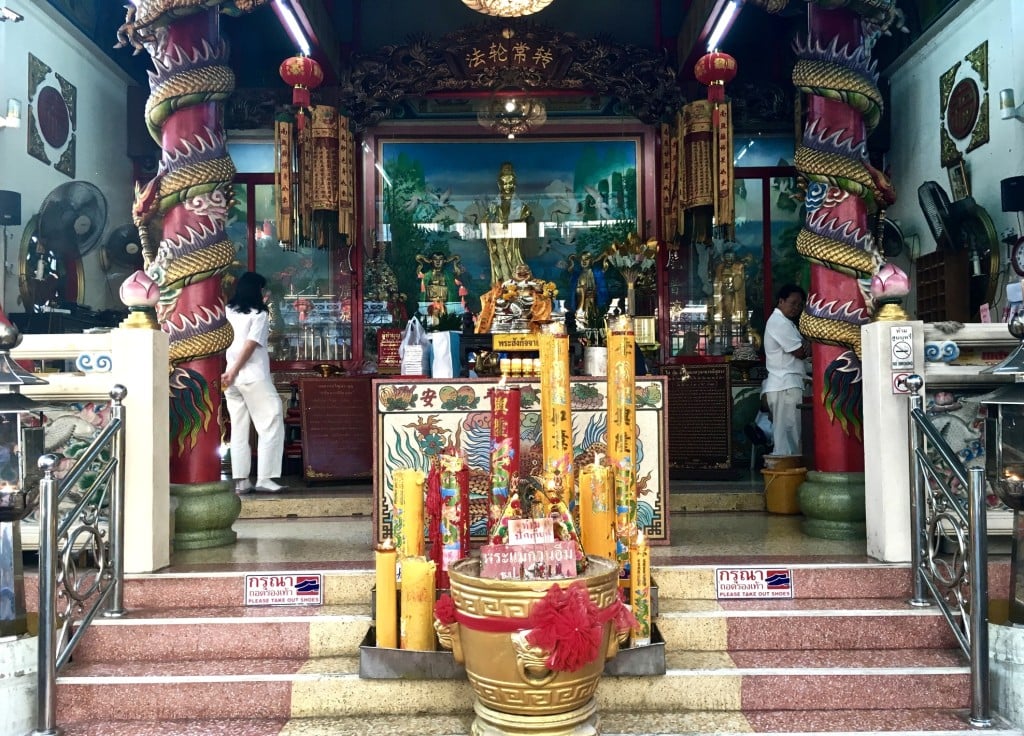 On one corner, a seafood seller shucks oysters letting the wastage drain down the sewage. On another, a cook is prepping the meats for a stir fry, seasoning and keeping it on ice. Among all the buzz and smoke from the cooking pots and pans it is not easy to differentiate the best from the good so, with the help of Ashely, my guide from Context Travel, I ventured on a culinary and cultural tour of Chinatown.
We walked through the alleyways, we got lost in the maze of stores and got distracted by curious goods and hanging smoked and roasted duck meat. "These are sliced thinly and used as condiment for salads," Ashley explained as I stared at the golden, Peking Duck-looking shiny animals.
The most fascinating part was the stroll along the covered market in Talat Mai. "The street name means 'new market' in Thai but it's been around for nearly 200 years", emphasises Ashley, and it is "one of Thailand's most Chinese markets".
I can certainly feel like I am back in Singapore's Chinatown, where I live. Singapore being such a predominantly Chinese society I have seen most of the products on offer before, only behind display glasses on shiny shops, not out in the buzz and excitement of the street.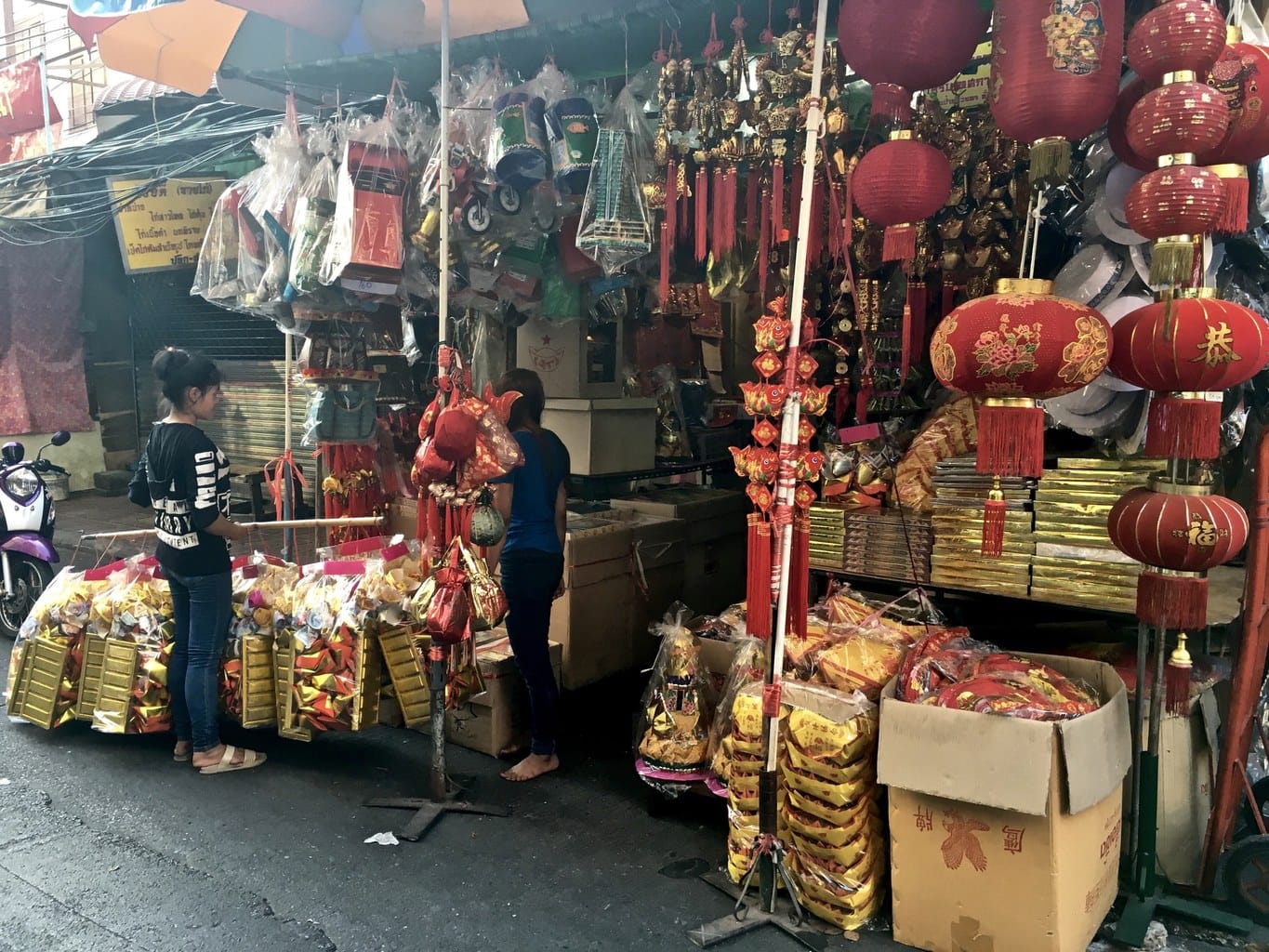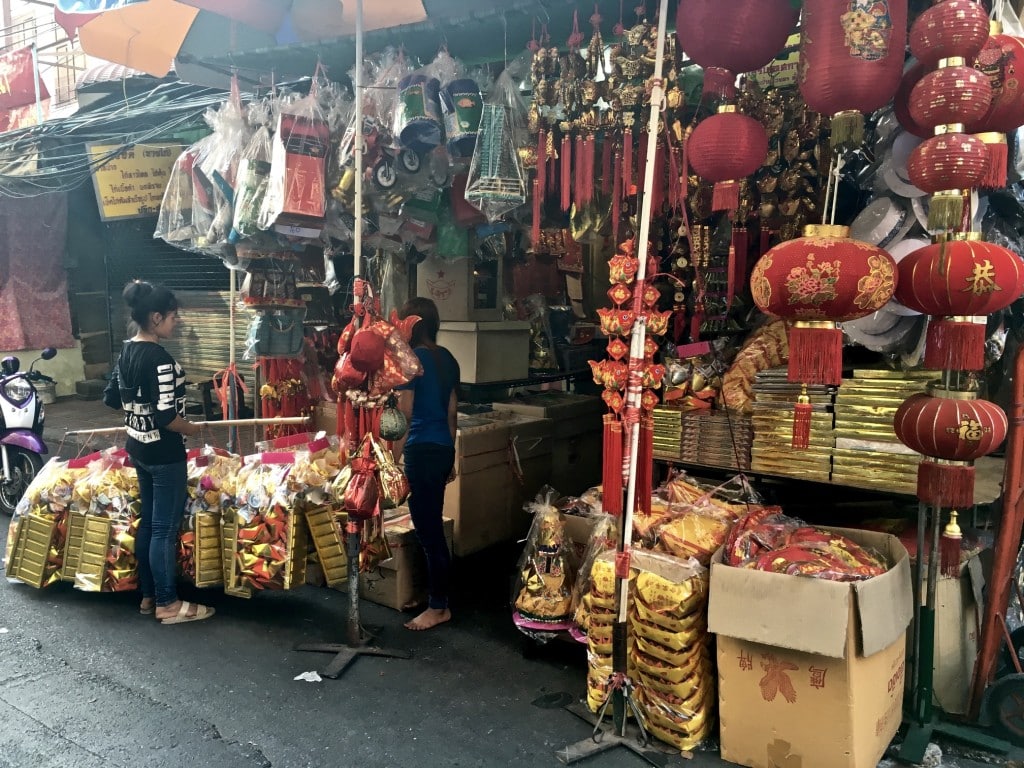 Context Travel immediately caught my attention because of their approach to sightseeing and tours which is the antithesis of a tour. And that, speaks to me. I am not a fan of tours. I like discovering places myself, getting lost, talking to locals and letting serendipity take its course.
But Context Travel Bangkok Food tour was a mix between the culture oozed by the neighbourhood and the smells and flavours coming out of the many street food sellers. Plus, we would end up the evening at at the 24h Bangkok Flower Market.
I love orchids and jasmine! This was the perfect tour. What made my Context Travel Chinatown Food Tour even more special? It was a private tour for just me and my friend so we could stop where we wanted, eat what we wanted and when we had enough, head home.
Things to eat in Bangkok Chinatown
Mung Korn Khao from Mung Korn Kaho Noodle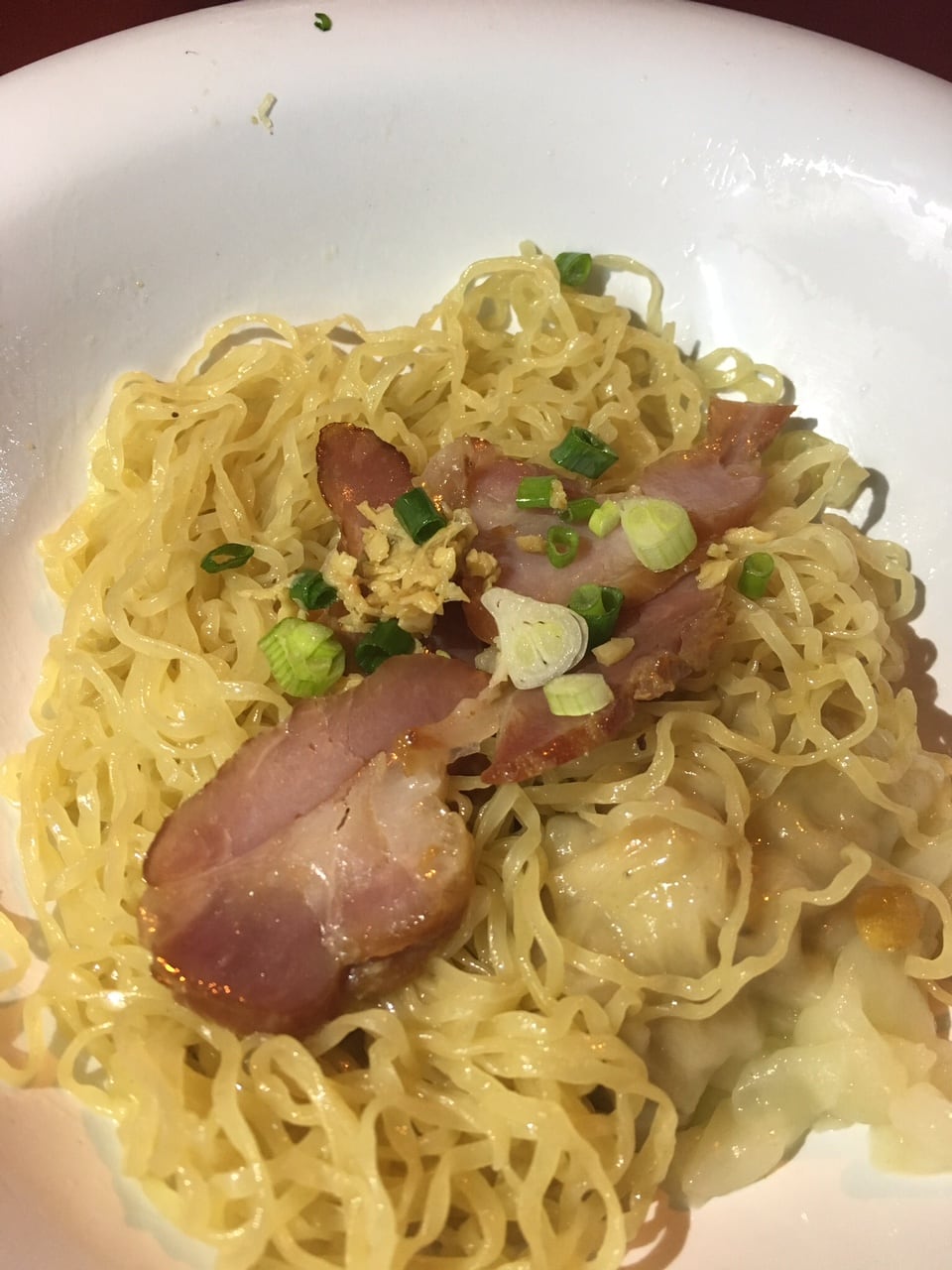 These dry noodles with dumpling and pork were delicious. They were as soft and satined as they looked and the fact that they were hand made and cooked to order only added to the wonderful texture and flavours. They were extraordinarily good and the pork was intensely flavourful. Highly recommend to try this. You can also order the soupy version, equally enjoyable!
To find it, look for the star on this Google map which Ashley kindly provided. The stall is directly on Yaorawat Road.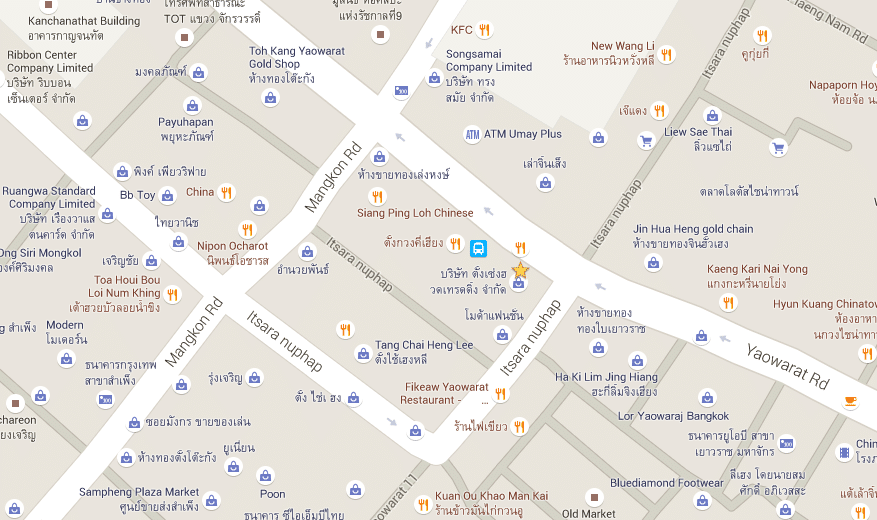 Kuay Jab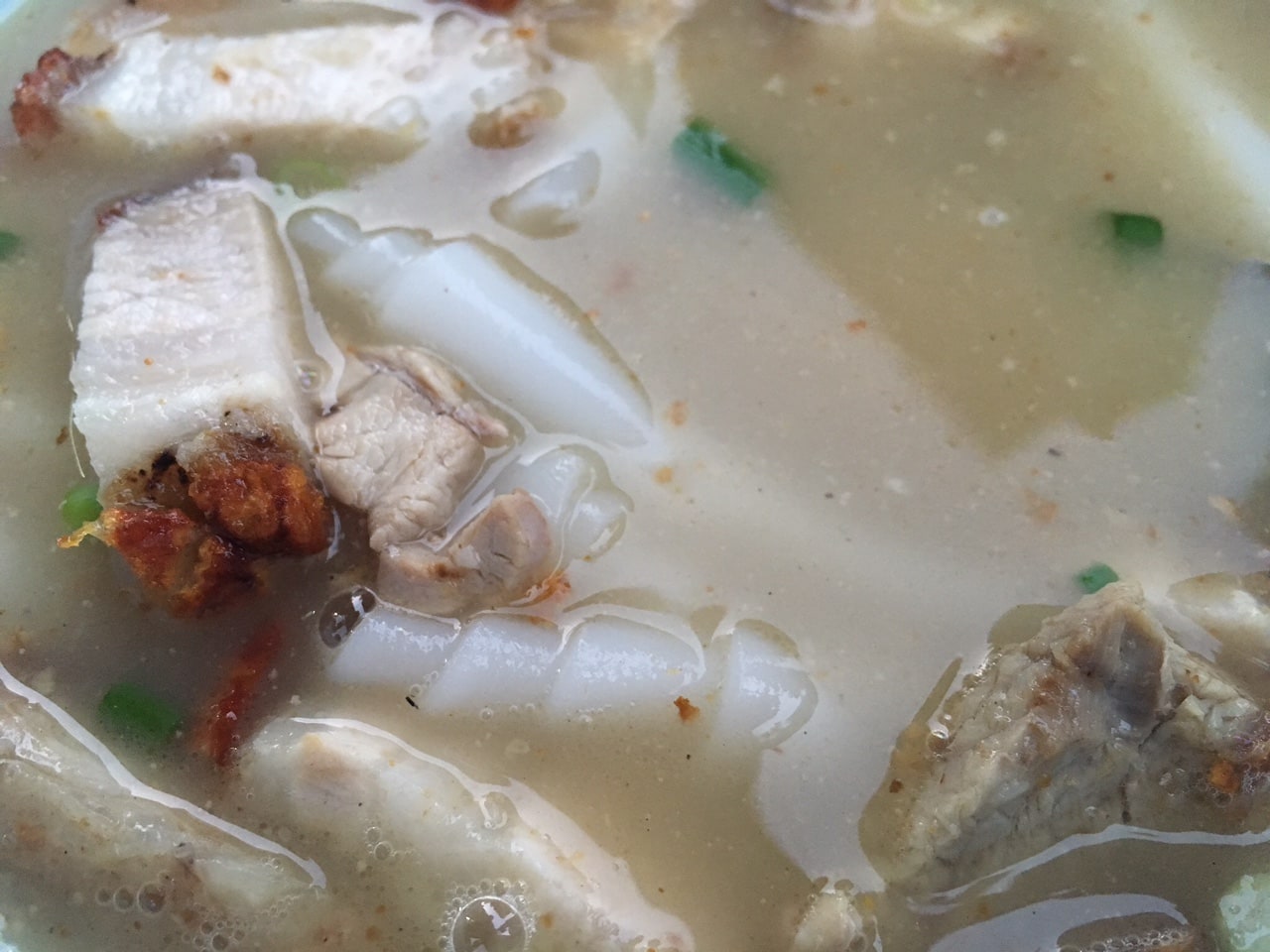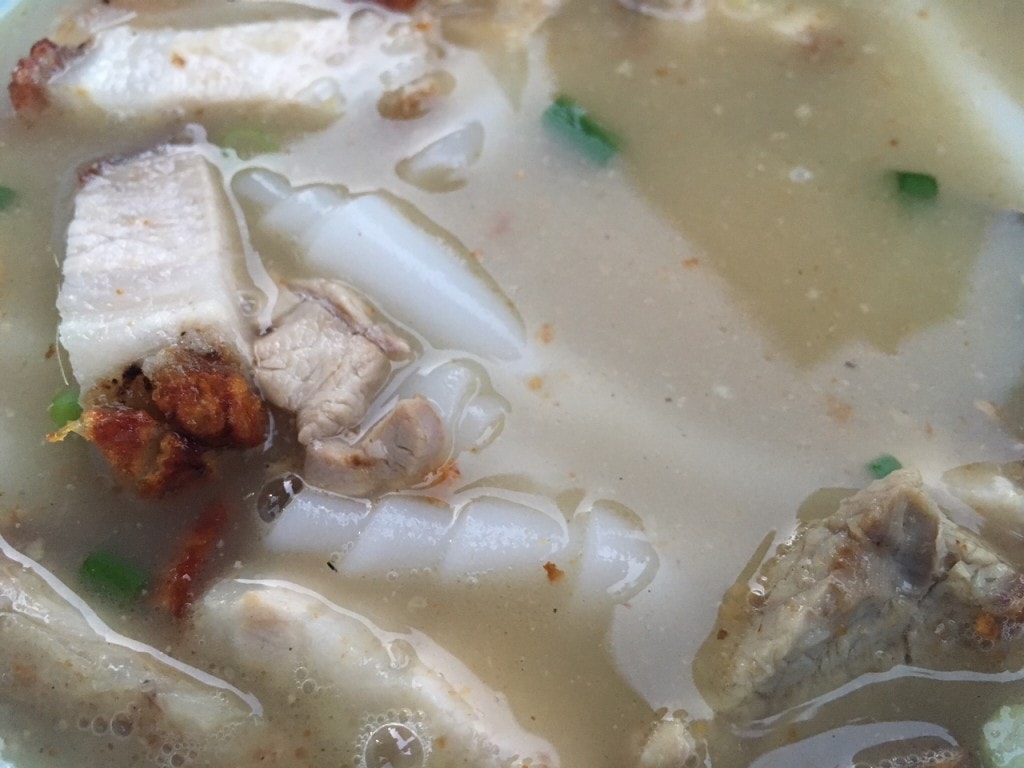 This pork peppery soup with "everything" is a Chinese favourite and this stall dished them out as if they were free. The "everything" part of this dish includes pretty much every part of the animal, from intestines and blood to other more common parts.
I decided to have mine with just "pork" in which case I got only the parts you would find at a Western supermarket in styrofoam packets but grilled. But if you are feeling more adventurous, do go for the Full Monty. The noodles in this dish come rolled up as if they were seashells.
The peppery seasoning kicks in after a little while; suddenly, you will feel the heat. This stall is next to Mung Korn Kaho Noodle. The building in which it is housed used to be an old theatre so it is not a stall in the street but hosted inside the ground floor of the theatre.
"Vermicelli" from a lovely lady on Yaowarat Road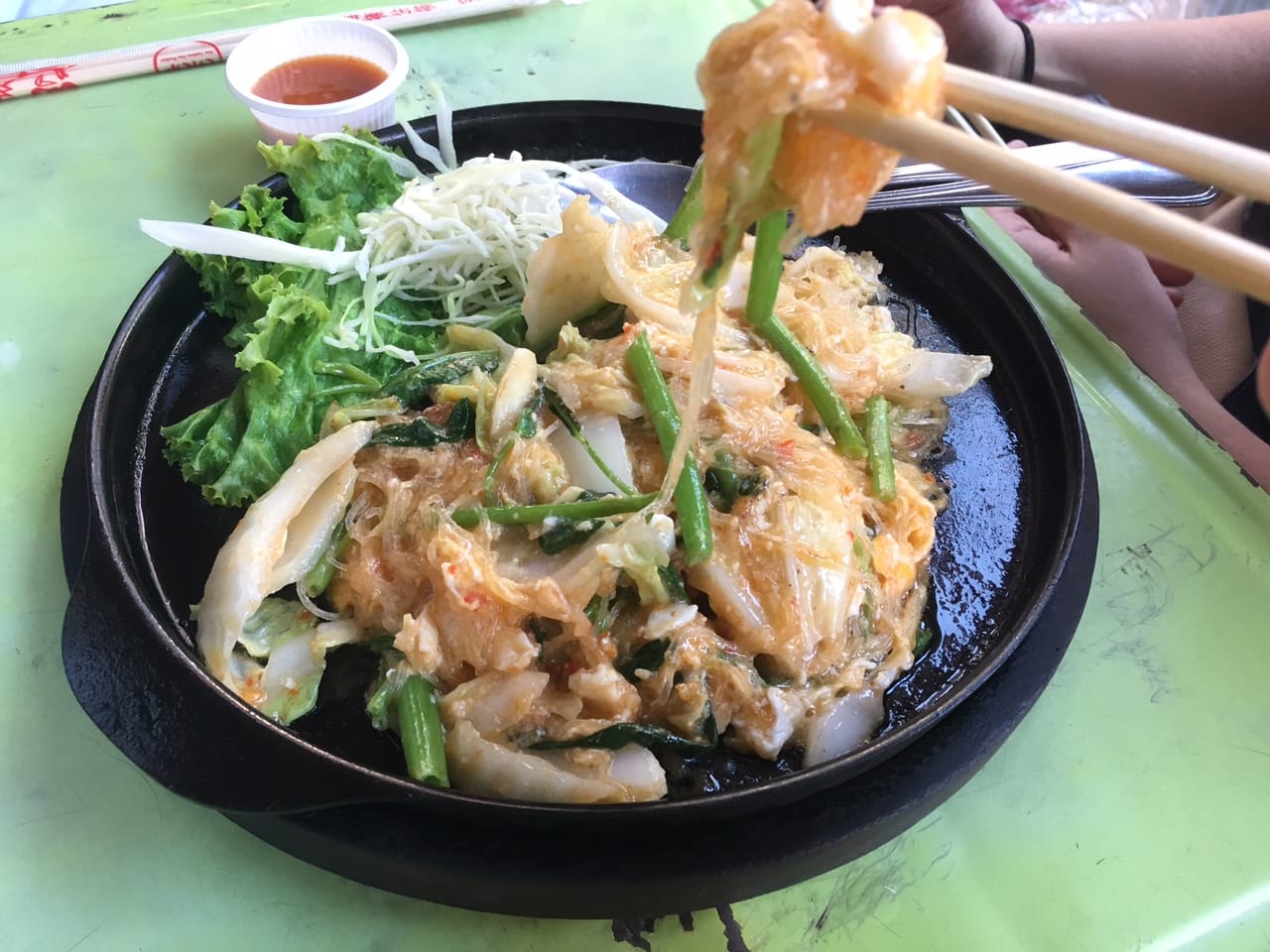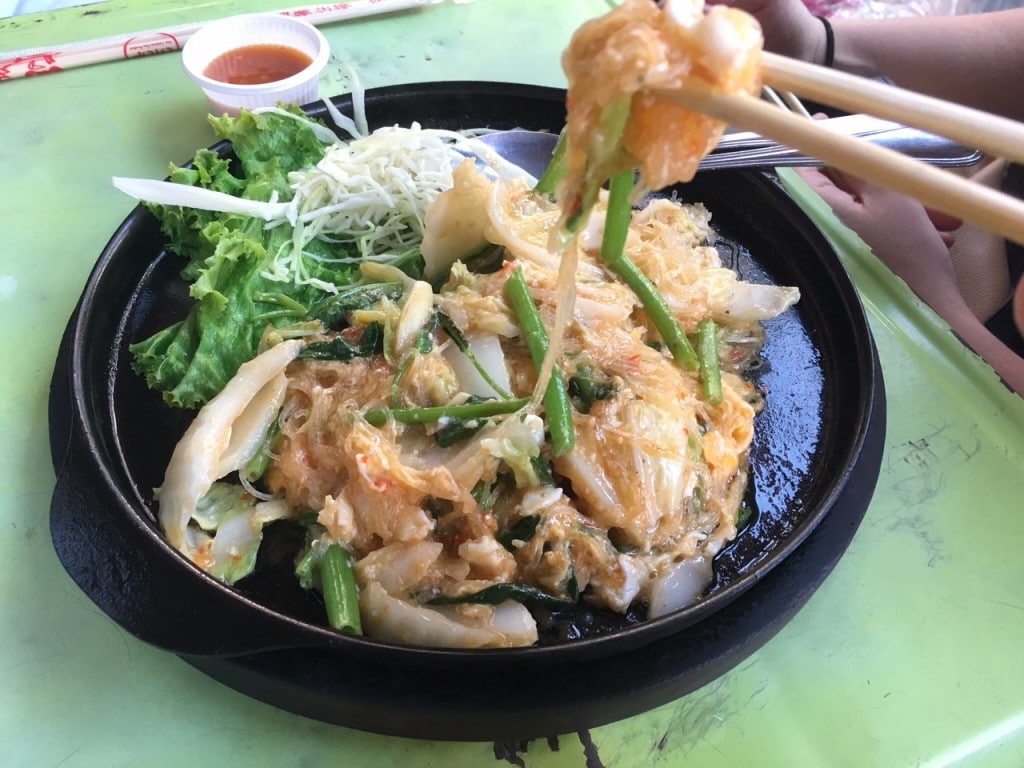 A Bangkok Chinatown food tour cannot be complete without some stir fried noodles. This stall had a laminated menu with photos and even English translations. The vermicelli dish consisted of vermicelli rice noodles with chicken, shrimp and veggies stir-fried in a chili sauce. The entire team at this stall is perfectly organised to serve customers in a "Just in time" car production line fashion. Synchronised and quick. She was smiley and kind.
We could go on and on with more dishes but, after three of them, a few coconuts to wash it down and a content belly, the best way to aid digestion is to walk it off at the nearby Bangkok flower market where another explosion, slightly better smelling and possibly better looking, will fill your senses.
If you are not as familiar with the concept of a "wet market" like I am (I do my groceries at one after all!) then I recommend you follow Ashley to Klong Toey to see one of Bangkok's biggest and busiest wet markets. Another fascinating assault to the senses.