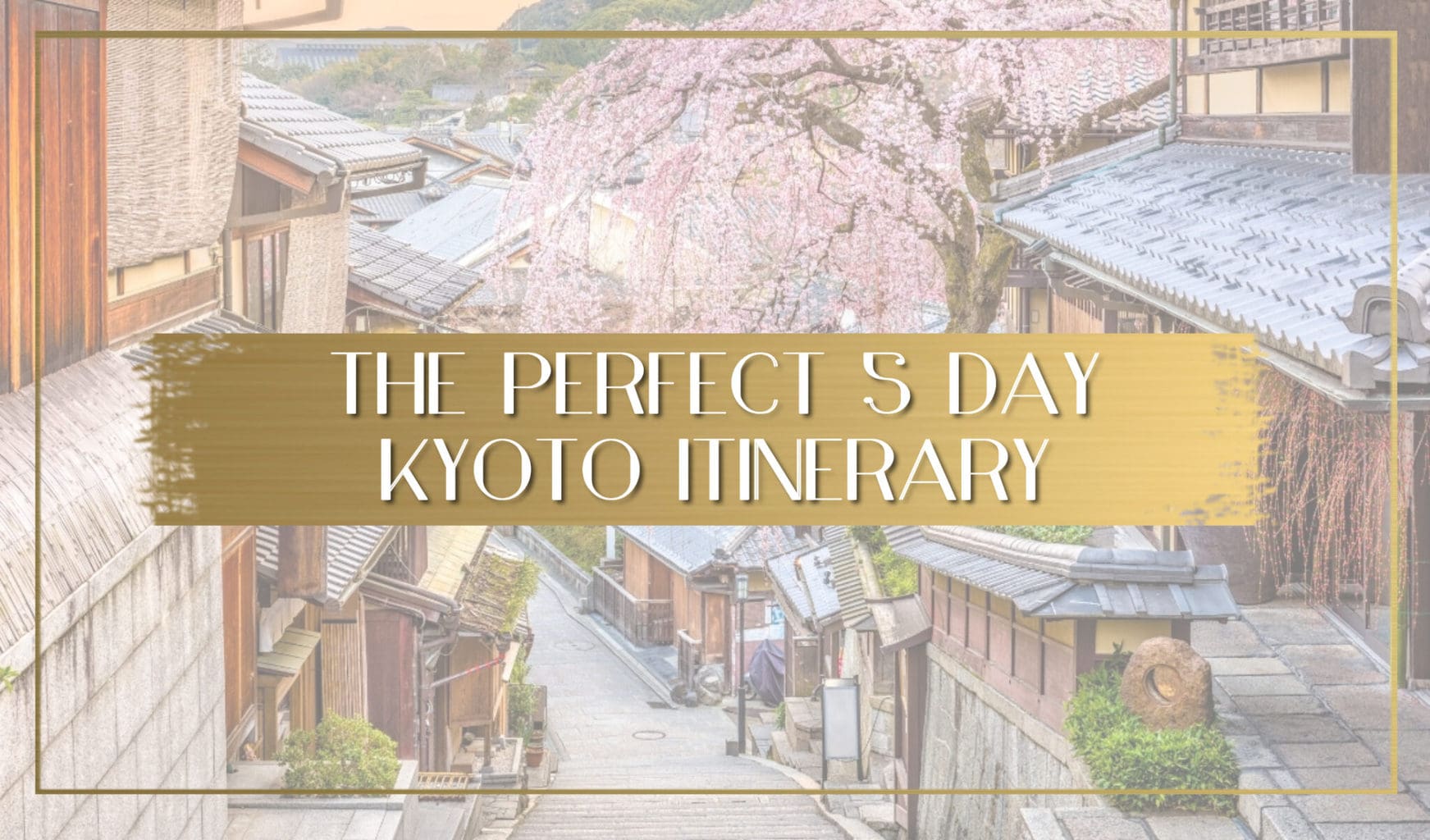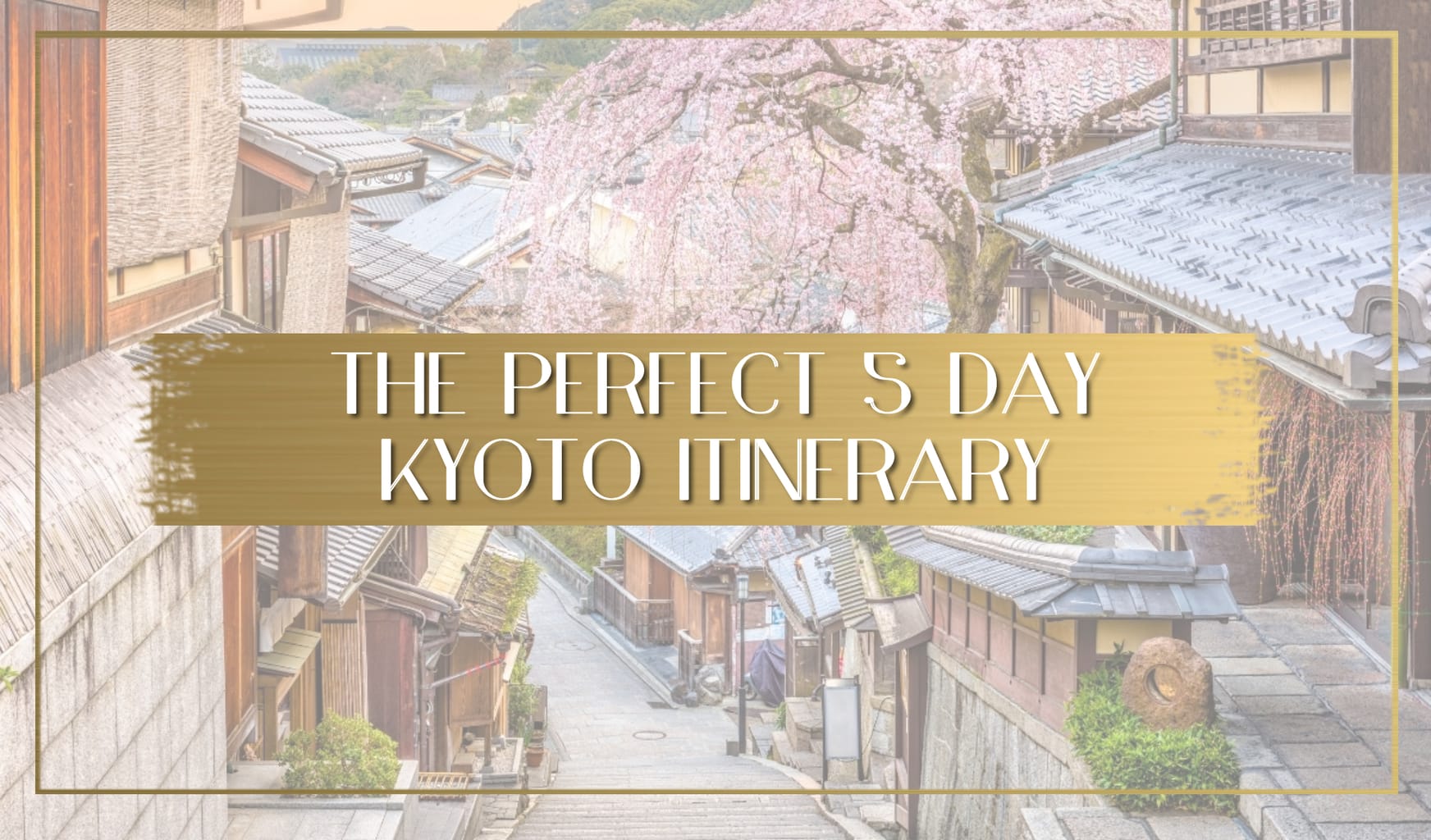 Charming temples, quaint shrines, Zen gardens, and bright cherry blossoms – all of these things form the peaceful yet exciting atmosphere of Kyoto.
It's the city that best captures Japan's culture and traditions, and there are many historical sites here that are part of the UNICEF World Heritage. Definitely one of the top places to visit in Japan.
This is why you should spend at least 5 days in Kyoto to fully take in the sights and experience the true Japanese vibe. But it's also necessary to plan ahead and follow a Kyoto itinerary for the best experience.
I was fortunate enough to travel to Kyoto by using points from my favorite travel credit card, the American Express Platinum card. I've used travel hacking to explore a ton of different spots around the world. This was one of my favorite experiences and was truly eye opening.
So in this post, we're going to walk you through a carefully planned and efficient 5-day Kyoto itinerary.
It covers the top most popular places and a few offbeat destinations for some peaceful strolling.
We've also added a few nifty travel tips here and there, so keep reading to know more!
Things to Know About Kyoto Before Visiting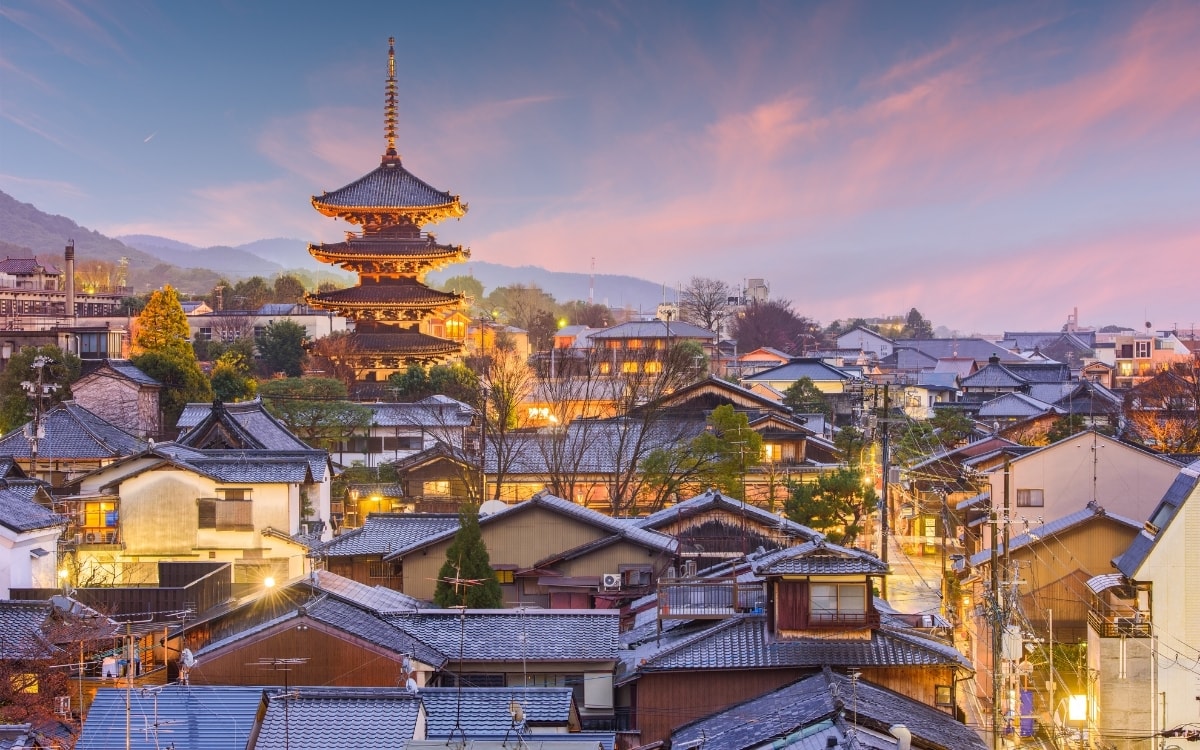 Before we jump into our Kyoto itinerary, let's get to know what the city is all about.
If you're a history fanatic and nature-enthusiast, you're going to love the numerous temples and shrines sprinkled across the city. Zen gardens, ponds, tiny and huge shrines – Kyoto is a plethora of beautifully-preserved historical sites.
Other than this, Kyoto's city life is pretty lively, especially in the Gion District, where pubs and bars are bursting with entertainment, and Geisha (the native female entertainers) are lifting everyone's mood.
Although it's a reasonably crowded and large city, the atmosphere in Kyoto is pretty relaxed. The traffic is toned down, the crowds are calm, and the people are as friendly as ever.
So you get the best of both worlds – a good dose of Japan's natural beauty and the bustling city life.
When visiting Kyoto, it's essential to keep a few things in mind regarding general manners and etiquettes.
For instance, smoking is prohibited in the streets, and you'll most probably get fined for it. Also, when visiting shrines and temples, you're expected to take off your shoes, drop a few coins in the offering box, and say a short prayer.
Remember: be respectful and calm within the places of worship, and generally as well.
Apart from this, you should know how to greet people. This involves nodding or bowing, but typically nodding would suffice. Interesting fact about Japan, some Japanese even bow to inanimate objects like cars or trains. Also, learn a few basic Japanese greeting words, and you'll be good to go exploring Kyoto.
Day 1 – Downtown Kyoto and the Eastern Districts
If you're visiting Japan for the first time, it's best if you take it easy on your first day in Kyoto. And even if this isn't your first time, you might want to start spending the first day visiting Downtown Kyoto.
This will let you ease into the local atmosphere and spend a relaxed day after traveling.
Nishiki Market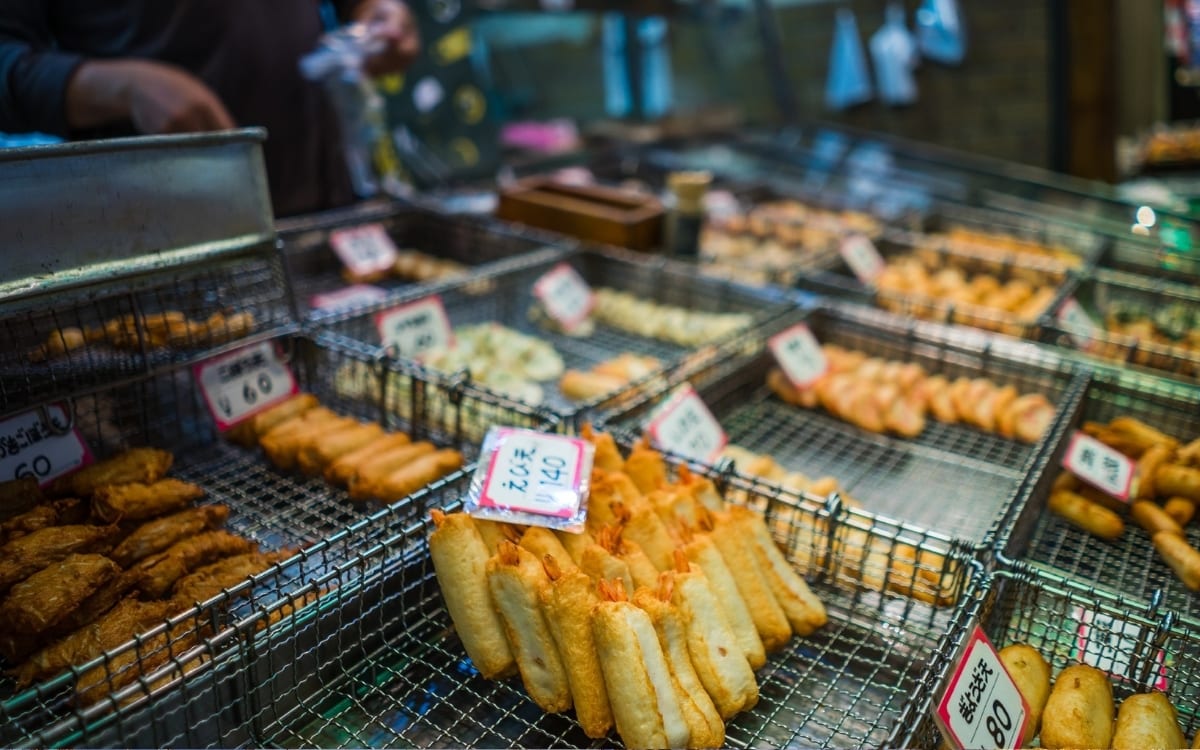 To start your day, visit the Nishiki market on Nishikikoji street, which is a couple of minutes away from Shijo Station.
This is one of the oldest traditional food markets in Japan, dating centuries back. Here, you can dip your toes into the country's cuisine, as many stalls and shops hand out free samples for tasting.
Teramachi and Shinyogoku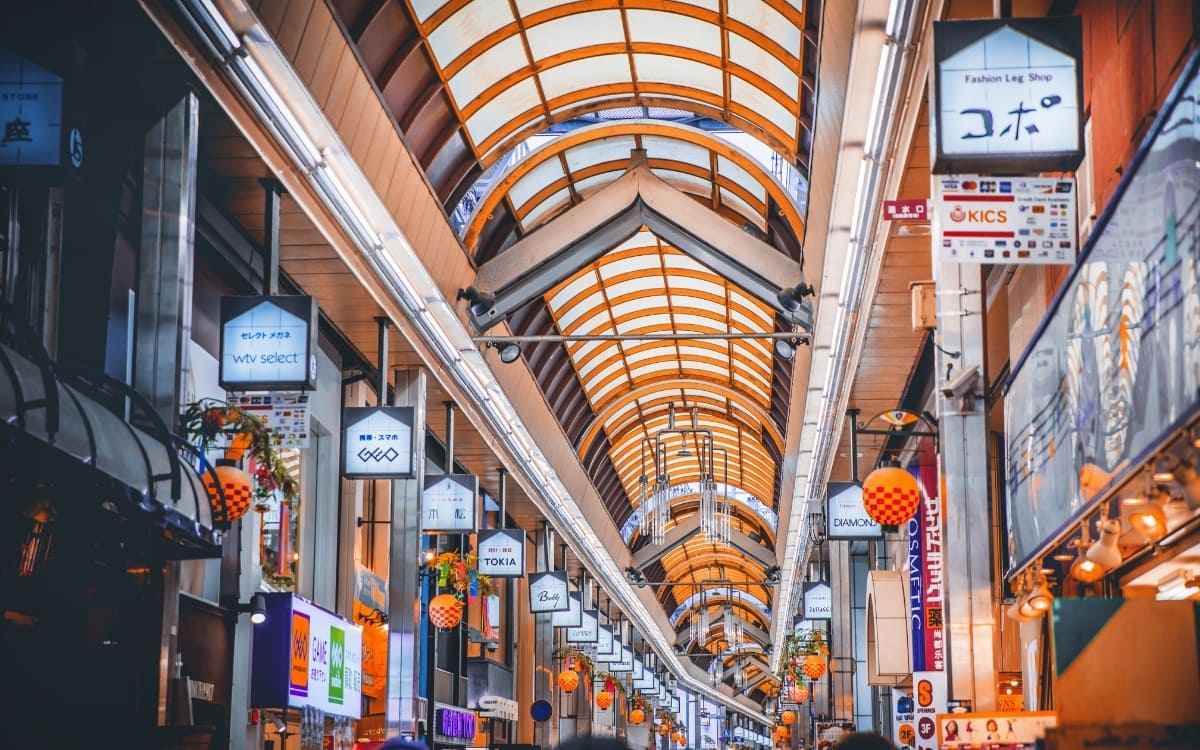 After exploring the exotic five blocks long market, head out into the two shopping arcades, known as Teramachi and Shinkyogoku.
These covered streets are lined with clothes, books, religious ornaments, and curio shops. So if you're planning on picking up a souvenir or two, this is the place to be. These are some other awesome Japanese souvenirs to grab on your trip. It's also a bit calmer than shopping in Tokyo, so you can expect more space when browsing.
Kiyomizu-Dera, Yasaka Shrine, and Gion District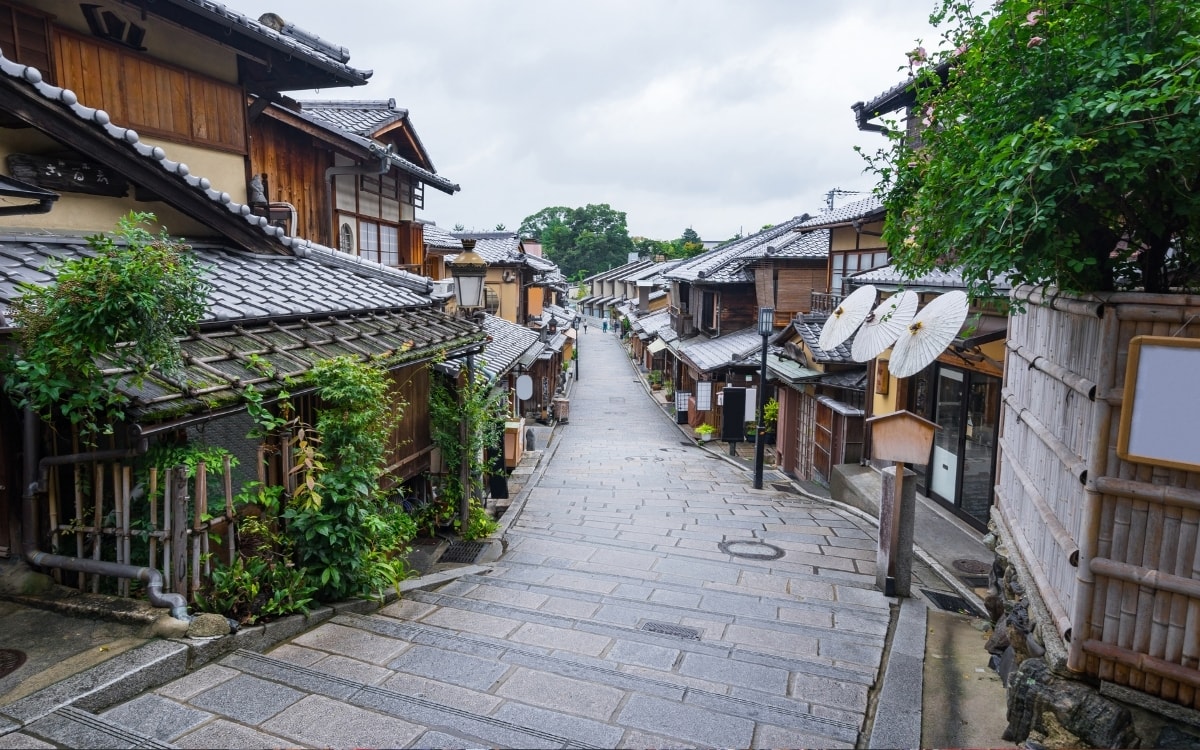 Next, you can choose to go to the Gion district, then Yasaka Shrine, and lastly, the Kiyomizu-dera temple. This is the most straightforward route.
However, if you started your day in the morning, we suggest you make a beeline for the Kiyomizu-dera temple. This is because it's best to explore this location before or around noon when crowds aren't too thick.
Work your way back towards the shining, bright orange Yasaka shrine, and don't forget to visit the Maruyama Park for some beautiful weeping cherry trees.
By the time it's sunset, head towards the Gion district to witness its nightlife and the beautiful Geisha.
End your day by dining in one of the exotic restaurants and pubs here, such as Sou, Kyotomi, or Shouan. Here, you can experience Kyoto's traditional dining style and some high-end gourmet dishes.
Day 2 – More of Eastern Kyoto
Half of Kyoto's most popular tourist attractions are in eastern Kyoto, including the ones listed above. So, it's a good idea to dedicate another day to further explore this area.
Once you've strolled down the streets of Gion and visited Kiyomizu and the Yasaka Shrine, it's time to jump deeper into the city's historical sites. Start at the foot of the northeast mountains and travel south, one temple at a time.
Ginkakuji Temple and the Philosopher's Path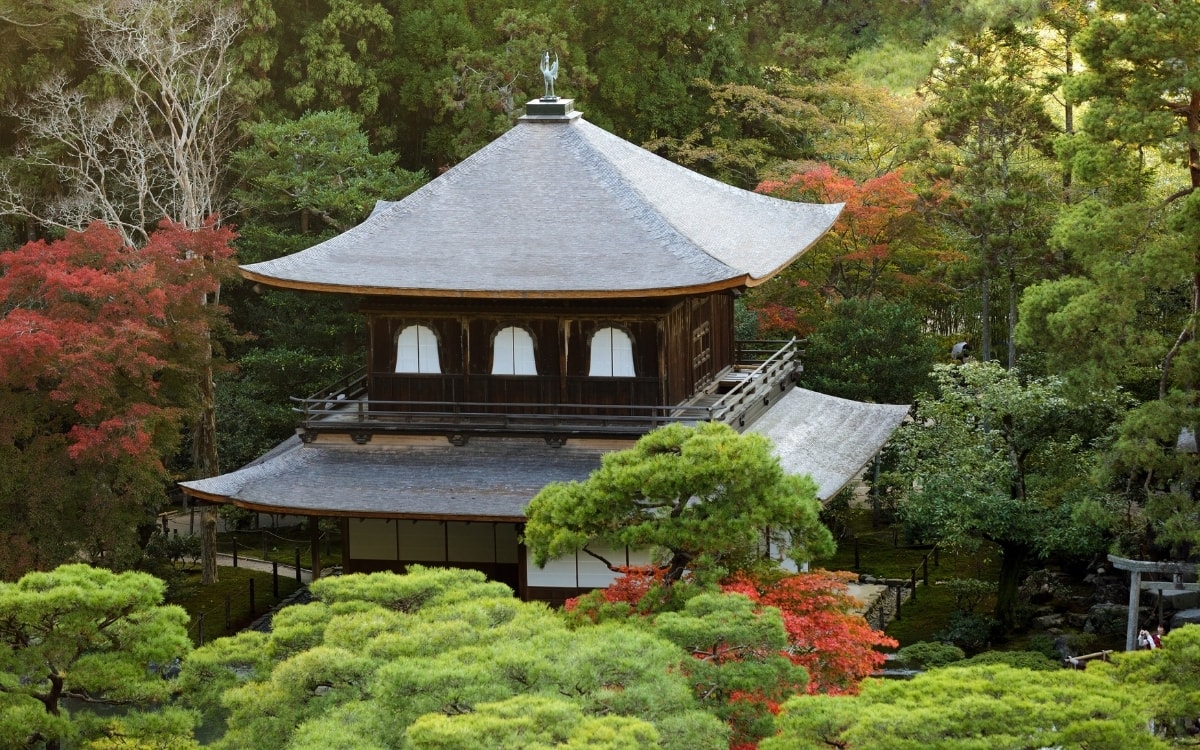 On the second day, take a direct bus to the Ginkakuji temple on the eastern mountains' foothills.
This beautiful location is the perfect example of Japanese aesthetics, with a moss garden and a large stone cone called 'Moon Viewing Platform'. The double story Zen temple itself is stunning, buried within lush, colorful trees.
When you've had your fill of the view, you have two options: visit the Shinnyodo temple, a quiet, peaceful place known for its autumn colors, or carry on towards the Philosopher's Path.
This path is lined with huge cherry blossom trees and is very Instagram-able, so do have a walkthrough here.
Eikando and Nanzenji Temple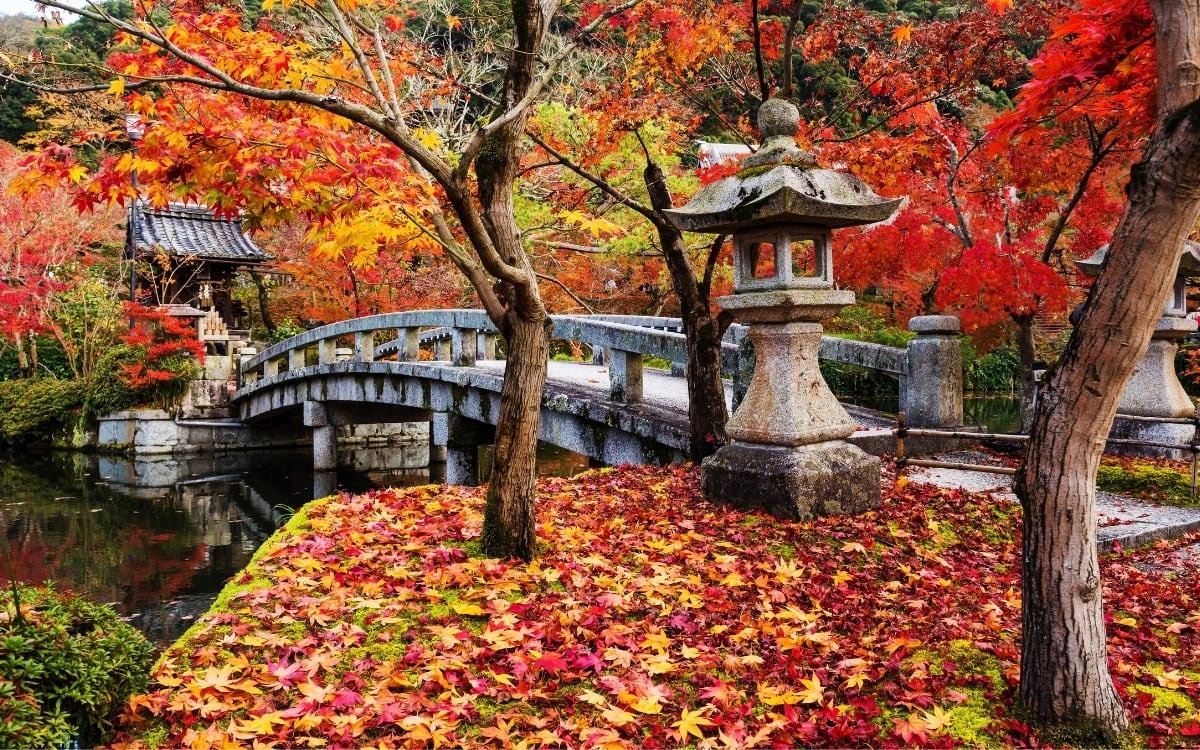 South of the Philosopher's path, you'll come across a secluded yet breath-taking spot: the Eikando temple.
It's famous for its autumn foliage, so if you're visiting Kyoto around this time, don't miss out on this location! Eikando's gardens, ponds, and the city's view from the top of it are simply unbeatable.
Another ten-minute walk south will lead you to the Nanzenji Temple. This beauty has a massive and impressive entrance and 12 sub-temples you'll surely want to explore.
Shogunzuka Mound
If you want another spectacular view of the city, visit Shogunzuka Mound next, which is a temple on top of Mount Higashiyama. You can take a taxi here or hike up the terrain – either way, we guarantee a magical view from its observation decks.
National Museum of Modern Art
If you've had enough of temples for the day, try touring the National Museum of Modern Art on the way back to your hotel. We've included this in this Kyoto itinerary due to its famous Japanese-style paintings and modern art, which might interest you.
Day 3 – Up North
On the third day of this itinerary for traveling to Kyoto, you can explore the Northern side. Starting from the northeast to the northwest, this route is packed with some majestic temples, just like any Tokyo itinerary. So be prepared for a long day outside!
Shugakuin Imperial Villa
One of Japan's most treasured cultural locations, the Shugakuin Imperial Villa, is located towards northeast Kyoto. It's only accessible through guided tours, so make sure you book in advance here.
These gorgeous villas are surrounded by ponds and gardens and are a must-visit in our Kyoto Itinerary. On the way back, you might want to stop at Enkoji temple, a very underrated, hidden, yet charming Buddhist temple and garden.
If you weren't able to book tickets to Shugakuin, start by visiting the Kifune shrine instead. It's far up north, and you can reach it by taking the Keihan Line from Kyoto Station and transferring to Eizan.
Stone steps lined with lanterns lead up to this picturesque shrine, and it's worth hiking around the area to explore its natural beauty.
Kamigamo and Shimogamo Shrines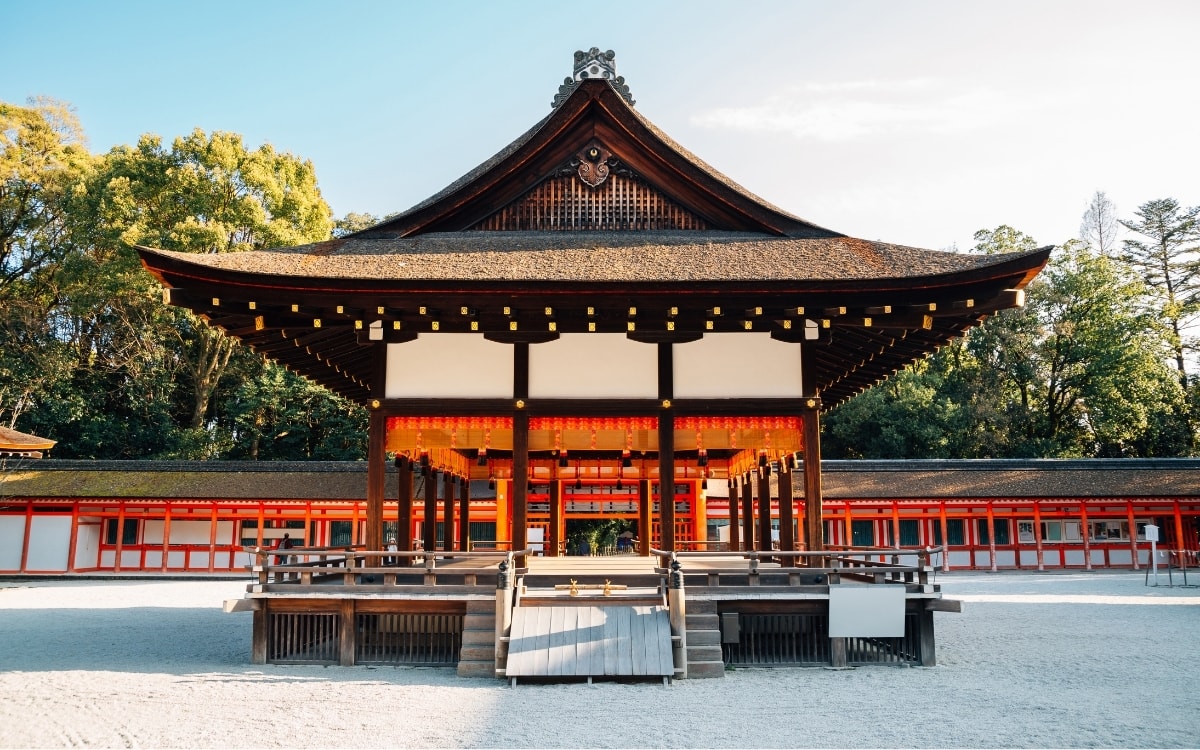 On the way back from Shugakuin or Kifune shrine, you must visit these two sister shrines. Your 5 days in Kyoto would be incomplete without going to Kamigamo and Shimogamo, as they're part of the UNICEF World Heritage.
A number of festivals occur at these shrines throughout the year, so it's worth visiting them during those days.
After touring these spots, you might want to stop for lunch in the neighborhood. We suggest a place called Shimogamo Saryo, an elegant restaurant where you can experience Kyoto-style kaiseki cuisine.
Kinkakuji Temple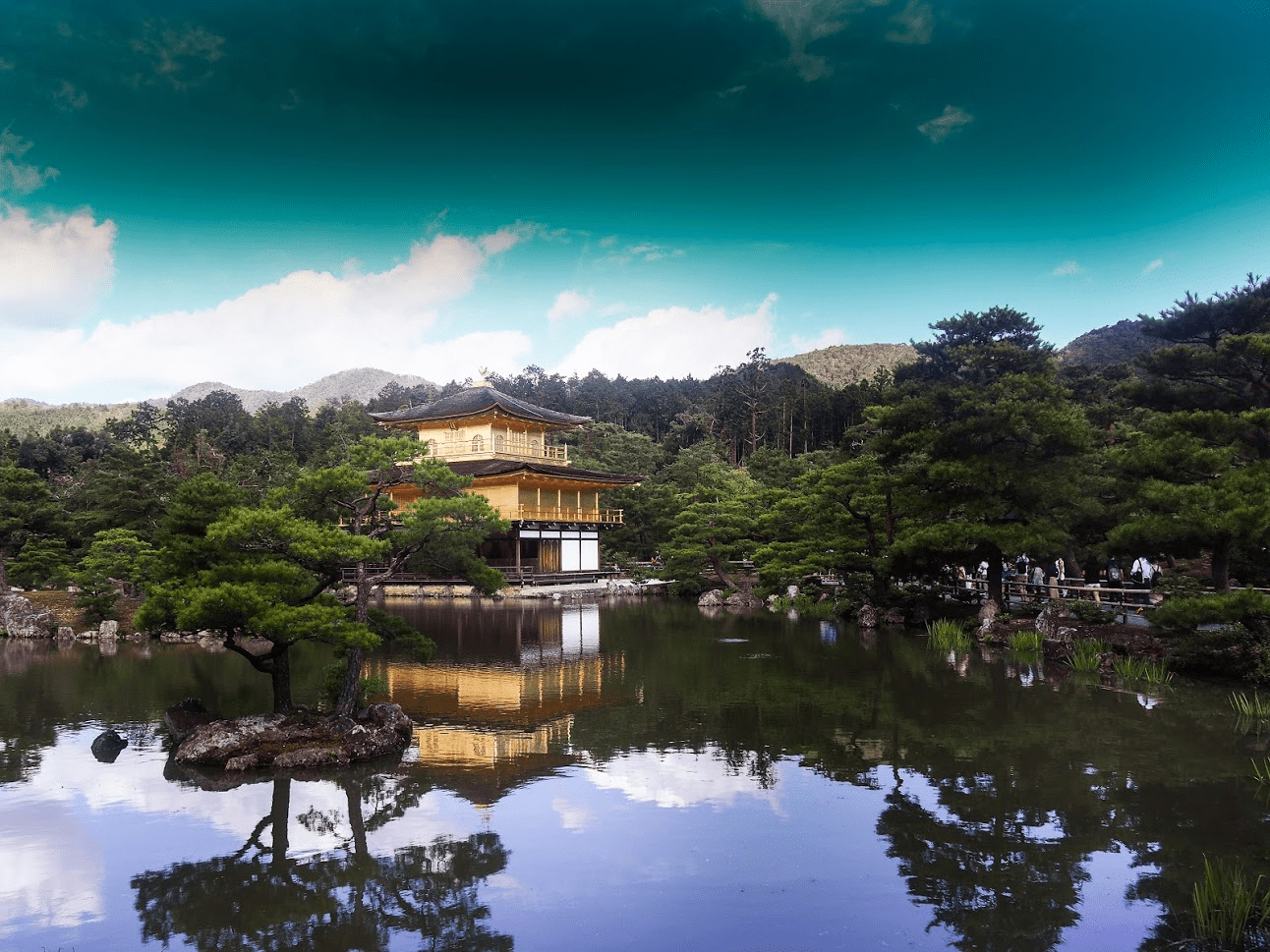 Sister to the Ginkakuji Temple, Kinkakuji (aka Golden Pavilion), is another popular location we had to include in this itinerary for traveling to Kyoto.
It's located over a pond around a Japanese strolling garden and has ten smaller islands nearby. If you arrive here by afternoon, the sun shining on the golden temple is a truly mesmerizing sight.
Ryoanji Temple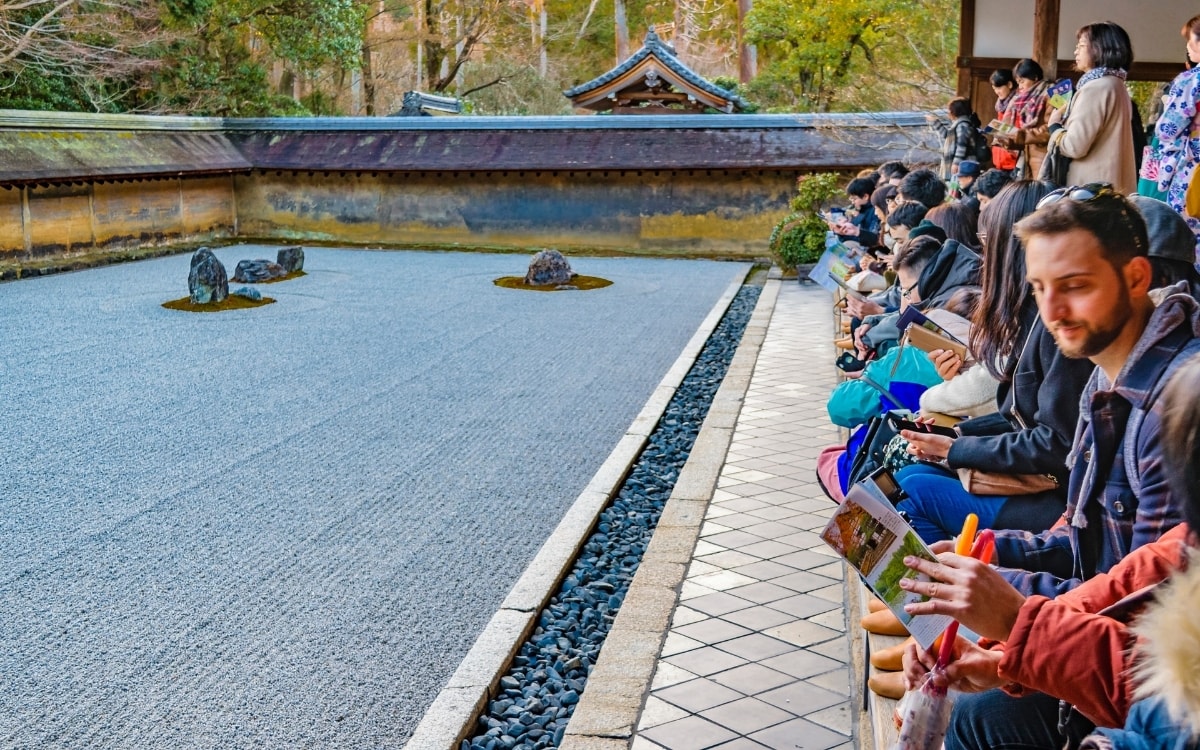 Moving further southwest, another must-visit is the Ryoanji Temple. It features ponds, Ryoanji's famously large zen garden with whimsical rocks, and even a restaurant that specializes in Yudofu (which is also its name).
Day 4 – Westwards
Are you up for some relaxed touring of Kyoto's natural scenic beauty? Then you're going to love the fourth day of this Kyoto itinerary. After some intense trekking and hiking in the northern hills, riding through Western Kyoto will certainly prove delightful.
Hozugawa River Cruise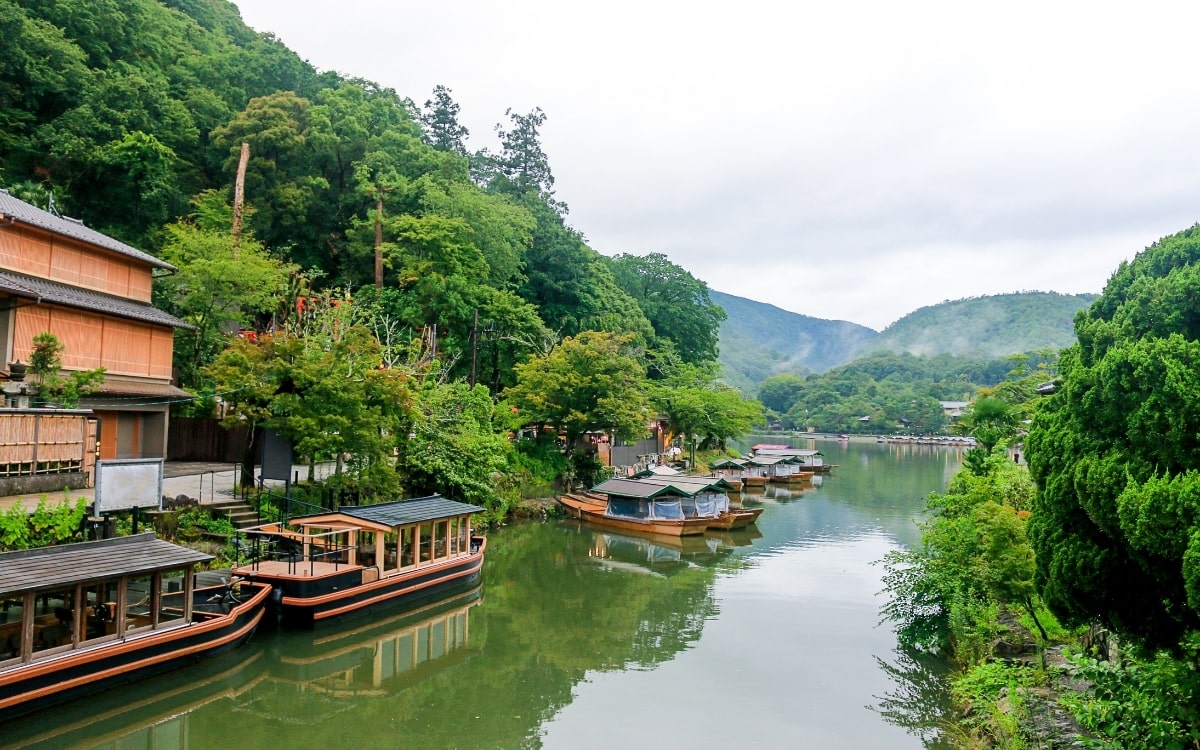 Begin your day by taking a bus ride from Kyoto Station to Kameoka Station. From here, walk up to the Hozugawa River and catch a boat, where you will travel among the beautiful ravine up to Arashiyama.
This two-hour boat ride is super relaxing, allowing you to take in some of the luscious hills on either side. It's especially beautiful here around autumn-winter when cherry blossoms and other flora flourish. Yes, sakura do blossom in winter!
Arashiyama
The boats drop you off near Arashiyama, and you can enter this district through the Togetsutei bridge. There are several shops and restaurants around this bridge that you can explore and collect souvenirs from.
After this, you might want to head off to Arashiyama station to rent a bicycle. Cycling the hills and mountains in this district is a laid-back way of exploring the peaceful natural environment and the quaint temples scattered around here.
Tenryuji Temple and the Bamboo Grove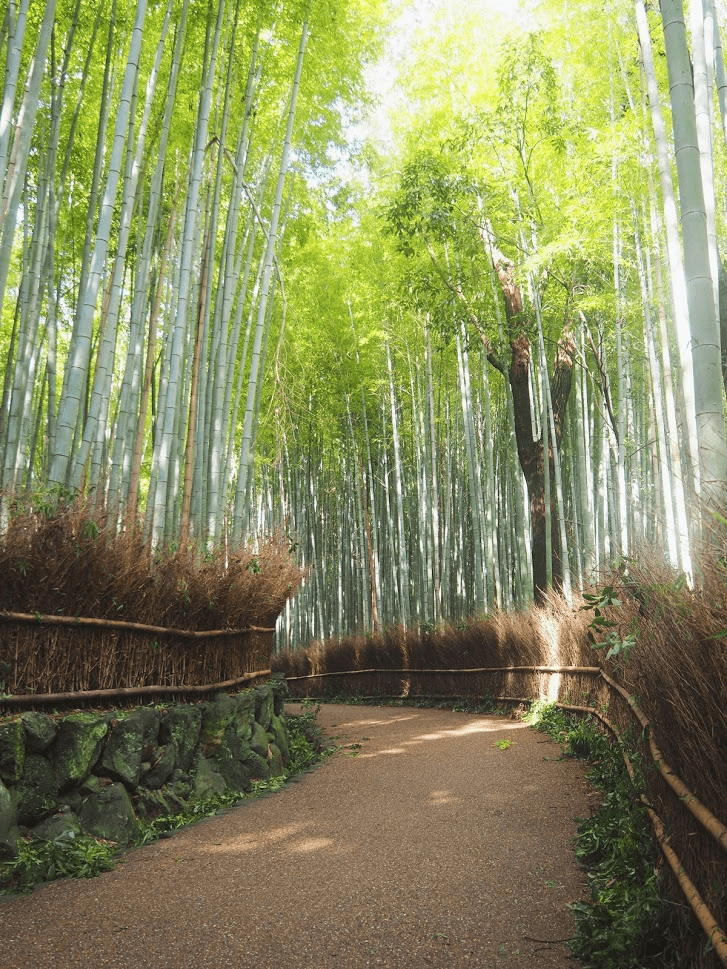 If you're not feeling up to cycling, take a bus ride from the Togetsutei bridge to Tenryuji Temple. This is yet another World Heritage site, where a pond, gardens, and the Arshamiya mountains overlook the historical temple.
Further north, you'll come across the very popular Sagano Bamboo Grove. As light passes through the tall bamboo trees, you'll find yourself mesmerized by sight. However, we suggest you visit this area by late afternoon when crowds have thinned out a bit.
Day 5 – Southern Kyoto
Finally, on the last day of this Kyoto itinerary, you can visit more stunning destinations in the southern part of the city. And if you've got some time on your hands, you can roam about in the Aeon Mall or Kyoto Aquarium, or any site that attracts you.
Kamo River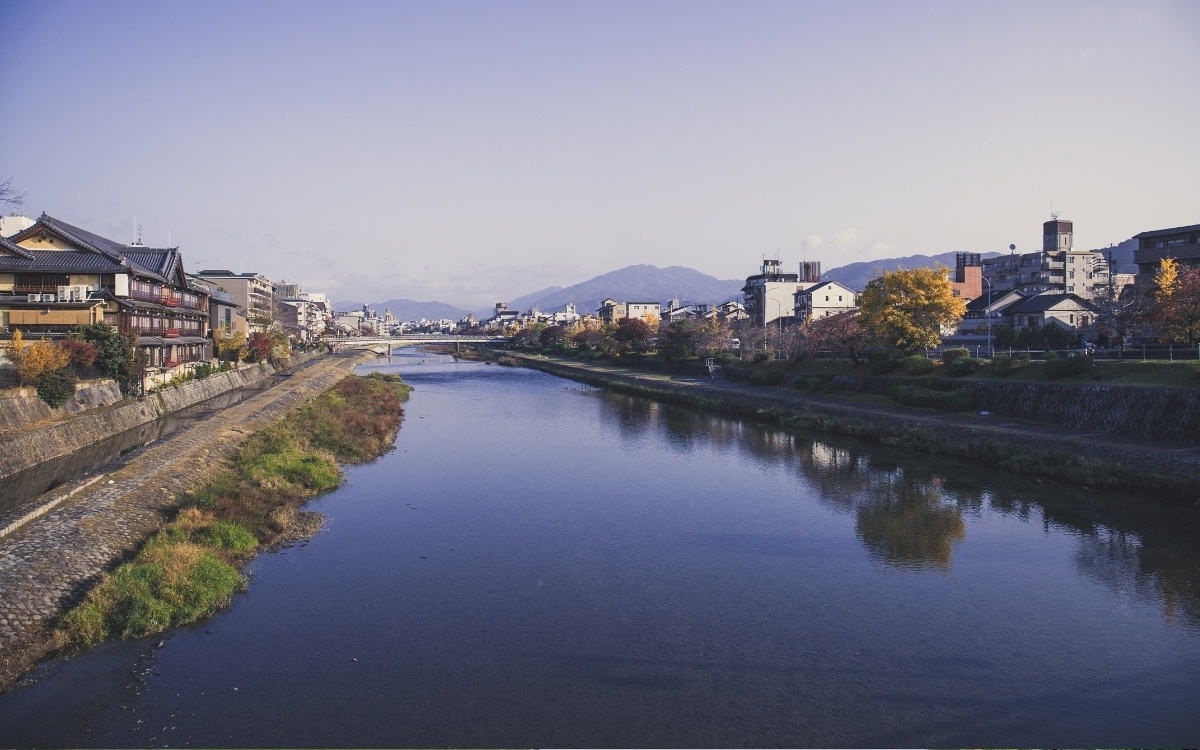 Waking up early in the morning and visiting the banks of the Kamo river is worth losing a bit of sleep for, as it'll prove to be a dose of refreshment with its pleasant views. When you stroll around here within the fauna and flora, you'll know what we're talking about.
Across the river, you'll come across Tofukuji, an important Zen temple surrounded by lush maple trees and sakura.
Fushimi Inari-Taisha Shrine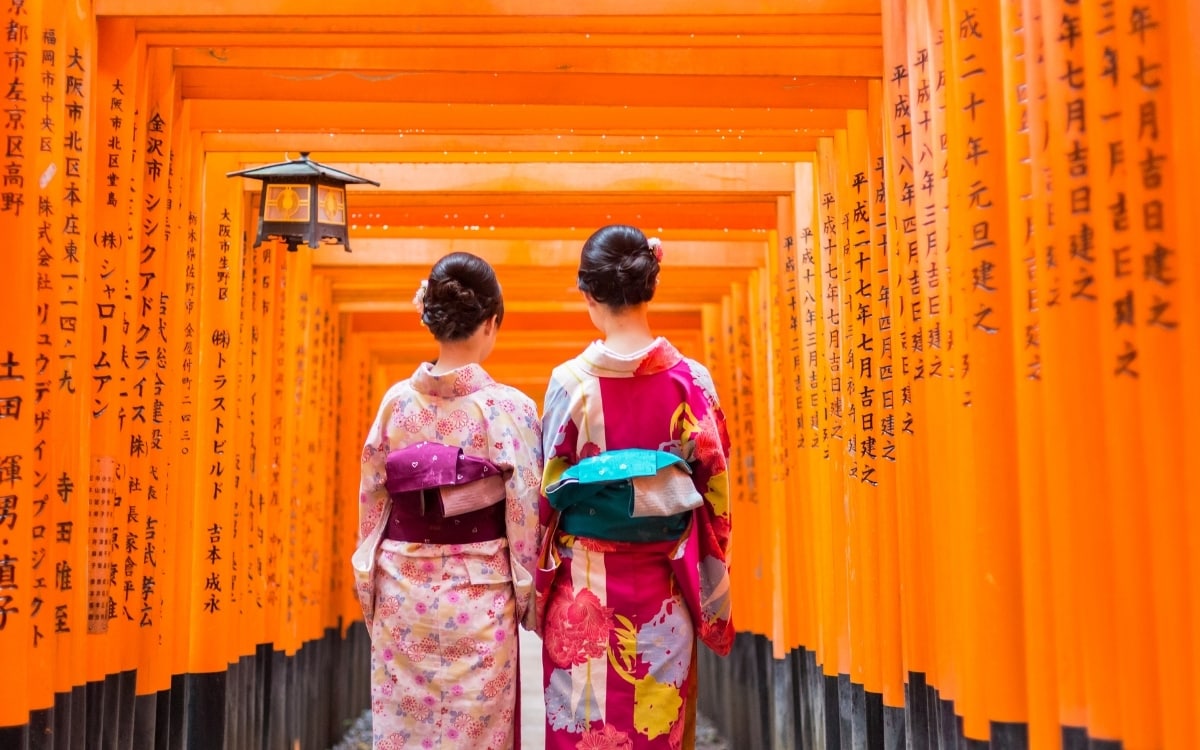 We saved the best for the last of your 5 days in Kyoto. The Fushimi Inari-Taisha Shrine is very large and consists of many gorgeous shrines and sub-shrines with ancient origins.
Hence, you'll have to hike around the area through the famous orange torii (gates), starting from Inari station, where a memorable scene from one of the most well known Japan movies Memoirs of a Geisha was shot. The hike will take up about half of the day, but it's worth exploring this magical place with its wooded forest and occasional waterfalls.
Daigoji Temple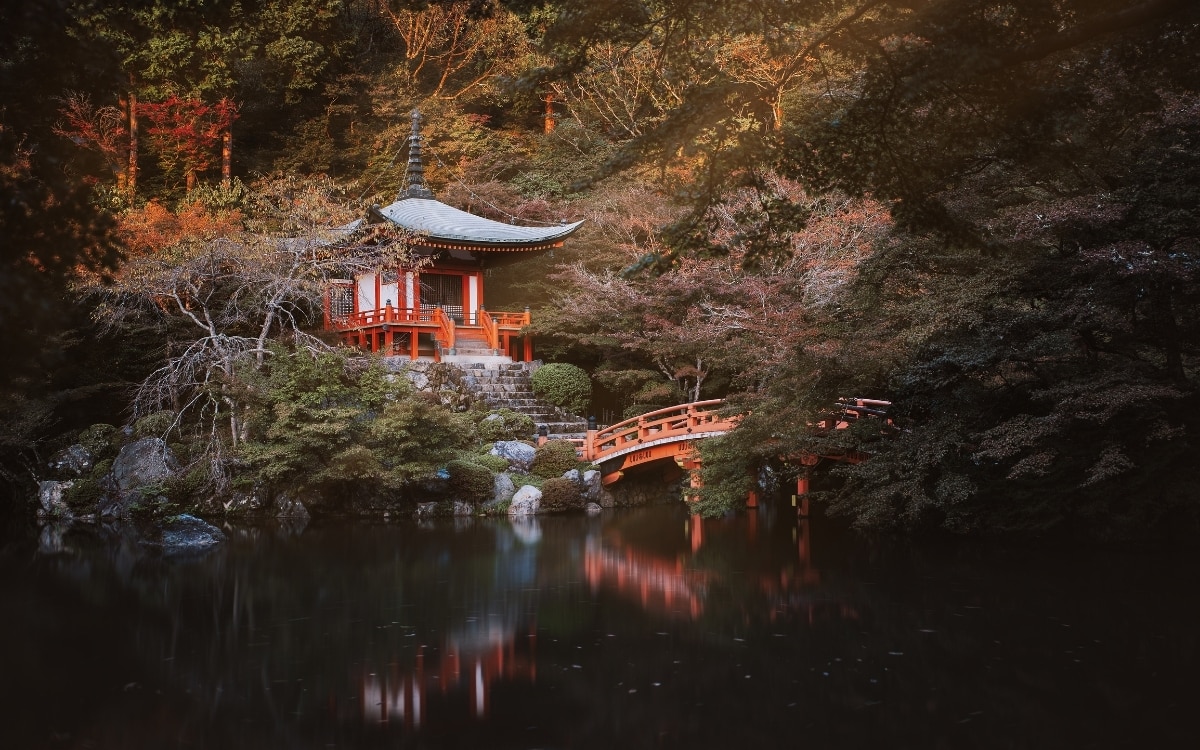 Lastly, take a bus ride further southeast towards Daigoji Temple. Or, you can turn back from Fushimi Inari to explore other locations.
However, if you do choose to explore the Daigoji Temple, which happens to be another World Heritage Site, get ready for more walking.
The vast shrine of Daigoji holds several treasures within itself. This includes the Sanboin Imperial temple and garden, the five-story pagoda called Gojonto, and the Reihokan Hall.
The upper part of the temple on the mountains also has some historical sites within the bamboo trees.
From here, you can go back to central Kyoto (if you've got the strength) to visit Aeon mall and the market area around.
Summing up your Kyoto itinerary
This itinerary for traveling to Kyoto covers all four regions of Kyoto with efficient routes, so you won't miss out on anything. However, it's worth researching beforehand about what form of transportation you'll use and how much money it'll require.
Also, keep in mind that most temples and shrines close at 4 or 5 pm, so start exploring early morning to cover all the destinations of the day.
Author Bio: Via travelers is a modern travel blog providing the best tips, hacks, and itineraries to ensure you have an amazing adventure. Follow us on Instagram, Pinterest, Facebook, and Twitter.