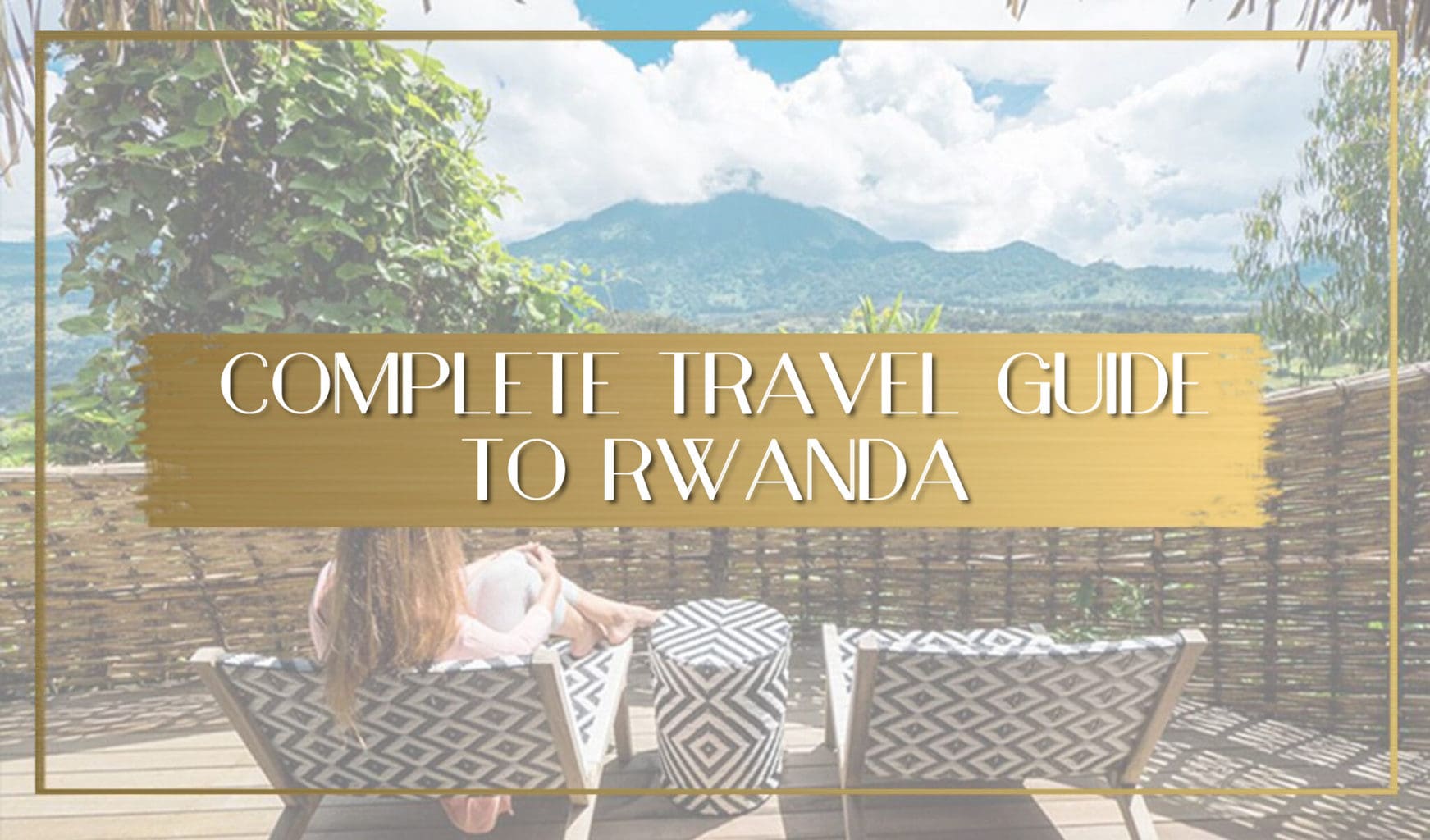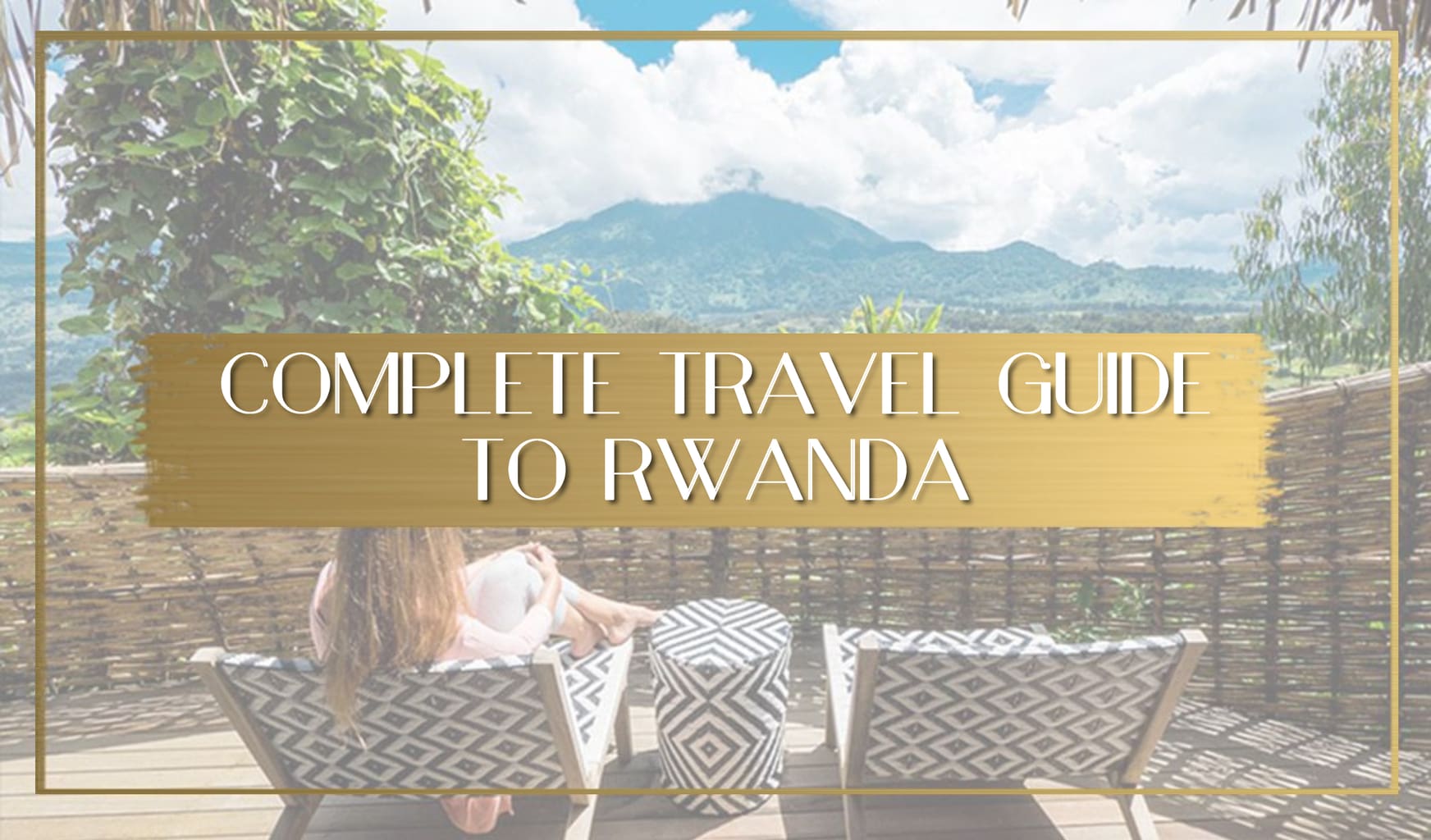 Disclosure: I was a guest of Bisate lodge and Thousand Hills Africa. All opinions are always truthful and my own.
Tourism in Rwanda is booming and will continue to do so as more and more savvy travelers share the country's tourist attractions, experience gorilla trekking and explore the national parks. So will the world discover this unexplored gem of Africa.
You saw it here first and I promise that you will hear more about Rwanda's tourism in the next few years as the country's many tourist attractions become known to the world.
Rwanda tourism today
Rwanda is known as the "Land of a Thousand Hills" and I could not find a better way to describe this tiny landlocked country in East Africa made of rolling hills, mountains, lakes and valleys.
Sadly, most people will associate the country with the tragic 1994 genocide, but Rwanda has come a long way since that historical event that changed it all. It has been rebuilt with the best foundations in place to become a tourism magnet for those in search of a more exclusive and intimate experience.
Rwanda is safe, one of the safest countries in Africa in fact, stable thanks to Paul Kagame's leadership, it is clean since plastic bags were banned in 2008, and it is well-run without the corruption woes that have stalled the rest of Africa.
Things work as they are intended to, service is improving every day, the infrastructure is solid and well maintained and the country has managed to revive the disappearing wildlife population, including the Big Five in Akagera National Park, to give tourists reasons to stay longer after their gorilla safari. You can go chimpanzee or gorilla trekking and hike to your heart's content, including to the top of 4,500m volcanoes.
While Rwanda was not a popular tourism destination when I was working in East Africa in the mid 2000s, the country has focused on boosting the industry with a low impact high value strategy appealing to the most discerning travelers with luxury lodges, low numbers and high prices. The results of this bet for value over quantity have started to pay off and the country has received lots of positive press for its efforts and a steady increase in tourism numbers.
Today, Rwanda stands as one of the most successful tourism strategies in the continent and is set to become a true contender for safari goers who want something smaller and more exclusive than Kenya's or Tanzania's well-oiled safari machines.
I have written a few articles about travel in Rwanda since my 10 day trip, but in this article I want to focus on travel in Rwanda as a whole including the best things to see, its national parks and the best tourist attractions so you can plan the trip that is suitable to your preferences.
What makes Rwanda a very manageable and convenient country to travel in is how great the infrastructure is and how close all the main tourist attractions are, all of which are located within one and five hours from Kigali, the vast majority within a three hour drive. Check this map of Rwanda to see where the most important tourist sites in Rwanda are.
| | Kigali | Volcanoes National Park | Akagera National Park | Nyungwe Forest | Gisenyi | Gishwati Forest |
| --- | --- | --- | --- | --- | --- | --- |
| Kigali | NA | 3h | 2.5h | 5h | 3.5h | 4.5h |
| Volcanoes National Park | 3h | NA | 5.5h | 5h | 1h | 2.5h |
| Akagera National Park | 2.5h | 5.5h | NA | 7h | 6h | 7h |
| Nyungwe Forest | 5h | 5h | 7h | NA | 4h | 4h |
| Gisenyi | 3.5h | 1h | 6h | 4h | NA | 1h |
| Gishwati Forest | 4.5h | 2.5h | 7h | 4h | 1h | NA |
Now let's look at the best tourist attractions in Rwanda and the main points of interest.
Travel in Rwanda: best things to see and do
Rwanda is a manageable country with drivable roads in great state and tourist sights and activities within easy reach. If you are efficient and plan your itinerary well, you could pretty much see everything there is to see in the country in a relatively comfortable way in about 10 days and have some down time plus a quick visit to the Democratic Republic of Congo active volcano if you can spare two weeks. This makes for a wonderful trip and a real immersion into Rwandan culture.
Gorilla trekking in Rwanda
No doubt the majority of the tourists coming to Rwanda do so with the intention of going on a gorilla safari. Rwanda has 12 habituated gorilla families ready to welcome tourists and issues 96 permits every day. That is the highest number of any country where mountain gorillas live.
While seeing any wild animal in its habitat can never be guaranteed, you are 99% sure to see gorillas in Rwanda, Uganda or the DRC. If you are undecided about what country to go on a gorilla trek, check out my exhaustive guide comparing the three countries.
I also wrote a very exhaustive guide to gorilla trekking in Rwanda where you will find all the details but, in a nutshell, gorilla safaris in Rwanda take place at the Volcanoes National Park. This is on the border with the DRC and Uganda, in the northwestern side of the country, just 3h drive from Kigali. The experience will stay with you forever.
However, this is not a cheap experience. Gorilla permits in Rwanda were doubled in price in 2017 and now cost $1,500, much more than the $400 and $600 respectively in the DRC and Uganda. However, that also comes with a range of exclusive premium accommodation options and great infrastructure.
While most people will make it a once in a lifetime journey and trek with the gorillas twice, on two consecutive days, I have always only gone once, and, given the cost, I would suggest that. However, if money is not an issue and you have the time, going twice ensures you have a memorable experience. Not because you may not see the gorillas but because you will be able to visit two of the families. The weather can be different everyday and their location too, so the trekking part could vary a lot from one day to the next.
Akagera National Park
Akagera National Park is located in the eastern side of the country on the border with Tanzania and around 2,5h drive from Kigali. What makes the park unique is its incredibly diverse landscapes and habitats and the fact that it is the only Big Five park in Rwanda.
Instead of the usual plains of the African savannah you will see in one of Kenya's many conservancies, the landscapes of Akagera are undulating and hilly, just like the rest of Rwanda, and they are also made of swamps, lakes and wetlands. These types of landscapes are very unique in Africa and I have not seen them anywhere else.
Akagera National Park used to be a Big Five safari park until the 90s when internal refugees escaped the genocide and settled in the park, encroaching on the park and its wildlife. Animal populations suffered, the size of the park more than halved and the majority of the large predators disappeared.
With the help of African Parks, an organisation focused on the preservation and conservation of wildlife and national parks across Africa funded by The Howard G. Buffett Foundation, Akagera managed to successfully reintroduce lions and rhinos back into the park in 2015 and 2017 respectively and eradicate poaching. Today, the park is 75% self-financed and on a path to full independence if tourism numbers continue to grow.
Today there are several lions, black rhino, two large herds of elephants, leopards, buffalo, eland, hyena, zebra, giraffes and hippos among other animals. Akagera is also an incredible destination for birding with almost 500 species.
The park has two permanent lodges managed by African Parks, the charming Ruzizi Tented Lodge and Akagera Game Lodge. It also has various camping sites, a simpler mobile tented lodge called Karenge Bush Camp only available during the high season and Magashi, a new luxury lodge run by Wilderness Safaris opening at the end of 2018 in the northeastern side of the park in an exclusive area overlooking Lake Rwanyakazinga.
While at Akagera National Park you can join a boat safari which will take you around the lake in the southern end of the park. From the comfort of a boat you will be able to spot many of the birds that live in the smaller lake islands and see the funny hippos. You can also go on behind the scenes tours to understand what it is like to work in the park, follow the ranges in their daily walks along the park's fence or even go fishing.
Visit Kigali
Most people skip African capitals in favor of the parks, lakes and mountains. While this may be a wise decision in Kenya or Tanzania where safety could be a concern for many visitors, Kigali is safe and has a lot to offer. For at least a couple of days. It is a safe and vibrant capital and a booming art and culture undercurrent is bringing back sophistication that blends old and new.
One of the most important things to do in Kigali is visit the Kigali Genocide Memorial. This a must see for any tourist traveling in Rwanda as it helps explain a lot about the history of the country and sets the scene for how far Rwanda has come. I highly recommend spending at least a couple of hours there before heading out to the rest of the country's sights.
Aside from the Genocide Memorial Kigali has a few interesting cultural experiences to try, like cooking classes, neighbourhood walks or city tours, all of which I have detailed in my Things to do in Kigali post.
Lastly, Kigali has a few art centers, local designers and markets where you can learn more about the local culture or even do some souvenir or fashion and accessories shopping. Why not have a drink or dinner at the world famous Hotel des Milles Collines, the real Hotel Rwanda?
Lake Kivu
Lake Kivu is a freshwater lake located on the border between Rwanda and the Democratic Republic of Congo, and it lays 58% in the DRC. The towns of Gisenyi and Goma, on the lake's northern shore are also the main land border crossing point between Rwanda and the DRC.
What makes the lake unique is its safety. Lake Kivu is devoid of any mosquitoes or other disease carrying insects, it has no crocodiles and no hippos. It is filled with methane gas reserves extracted by both countries but they are far below the surface so the risk of an outburst is minimal.
Lake Kivu is the preferred escape for Rwandans who come here for the closest version of a beach getaway there is in the country. Some parts of the lake shores, especially in the north around Gisenyi, are sandy and look like a beach and the sighting of water makes you feel a bit like being in a holiday resort destination.
Around the lake near Gisenyi you can visit the tea plantations, the coffee plantations, the hilly scenic mountains or get wet and go on a kayak tour on the water. You can also take a local boat and visit some of the lake's islands or join in for Sunday church. In the evening, watch for the local fishermen who set out at 5pm to work the night shift in their triple dugout canoes. And don't forget to order some of the small delicious fried fish from the lake that resembles sardines.
If you are feeling active, you can undertake the 227 km trail that runs from Gisenyi to Kamembe along the scenic shores of Lake Kivu on a bike or maybe organise a volcano trek up Nyiragongo in the DRC, an active volcano with the cone at 3,500m above sea level.
Mount Karisimbi
Rwanda is "The Land of a Thousand Hills" and so there are a lot of mountains. It is also located on the edge between the Albertine Rift and the Congo Basin making it an incredibly active volcanic area. There are seven volcanoes in Rwanda, most of which are inactive and can be climbed. Perhaps the toughest, tallest and most amazing of them is Mount Karisimbi.
Mount Karisimbi is located on the border between the DRC and Rwanda in the Volcanoes National Park and it is 4,507m tall. This is also gorilla habitat and so a climb may even come across some of the wild or habituated gorilla families or some golden monkeys.
Karisimbi is also near the location for Dian Fossey's grave and original Karisoke research center so the climb can stop on the way to visit them.
The trek involves a strenuous walk in steep and slippery slopes and an overnight at the shelter at 3,700m. The summit will be reached the next day. The top is often covered in hail and ice, hence its name which means "white shell" in Kinyarwanda.
Gishwati Forest Reserve
Gishwati was once one of the largest parks in Rwanda but deforestation caused by farming, tea plantations and uncontrolled logging took a toll on the park which was reduced to a shadow of its former self. The forest had 28,000 hectares in the 1970s and 600 hectares in 2005. Today, after years of conservation efforts, the Gishwati Forest Reserve is 1,484 hectares and is ready to welcome tourists again.
In 2007, the Rwandan President pledged to the Clinton Foundation to help with the launch of a program to correct the dramatic deforestation, restore the ecosystem and create a National Conservation Park where chimpanzees could be reintroduced. The pledge was launched with the help of the Great Ape Trust of Iowa/Earthpark who co-sponsors and manages the programme.
Gishwati is expected to open in 2018 as a destination to track chimpanzees connected to the more established Nyungwe Forest via a wildlife corridor. This should be the catalyst for a wave of ecotourism coming to impoverished communities and inject much needed investment and income.
Gishwati Forest Reserve can be easily reached from Gisenyi on the shores of Lake Kivu in about an hour's drive. There are no accommodation options in the park area for now but Gisenyi is very near. In the future, a Wilderness Safaris lodge, the Gishwati Lodge, is set to open.
Nyungwe Forest National Park
Nyungwe Forest National Park is located in the southern part of Rwanda about 5h drive from Kigali near the border with Burundi. The park is the preferred destination of choice for those looking to see chimpanzees in the wild in Rwanda or go hiking and it contains 20% of Africa's primates split into 13 different species.
While seeing chimpanzees is less guaranteed than seeing gorillas, for one they move really fast and don't quite sit down to play and eat as much as gorillas do, there is a 50/50 chance of spotting them in Nyungwe. If you don't see the chimpanzees, you may be able to see the endemic Ruwenzori Colobus monkey.
Apart from seeing the chimps in the wild, Nyungwe is also known for its incredible forested area and its canopy walk, right above the trees. Hiking trails abound and this is another major draw to the park as are the tea plantations. Birders will have a great time looking for the many species of birds.
Within the park there are few accommodation options the most premium of which is the One&Only Nyungwe House opening in 2018 followed by the Nyungwe Forest Lodge.
Perfect itineraries in Rwanda
Historically, visitors have come to Rwanda purely for the gorilla trekking. While this is a fantastic place to do so, Rwanda has so much more to offer and there are plenty of reasons why you should stay longer than just the three nights to see the gorillas. Tourism in Rwanda offers the pure Big Five safari experience, lakeside exploration, hiking, chimpanzees and culture. Let me give you a few ideas for your Rwanda itinerary below.
Rwanda tourism – Itinerary for 3 days in Rwanda
If you only have three days in Rwanda you should focus on the gorillas, unless you have already seen them and are not interested in repeating the experience. I would organise the schedule for three days like this:
Day 1: Arrival in Rwanda early morning as most flights land at that time unless you came from Addis Ababa in which case you may land at night. Regardless, you will probably have a full day. Start at the Kigali Genocide Memorial, have lunch at Haven or at Afrika Bite and then drive to Bisate Lodge or your choice of accommodation at the Volcanoes National Park. En route, stop at the Gorilla Fund Research Center for a visit and get to know more about the gorillas. You will reach your lodge in the evening and maybe have time to see the sunset. If you want to truly make the most of your day and you land early enough, you can also book a half day Go Kigali tour, have lunch and then visit the Genocide Memorial before heading out to the park. You will not have time to see the research center but you can also do that on the second or third day.
Day 2: Your second day should be focused on getting your gorilla trekking in. You will get up really early, probably before 6am, and the drive to the park and trek to the gorillas. Read this for details on what gorilla trekking entails in Rwanda. On your way back to the lodge don't miss the chance to do some shopping at the park's main shopping area. Your afternoon will probably be free in which case I recommend a visit to the local village, planting a tree if you are staying at Bisate Lodge, or a bit of hiking in the area.
Day 3: If you really want to get the most out of this short trip, get up early again and go find the golden monkeys, the other endemic species to grace the Volcanoes National Park. These funny monkeys are quite cute and although you will have to get up equally as early as for the gorillas, you will not have to trek as much as they tend to the near the park's entrance. After lunch, you will have to drive back to Kigali already. If your flight is late at night, stop at the Kigali Cultural Village or Inzuki for some shopping, at the 1000 Hills Distillery for a drink and a bite. For a more refined experience take on your last night, book dinner at the Panorama restaurant in Hotel des Milles Collines for stunning citylight views.
Rwanda Tourism – Itinerary for 5 days in Rwanda
If you can spare a bit longer in Rwanda and have five days, you can combine Kigali with the gorilla trekking and a safari at Akagera National Park or you could also combine Rwanda with the DRC and climb Nyiragongo.
Option 1: Kigali-Volcanoes National Park-Akagera
If you want to see the Big Five, Akagera is a great addition to a gorilla trek. Here's how you can organise five very efficient days in Rwanda to see gorillas and lions.
The first three days in Rwanda should be as indicated above, Kigali and then Volcanoes National Park. But on the 3rd day your journey will be different.
Day 1: Arrival in Kigali, exploration and drive to Volcanoes National Park
Day 2: Volcanoes National Park gorilla trekking
Day 3

: Since the drive from Volcanoes National Park to Akagera is long, you may want to see the

golden monkeys

and they head out to Kigali. To get to Akagera you need to drive back to the capital and then drive 2,5h to Akagera. Lunch can be taken in Kigali at any of the options mentioned in my

Things to do in Kigali

post. You will reach Akagera in time for a night drive or bonfire drinks. Stay at either Wilderness Safaris new lodge in the north of the park or the Ruzizi Tented Lodge in the south.

Day 4: Go out for a whole day of game drives in search of all the wildlife that inhabits Akagera. If you are lucky you may spot one of the two large herds of elephants or the elusive lions. Stop for viewpoints along the way to take in the beauty of the park and the many swamps, lakes and hills.
Day 5: Get up for a boat ride on the lake to spot the hippos and all the birds that live in Akagera. After the one hour tour, join the park's rangers for the two hour "walk the line" excursion following them on their daily routine to keep poachers out and wildlife in. After lunch you can drive back to Kigali and, like with the three day itinerary, either stop for shopping or for a distillery tour and end at Hotel des Milles Collines.
Option 2: Kigali-Volcanoes National Park-Nyiragongo
If you want a truly active holiday with more than just sitting in a car, consider organising a volcano climb up Nyiragongo in the DRC. To get there, you will need to have your visa and trip organised in advance and cross the border on foot through Gisenyi-Goma.
As with the previous option, your first three days will be spent in Kigali and trekking gorillas while your last two will be truly special.
Day 1: Arrival in Kigali, exploration and drive to Volcanoes National Park
Day 2: Volcanoes National Park gorilla trekking
Day 3: Since you are heading out to Gisenyi which is only 1,5h away, you have some time in the morning to go see the golden monkeys. Have lunch and drive towards Gisenyi stopping at the Gorilla Fund Research Center on the way if you didn't have time on your first day. When you get to Gisenyi, consider organising sunset kayaking tour with Kingfisher Journeys. The tour takes you around the lake and you can see the fishermen as they leave the shore for their nightly fishing. The boats used are quite interesting and as they sing and row and the sun sets the image is quite mesmerising. Sleep at the Serena Lodge.
Day 4: You will have to get up early to cross the border into Goma and be greeted by your local tour guide. All volcano hiking starts at around 8,30am from the park headquarters. Be prepared for all weather, rain and shine, and from 35 Celsius to freezing temperatures. You should make sure you have organised proper equipment ahead of time and that your food and porters are all taken care of. The Serena Lake Kivu has packages including the volcano hike and all the organisation. You will need a visa for the DRC as well which you need to settle ahead of time too. The hike to the volcano is tough and the altitude will make it even harder so make sure you are prepared for it. You will sleep in very basic accommodation at the top.
Day 5: Come down from the volcano top and cross back into Rwanda. I bet you will want a rest, so chill by the pool and relax those sore legs until check out when you will drive the 2,5h back to Kigali. Same formula as for the previous itineraries of shopping, tours, restaurants apply.
Rwanda Tourism – 9 days in Rwanda
If you can spend an entire week in Rwanda including both weekends, then you have a winning formula for a complete tour of the country. Here you can combine various destinations and either do a more relaxed version of the abovementioned destinations, Kigali-Volcanoes National Park-Nyiragongo-Akagera or add in Nyungwe Forest National Park.
In all of the below options, the first three days remain the same.
Option 1: Relaxed Kigali-Volcanoes National Park-Nyiragongo-Akagera
If you are not interested in Nyungwe and prefer not to rush too much, this is a good way to have the best trip in Rwanda, add in some DRC volcano highlights and still relax.
Day 1: Arrival in Kigali, exploration and drive to Volcanoes National Park
Day 2: Volcanoes National Park gorilla trekking
Day 3: The area around Volcanoes National Park is stunning and it is likely that you will only ever go see the gorillas once in your life so a lot of people prefer to go gorilla trekking twice. If you were to choose for a more relaxed Rwandan trip, I would suggest spending more time in the Volcanoes National Park simply taking it all in. I wish I had three nights in Bisate instead of one and I am sure that all the other high-end accommodation options are fabulous and a perfect place to truly disconnect, read a book, have a glass of wine by the fireplace and get lost in the flowing mist.
Day 4: Leave Volcanoes National Park and drive to Gisenyi to get ready for your volcano trek. Like in the previous itinerary options, you could stop at the Gorilla Fund Research Center and also have a sunset kayaking tour.
Day 5: Get up early and cross the border into the DRC where your guide will wait for you to help you get it all sorted for the volcano climb. As mentioned before, get all the necessary clothing and equipment and the help of a porter. You will sleep at the top.
Day 6: Come down from Nyiragongo and return to your hotel for rest. If you feel like checking out the local scene, Lakeside Restaurant is a good choice. You can also go on a tour of the tea factory (not on Mondays) or check out the coffee plantation on an island.
Day 7: Drive back to Kigali and on to Akagera National Park. Stop in Kigali for lunch and reach Akagera in time for a night drive.
Day 8: All day game drive in Akagera National Park with the help of one of the park rangers (except if you are staying at Wilderness Safaris Lodge in the park).
Day 9: Get up for the boat ride on the park's lake and then drive back to Kigali for the last few hours in Rwanda shopping, eating, drinking and being merry.
Option 2: Kigali-Volcanoes National Park-Nyiragongo-Akagera-Nyungwe Forest
This itinerary is only for those who are really keen to get as much in as possible in a week of travel.
Day 1: Arrival in Kigali, exploration and drive to Volcanoes National Park
Day 2: Volcanoes National Park gorilla trekking
Day 3: Since we are on a mission, we get up early to see the golden monkeys then drive to Gisenyi, stopping at the Gorilla Fund Research Center and making it back in time for sunset kayaking. Sleep well at night as the next day is long and arduous.
Day 4: Cross into Goma and make it to the top of Nyiragongo volcano if you can. Sleep at the top and see the lava in the dark.
Day 5: Return down to Gisenyi and drive to Nyungwe Forest for your chimpanzee tracking. Your day will be spent almost all en route. Sleep at your chosen lodge, Nyungwe Lodge is the best at the moment.
Day 6: Go on a chimpanzee trekking expedition and hope for the best. If you are lucky you may find them in the wild. In the afternoon you can join the canopy walk, this 2h hike take you to the bottom of a canopy that is 50m above the ground and 90m long. The views from above are spectacular.
Day 7: Drive to Akagera from Nyungwe and arrive for an afternoon or night game drive. You will spend most of the day driving but will for sure have time to fit in some safari drive.
Day 8: Full day game drive in Akagera, you could also join any of Akagera's activities like walking the fence with the rangers.
Day 9: Get up for a boat ride in the park's lakes and then a final game drive in the morning until your journey back to Kigali, shopping, food, drinks and the whole shebang.
Option 3: Relaxed Kigali-Volcanoes National Park-Akagera-Nyungwe Forest
If you don't like rushing and you don't want to climb the volcano in the DRC because of safety concerns or because you don't want to kill yourself up a terribly harsh climb, you can also do the rest in a more relaxed manner. I would probably favour this version of the itinerary.
Day 1: Arrival in Kigali, exploration and drive to Volcanoes National Park.
Day 2: Volcanoes National Park gorilla trekking.
Day 3: You have another chance to see the gorillas and then also participate in some local activities. You could also head towards Gisenyi and go on a kayaking tour or a visit of the tea factory or the coffee plantation.
Day 4: You could go see the golden monkeys today before driving to Kigali and Akagera. Lunch in Kigali en route and arrival in Akagera in time for an afternoon and even night game drive.
Day 5: Go on a full day game drive in Akagera. Take it easy, stop for the views and to watch the wildlife go about their daily chores. Giraffes and zebra don't seem to be scared of human and car presence so take advantage and grab a pair of binoculars to simply observe them.
Day 6: Go on a morning boat ride before leaving Akagera. Drive from Akagera to Nyungwe and arrive there after lunch. Watch the sunset or if you are on time and willing to go out, join a canopy hike.
Day 7: Go chimpanzee trekking in the forest and maybe even on afternoon trail hikes.
Day 8: Go out again search of the elusive chimpanzees. Although there are 60 habituated chimps in Nyungwe, they are not guaranteed sightings as they move fast and often. More hiking, waterfall treks and other nature related activities for the afternoon, or perhaps a visit to the tea estate. You can also go on birding expeditions or simply relax.
Day 9: The drive back to Kigali is long so you can have a late breakfast and then head back with the usual shopping, eating, drinking options in the capital.
How to get to Rwanda – Direct flights and connections to Kigali
Lack of direct flights from major international airports stalled travel to Rwanda in the past but that has changed in recent years, especially since the relaunch of Rwandair which now has direct flights to many international airports.
The easiest way to get to Rwanda is by flight either via the Middle East or Europe. There are direct flights to Kigali from Dubai and Doha, London, Brussels and Istanbul and also from Johannesburg. If you are coming from the US, there are connecting flights with affordable Ethiopian Airlines via Addis Ababa or Kenya Airways from Nairobi. Regional flights from Entebbe in Uganda and Bujumbura in Burundi are available several times a day. You can also arrive by road from Goma in the DRC.
Best time to visit Rwanda
I am a huge fan of visiting destinations at the best time. I have had enough bad experiences that I never want to be in the wrong place at the wrong time and weather plays a massive role in how well a trip that is largely focused on being outdoors and in nature turns out.
The best months to visit Rwanda are the dry summer months between June and August. It rains pretty much for the rest of the year making the peak travel season in Rwanda really short.
No doubt the country is packed full of tourists during those months and if you do not book well ahead you will not be able to get any gorilla permits or accommodation (remember the high end low impact tourism strategy?).
See the graph below made by The World Bank with historical rainfall and temperature data from 1991 to 2015.
During the rest of the year, Rwanda is also accessible but you will have a lot of issues. For one, the gorilla trekking experience can be very different when it is pouring down, you have mud up to your knees and are soaked to the bone. You also won't be able to take photographs, unless you have a waterproof camera, and the gorillas will be harder to find because they will seek shelter. This happened on the day before my trek and the poor guests who had gone out came back really disappointed.
In Akagera the rain can close off parts of the park, as we noted since I was there at the beginning of May, a month before the high season started. It drizzled one afternoon and it was hard to get past some of the muddy puddles. Wildlife is also harder to spot in the rainy season across parks in Africa because animals don't have to come to the waterholes or water resources to drink and can hide under the tall grass. Kigali is always relatively rainy and a bit of rain won't dampen your day, but when thinking of nature, you are better off choosing the right months to visit Rwanda.
If you are looking to travel during the shoulder months when there are practically no tourists and the costs of lodging are more affordable, consider February, May and September which welcome half the rain as other months and will enjoy more affordable rates and even last minute gorilla permits. I traveled in May and was incredibly lucky as the rain always happened at times when it did not affect our trip like during the night, the early morning, the driving, etc.
Other things to consider when planning a trip to Rwanda
Rwanda completely shattered my expectation by being completely different from other countries in Africa I traveled to, and I have been to more than 20. So here are a few things you should consider before planning your trip or packing your bags.
Plastic ban
Rwanda implemented a plastic ban in 2008 and any plastics you may carry will be searched for and confiscated upon arrival at the airport. This is a fantastic initiative but make sure you do not have anything which required to be stored in plastic as they will be taken away.
Visa to Rwanda
Visa to Rwanda can be obtained at the border, upon arrival, for many nationalities. They cost $30 which is less than what you pay in other East African countries, and if you are traveling across a few of them you can consider applying for an East African visa which will cost you far less than getting all the individual ones.
Currency
Rwanda uses the Rwandan Franc rather than the Shilling like the rest of the East African countries, borrowing from its Belgian past. If you need to bring foreign currency, the US Dollar does better than the Euro although both can be exchanged. US Dollars are also accepted for tips at lodges.
Tips
Consider bringing enough cash to leave tips for the guide, the staff at every lodge and the porters. These are expected.
While there are ATMs across the country, it may not be easy to withdraw money in some of the parks. Porters usually cost $10 plus whatever tip you may want to add. Tips for guides and park rangers at the Volcanoes National Park are adequate at $15 each and you should leave around $15-20 per person a day at the lodges for the staff to split. A similar amount is acceptable for your guide although if he or she did something special or went beyond his or her duties you could consider leaving more.
Health and vaccinations
Traveling to Rwanda requires at least malaria tablets and Yellow Fever certificate which may be requested when you enter the country but, most importantly, could be essential to get back to where you came from. Other recommendable vaccinations include Typhoid Fever and Hepatitis A and B. Consult with your doctor for the specific requirements.
How to plan a trip to Rwanda
While you could try to organise some of the activities in Rwanda independently, using a local tour operator is a much more convenient way to do so.
I always prefer to use local tour operators and travel agencies whenever I travel in Africa because I want my money to go 100% back to the communities and not to remain in Europe or the US. Finding reputable and well-established local companies can often be tough but in Rwanda you are sure to use a local company if you reach out to Thousand Hills Africa.
They organised my trip on a semi-sponsored basis and are the official ground handler for Bisate Lodge and Wilderness Safaris so you know they are endorsed by the best. What is more, the owners, Jacqui and Manzi, are Rwandan and the drivers and entire team are too. Our driver had been in tourism for decades and decided to return to Rwanda from Uganda after the genocide. This is also the case for some other members of the team.