Driving directly past Diners Club Winemaker of the Year Bartho Eksteen's tasting room is pretty easy. There is no sign on the road directing you into his humble property, no flashy eateries or glistening open plan lofts with protruding balconies that Hermanus' Hemel en Aarde wine valley so enjoys.
In fact, we took a wrong turn on the way to a more famous winery and shyly peeked our heads into the tasting room where young winemaker and son of Sauvignon Blanc master Mr. Eksteen, Pieter-Willem (or PW), welcomed us with a broad smile.
He sat us down and spouted his extensive knowledge, not only of the wines on site, but winemaking in general. After sipping the vibrant, fruit-filled wines, and having a discussion with Suné, sommelier by training and as you will have guessed, Bartho's wife, we hear a large yelp from the back of the house: "Punch down!"
As we were the last ones there, along with the setting sun, we were invited to help the Eksteens push the skins down into the juice. A concoction that Bartho will enter into the 2020 Cape Winemaker's Guild auction (where his "Vloekskoot" wooded Sauvignon Blanc was showcased to high acclaim). The grapes were sitting in a container on the back of his 4×4 with the strict precision of being punched down every 2 hours for 4 days.
As the sun went down and we patted the playful hounds, there was something about this charming family winery that set it apart from the rest of this valley, so we inquired deeper and found out some amazing things. But first a little history.
A brief history of the Hemel en Aarde Valley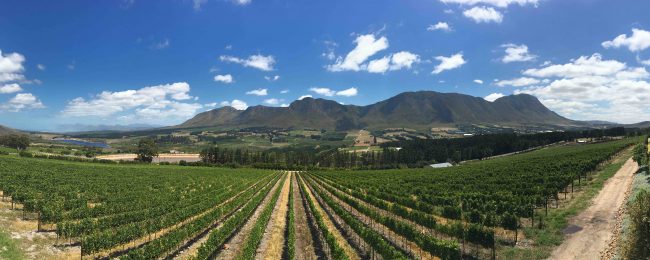 After about a 2-hour drive from Cape Town, and about 1 and a half hours from the more famous Stellenbosch wine route, you'll find the calmer and subtler Walker Bay wine route, just before the quaint, yet posh town of Hermanus – famous for spotting the Southern Right Whale. Meandering along the R320 is the picturesque Hemel en Aarde Valley (literally translated as "Heaven and Earth" from Afrikaans), famous for its internationally acclaimed cool climate Pinot Noir and Chardonnay.
The story of the now famous New World terroir starts with an advertising executive with a passion for the sweet nectar, Tim Hamilton Russell. In 1975 Mr. Russell bought a plot of land in the Hemel en Aarde Valley that he saw as the perfect climate to grow Pinot Noir and Chardonnay in the Burgundy style.
In 1979, Peter Finlayson jumped onboard as winemaker and so gave birth to the first, and at the time, most Southerly and closest to the ocean, vineyard in South Africa. This is now the award winning Hamilton Russell wines. Ten years later, Finlayson hopped across the road (literally) and joined arms with Burgundian winemaker Paul Bouchard to start Bouchard Finlayson estate.
As word got around, so the wineries started popping up all over the beautiful valley, including the winery Hermanuspietersfontein (HPF), which is actually what Hermanus was first called before the postmaster shortened it in 1902. This winery, named after farmer and founder of the town, Hermanus Pieters, is where Mr Eksteen's acclaim grew.
Bartho Eksteen, the winemaker
When Bartho was a child his father had a grape farm in another famous wine region of South Africa – La Brie in Franschoek. As he played on the mounds of grape skins as a child, it never dawned on him until later that someone actually transforms these grapes into wine. It was only years later though that he actually started seeing the potential in fermenting those grapes and making them into wine, after paging through a booklet on career choices.
As he reminisced about his time at Boland Agricultural High School, where he learned how to farm, picks eggs and even slaughter animals, he says, he didn't want to become a farm manager for someone else and "work them rich". So the idea of becoming a winemaker appealed to him.
After receiving his diploma from Elsenburg Agricultural Training Institute (which has now turned into an honorary degree), Bartho had the choice of leaving for a year abroad or taking a job at home. The money appealed to him as it does to any student with debt, but he also believed that one needs at least some experience in the industry before heading abroad. So he stayed and worked.
While he has visited many wine regions in the Old World, he has never completed a harvest there, only "stealing with his eyes". Bartho went on to become founder member and winemaker for Hermanuspietersfontein (HPF), where he honed his skills and won multiple awards including the prestigious 5 star awards in the Platter's Guide.
He also won the "Oscars" of the wine industry, the Diners Club Winemaker of the Year for his in 2010 for his HPF Nr 5 Sauvignon Blanc (Blanc Fumé). After 10 years at HPF, Bartho decided to venture out on his own, looking to do something more meaningful for himself and the winemaking community.
Enter Wijnskool, the winemaking Academy
Wondering what he could do to make a difference in the South African wine indusrty, Bartho moved to education. He had a thought – teenagers don't necessarily know that a career in wine is a possibility until much later in life.
They're surrounded by vineyards and wineries, but are prohibited by law from consuming alcohol and as a rule don't have much contact with anything relating to alcohol, and therefore don't think of this as a possible livelihood.
So, why not teach them from within a regulated, safe environment at High School level and broaden their horizons about study and career opportunities in the wine industry. He pitched this idea to Diners Club, who were also looking to expand their interests in the wine industry, and with the aid of a generous sponsorship from Diners Club, Wijnskool was created.
Through Wijnskool, Bartho is able to transfer his abundant knowledge to the next generation of winemakers and those in the hospitality industry.
He set up shop at his Alma Mater, Boland Agricultural High School in Paarl, where he teaches 30 students a year about the winemaking process, with a very hands-on approach.
The major focus of the academy is to expose the students to the best international standard winemaking practices, to instill in them a drive for quality which will ultimately benefit the international acclaim of the SA wine industry.
The Academy actually forms co-operation agreement with other educational institutions, producers, suppliers and NPO's to train these students. Bursaries are then made available to suitable candidates who choose to further their studies. Students are welcome to participate from any school, not just Boland (an all-boys school).
We visited the Eksteens (Bartho and PW) at the high school in Paarl on a blistering hot and windy day for harvest to see the jovial Rosé being de-stalked and pressed. The micro-winery is in an old barn at the back of the school, with students sauntering in and out to help and learn.
There are cows and other farm animals roaming the school grounds and students are outdoors learning about farming techniques. The vibe is laid back, yet strict when it comes to actually making the wine – more of a mentor approach than a disciplinarian. Bartho points out that the machines are very dangerous and should be proceeded with caution. He tells the students what could happen if they slip up, not pretty stories, but they'll surely stick.
The grapes are fed into the de-stalker and then the juices are squeezed out as about four or five students give a helping hand. Students have the opportunity, with consent of their parents and under Bartho's watchful eye, to taste the wine as the fermentation process starts and the juice increases in alcohol to see, smell and taste the stages of fermentation (spitting is enforced in tastings).
PW's music is pumping while the grape pressing machine's balloon expands and squeezes out the juices. But he is hard at work, making sure everything is running smoothly, adding dry ice to keep the oxidation of the juice (browning) at bay. The students watch intently as he explains each step with the sharp accuracy of a knowledgeable wine maker.
The Wijnskool Entrepreneur Support Programme (WESP) has also been introduced where young entrepreneurs get a chance to grow and establish their companies under the guidance of seasoned mentors. They can take part in the initiative and learn all about not only winemaking, but also business management, marketing, personal development and branding. Wijnskool and WESP are bordering new frontiers, as there are no other initiatives like them in the country.
The wines at Wijnskool
All these grapes will become part of the Bartho Eksteen and Wijnskool wine ranges which are sold commercially to keep the project running. And the wines are great! They are broken into two categories, The Tree of Knowledge and the Bartho Eksteen Signature Range. They are all dubbed with playful names of double entendre alluding to education. Names like "Dom" for the bubbly, which means "stupid" in Afrikaans. Other fun names include the "Groepsdruk" Shiraz meaning "peer pressure", "Houtskool" for the wooded Sauvignon Blanc (where "hout" means "wood"), or Ouskool ("Old school") for the Rhône-style Red.
Even the physical labels hold significance. An image of the tree of knowledge signifies the Wijnskool brand and an abalone sheen sparkles in the light of the premium range, reminding the drinker of the cool climate grapes in an area also known for its abalone.
All the wines in both ranges are unanimously selected as having fine quality by tasting experts. They are all handpicked from specifically identified farms and masterfully handled with wisdom and a bit of invention. Most wines use natural fermentation and are wooded in older French oak.
There is usually no stabilization, and minimum filtration. Bartho is known especially for his Sauvignon Blanc, which is also his favourite varietal. He likes to be as true to the characteristics of the grape as possible, so you will not be tasting the usual blockbuster, mass produced machine wines. Each barrel is carefully looked after to bring out the essence of the varietal or style.
The Wijnskool Tree of Knowledge range is highly drinkable and it's not difficult to polish off a case of the stuff. The Shiraz is elegant and filled with blackberry, while the equally elegant Sauvignon Blanc bursts with green apple.
The spiciness of the Shiraz in the SMG Rhone-style red, or the Ouskool is complemented with a touch of Viognier, with hints of earthiness and pepper. The smooth yogurty mouth feel of the Houtskool, with its herbaceous and citrus accents, is a perfect peek into why Mr. Eksteen is a Sauvignon Blanc master.
What's next
In the future, Bartho and Suné hope to officially expand the Wine Academy to other schools in the Cape Region and get the word out that winemaking, or even being a sommelier, is a suitable career choice. PW and Bartho also plan to start laying a foundation on their own plot, so that they can grow their own grapes in a very unique terroir reminiscent of the northern Rhône Valley in France, but with the cool air coming in from the ocean.
I asked Bartho if he was happy that his son was also very much into wine, he brimmed with joy stating, "Ja, it's lekker" ("great" in Afrikaans). "We're a lekker team". He goes onto explain that father and son teams usually don't work well together, but I can see through the process that they work just fine.
He's leaving more work for his son to do because he knows that the only way to become a winemaker is to actually make wine. And so far, PW is doing great on his own. In fact, he is going to enter into the Diners Club Young Winemaker of the Year Competition and he plans to grow his own grapes on the family plot in the Hemel en Aarde valley (just opposite Hamilton Russell). He actually made the 2017 bubbly by himself.
The Eksteens' kind-hearted and inviting manner is infectious. Their hospitality will make even the most uppity of wine snobs let their guard down. In an area filled with pretentiousness and extravagance, this winery, and these people, truly have something unique going on. We even went back for Suné's wine ed course, which was equally laid back, fun and interesting.
If you're in the Hemel en Aarde valley be sure to pop into this gem of a winery. Feel comfortably at home and relax at the foot of the Onrus River before venturing onto more well-known territory further up the hill. You'll surely leave with a case or two of Bartho's elixir wrapped in a box that is designed to look like a suitcase.