This is a sponsored post written by me on behalf of Italian Trade Commission for IZEA Worldwide. All opinions are 100% mine.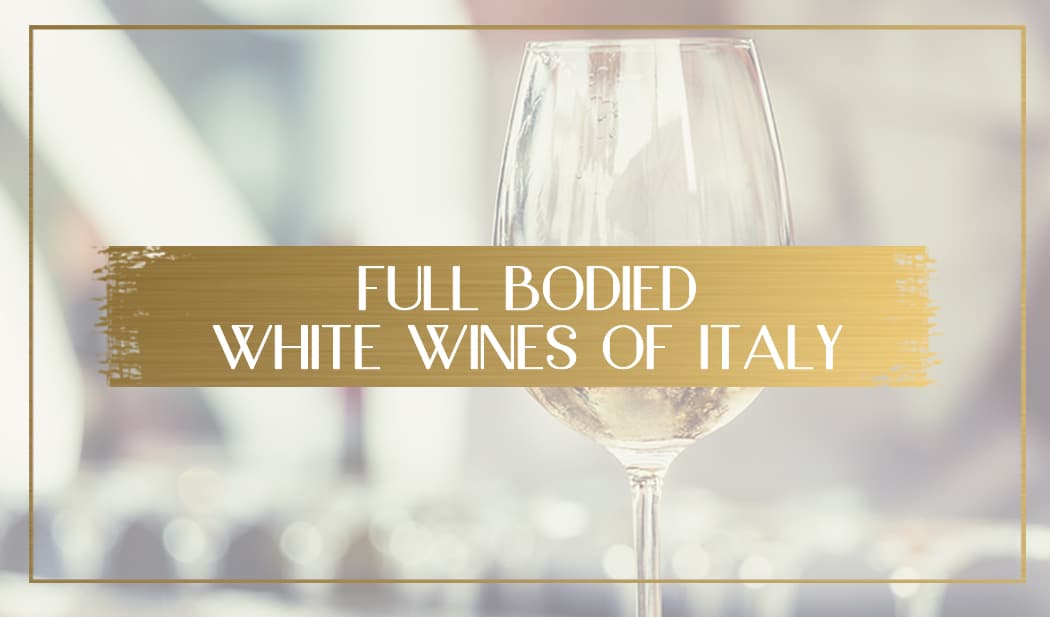 I have been exploring, reading and writing about the wines of Italy for a couple of years now. It all started in Tuscany and is bound to continue in Sicily, where a friend of mine is getting married next summer.
In my last post in the series for the Italian Trade Agency I wanted to talk about some of the more unusual grape varieties and wines in Italy: full-bodied white wines.
If you have read my previous posts on Fun facts about Italian wines you will know that Italy has the largest range of grapes in the world and that there are hundreds of grapes in Italy, many of which are autochthonous and native to the country and rarely found anywhere else.
With so much variety there is room to try the more unusual grapes and wines like full-bodied white wine options, which go well not only with Italian food but also with Asian cuisine.
Intrigued?
In this article I explore three full-bodied white wines of Italy, their grapes and some of the more unusual yet perfect food pairing options.
About full-bodied white wines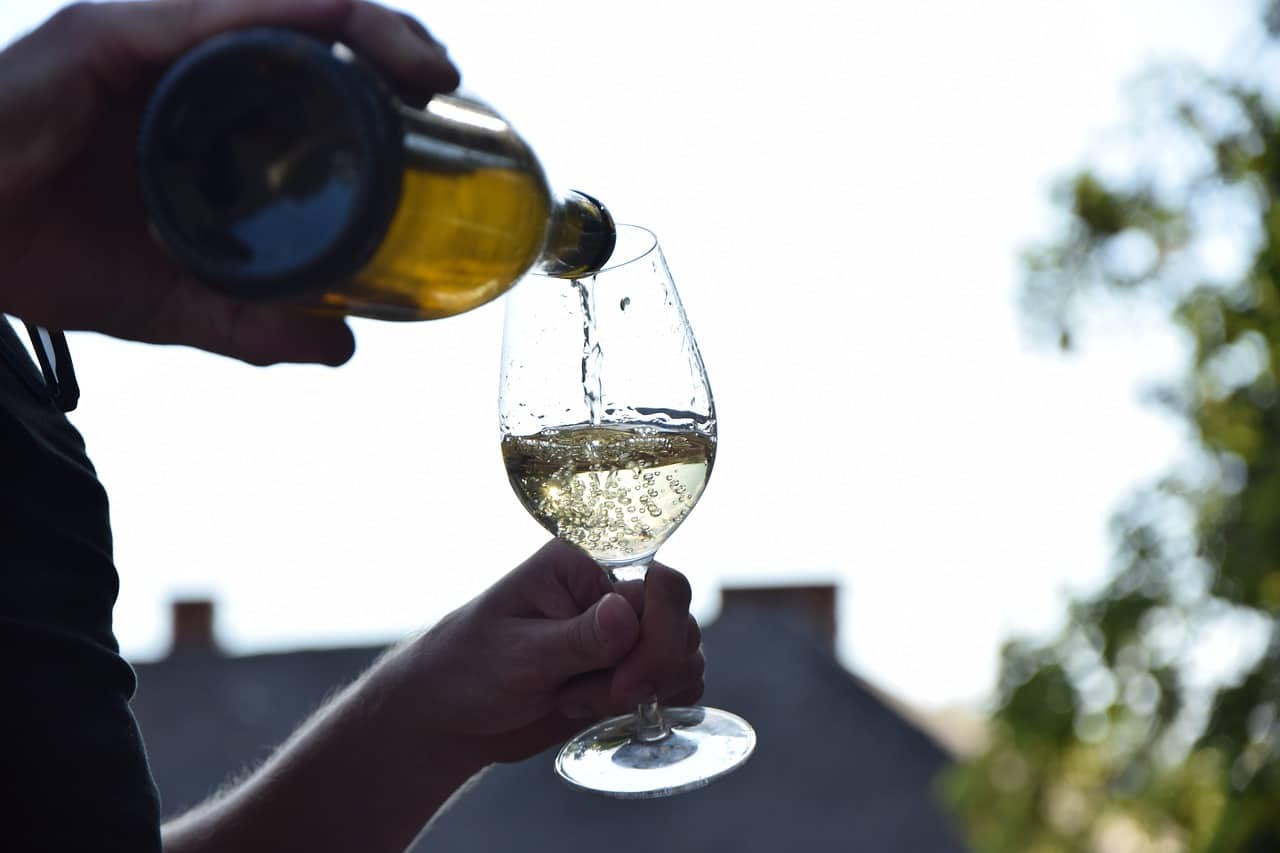 We usually associate the term full-bodied with red wines and rarely with whites.
This is because the body of a wine refers to its weight in the mouth and that is usually derived from its percentage of alcohol, its extract and its acidity, all of which are more developed in reds than in whites.
Internationally, Chardonnay tends to be the most commonly found full-bodied white wine, particularly when it has been aged. Some sweet dessert wines are also considered full-bodied, mostly because the sweetness and higher level of alcohol makes them "heavier" in the mouth.
But beyond this international grape, there are a few local white grape varieties in Italy that lend themselves to higher alcohol and also more complexity, and which make for great full-bodied white wines.
Full-bodied white wines of Italy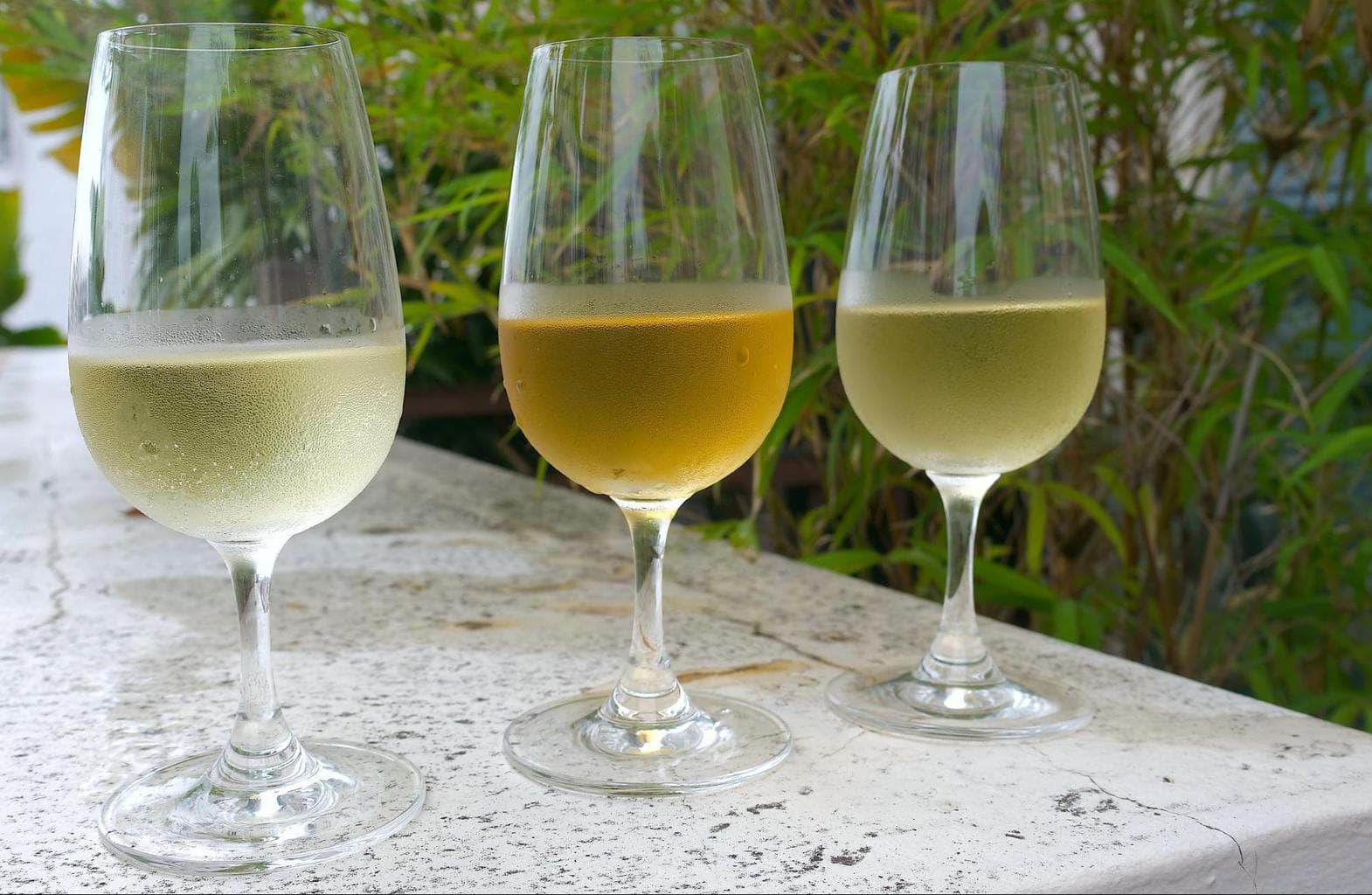 I was pretty excited to taste some of the lesser known full-bodied Italian white wines and pair them with foods that go well with their heavier texture and higher level of alcohol.
Some of the most commonly known full-bodied white grape varieties in Italy are Friulano, from Friuli, the area northeast of Venice, Muller Thurgau grapes from Alto Adige, very near the border with Switzerland, and some of the blends with the sweeter Malvasia white grapes that even my father grows in Spain.
Let's look at each of them in a bit more detail.
Friulano wines
Friulano grapes originated in the Friuli-Venezia Giulia DOC of Italy in the 15th century and have a complex and long history with several changes in names. Most recently, in 2007, Hungary successfully lobbied to get the word Tocai, the local name for the grape now called Friulano, dropped by the Italians and reserved exclusively for their white grape, written Tokaj.
Although Friulano vines used to be widely planted in the region, Friulano has been slowly replaced with Pinot Grigio, a more internationally recognized variety. Today, Friulano is primarily restricted to the region and isn't terribly well-known abroad.
While Friulano is usually drunk as a young, crisp wine, it can also be aged to achieve a full-bodied texture. This was the case with the 2015 bottle I tasted for this article, which had been aged on the lees for eight months. This aging brought a wine that is usually medium-bodied to a more full-bodied style.
Friulano wines are usually pale straw and greenish more than yellow.
Muller Thurgau wines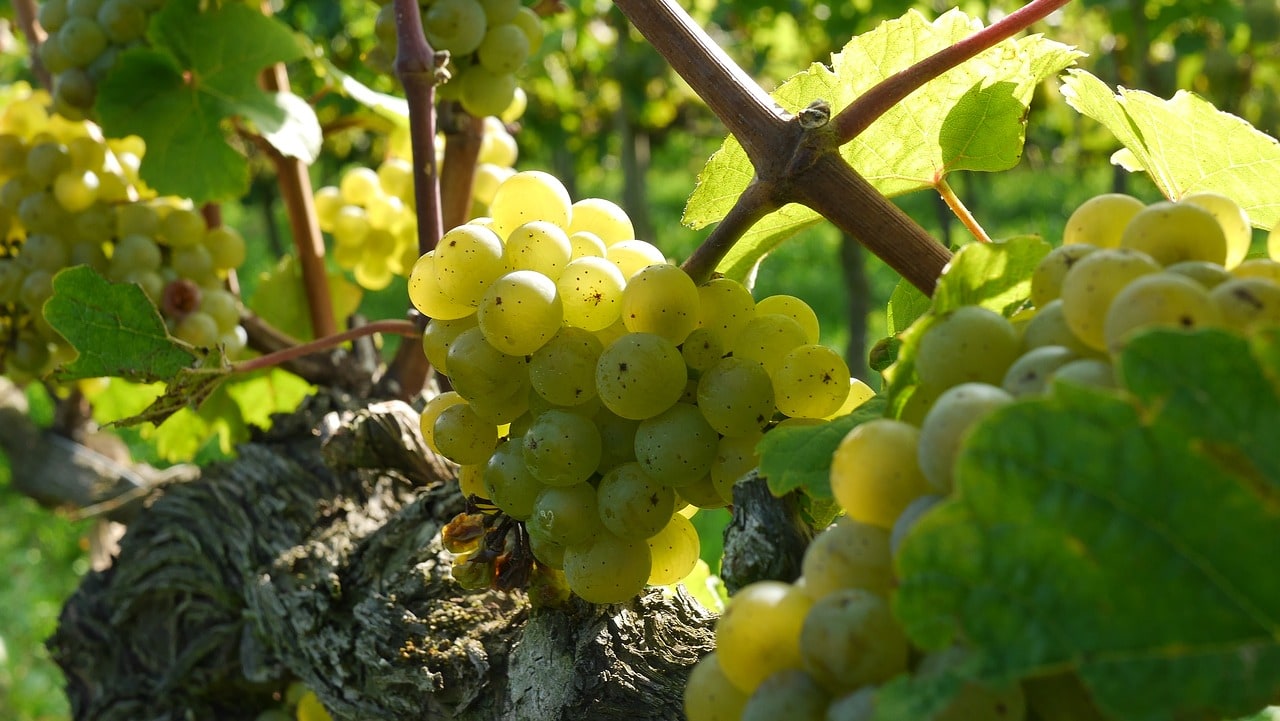 Muller Thurgau is a very unique grape made from a hybrid of Riesling and Royal Madeleine table grapes. It takes its name from the person who created it, Muller, and the region where he lived in Germany, Thurgau.
While this is a grape variety that is very typical of Germany and which was favored in the 1970s and 80s because it ripens early, well before the cold Autumn temperatures arrive, it can be dangerously flat. This may be the reason why interest in the grape slowly dwindled in Germany in favor of other more characterful varieties.
In Italy, the grape is predominantly (85%) grown in Alto Adige / Sudtirol DOC, in the northern part of Italy near the border with Switzerland and Austria, at higher altitudes, farther away from the sea, and in terraced vineyards. This has brought it much more success than in its original wine region.
The Italian version of Muller Thurgau is a mix of Riesling and Sylvaner and is a premium and sought-after grape, only known to the best Italian wine connoisseurs, and now to you.
Because of its Riesling parentage, you can expect floral touches and a full-body which is said to go well even with roasted chicken.
Malvasia del Lazio wines and blends
Malvasia is a grape variety I am very familiar with and which I love. My father grows it in Spain and owns pretty much all the vineyards in the province which have the grape planted.
Near the Mediterranean Sea, it creates a very fruity and fresh wine perfect for the wonderful seafood we have, or even to be enjoyed very cold, on its own as an aperitif.
In Italy, the name Malvasia can refer to 17 different types of grapes, six of which are actually red grapes so saying Malvasia does not actually say anything.
The Italian variety of Malvasia del Lazio (also called Malvasia Bianca di Candida) is the highest quality Malvasia and an equally interesting grape variety, especially when combined with some other grapes. The wine usually has a deeper golden color.
Because Malvasia del Lazio is a very niche variety not easy to find outside of Italy, there are a couple of other similar wines that would taste similarly and which you could use as a substitute for the pairings in this article. Two examples are the oak-aged Sicilian Etna Bianco or Greco di Tufo wines, both of which age beautifully despite being white wines.
How to pair full bodied Italian white wines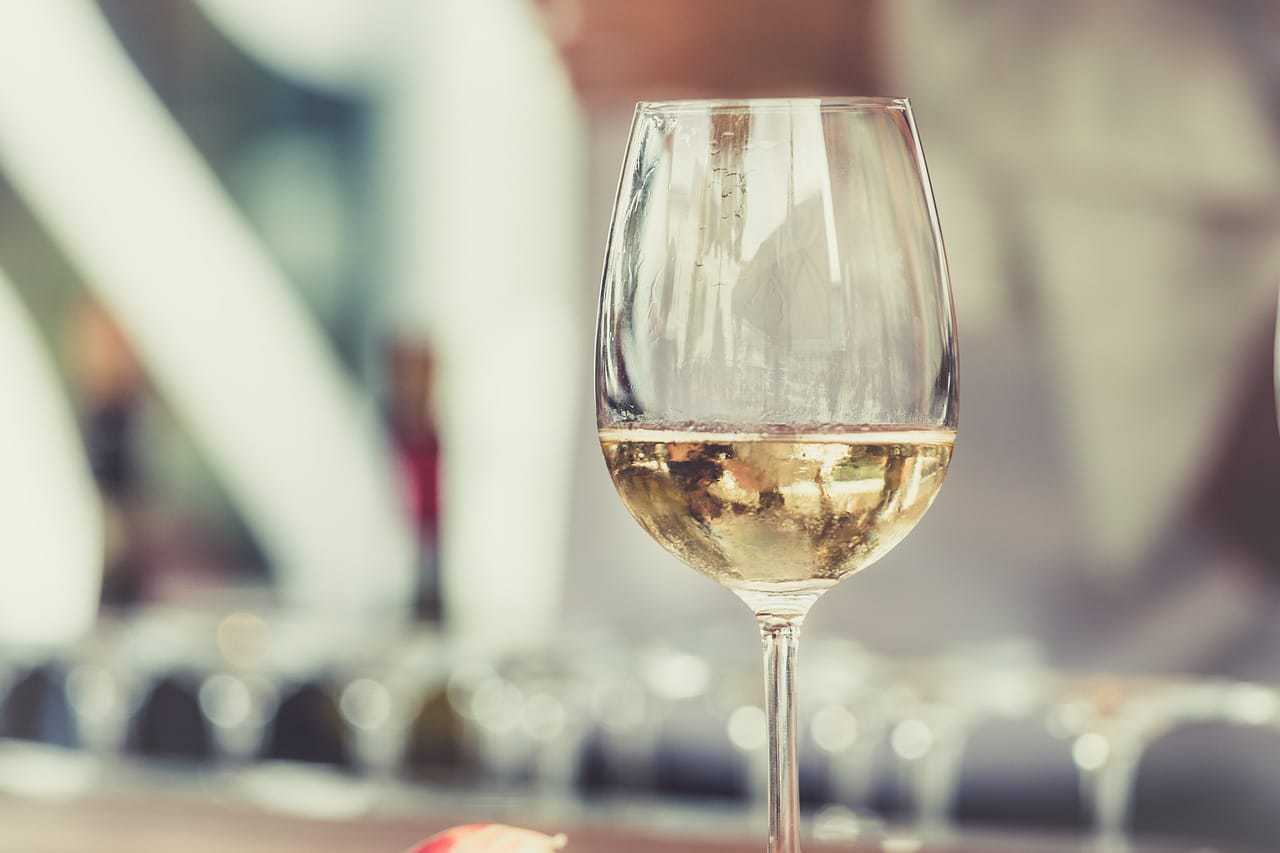 As you can imagine, a full-bodied white wine is almost an oxymoron in terms of traditional wine pairing because, while it is still a white wine, the traditional combinations may not always work.
At the same time, dishes that may usually be paired with reds can also work quite happily with full-bodied white wines.
When preparing for this pairing, I reached out to an online wine store owner and chatted to him about the best ways to pair some of the full bodied white wines above with dishes other than traditional Italian cuisine.
He confided that Malvasia del Lazio, Greco di Tufo, Etna Bianco and Muller Thurgau wines would go well with Asian favorites like Peking duck, spicy Thai salads (ever tried a Thai wine before?), Indian curries and sushi. These are foods that are hard to pair because of the spice and umami flavors, so I was quite interested to see if he was right.
To fully enjoy the three types of wines above, I invited two friends over for a lazy weekend brunch on the balcony with my partner so we could pair each of the wines above with an assortment of foods.
Typical foods that pair well with full-bodied white wines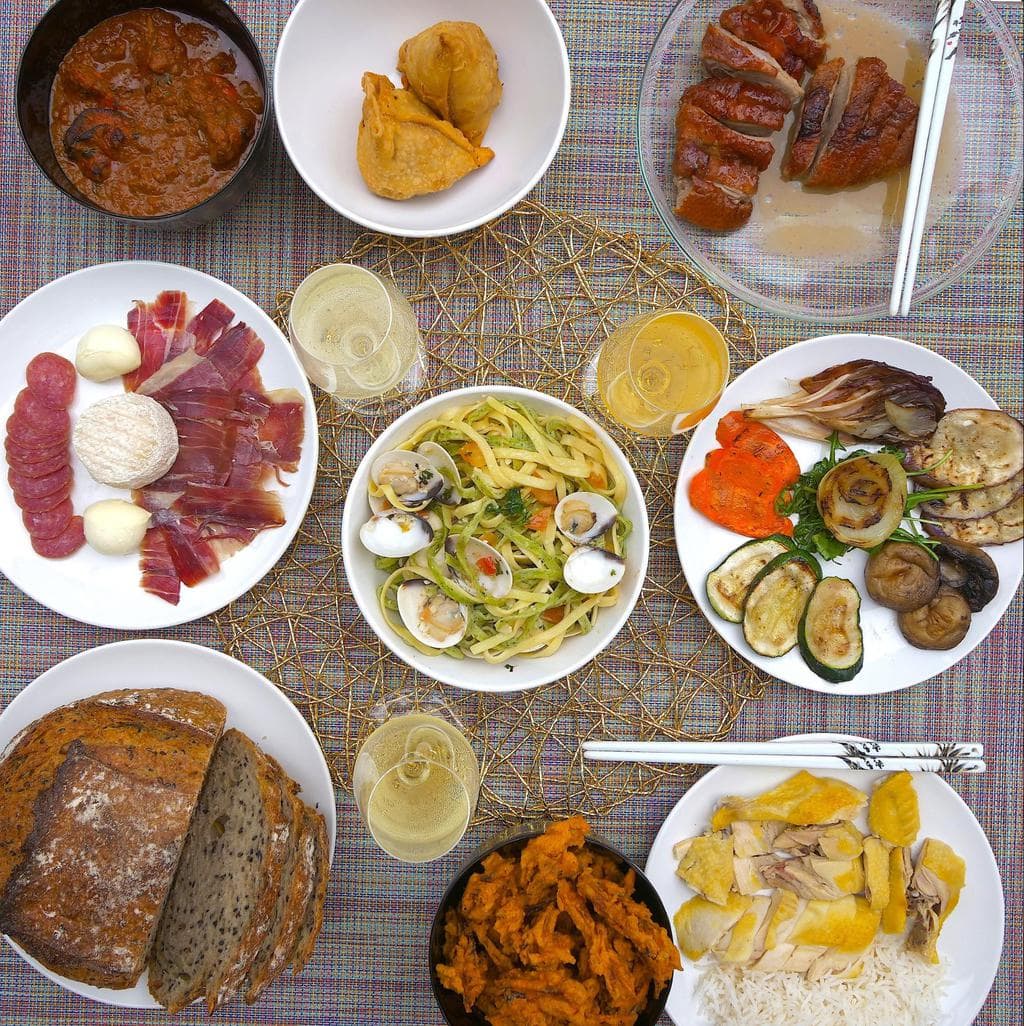 Some of the foods that are expected to go well with full-bodied white wines are pastas which are creamier or seafood based. Tomato-based sauces, on the other hand, are to be avoided.
For example, a cheesy or mushroom pasta dish or a tomato-less simple seafood pasta recipe like Spaghetti alle Vongole should pair well with full-bodied white wines, especially with the Muller-Thurgau grape.
Many full-bodied white wines are great to be enjoyed really cold on a summer's day as an aperitif and with snacks or finger foods, especially if they include cheeses, prosciutto or Indian snacks. They are also good companions to spicy foods.
Like other white wines, the full-bodied versions also go well with grilled fish or white meat like chicken, so it was a good opportunity to see if they would happily accompany Singapore's most famous dish, chicken rice, which is a bit richer than simple grilled chicken because the meat's fat is used to boil the rice.
Lastly, grilled vegetables should also go well with full-bodied white wines.
I cooked and ordered a variety of dishes from India, Italy and Asia to pair with the wines:
Indian pakora (deep-fried vegetables) with spicy chutney
Indian chicken tikka masala
Indian vegetable samosa
Italian tagliatelle with clams (vongole)
Italian ham and cured sausage
Soft goat cheese
Fresh mozzarella Bocconcini
Chinese roasted Peking duck
Singapore's Chicken rice
Pairing full-bodied Friulano wines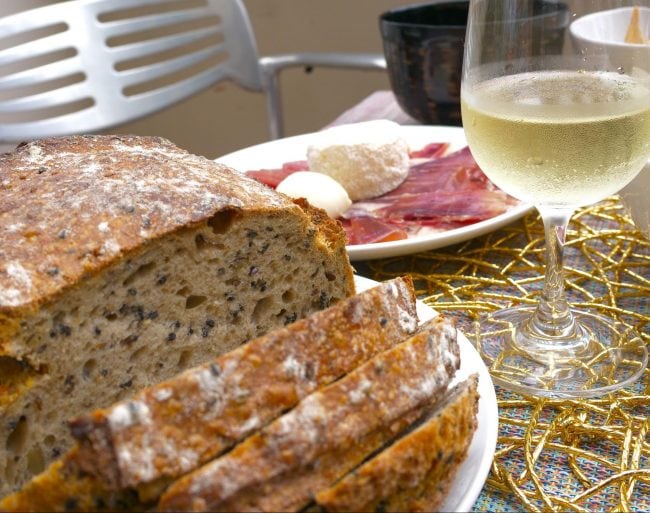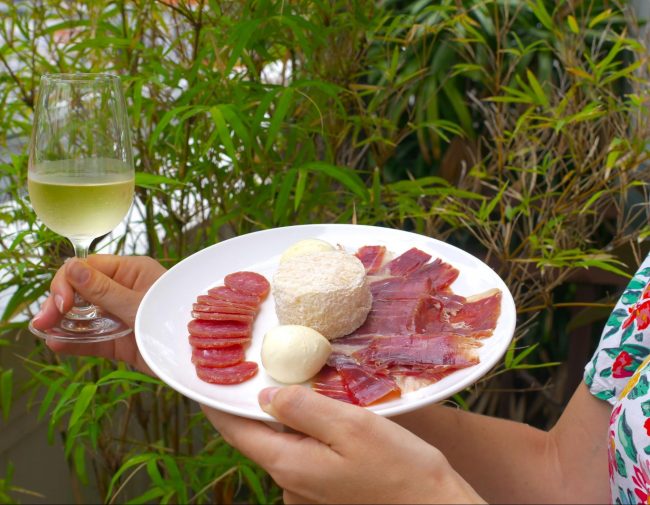 In the case of the Friulano, it is important to pick a full-bodied version as Friulano wines are commonly produced in lighter and fresher versions.
The full-bodied versions would pair well with grilled fish, seafood pasta sans tomato and the regional type of ham from Venezia, San Daniele prosciutto, or other meats like salami, which I made sure to stock up on.
The cold cuts and cheese are good finger foods/appetizers too. Soft and fresh cheeses like mozzarella are also said to work well so I added some bocconcini to the shopping list and some soft goat cheese.
It perfectly complemented the goat cheese and bocconcini and did very well with the pasta too. It was even a good complement to the spicy chicken tikka masala and the chicken rice.
How to pair a Malvasia wine
Malvasia with chicken tikka masala
The Malvasia wine that I chose also included some Chardonnay and some Greco grapes and the wine producer and wine-store owner advised it would go well with spicy Asian dishes like Thai salads, sushi or Indian food. He also told me it was a good wine to pair with Peking duck.
This is a revelation because some of the Asian foods I love eating, like Indian curries or Thai spicy recipes, are very hard to pair with wines because of their strong heat which tends to be amplified by wine.
Peking duck with Italian Malvasia wine
I was pretty happy to discover that Italy's Malvasia del Lazio wines are also a good companion to Asian food. Remember that if you cannot find a Malvasia del Lazio you can also opt for Greco di Tufo or Etna Bianco.
We enjoyed this wine with the Peking duck the most but also with the chicken tikka masala. It also went very well with the goat cheese and even on its own, both as an aperitif or as a dessert wine. It was a good companion to some chocolate we had as dessert too, despite its sweetness.
How to pair Muller Thurgau wines
Pairing Muller Thurgau with grilled vegetables and shellfish pasta
Muller Thurgau wines pair well with some of the same foods mentioned above, such as shellfish, spicy food, lean fish and white meat like chicken. Asparagus and other vegetables are also a good companion.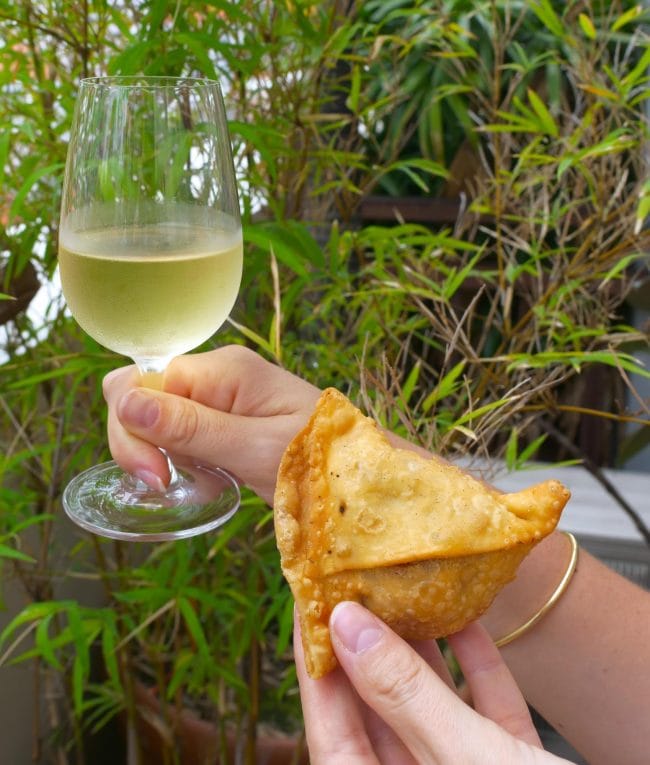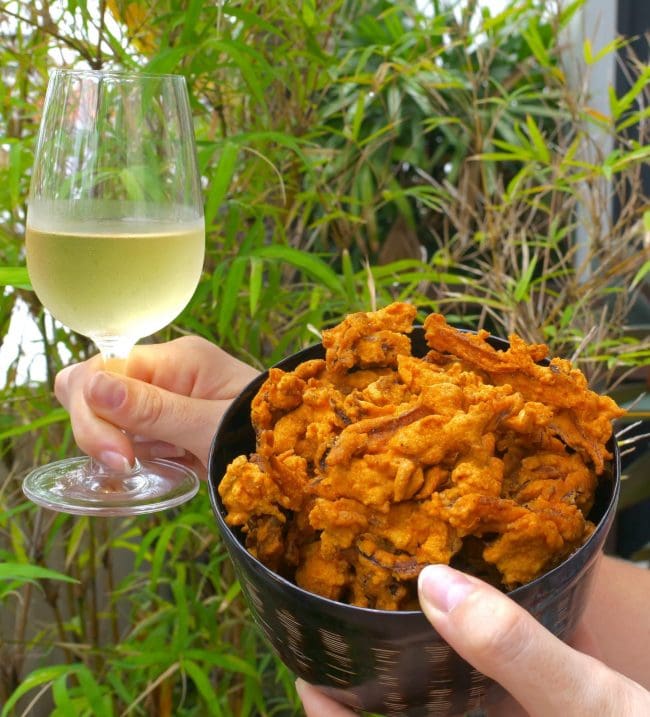 Muller Thurgau did great with the grilled vegetables and the chicken rice and could stand on its own even with the spicy chicken tikka masala. It was particularly interesting with some of the Indian appetizers and snacks like pakora or the samosa.
The Muller Thurgau wine was a favorite for all of us and the bottle that we finished first. This is a wine that went fantastically well with all the foods and, in particular, with the ones mentioned above.
Learn more more about the Wines of Italy