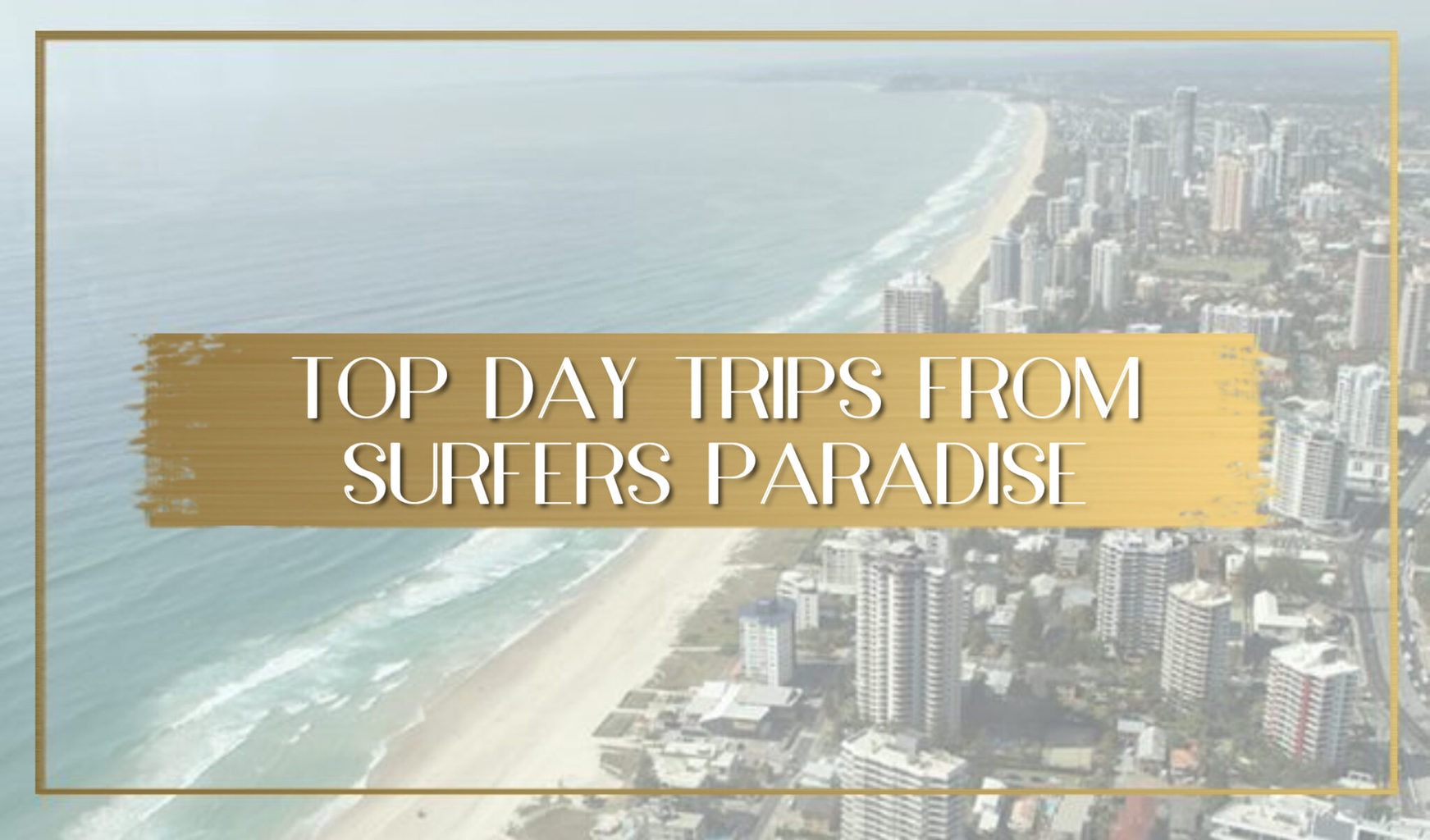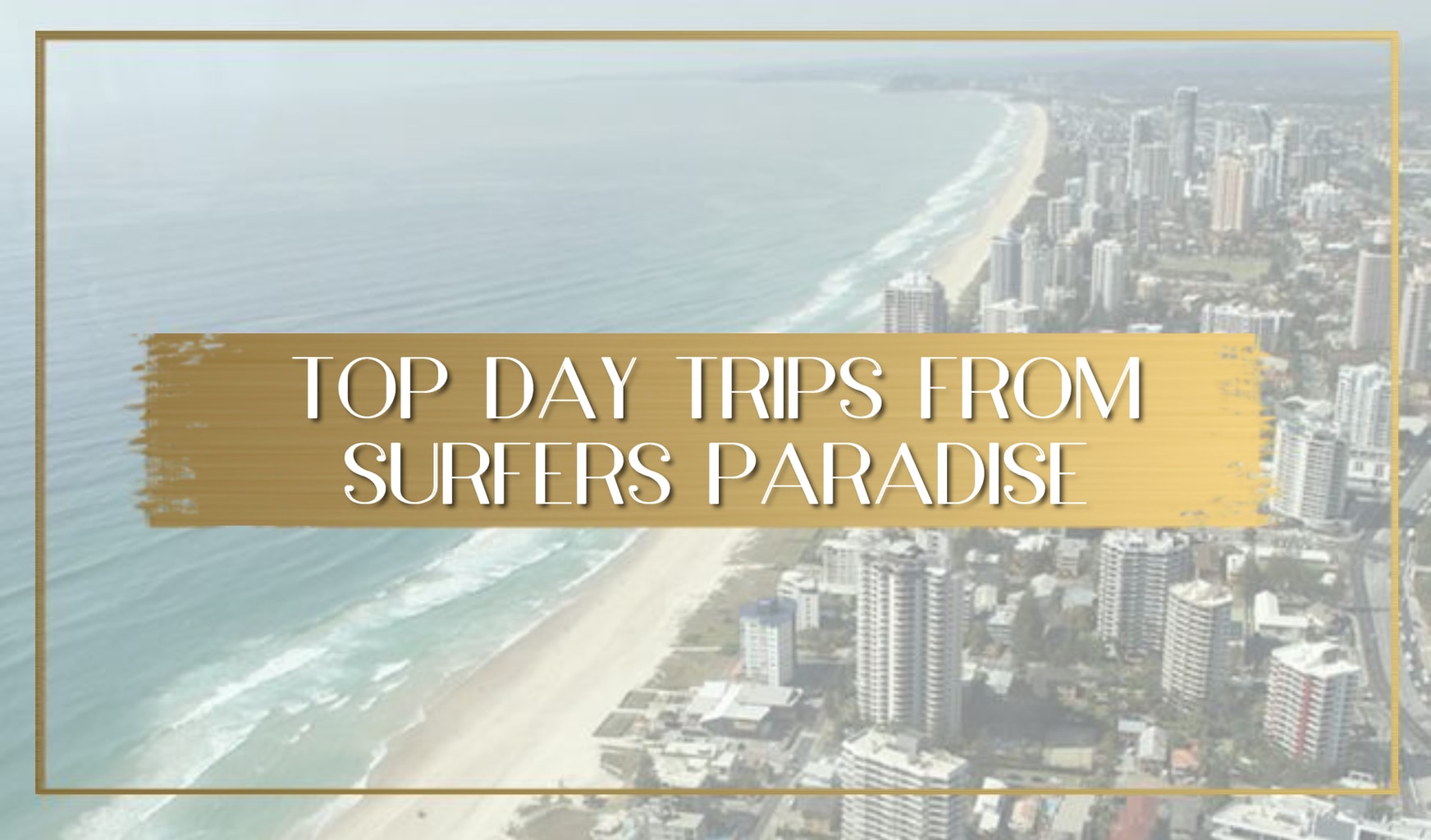 The Gold Coast is full of fun activities and attractions for tourists, making it one of the top holiday spots in Australia. This exciting region is also privileged to be surrounded by incredible natural beauty, with world class beaches and laid back beach side suburbs and towns.
Being inland the nature-rich Gold Coast Hinterland boasts rainforest covered mountains, national parks and charming country towns to explore. If you're on the Gold Coast for an extended stay, taking a few day trips out to these attractions is a must. This is a great central location, with an abundance of excellent restaurants and shopping, and some of the best hotels in Surfers Paradise are located here.
Hire a car and set out to explore some of these unreal scenic adventures with these top day trips from Surfers Paradise. Read more on Gold Coast travel itineraries and make sure you are well prepared by reading about all the things you need to know before visiting Australia.
Tamborine Mountain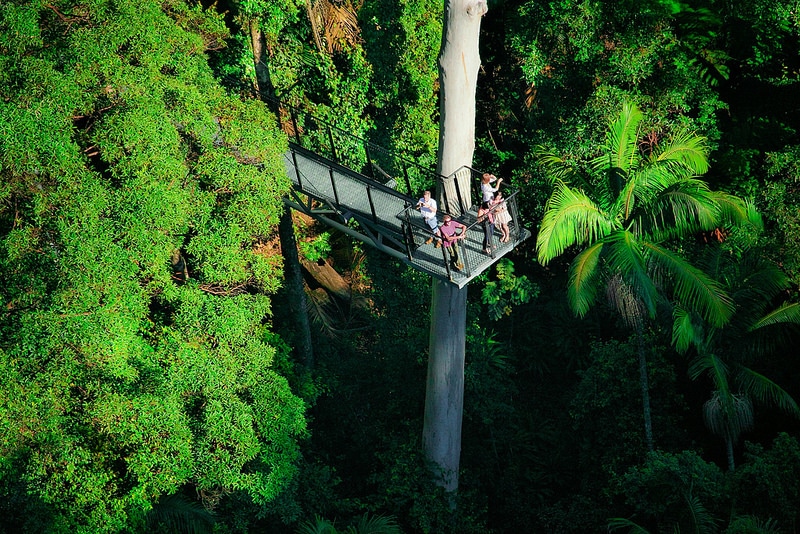 Tamborine Mountain is a cool, mountain oasis located only 45 minutes' drive inland from downtown Surfers Paradise. The scenic drive takes you up the winding road through farmland and lush rainforest scattered with idyllic homes, and once you reach the top, you will be surprised by how much there is to do here.
Stop in at "The Gallery Walk" in Eagle Heights, which is full of cafes, art galleries and boutique shops where you can get lost for hours. Sample wine and liqueur at Castle Glen or beer at the Fortitude Brewing Co. Further on you will come across several sections of Tamborine Mountain National Park, where you can enjoy a range a short rainforest walks and waterfalls.
Get among the trees with the amazing Tamborine Rainforest Skywalk, or sit with a takeaway coffee or a picnic while enjoying stunning views across the valley around Rotary Lookout. Mount Tamborine even boasts its own winery, at Cedar Creek Estate, where you can also visit their glow worm caves.
Burleigh Heads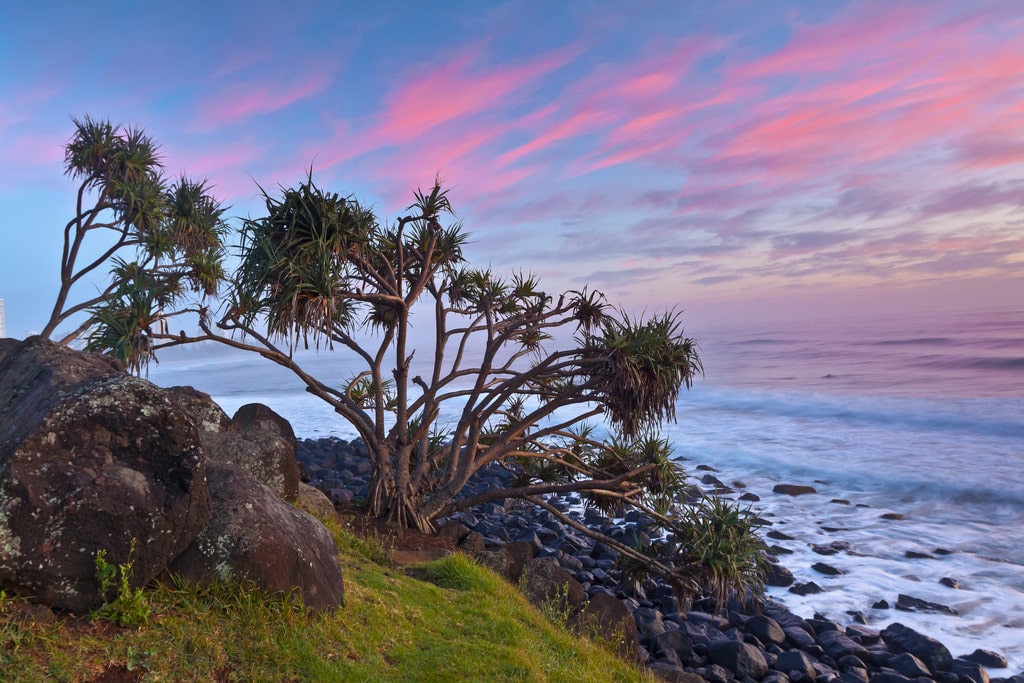 Burleigh Heads is located south from Surfers Paradise, you can easily spend the whole day here if you wanted to make the most of this peaceful town. The beach here is beautiful, with a good stretch of sand that is perfect for sunbathing or heading into the water for a dip. The break is one of the best on the Gold Coast if you're into surfing or body boarding.
Mowbray Park, along the foreshore, is the perfect spot for a waterfront picnic. Or enjoy some fish and chips and a beer at the Burleigh Heads Surf Life Saving Club. At the southern end of the beach, Burleigh Heads National Park has a fantastic short walk that takes you around the rugged headland to the mouth of Tallebudgera Creek, or you can walk up to the top of the hill to enjoy the panoramic views from Tumgun Lookout.
Tallebudgera Creek provides a picture-perfect and safe swimming spot with white sand and crystal clear water that is perfect for snorkelling. The twice monthly Village Markets is a fun, arty local market full of local fashion, art, food and more, while the Beachside Market focuses on arts and crafts, on the last Sunday of every month.
Springbrook National Park
If you're wanting to get back to nature for the day, Springbrook National Park is the place to go. This large area of lush sub-tropical rainforest is breathtaking to see. It is a scenic hour's drive from Surfers Paradise, and when you reach it you will feel far away from the hustle and bustle of the Gold Coast. There are a range of excellent rain forest walks here to suit all abilities, along with picnic areas, waterfalls and swimming holes. You could easily spend the whole day wandering the trails and cooling off in the pristine water. Nearby, in Springbrook, there are several cafes where you can enjoy a coffee afterwards. For a bird's eye view, try a hot air balloon over the area and surroundings.
Movie World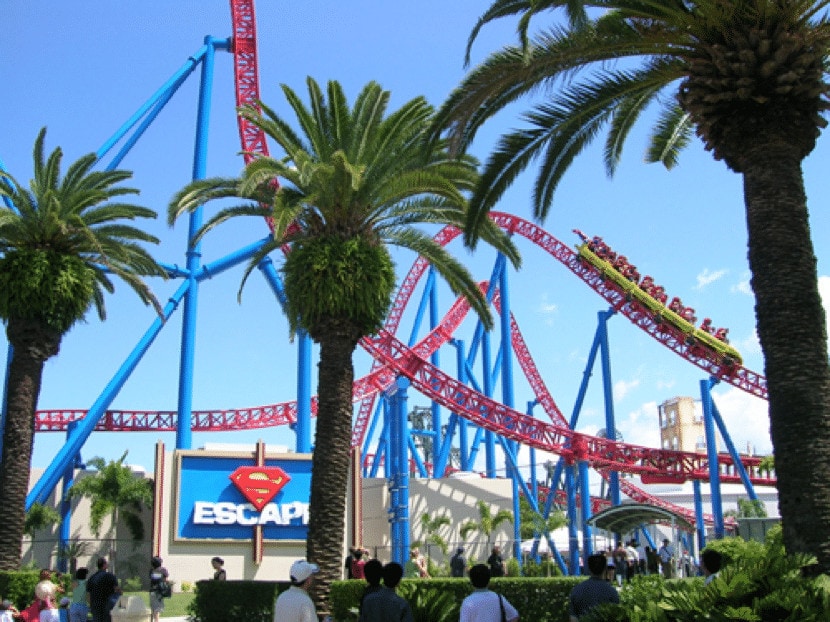 The first day trip that many people go on from Surfers Paradise is, of course, one of the Gold Coast's amazing theme parks! There are several to choose from, but Movie World would have to top the list thanks to its diverse range of rides and shows.
There are some crazy roller coasters here, such as the Superman Escape and the newly opened 'DC Rivals HyperCoaster', which claims to be the longest, highest and fastest in the Southern Hemisphere. Along with the rides, there are lots of entertaining shows on offer, such as the action-packed Hollywood Stunt Driver Show, as well as the main street parades where all the famous Looney Tunes and movie characters come out to greet fans.
These characters hang out all around the park and you can interact with them and take photos. Movie World is the ultimate theme park for family fun.
Byron Bay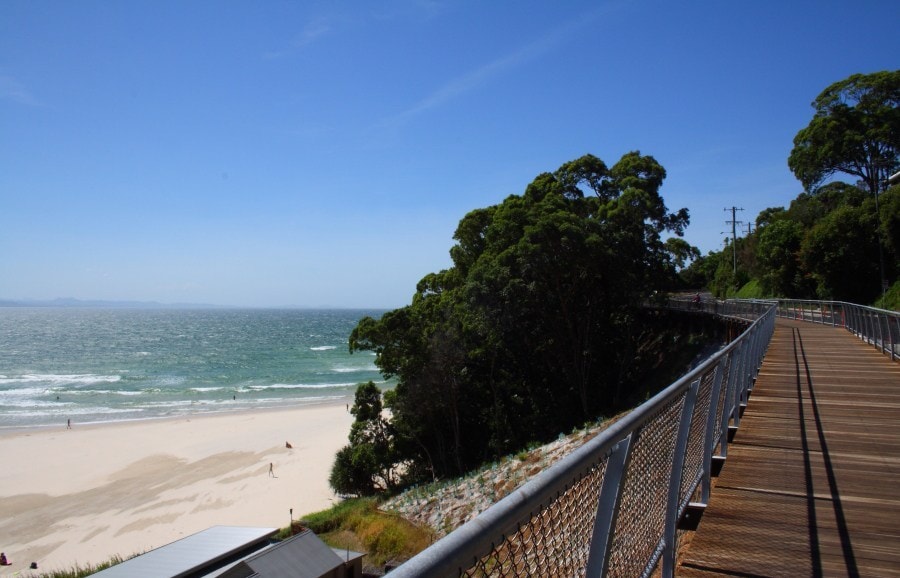 Byron Bay is one of the coolest coastal towns in Australia, known for its laidback hippie vibes. These days the town is a drawcard for backpackers and travellers, and things are bit far removed from the old hippie days, but Byron Bay's laid-back atmosphere is still intact and the town is definitely worth a visit.
It might be located in New South Wales, but it is just over an hour's drive across the border from Surfers Paradise, making it a great day trip destination. The main beach in Byron Bay is idyllic for wiling away a couple of hours in the sand, while in town there are lots of great shops and cafes to check out.
One of the best things to do in Byron Bay is to take the walk from town out to the Cape Byron Lighthouse, a beautiful walk with rugged coastal scenery, leading to the most Easterly point of the Australian Mainland.
Lamington National Park
If you're wanting to go hiking for the day, it is hard to beat Lamington National Park. This large protected area of pristine rainforest is located just inland from Springbrook, and requires a bit more driving to reach the section at Binna Burra, or further on to the Green Mountains section.
The rainforest here feels ancient and untouched, and there are a range of excellent walking tracks to enjoy, some reaching points with amazing views out towards the Gold Coast or across the New South Wales border. The Coomera Circuit is a 17km walk that takes you to the stunning Coomera Falls, plunging far below into a dramatic gorge, before following the creek for some time and circling back to Binna Burra. Lamington National Park is a beautiful spot to escape the hustle and bustle of Surfers Paradise for the day.
There are lots of incredible day trips that you can enjoy from Surfers Paradise, especially if you take a plane like an exotic escape to Whitsunday Islands, and these are just a few of them. The amazing vibe this city has can sometimes be overlooked for people planning a trip to Australia. This really is an amazing part of the world and one of the must visit destinations down under.