A year of transition and change.
Between jobs and experiments 2014 was a remarkably difficult, enriching and rewarding year and one in which I learned too many lessons for my liking.
On the travel front, 2014 in travel, despite no longer living the life of an ultra-frequent traveler I still managed to visit 16 countries, some new and some revisited, and being on the road for over 100 days.
The year kicked-off in Australia where I welcomed the new year with views over the Harbour Bridge. And I say views because the fireworks were so far away that we could barely see them. That was the first learning of the year: you can't trust a local to show you the touristy places, they have simply seen them too many times and can't be bothered. I wish we had done the most typical thing and found a spot early in the morning from where to take in the magical fireworks, even if we had to be there at 6am with food and drinks for a day of camping!
In Australia I visited Sydney, Melbourne, Byron Bay and Tasmania all of which were awesome. We took a day trip to the Blue Mountain, I was in Melbourne for the Open, on the same week when temperatures hit the ridiculous high 40s degrees. It was impossible to walk around the city under the burning sun. We managed to make it down to Philipp Island for the penguin parade. Sitting on the beach at night with night-time goggles to see the penguins come out of the sea and walk into the land to feed their little furry ones was fantastic. Tasmania was a beautiful surprise, what a wonderful place. A light aircraft tour was a bonus and the weather was just perfect.
Australia is always a favorite because the country is beautiful and I get to interact with lots of unique wildlife you can only find there. In this case I saw platypus and managed to pet an echidna!
Back in Singapore I spent Chinese New Year in town. This is the time of the year when the city becomes ghost town, you better stock up on food because nothing is open for 3 days.
February was very busy with the opening of the cafe so there was only time for a weekend escape to Phnom Phen, Cambodia's capital. It was a strange visit because there is not that much to see in the dusty and crazy city so the best part was the food. Well and I also visited some temples 😉
March continued to be very busy but managed a long weekend in one of my old time favorite destinations: El Nido in the Philippines Palawan island. I have been there 4 times and it almost feels like coming home (read my post on the Top-10 luxury resorts in the Philippines). It is one of the few places I keep returning to and, no matter how many times I go, and I enjoy it every time. The islands are just pure beauty and the friendly smiles of Filipinos something that warms my heart. It was a great way to recharge and relax in the stunning beaches and lagoons.
April was beautiful with a trip to Japan to see Sakura (cherry blossom). It was my first time in the country and seeing it at the time when the rain of petals falls from the trees to cover everything was very pretty. A short but very interesting insight into this magnificent country of the Far East.
One of the most memorable experiences of my life happened in May when I went to Nepal. As usual, the trip was relatively short but I packed so much in the 5 days that it felt like a week! Apart from an elephant safari in Chitwan Park and playing with these amazing creatures I managed to make the once in a lifetime journey to Everest Base Camp on an helicopter and it was incredible (Read more here). We only got a minute to step on the hill just right next to Base Camp to take a shot and then go back into the helicopter straightaway because the risk of altitude sickness was too high. And I tell you, in just a minute I felt immediately drowsy and confused. Landing at 5,600 meters from Kathmandu in just 30min was very impressive but the trip was made even more unforgettable by the quick stopover in Lukhla Airport, the scariest in the world, and the wonderful breakfast at Everest View Hotel taking in the best views of Everest while indulging in some high-latitude breakfast. This must will go down as the most expensive morning of my life but it will also be recorded for my grandchildren to hear. Aside from this excursion Kathmandu Valley's temples were fabulous and I truly enjoyed the messy, dirty and noisy city, just my type of trip.
June made one of my long-term promises come true with a long weekend in Seoul with my good friend and ex-flatmate Hang-Ho, a local and a fashion, art, design and food freak, a mix that is very dangerous in a city like Seoul so you can imagine what the trip entailed: galleries, lifestyle shops, fashion, shopping, spas, cafes, restaurant gems and indulgence all round, Korean style, ie without a rest. The first day started at 7am and did not end until 4am just so you have an idea. We were getting massages at 3am after late night shopping in THE place to be in Asia. It as crazily fabulous and I will admit, the most sophisticated and local way to experience this crazy place. How different the trip would have been without my personal guide! Speaking of guides, here is our massive guide to the best things to do in Seoul. And when you're hungry try one of the best foods in Korea!
In July I took one of my trips of a lifetime, one of those epic adventures you take once in a while and which will stay with you forever: The trans-siberian journey onboard the Golden Eagle (Read my review here). It started in Moscow for a fabulous tour of the city sights, cultural spots and food institutions and, after crossing 6 time zones we ended in Mongolia's capital, Ulan Baatar for the Naddam Festival. Since I had a couple extra days there I ventured out to see the tallest equestrian statue, just outside of the city. But the journey didn't end here. I continued with a short stay in Beijing, my first time in China, where I stayed at the historical Aman at Summer Palace (Review here).
But July was an extremely packed month and after landing in Singapore there were two other trips lined up. One to see the Komodo dragons (Read about 3 ways to do Komodo here) in Indonesia and the other a weekend escape to Nikkoi's Robinson Crusoe island, right next to Singapore in Indonesia's soil (Read my review of Nikkoi here).
The Komodo dragons were quieter than I expected and somehow less scary, slowly dragging themselves along the dusty ground. You do get very close to them though which was very interesting. I bet it would be frightening to come face to face with their pre-historical looks in the wild.
August was full of celebrations. First in Bali's Ubud Hanging Gardens (Read my review here) for a very grand birthday celebration. The hotel's infinity tiered pool is the world's most photographed and I challenge you to take less than a hundred photos!
The month ended with a beautiful destination wedding with the Angkor Wat temples in the background.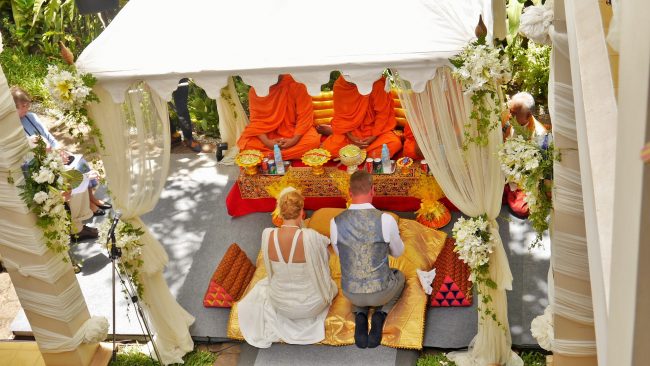 Because this was scheduled to be the first year I would not spend Christmas at home I made a last minute trip to Spain for a week. It was like a trip down memory lane to be home in the summer and during the wine harvest season, a great way to experience the Mediterranean life. I can never spend too long home as there is the risk that I may never leave! I got to indulge in cocktails at the best rooftop bars in town and enjoy the Slow Food movement in Barcelona with some gorgeous Michelin-starred food (Read more here). September also saw another trip to Bali. The month ended with a long weekend in Boracay Island in the Philippines where I tested the new drone with some awesome shots.
October arrived with the final details of my starting date at Google and in between a foodie trip (Foodie weekend review here) to Bangkok and a romantic getaway to the Six Sense Laamu (Review here and What to do here) in the Maldives to make sure I would start the new job fully recharged.
As I had just started a new job I could not take much leave in November but Singapore's great location as a Southeast Asia hub makes it easy to fly out for weekend trips and this month saw a girl's only celebration in Phuket where we partied, Thailand style at one of the most hilarious spots in town, Ka Jok See. I also had the chance to stay at a couple of Singapore long standing institutions via two staycations with family and friends visiting at the heritage Raffles Hotel (Review here) and Sentosa's hideaway resort, The Capella Hotel (Details here).
Mid-December I had to go to Sydney for work and took advantage of thew weekend to climb the Harbour Bridge, a jump off it! Read the details here.
The year was looking like it could end in a mixed bag of feelings. I was debating whether to embark on a 3 week Pacific odyssey to New Zealand, Tahiti, Bora Bora and The Cook Islands alone after my relationship ended but I am very glad I did because, just like 2 years earlier when I spent 2 months in this part of the world traveling solo, this trip will be up there in the most treasured and simply breathtaking journeys of my life. I took on adventure by the horns andtravelled solo to the ultimate honeymoon destination, after a break up, and I had a blast. Solo in Bora Bora, not for the faint of heart though!
I road tripped New Zealand's Northland with loud music and regular stops to take in the views of this postcard perfect country. I flew over the Bay of Islands on an helicopter (Read more here). I tasted wines on a wine tour of Waiheke Island (tour review here) and I woke up on Christmas Day twice (want to know how?), courtesy of the International Dateline. In French Polynesia, I dove with mantas, swam with wild sharks, fed sting rays, went on 4×4 adventures, sailed the Bora Bora lagoon and felt, generally, like a movie star. Here are all the activities to do on Bora Bora.
Every year is an adventure, and every adventure is worth living but if 2015 is anywhere near as much a roller coaster as 2014 I better start going to the gym!
Here's to another year full of last minute trips, plenty of hotel nights, envy-inducing journeys, life threatening adventures and fond memories to keep and share.