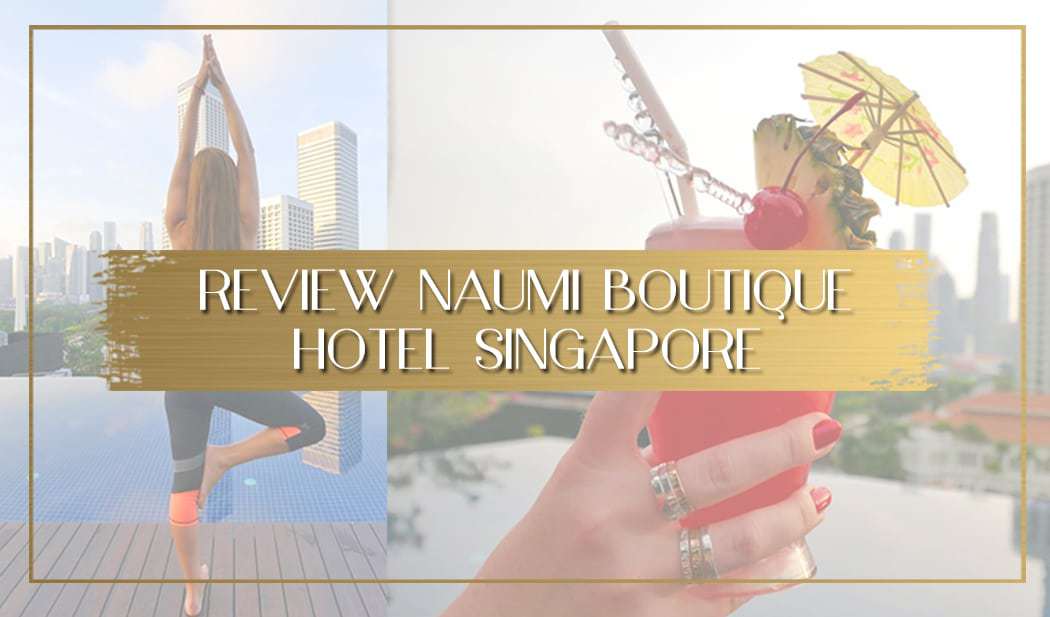 "Have you been naughty this year?"
It is not Santa Claus who wants to know, it is Naumi Singapore. Cool, chic and slightly naughty, Naumi Hotel has a refreshing take on boutique accommodation. And it works.
Located at the edge of Singapore's Business District, far enough not to be engulfed in the chaos of the suit-wearing masses, but close enough that you can see the towering buildings from the infinity pool, Naumi serves accommodation with a side of fun. It prompts you to indulge. In that extra minute in bed, in the silence of the night, in the hot blow of the hair drier, in the pleasure of watching TV in bed.
Arrival and check-in
Naumi is located right behind a Singaporean institution, the Raffles Hotel. Slightly hidden behind a wall of overgrown greenery, Naumi is compact and cozy. Check-in is done at the ground level, by the lobby bar and restaurant and within minutes you are on your way up to the bright rooms. "Come away with me", says Naumi.
The rooms at Naumi Singapore
As I walk through the corridors of the hotel, moving artwork and messages left on the walls have already welcomed me into the world of Naumi.
"I know you want it"
"Oh yes I do!", I thought to myself while envisioning the sunset drinks by the pool that were coming right up.
Naumi has four different types of rooms. I was staying at a Habitat room which is their entry level room and a cozy and comfortable one. Then there are the patio rooms which have, you guessed it, a small outdoor space where you can chill.
The next category up is the Oasis, which has a bathtub where you can soak up – or anything else your kinky mind, with the help of Naumi, can come up with. Then there are two suites. The Eden and Nirwana suite is Andy Warhol-inspired and has colourful and funky furniture and decor.
The Gabrielle & Camellia one is inspired by Coco Chanel and is all in black and white and named after her favourite flower.
The Habitat room was great. The large windows were letting so much light in that when I stepped into the room, I felt like I was walking into a warm, sun-soaked afternoon in Tuscany.
The details showed personalization and character everywhere with smart design ideas to keep the room uncluttered and functional while still providing everything you need in a thoughtful manner. No iron and ironing board hidden in the closet, no minibar under the TV, at Naumi everything had its place and was wrapped in fun.
The hair drier was there to "Blow you" and the controller needed to be "Turned on". If you wanted to block out all the city noises, the ear plugs would make sure that you "Hear no evil".
The sink bar was filled with goodies from (MALIN + GOETZ), the sensitive skin and natural ingredient cosmetics company that is based in and operates from Chelsea, NYC.
The fully stocked minibar and the snacks in the pull-out shelf were all complimentary. I loved this hidden shelf and the grown-up wine glasses neatly hanging. Glasses stuffed under the TV cabinet are just so not fabulous!
For the voyeur in you, the shower has a glass partition, but if you are feeling a bit shy, you can frost it with the switch of a button. But beware, the shower's "Magic glass" button is outside of the shower, so it is not up to you to decide if you can hide or not.
Naumi even gives you advice on the laundry bags stating, "Laundry today or naked tomorrow!". It sounded a bit like a threat, but essentially true. Your call.
The food at Naumi Singapore
Naumi has an olden-day dining restaurant, Table, managed by four-decade old refined Indian dining legacy Rang Mahal. Table serves breakfast, lunch and a more formal Indian dinner.
I indulged in a leisurely breakfast so I had time to sample all the goodies. As you would expect, the naughtiness extended to the dining table with suggestions like "Go bananas" or remedies to cure a hangover, something which may indeed be put to good use when you remember that the minibar is free, including the small bottles of alcohol.
Naumi also offers collagen shots from Re-Juvenate, something I have not seen anywhere else before. The shots are made of marine collagen, acai, hyaluronic acid, minerals and vitamin C, which is said to be the best potion for your skin.
If you are looking for a more old-fashioned morning pick me up after a quick workout, they can also prepare a protein shake with banana. There is a selection of superfoods, dry fruits, nuts and other nourishing ingredients.
Or you can just have a warm pastry and a glass of champagne!
For a sunset drink nothing better than following the Staircase to Heaven and climbing up to the rooftop infinity pool, Cloud Nine. I enjoyed amazing Frozen Strawberry Margaritas and Singapore Slings as the sun set behind the Singaporean horizon.
Naumi opened the first infinity pool in Singapore, until others followed, and it has lovely expansive views all the way to the Marina.
Because Naumi is in Bugis, a very central neighbourhood, you are very close to all of the city's hawker center goodness, late night indulgence, afternoon tea havens and shopping. I particularly love Haji Lane for quirky local designers and finds.
The facilities at Naumi Singapore
The secrets at Naumi continue. At risk of spilling the beans on Singapore's most coveted meeting room, I will show you what it looks like. Swiss Alps meets James Bond dungeon.
You can have the mountain hut area or the formal meeting room, or both! So that you can relax on those sink-in Poltrona Frau leather sofas in between meeting room conversations and feel the casual touch of creativity.
Although not the largest gym I have seen, the exercise room has what you need for a quick workout. Or you can just go out for a run around the Marina a few minutes away. Or you can stroll up to the pool for some sunrise laps or yoga on the deck.
Review of Naumi Singapore: The Verdict
Naumi is the hotel for me. It is classy and playful with a dash of boldness and a measure of kinkiness. I am pretty sure this is how my closest friends would describe me. It made me smile, it made me want more. There wasn't anything wowing me. It wasn't the large infinity pool on the 67th level, or the colonial architecture, not even the 130 years of history. It was not flashy, it was not superfluous, it was not an island resort getaway. It did not have the Michelin-starred chefs at the doorstep or the global brand cache. It was the fact that everything was just how I would have liked it to be if it was my home: naughty but nice.
"C'est magnifique!"
Once in a Lifetime Journey was a guest of Templation. As always, all opinions are our own.
Planning on luxury travel in Singapore? Then Pin this article.