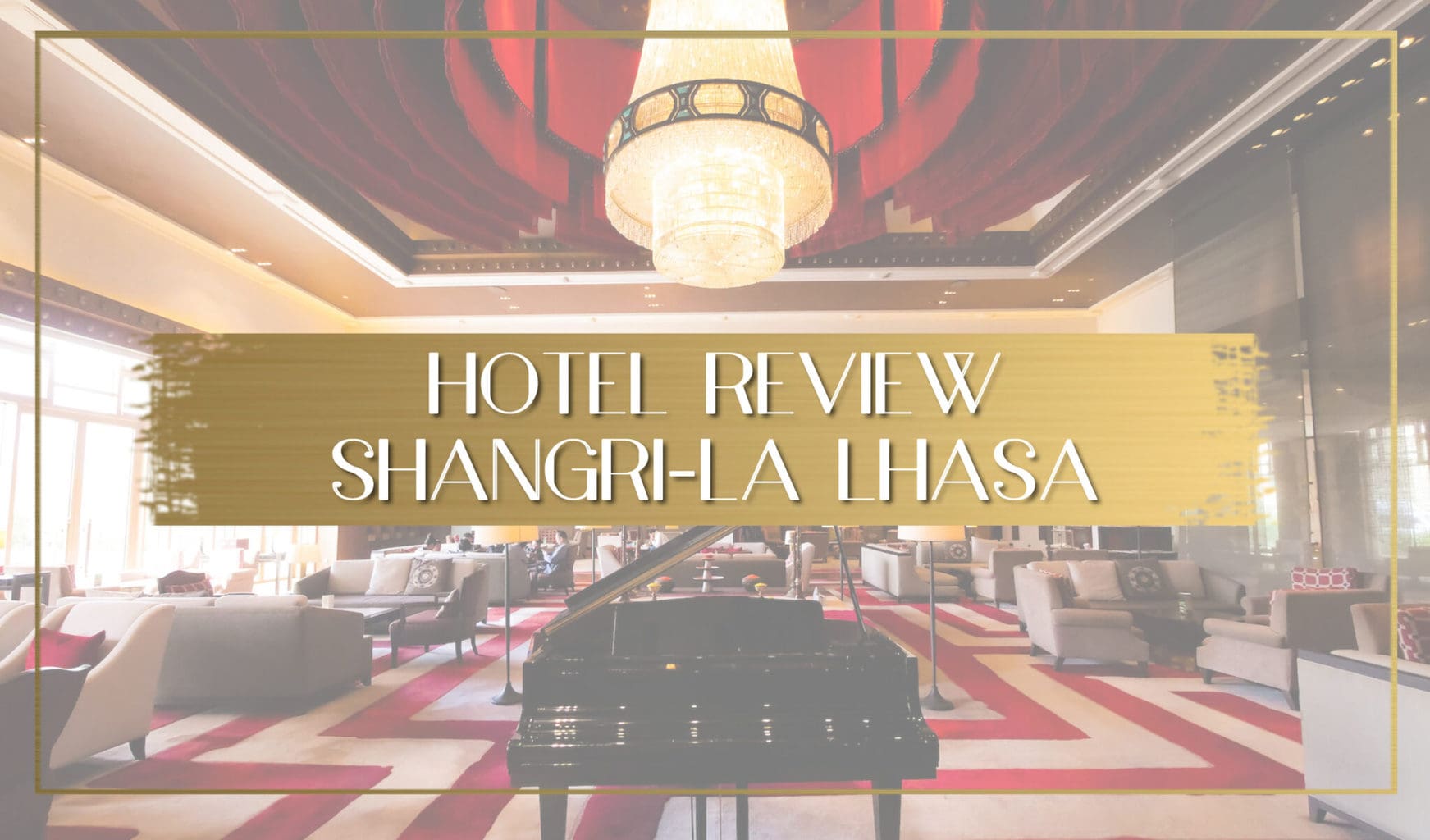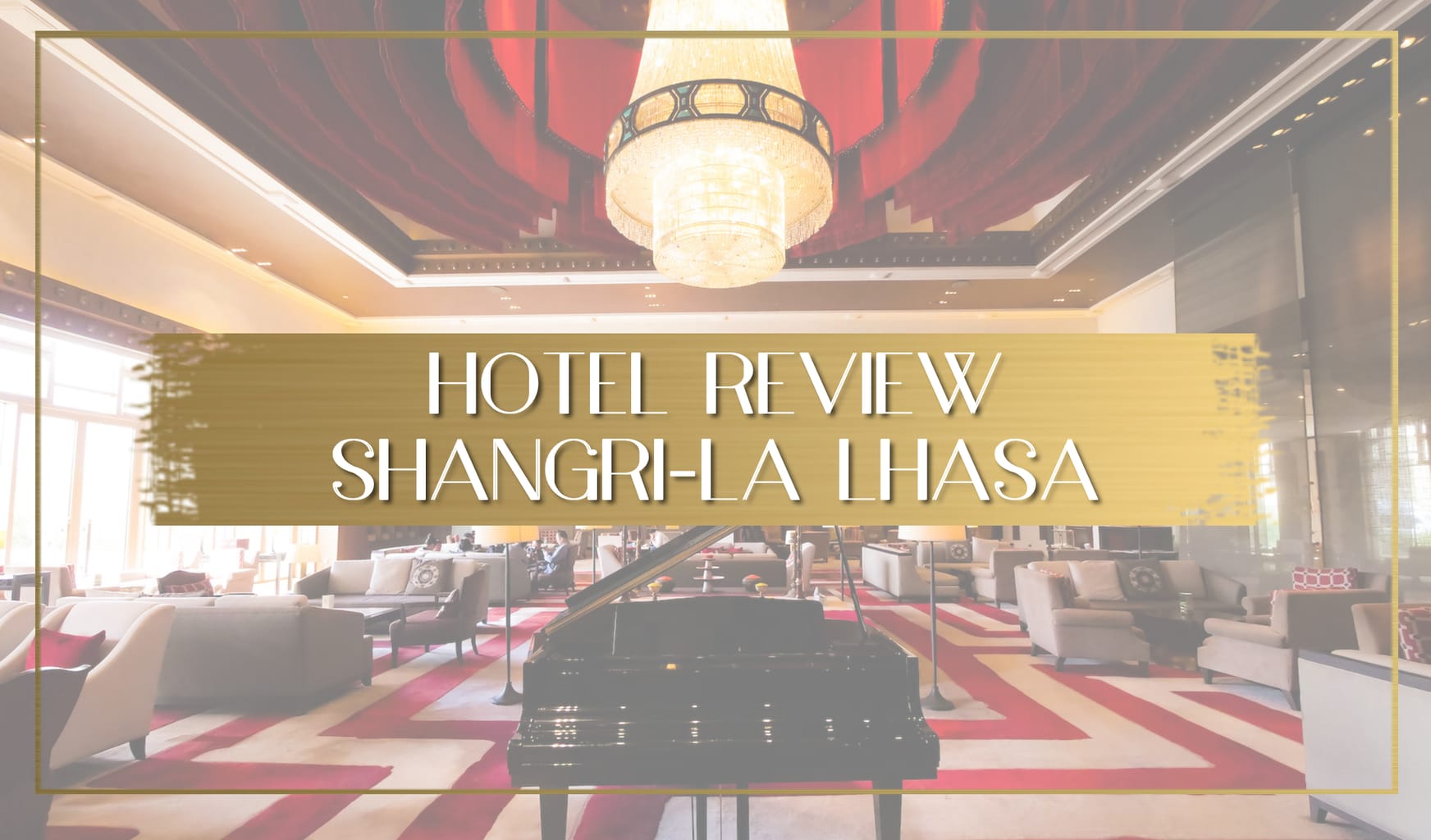 The city's luxury scene is evenly split between the Shangri-la, opened in 2014, and the St. Regis Hotels in 2010. I stayed at the Shangri-la as it was recommended as the better alternative thanks to superior service levels.
Shangri-la Lhasa – Arrival and check in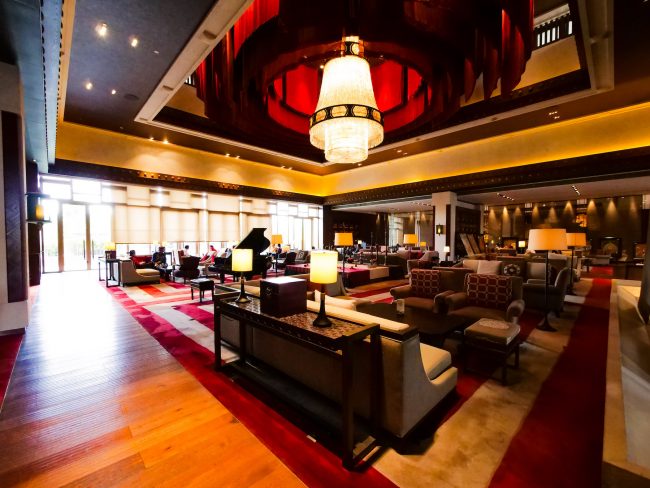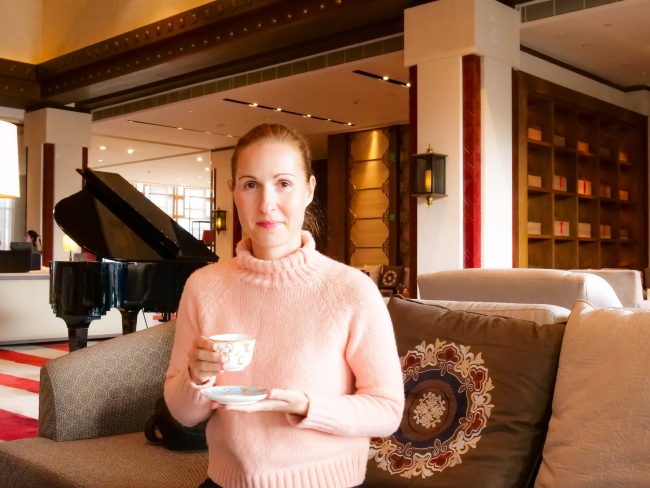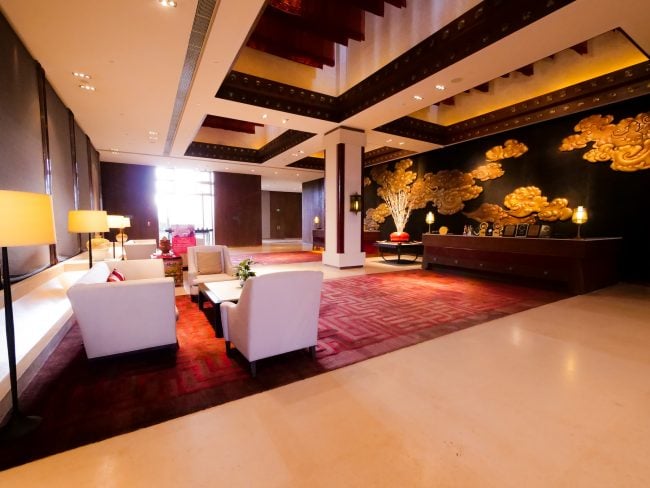 The Shangri-la Lhasa is located about half an hour's walk from the Potala Palace, on the main city road. It is surrounded by sprawling gardens and housed in a low building up a gentle slope. We arrived from the train station after being picked up by our guide and he escorted us directly to the reception, desk backed by a cloud installation reminiscent of the brand's name.
The reception staff was courteous and we were being helped by our guide with translations. The process was soon over and we were given directions to the room, through dimly lit corridors graced by golden dragon paintings on the ceiling that were so appropriate to the hotel's location. Our luggage came after from the hands of the bellboy.
Review of Shangri-la Lhasa – The rooms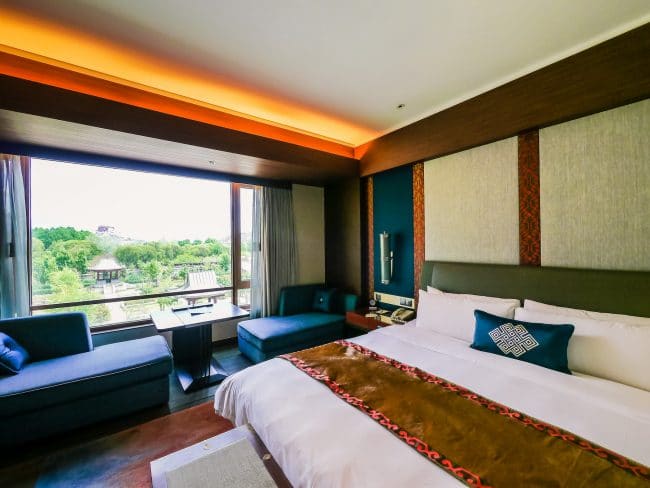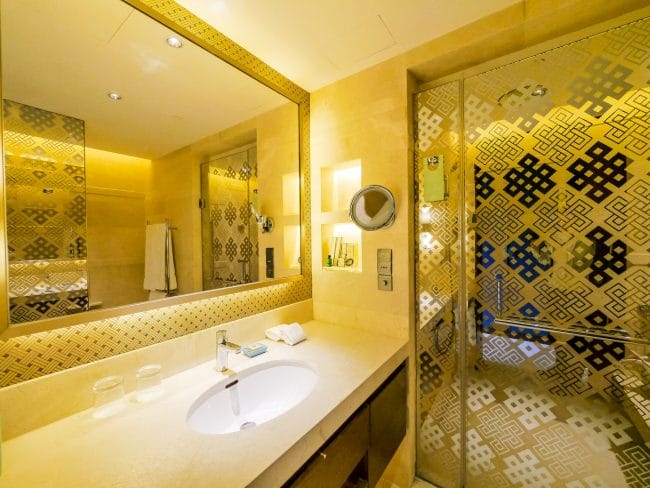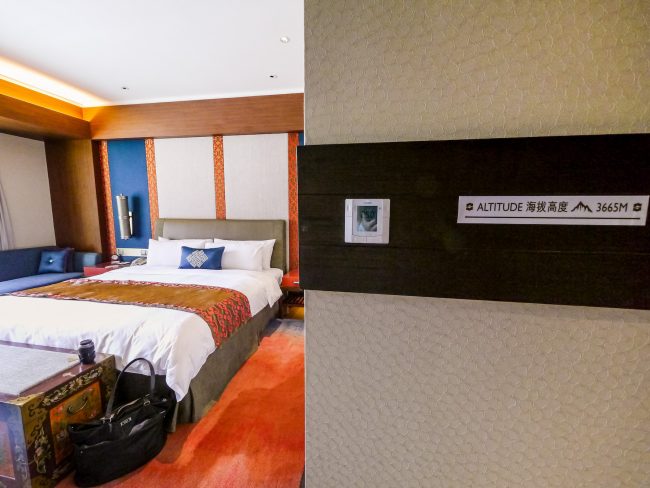 Half of the rooms at the Shangri-la Lhasa have views of the Potala Palace, something which surely was the highlight of our stay. From our bed we could see the sun rise behind the palace or watch the beautiful building lit at night. It is definitively worth a splurge. The hotel also has some suite rooms with free standing bathtubs and a Horizon Floor with additional service and access to the lounge where drinks and snacks are served all day.
Our room was on the 4th floor at a whopping 3,600m above sea level, as indicated by a small plate on the wall. We had a large double bed, a pair of sofas by the window and a comfortable bathroom. The decoration was Tibetan inspired, with drapes and dark wood used sparingly in grey and blue tones. There were several details that showed that the traveler's comfort had been kept in mind.
As Lhasa is very high, altitude sickness and dryness are two major issues most visitors will have to face. The rooms had humidifiers to help ease the nights and the staff refilled it every morning. There were master switches by the bed to turn all lights off and European and Chinese sockets that facilitated our charging of electronics and gadgets. I appreciated there were enough of them, as this is a travel pet peeve of mine, and we could easily use the table to get everything ready every evening.
The bathroom was well lit and had a large shower and a separate toilet. The usual toiletries expected in a luxury hotel were there, including a hair drier which I never use but was essential when temperatures outside border freezing level. I particularly loved the heated towel rack, as you know I am not so used to winter.
Review of Shangri-la Lhasa – Dining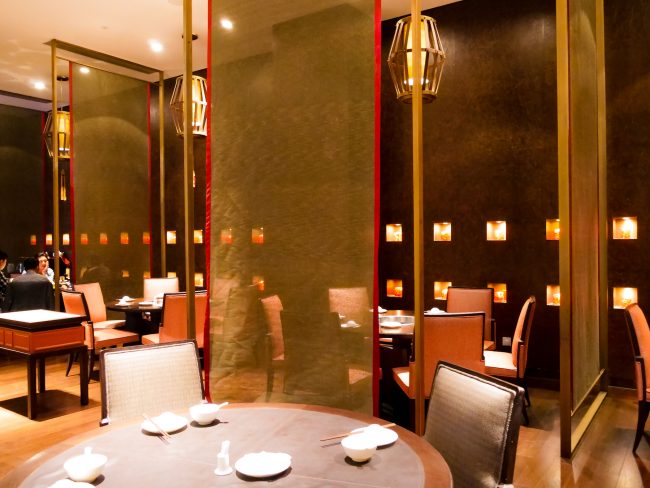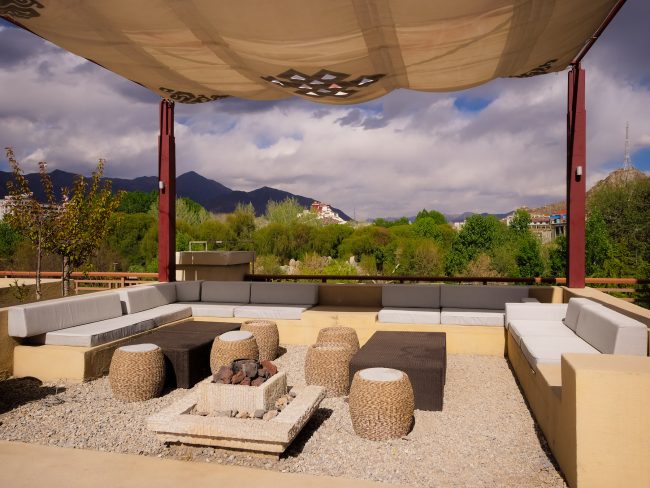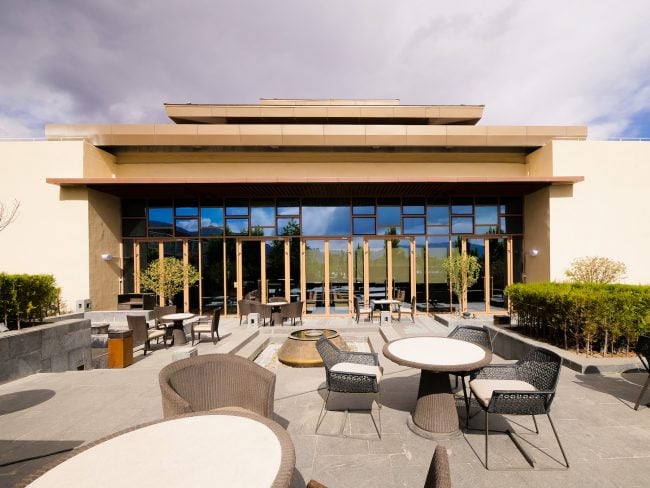 The hotel has four restaurants where we dined every day. We had lunch and breakfast at Altitude, their buffet restaurant with live cooking stations. We enjoyed a Sichuan and Cantonese inspired dinner at Shang Palace, which also offered a BBQ style dinner in communal table. Shambala, their tapas and drinks bar was a good option to see the sun set on the Potala Palace in an outdoors setting.
Lodgers Lounge, their lobby bar, was a grand affair, with a hyper large chandelier flowing very high over diners' heads, a piano, afternoon tea and an outdoor terrace with mountain views. Tibetan butter tea or a large selection of local Chinese teas from around the country were also available and the setting was relaxed but elegant.
The food was pleasant and varied, with a range of options for international dining at Altitude as well as a vast array of in-room dining options. We opted to eat local, be it Tibetan or Chinese, as we were in Tibet and food is a significant part of understanding a culture, and were surprised, pleased and interested by the various choices.
Shang Palace certainly had the top mark for offering the largest choice of dishes with anything from several types of fish to all sorts of Chinese delicacies including abalone and insides of all animals. Portions were very generous too and we even enjoyed a bottle of Spanish red wine which was very nice.
Altitude was an easy good-for-everyone option with a large selection of choices in the buffet including lots of local and Chinese dishes and an international menu which was well-received when we wanted a break. We particularly enjoyed the sashimi, as fish is rare and scarce in such mountainous countries, and the pastries, in particular the croissants which were buttery and flaky.
The large selection of fruits and cereals was also great to fuel us through the day and there is even ice cream. For lunch, the yak curry was great.
Review of Shangri-la Lhasa – The facilities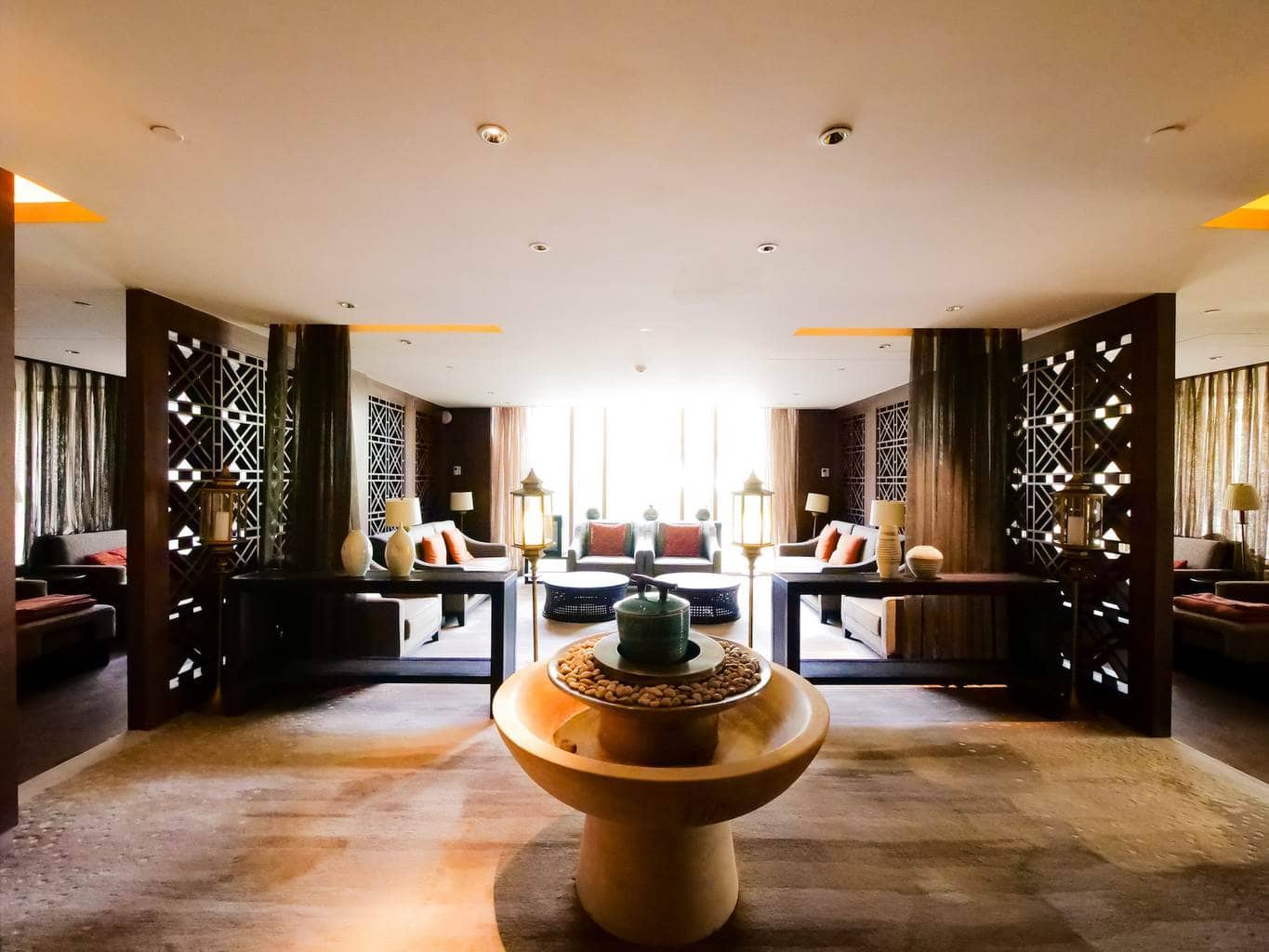 The hotel had everything you would expect from a luxury city hotel including an indoor heated pool for laps. Altitude and acclimatisation were eased by the hotel's oxygen lounge which offered an improvement of 50% in the oxygen content in the air and was useful for those in my group who suffered particularly from altitude.
The lounge was however quite cold so you wouldn't spend too long in there. In case of any real illness or malaise, the hotel's clinic and in-house doctor was on site next to the lounge and the spa. We enjoyed a great massage at the spa, so good that Nir simply fell asleep and snored throughout.
I was surprised at the gym, and at the people who were in it. With the altitude it was impossible to exercise as we were completely out of breath yet the well-equipped gym had quite a few people in it. For a hotel gym there was a good selection of machines and weights for proper training though it lacked a rack. The indoor pool was a nice touch, though the breathlessness would have probably been the same there.
Review of Shangri-la Lhasa – The service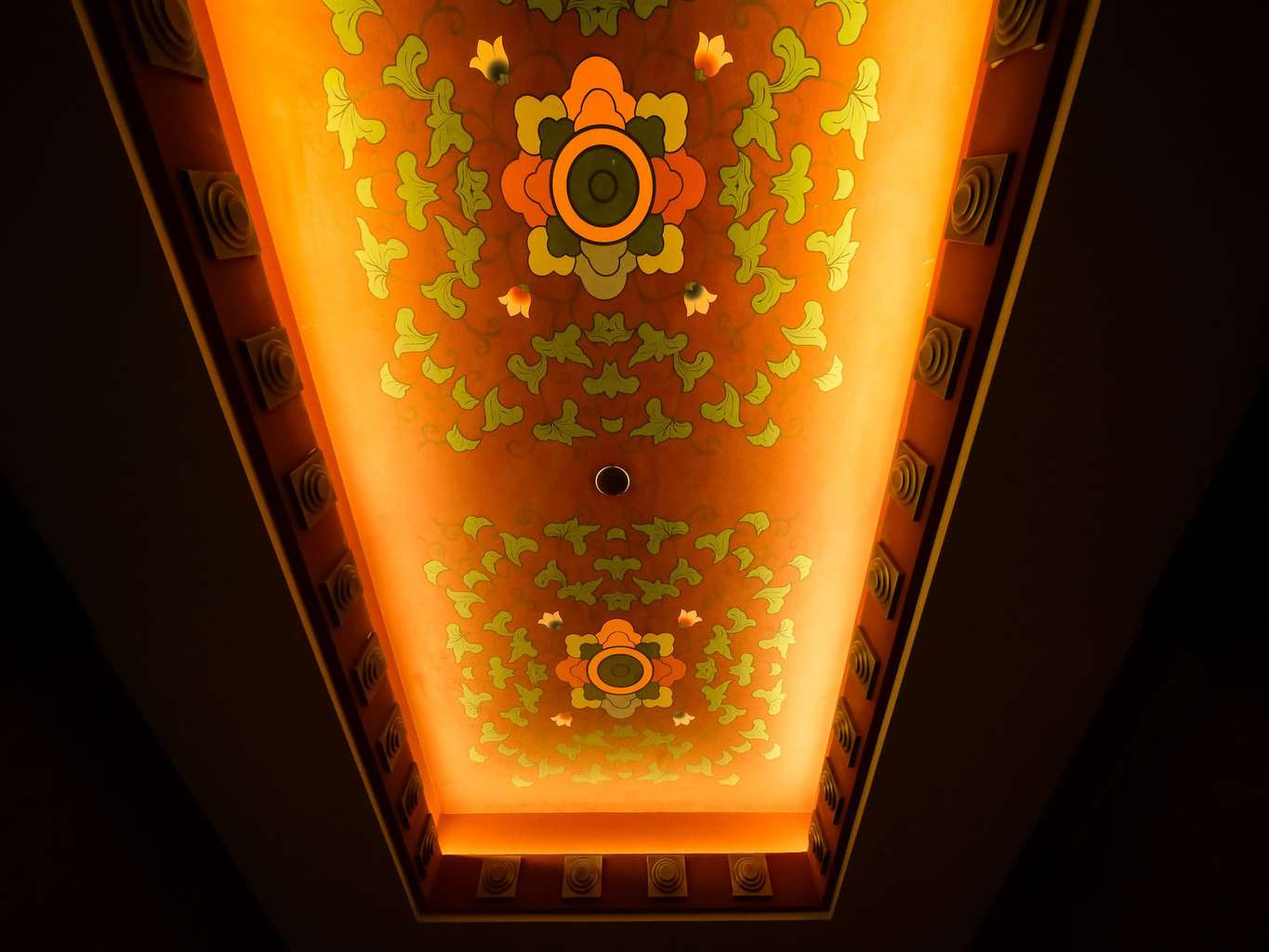 We found the staff to be very helpful and kind however the language barrier never really improved and every time we needed to communicate or ask something the staff would rush around trying to find the only person speaking English. We successfully used Google Translate on several occasions, and so did the staff but had to go down to reception for every question as it was not possible to communicate over the phone.
At one point I wanted an adaptor for the Chinese three-pin plug as my Chinese adaptor was only a two-pin and a maintenance person was sent up. I believe in opening the windows as the room's heating system is centrally-controlled and the only way to alleviate the heat is by opening the windows.
After gesticulations and sign language, an adaptor was delivered. The staff were keen and friendly but we were surprised at the lack of English which was so common in Lhasa's high-end luxury hotels.
Review of Shangri-la Lhasa – The verdict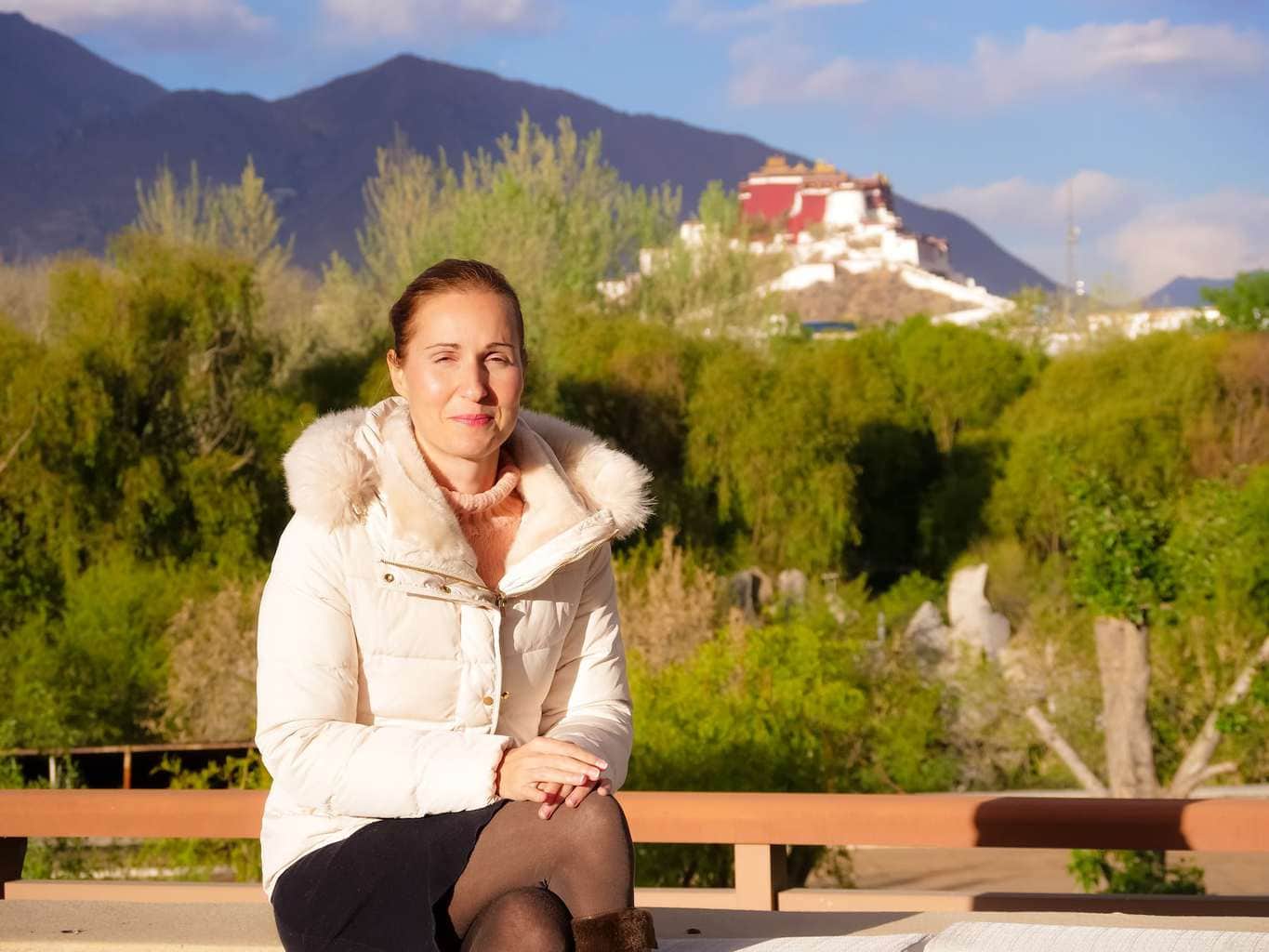 Among all the top-end hotels in Lhasa the Shangri-la remains the top option for its locations, its views and its great dining options. Moreover, as acclimatisation is so important, the oxygen lounge truly helped those in my group who were having the hardest time, and the spa was a great way to complement your body's struggle.
The wide array of food options was also welcomed as at nights we were too tired to want to venture out into a city where nobody speaks English. Download Google Translate Chinese version and you will have a great time. Don't forget to have evening drinks at Shambala to enjoy both the sunset on the Potala Palace and the starry sky above the lit landmark.
For more about planning a trip read my extensive guide to Travel in Tibet.
Once in a Lifetime Journey was a guest of Shangri-la. As always, all opinions are our own.