The area in Baja California around Cabo San Lucas and San Jose del Cabo is famous both with celebrities as well as Spring Breakers and while they may seems like completely different types of travelers, there are enough things to do in Cabo San Lucas and surrounding to make everyone happy.
Especially after 2014 hurricane Odile's destruction, the strongest to ever hit Baja Peninsula, the area's tourism infrastructure returned stronger than ever with luxury properties like a Ritz Carlton Reserve or Viceroy springing up and bringing a new wave of elegance and a great dose of understated luxury to add to the range of things to do in Cabo.
There are organic farm to table restaurants, opportunities to dive with whales and other large marine animals and party beaches or empty ones just outside the main tourist centers. But if you are wondering what to do in Cabo San Lucas that doesn't even require having a car, we also have you covered in this list.
Things to do in Cabo San Lucas
Many of the best things to do in Cabo San Lucas are concentrated around a small area or accessible on day tours and this makes it a very easy to explore part of Mexico.
The list below includes some of the best Cabo San Lucas activities but don't forget to scroll down and also take a look at the things to do in San Jose del Cabo which is a more cultural and historical town worth a visit.
El Arco
This rock formation that is Cabo San Lucas' most famous landmark is located at the tip of the Baja California Peninsula, where the Pacific Ocean meets the Sea of Cortez.
It is because of this that the waters here are wild and the currents deceiving and life-threatening. Even from shore, when the wave hits your ankle, you can feel the rage and strength of the water, especially on the Pacific side.
But it is not just the rock formation in the shape of an arch that attracts visitors but also the colony of sea lions that bask in the sun on the rocks.
El Arco is best visited on a boat tour because the most magnificent views are from the water and it is not accessible from land. Operators in the area offer all types of tours ranging from large conquistador-styled Spanish wooden galeras, to pirate ships, luxury yachts and small fishing boats.
El Arco is a particularly popular thing to do in Cabo San Lucas, possibly the no1 activity, and is usually done as an excursion which combines snorkelling, whale watching, kayaking, paddle boarding or a trip to the nearby Lover's and Divorce beaches, during the day or at sunset when the orange tinge of the sun makes the limestone rock take a golden hue.
Here are some of the best boat tours to El Arco:
Private catamaran coastal tour of 1h for two people which starts at the marina and covers El Arco, Lover's Beach, Divorce Beach and the sea lion colony. Book it here.
Small glass bottom boat tour of 45min with a maximum of 16 passengers departing from Medano Beach. Book it here.
If you don't want to just see El Arco but prefer to sail longer, there are also half-day sailing tours which include lunch and drinks and which pass by El Arco. Because they are longer, there is a higher chance of seeing whales, turtles, mantas and also of swimming. Pick up included as well as snorkelling, paddle boarding and towels. Book it here.
The best beaches around Los Cabos
The most popular thing to do in Cabo San Lucas is no doubt spending time at the beach. The area's desert climate and long hours of sunshine coupled with low rainfall are its main attraction.
In the dry winter months Cabo San Lucas may see minimal rain on one day a month whereas the summertime could see an average of two days of rain. In a nutshell, rain is very rare. If you are looking for a vacation with sun and sea, you can't go wrong in Cabo San Lucas.
Many of the hotels in the area have access to the beach and it is likely that this is where you will relax but, if you prefer to go explore a bit, there are a few lovely beaches in Cabo San Lucas worth a visit. Some are busy, some are empty, take your pick.
Land's End Beach
For a refined slice of paradise you can head to the beach behind El Arco and in front of Gran Solmar Land's End hotel which is public but only accessible through the hotel who will provide free access just ask at the reception.
The waves can be deceiving, as can the currents, but this strip of golden sand expanding from Gran Solmar all the way to the Resort at Pedregal, Cabo San Lucas' iconic resort, is usually empty, peaceful and picturesque.
Lover's Beach and Divorce Beach
Famous Lover's Beach and Divorce Beach, at either side of El Arco, can only be accessed from the beach at Gran Solmar Land's End at very low tide. This means that you will need to plan ahead and be fast to make sure you don't get trapped by the rising tide.
Don't risk it and just go on a boat trip. Here are the best tour options (remember that you can cancel any tour up to 24h in advance):
Boat tour around El Arco and Lover's and Divorce Beach followed by a visit to the glass factory in town, a trip to San Jose del Cabo historic center and a tequila tasting session. The best part, this tour includes a professional photographer that will take candid photos when you are not thinking about it. Priceless. Lunch is not included but they pick you up from your hotel. Book it here.
Medano Beach
A gorgeous beach that's known for its soft white sands and warm, calm and crystal clear waters that are perfect for swimming and snorkeling. It has a great atmosphere with Incredible views of natural wonders, cruise ships, and the thriving beach life.
Chileno Bay
Another beautiful swimmable beach in the Sea of Cortez. It sits at the foot of the hotel of the same name, Condé Nast 2019 Traveler Readers' Choice Awards Chileno Bay by the Auberge Collection. It has restaurants, a spa, an H2O cave and an activities center. Great for the whole family to stay at or couples to relax on the loungers and watch the waves lap up on the beach.
Glass bottom kayaking to El Arco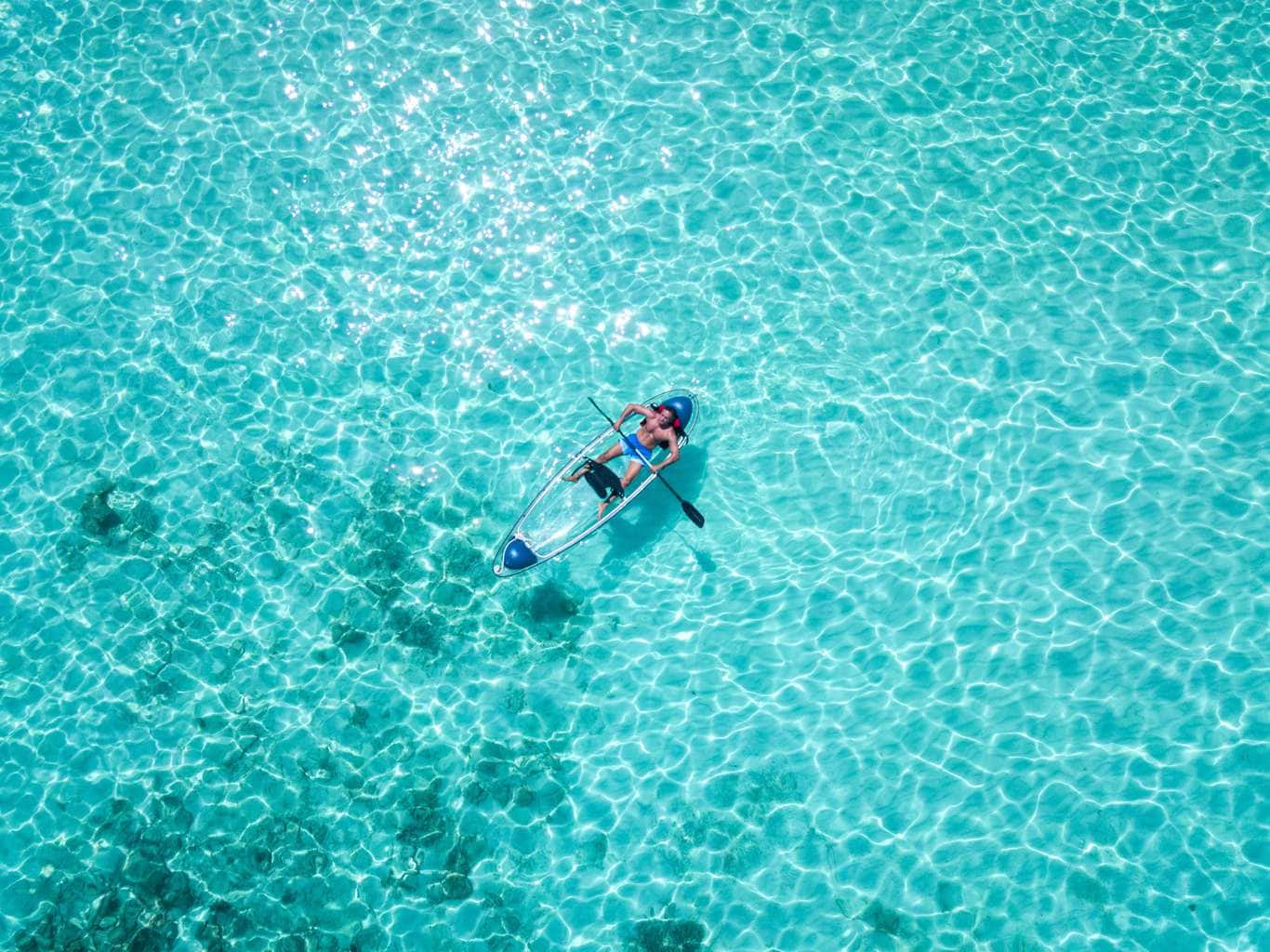 The range of marine activities, water sports and adventurous things to do in Cabo San Lucas is staggering. It is a great destination to enjoy a do-nothing holiday but an even better place for an active vacation, your choice.
One of the best Cabo San Lucas excursions involve two people, a glass bottom kayak and the place that Jacques Cousteau famously called "The aquarium of the world", the Sea of Cortez.
Can you think of a better thing to do in Cabo San Lucas than paddling above the waters teeming with marine life and next to the beautiful rock formations of the Arch or of quiet bays as you observe the world below?
Here are two kayaking tours you can book:
Book your kayaking and snorkelling tour around the Arch here. This includes some time sailing, some time kayaking and even time for snorkelling so you can get up and close with what you see from the kayak.
If you prefer to venture beyond Medano Beach and the area and explore Chileno and Santa Maria Bay you can book this tour. It includes pick up and both kayaking and snorkelling on these two less touristy bays.
Party at the beach
If you are after the noisy and rowdy Spring Break crowd or on a Bachelor or Bachelorette weekend and looking for an easy and baid-back beach party, you should head to Medano Beach.
Trinkets, cheesy souvenirs that you will most likely throw away when back home, Mexican sombreros, locals selling all sorts of tours as well fishing boats ready to take you to El Arco all blend and mix at this crowded and crazy beach. There are nachos and margaritas (as well as other more typical Mexican dishes) and mariachi bands playing well-known songs.
Come night, the live music, the rancheras and the margaritas all flow faster and wilder. People walk barefoot and parasols crowd the sand but it is a colorful place to watch the bachelorette groups, the bachelor parties and the parents letting their hair down.
Cabo San Lucas Marina
The posh Cabo San Lucas marina is surrounded by enough fishing boats and luxury yachts to convince you this is the place for celebrities.
On shore, things are a contradictory and undecided mix. On one side, you will find high end malls with Louis Vuitton and Cartier stores, and on the other, Reggaeton bars serving cheap drinks to rowdy customers. The marina makes for a fun stroll.
Take a sunset cruise
As the waters of the Pacific ocean are pretty wild here the best way to enjoy the sea without putting yourself in danger would be to join a cruise. There are boat tours for everyone. Some include whale watching, others are at sunset and some are simply party boats. You will not be short of alternatives.
Play Golf at Los Cabos
There are so many golf courses here that your problem will be which one to play at. Golf courses were originally built to attract tourism and so they became part of the region's DNA.
Surfing
This is a place where the sea is so strong and wild and the swell so rough that surfers will feel in paradise. There are lots of surf schools to learn at and plenty of breaks pretty much on every beach, but be extremely careful.
A guide to surfing in Los Cabos and a tour guide is all you need. Make sure that your airline allows you to bring your surf boards with you or rent them there.
Diving
Avid divers come to Los Cabos in search of the large creatures that fill the waters of the Sea of Cortez. The waters here, cold at times, teem with so much marine life that you too, may think you are in a real life aquarium.
Divers from all over the world come here to see the big mammals. Whales, sharks of all kinds and other large pelagic animals like mantas, fill the waters. The currents built by the meeting of the Sea of Cortez and the Pacific Ocean is what brings large amounts of plankton which in turn attract the marine life.
Get ready to be mesmerised.
See the area from above
The best views are always from above. You can go parasailing, paragliding or get on a light aircraft and see the beaches and stunning desert landscapes from a bird's eye view. You know that I love a good helicopter ride, and Los Cabos has some of the most amazing landscapes combining the arid desert with the deep ocean.
The Office on the beach
Don't worry I am not suggesting that working is a great things to do in Cabo San Lucas.
This family run restaurant on Medano Beach has a couple other sister properties in the area and is a real institution.
Opened as a beach hut when Cabo San Lucas was not yet on the tourist trail, it has evolved into an always packed and buzzing spot with families, bachelor/ette groups, friends and pretty much anyone who visits the area.
Just take a seat, sip on a margarita, order some of their amazing food and enjoy the people watching. Then escape to Medano Beach.
El Farallon
As most of the fine dining restaurants in Los Cabos, El Farallon is at The Resort at Pedregal's stunning cliffside location. This seafood restaurant and champagne bar has some of the most beautiful sunset views there are in Los Cabos.
The panoramic views over the Land's End beach, El Arco and the resort's pools from the rocky outcrop of the Pedregal are simply breathtaking. In season, you can spot whales or see mantas jumping out of the ocean.
Dinner is a set affair with three starters followed by a main to choose from the selection of grilled fresh seafood and meats. An extensive wine and cocktail list is available and there is live music to serenade you along with the view. Unforgettable and well worth the trip.
Pro tip: Even if the restaurant claims to be full, go early, before sunset, watch the sunset from the champagne bar and wait for a table to be free.
Things to do in San Jose del Cabo
Enjoy the beach
In San Jose del Cabo the beach is a long uneventful stretch with rather rough sand and beautiful sea in front of the many international hotels that line the sea shore. It is pleasant enough to walk closer to the water but, like other beaches in the area, it is not the white sand fluffy beaches of the Caribbean Mexico.
Art walks and galleries
San Jose del Cabo is known for its heritage-rich downtown area and the many galleries that fill its Gallery District. A walk along the colonial cobblestone streets between Obregon and Morelos reveals a smorgasbord of galleries, from the most traditional Mexican art to the most innovative and interactive installations that display paintings, sculptures, installations, photography, fashion, prints and jewelry.
There are free art walks on Thursday evenings from 5-9pm and from November to June (it is too hot otherwise). It is easy to wander into the galleries, have a look around and chat to the owners or curators to learn more about the artist or the pieces. Some of the galleries are open air and have no roof as it never rains in Los Cabos. This is a colorful and interesting way to spend a couple of hours.
Day trips and places to visit near Cabo San Lucas
Todos Santos
If you have your own car, you should definitively drive to the Pueblo Magico of Todos Santos for a dose of sleepy Mexican village life, more art galleries and a drink at the infamous Hotel California, the original one from the Eagles song looking much less seedy than the lyrics.
Aside from the hotel, Todos Santos church is worth a peek and don't miss a chance to walk along its cobblestone streets. The town is small and can be seen entirely in a couple of hours. Wander into restaurants and old buildings and chat to the staff to know more. While you are there check out the town square too, busy with locals chatting, gossiping or simply people watching.
Explore the empty beaches
Out of town the beaches and landscapes can be dramatic and beautiful and you are most likely going to have them all to yourself. Driving from Cabo San Lucas to Todos Santos you will pass by several beautiful bays that are completely deserted. Take note of some of the small unmarked paths that deviate from the main road, grab a picnic and a towel and enjoy the surf and the waves. I have marked the road exit paths on the map below and also some of the nice beaches along the way, including Cerritos and San Pedrito which are a bit more developed.
Flora Farm
This is Los Cabos' most famous restaurant, farm and destination and with reason. We arrived straight from the airport at about 2,45pm only to find out lunch ended at 2,30pm but I am glad we returned, without a reservation, before heading to the airport on our last day.
Accessed through a dusty off road with plenty of pot holes and mess, Flora Farm is an oasis in the middle of the desert. There is ice cream fashion, hand made soaps and body products, a large vegetable and fruit garden, animals and the restaurant, an open space casual farm to table dining with all the Mexican favourites served fresh. You could go to Flora and spend a few hours wandering around the property, doing your organic groceries, chilling on a bench, taking in the sun, learning something new and indulging in great food and treats.
A visit to Los Cabos cannot be complete without Flora. The area is also home to some time share options that are currently for sale. As Flora is always packed, you should book ahead or go towards the end of the service (around 1,30-2pm) and wait for a table while exploring the area, chances are you will get one.
Acre Baja
Stunned that Flora was closed, we followed a sign to Acre without knowing much what to expect and I could not be more glad we did. Acre is a future hotel opening in phases. Currently, the restaurant and pool are finished and the tree houses are almost done and can be visited. The restaurant is beautiful. Green, bright and shaded under local trees, it is a place to come and relax for hours. The General Manager is also a cocktail connoisseur and in charge of creating a cocktail program that brings back a lot of the Mexican liquors and ingredients. Weekend brunch is a great way to experience Acre.
Las Guacamayas
Pretty much every guide to Los Cabos will recommend you check out Las Guacamayas. It's traditional, open air and casual but offers some of the most authentic tacos and Mexican food.
El Toro Güero Centro
A local seafood place in Cabo San Lucas started as a tiny hole in the wall and has grown into a well known destination. The area has some great fresh food so this would be a good place to enjoy it.
Don Sanchez
Contemporary fine dining Baja Sur food away from the luxury hotels and bang in the middle of San Jose del Cabo. Don Sanchez is the place to go for casual but refined Baja food from Chef Tadd Chapman made using local ingredients in interesting ways.
Where to Stay in Los Cabos
I have written an extensive guide on the best luxury hotels in Los Cabos but here are some of the favourites.
Las Ventanas al Paraiso
Arguably the most over-the-top property when considering The Mansion. Las Ventanas al Paraiso is Rosewood's resort in Los Cabos and has some of the largest villas some of which are as big as 4,500 sq ft for the one bedrooms. Latest rates and availability here.
Waldorf Astoria Los Cabos Pedregal
Waldorf Astoria Los Cabos Pedregal (formerly the Resort at Pedregal) is perhaps the most romantic given that all the rooms come with their own private plunge pools, sea views and stunning sunsets over the Sea of Cortes and the passing whales in season. The restaurant El Farallon and the champagne bar are not to be missed for that meal a deux. Latest rates and availability here.
Viceroy Los Cabos (formerly Mar Adentro)
If you are not so much into over the top but prefer design and form, Viceroy Los Cabos is a fantastic option with clean white lines and reflective pools that will make you feel like you are in a Philippe Starck dream. Latest rates and availability here.
The One & Only Palmilla
Fit for celebrities and golf lovers, this is a Los Cabos heritage institution now managed by One & Only and all the glamour that comes with the luxury brand. Latest rates and availability here.
Arriba de la roca
If you want to venture a bit out of town and have the deep feeling of being in a desert getaway by the sea, consider Arriba de la roca, on top of the rock. A hotel that is literally on top of a hill overlooking the sea near the heritage Pueblo Magico of Todos Santos. It does not get any more dramatic than this. Latest rates and availability here.
Planning a trip to Los Cabo (with map)
Here are my personal top tips for planning a trip around Los Cabos.
How to get to Los Cabos and around
Rent a car and find your way around the well maintained roads to far away bays and beaches, organic farm to table restaurants and heritage towns. The best way to explore all the things to do in Cabo San Lucas is from the comfort of our own vehicle so rent a car and go explore all all the Cabo San Lucas activities on this list.
When to visit Los Cabos
The area receives 350 days of sunshine a year and some of the galleries in San Jose del Cabo will surprise you with open ceilings. There are two peak seasons to avoid. The December Christmas rush and the Spring Break time.
Between Christmas and Spring Break the area is quieter but it can also be cooler, so if you are looking to simply sun tan you may be disappointed with colder than desired temperatures. The best time would be May or June when it is not yet hurricane season and the temperatures haven't hit the high 30s of the summer months.
Don't forget to Pin this article to your #Mexico board.