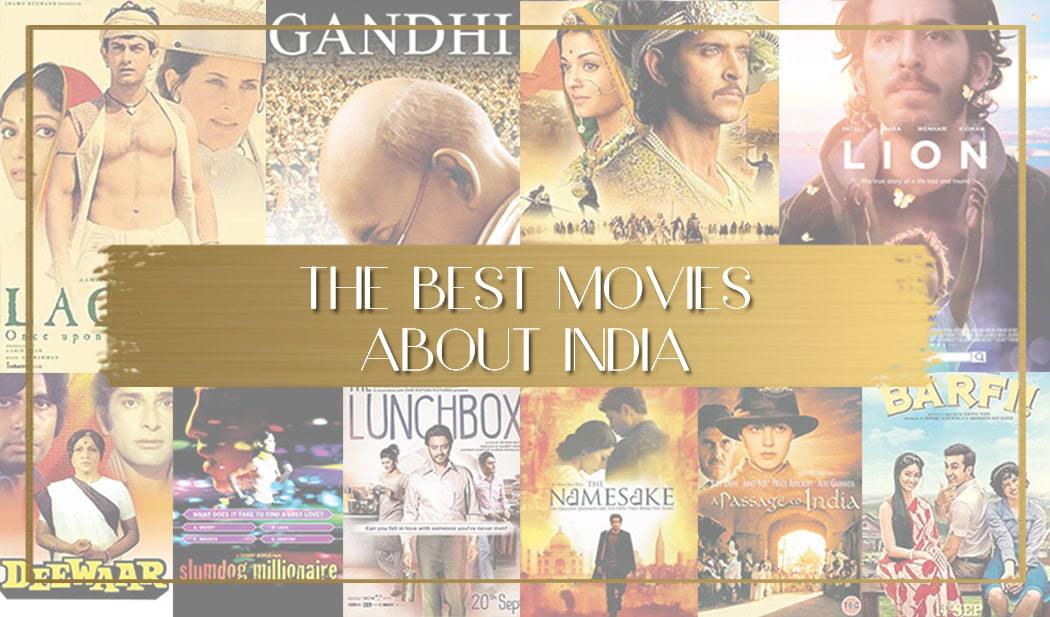 This article on the best movies about India was last updated in June 2020.
Besides the massive Bollywood productions in Hindi, and their fun singing and dancing, there are not that many movies about India, set in India or which depict Indian culture and its way of life in English or with English subtitles that make it big outside of India.
Although I am not Indian myself, I am quite immersed in the culture thanks to my personal life, my travels and my job.
I am in a relationship with someone with Indian roots, though raised in Singapore, whose best friend is a movie producer and actor in India.
I have worked in India, with Indian colleagues across the world and even had an Indian boss for some time.
I have traveled the country on dozens of occasions, visiting from Jaipur to Delhi, Agra to Goa, Kerala to Amritsar, Bangalore to Kochi, Hyderabad to Mumbai, by plane and by luxury train across Rajasthan onboard the Maharajas Express and through Karnataka onboard The Golden Chariot.
I have stayed at the most luxurious hotels in Jaipur (like Amanbagh), Udaipur (like Shiv Niwas Palace), or Jodhpur and have written various travel guides to Jaipur, Jodhpur, Udaiper and Jaisalmer.
All of these interactions have made me realise it is very hard for a visitor or foreigner to understand some parts of Indian culture without it being explained to you by the locals.
Because that is not always possible and most people travel to India independently or in a group, watching movies about India is a great alternative way to learn more and prepare for a trip.
Movies about India or Indian culture
I compiled this list of the best movies about India together with my partner who is an avid movie enthusiast, and his best friend, whose most acclaimed movie is also on this list.
If you are interested in watching some of these Indian movies, you may be able to do so via Netflix, Amazon Prime Video or by purchasing them online. I have included that information after the description of each movie.
Writing this article has been very fascinating for me too, as it has given me the opportunity to also get to know more about Indian culture and history by watching or rewatching almost all of the Indian movie titles mentioned on this list.
Delhi Belly
We start this list of the best movies about India with an independent and comical movie of what can go wrong and does go wrong for friends and smugglers.
Delhi Belly's plot is literally based around how a friend suffering from Delhi Belly caused by bad chicken masala bought streetside, causes confusion and chaos, starting with the loss of precious diamonds from smugglers.
With a tiny budget of $5 million (when compared to the average Bollywood moving costing $25 million), Delhi Belly manages to keep you entertained while portraying a side to India that is real and updated.
What makes Delhi Belly so present-day is the fact that it was entirely shot in English, a rarity for Indian movies, and accurately depicts the misunderstandings between different Indian generations: the conservative parents in their late 50s versus the millennials in their 20s.
A must watch Indian movie to understand the 21st century Indian youth.
Language: English
Where to find it: On Amazon Prime
Gandhi
Gandhi is probably the most famous Indian movie of all time.
Released in 1982 and directed by Richard Attenborough, the movie is based on the life and trials of Mohandas Karamchand Gandhi, the man responsible for India's independence from the British Empire and possibly India's most famous personality.
The story depicts the carnage and violence that occurred in the struggle for independence from the 300 years of colonial ruling, and the effects after it was achieved.
Gandhi is a 191 minute (over 3h) long movie and one of India's most awarded, winning eight Oscars from 11 nominations including Best Director and Best Actor. It also topped the box office at $127 million in 1982, $333 million in today's terms.
If there ever was a must-see movie about India, this would have to be it.
Language: English
Where to find it: On Amazon Prime
Lagaan
Starring the attractive and most beloved Indian actor, Aamir Khan, who also produced Delhi Belly, Lagaan, meaning taxes in Hindi, is set at the end of the 19th century India, in the Victorian times of the British Raj.
The inhabitants of the small Gujarati town of Champaner find themselves burned by unfairly high taxes imposed by the British Captain at the local cantonment set to protect them.
When the arrogant British officer wagers a game of cricket to avoid the taxes for the following three years, Aamir Khan accepts on behalf of the entire province.
You may think that cricket is a Indian sport, but for the inhabitants of this tiny village, it was foreign, considered only a high society sport played by the wealthy.
For three months, with the help of the Captain's sister, the locals train to win the game, amid lots of singing, dancing, waiting for the Monsoon rains and, of course, a love story or two.
Lagaan was the first Indian movie to win an Oscar for Best foreign language movie in 2002 and was also ranked as the 100 best movies of world cinema.
This Indian movie also runs for a staggering 224 minutes, although there is a good hour of Bollywood dancing you could fast forward, but that would be a shame.
Language: Hindi with English subtitles
Where to find it: On Netflix
Jodhaa Akbar
Jodhaa Akbar is an Indian mega production with a budget of almost $30 Million, huge by Indian movie standards, starring two of the most attractive and sought-after Indian actors: Aishwarya Rai and Hrithik Roshan and directed by the same Director as Lagaan.
The story revolves around the romance of a Mughal emperor, Akbar, and a Rajput Princess, Jodhaa Bai. There is forbidden love, hate, political tribulations, there is war and even historical references to the India of the 16th century.
All throughout, there is singing and dancing of epic proportions and stunning photography at various locations in Rajasthan, most notably around Jaipur, Amber, Amer and even in Agra.
By watching Jodhaa Akbar you can learn more about the Mughal period in Indian history, which you can also see if you visit Hyderabad and Golconda Fort, and marvel at some of the country's most beautiful castles, palaces and forts.
This is also one of the most awarded movies in India.
Language: Hindi with English subtitles
Where to find it: On Amazon Prime
Lion
Lion is another personal favourite of my partner and I.
This drama is based on the true story of a child from Kolkata who falls asleep on a train and gets separated from his family, ending hundreds of kilometers away from home in Kolkata.
After trying to survive alone, he is taken into an orphanage and finally adopted and raised by an Australian couple.
Years later, in search of his roots, he sets on an obsessive hunt to find the village where he was born with the help of Google Earth. He finally finds it and reunites with his long lost mother.
This is a beautiful and emotional movie which highlights the true spirit of love, not bound by blood, race or religion.
The movie started as a book, then a documentary by Google Earth, and finally a Hollywood movie.
It was shot in Kolkata, India and Tasmania and won numerous awards in the UK, Australia and also 6 nominations at the Oscars. The main character, Saroo, is played by Dev Patel from Slumdog Millionaire fame.
If you want to read the autobiography, The Long Way Home, it is also available on Amazon. Or watch the Talk at Google with Patel, Saroo and the screenwriter on YouTube.
Language: English
Where to find it: On Amazon Prime
Slumdog Millionaire
This is one of the most popular and well known movies about India. Slumdog Millionaire brought 21st-century life from the streets of India to regular households and is based on a real story.
Directed by Danny Boyle (of Trainspotting), this British drama and love story was mostly shot in the slums of Mumbai, and showcases the physical and mental abuse of organised gangs over street children, going as far as to maim or blind them to gather more sympathy when begging.
The story is that of three poor, illiterate children from the slums, two boys and one girl, and their trials and tribulations to survive.
It is also a story of rags to riches, with the main character, played by Dev Patel, making it to win the jackpot on the TV program Who Wants to be a Millionaire in an effort to find his childhood girl friend.
Boyle, main actor Dev Patel and actress Freida Pinto led the movie to win eight Oscars out of the 10 the movie was nominated for in 2009, including Best Picture and Best Director. It also became Fox Searchlight Pictures highest grossing movie of all time.
However, in India, the movie faced a lot of criticism because of its portrayal of life in the slums and the use of the word Slumdog.
Language: English
Where to find it: On Amazon Prime or for free on YouTube
Deewaar
One of the main influences Boyle mentioned for Slumdog Millionaire is Bollywood movies in general and, in particular, 1975's Deewaar, one of the most quoted Indian movies.
Deewaar is a Bollywood crime movie about Mumbai gangster and celebrity Haji Mastan, and his brother, on the other side of the law. The word Deewaar means wall and refers to this separation between the two brothers.
The main character is played by Bollywood superstar Amitabh Bachchan, whose autograph Slumdog Millionaire main character seeks at the beginning of the movie and which helps him win the TV program.
The movie cemented both the writing duet Salim Khan and Javed Akhtar contributions to the Indian movie industry, as well as its main character, Bachchan, a young man at the time.
Language: Hindi with English subtitles
Where to find it: On Amazon or you can watch it for free on YouTube
Passage to India
Passage to India was based on the novelof the same name by E. M. Forster who wrote it after a visit to India in 1912, and was nominated for 11 Oscars.
This 1984 movie about India was directed by David Lean, of epic productions The Bridge on the River Kwai and Lawrence of Arabia, and is a drama that tells the story of a local Indian man and three British nationals, two women and one man, and the misunderstandings over an attempted rape.
The movie is set in an imaginary village, during the British Raj in 1920s India, and discusses the topics of fairness, racism and colonialism.
Passage to India has stunning photography and was shot in various locations including Karnataka, Tamil Nadu, Jammu, Kashmir and the interiors of the Bangalore Palace.
Language: English
Where to find it: On Amazon Prime
Bombay
Bombay is a 1995 Tamil language production about a Hindu man who marries a Muslim woman against their parents will and elope to Mumbai.
Years later, in January 1993, they get caught in the Mumbai riots which followed the demolition of the Babri Mosque. Religious violence escalated and 900 people being killed.
This is a movie which really highlights the worst and best of society. In those dark days of the riots, the brightest light that through came from individuals and families who sought to protect people, regardless of religion.
The Mumbai Riots left a big black mark on India's history but the movie tries to illustrate that love, forgiveness and compassion are the only way forward. The event is reminiscent of Hotel Rwanda, though on far smaller scale.
On the artistic front, the movie brought to the forefront MR A R Rahman, who has now become a well recognised global music composer, also behind the score of Slumdog Millionaire, and won an Oscar for the movie's soundtrack.
Bombay was a major blockbuster despite not being filmed in Mumbai but in the studios of Chennai, in the south of India. The indoor scenes were shot in Tamil Nadu and the outdoor ones in Kerala.
Amitabh Bachchan co-produced the movie.
Language: English
Where to find it: On Amazon Prime or on YouTube for free albeit in lower quality
The Lunch Box
A very unique and different love story set in the hustle and bustle of Mumbai, a city of close to 18 million people, and which occurred as a result of human error.
The movie recounts the story of a woman who decides to put little love notes into her husband's lunch box which is sent to him by a Dabbawala everyday to rekindle their marriage.
By mistake, his lunchbox ends up in the hands of a widower, who feels entertained and alive by reading her notes, so he starts to write back. Each day they both look forward to getting each others' replies.
The movie is both a love story and one of connection.
Language: English
Where to find it: On Amazon Prime
The Namesake
Based on a Pulitzer prize winning book written by Jhumpa Lari, the Namesake is a very touching and emotional movie about a man who returns to Kolkata to find the meaning behind his family's surname and to get closer to his Indian origins.
Born and raised in the United States, the main actor becomes very Americanised and realises something is amiss after his father's sudden death.
Instead of feeling ashamed of his Surname, Gogol, he sets off on a search to find the meaning behind it in India.
Language: English
Where to find it: On Amazon Prime
Rang de Basanti
Rang de Basanti is an Indian movie about the Indian revolutionaries fighting for independence from the British Raj.
It tells the story of six friends in modern times who help an English woman document Indian revolutionaries who were fighting against English rule and helped youth in India to redefine patriotism.
Rang de Basanti stars beloved Aamir Khan and was shot across a few key locations in India including Jaipur, Delhi and The Golden Temple of Amritsar.
Language: Hindi with English subtitles
Where to find it: On Amazon Prime
Barfi
A movie mostly shot in the beautiful hillside area of Darjeeling. Based on the Character Barfi, who is born deaf but is a very optimistic, happy-go-lucky person who only sees the good and positive in things, regardless of how negative they are.
A must for anyone who needs a good mood booster, if facing a hard time or a hard day. This movie is very beautiful and every scene seems like it was painted on canvas.
This movie also picked up numerous awards globally.
Language: English
Where to find it: On Amazon Prime and YouTube
Outsourced
A comedy about a call center being outsourced from Seattle to India. The manager, tasked with training the local teams to meet the KPIs, lands in Mumbai to face a real culture-shock.
The entire movie is a fun and engaging story with love, business, the tribulations and improvisations of the locals and the cultural differences between the US and India.
While this is not based on a true story, there have probably been countless of real outsourcing situations that were not so far from what is depicted, making this an interesting movie about India and the country's push to become an outsourcing hub.
Outsourced won several awards at many film festivals and was also turned into a TV Series by CNBC although it only aired for one season.
Language: English
Where to find it: Available on Amazon Prime
City of Joy
City of Joy is a 1992 drama starring Patrick Swayze based on the book with the same title by Dominique Lapierre.
The book recounts the parallel story of a local family who arrives in Kolkata to look for better opportunities and ends up in the City of Joy, one of the poorest slums in the sister city of Howra, reserved for the lowest caste and inhabited by leppers.
At the other end of the city, an American doctor lands in search of enlightenment after having lost a patient. The two paths cross when he is robbed, left for dead and saved by the family.
The doctor ends up setting up his life in the slum, caring for the patients at a local clinic with the help of an Irish woman and finds what he was looking for in one of the poorest places on earth, where people still wake up every day with hope.
While this is one of the toughest books and movies about India to watch because of the extreme, though real, poverty in which people in the slums of India live, it is also a pretty realistic depiction of a part of society most visitors to India will never see and provides insight into the reality of millions of people.
The original book was written with real stories and names of people the author and his wife met in their several trips to the slum. Half of the royalties from the book sales go into a foundation which takes care of slum children in Kolkata.
Language: English
Where to find it: On Amazon Prime. Not to be confused by the documentary on Rwanda available on Netflix and titled the same way.
The Hundred Foot Journey
The Hundred Foot Journey was first a novel, then a play and finally a movie produced by Oprah Winfrey and Steven Spielberg.
The movie is a comedy-drama set in a small village in France where a family from Mumbai decides to settle after their restaurant in India is attacked and burned.
Across the street from their newly set restaurant is a Michelin-awarded French fine dining restaurant whose owner, a French widower, will defend fiercely.
As soon as the Indian restaurant opens, the widower starts a war that opens the doors to retaliation.
This is not a movie set in India but about Indian values, especially for immigrant families, and which tells of the importance of family in Indian culture.
Language: English
Where to find it: On Amazon Prime
Zindagi Na Milegi Dobara
Translated as YOLO, You Only Live Once, or literally, "You will not get this life again", Zindagi Na Milegi Dobara is a comedy and love story about three Indian friends who travel to Spain for a summer roadtrip before one of them gets married.
During the trip, they meet other women, partake in risky activities and strengthen their childhood friendship, all the way agreeing to make big changes in their lives upon their return.
The movie has scenes in Spain, the UK, France and India, but mostly showcases typical Spanish summer activities and holiday locations like the tomato festival, La Tomatina, the beautiful waters of La Costa Brava or the running with the bulls in Pamplona.
Zindagi Na Milegi Dobara is a reflection of the social norms and cultural values in the traditional Indian culture and the pressures and expectations from parents and society.
Language: Hindi with English subtitles
Where to find it: On Amazon Prime
Darjeeling Limited
Darjeeling Limited is one of my partner's most favourite comedy drama movies set in India. Directed by Wes Anderson, it relates the story of three very different brothers who embark on a train journey, a year after not seeing each other.
Wes Anderson got his train inspiration from the actual Darjeeling Express train, his personal favorite, and the first Himalayan Railway in India which is still in use. The movie was however shot in Rajasthan, mostly in Jodhpur.
This is a great movie about India for anyone who likes quirky comedies with a happy ending and for those who love train journeys, especially in India.
Language: English
Where to find it: On Amazon Prime
The Best Exotic Marigold Hotel
The Best Exotic Marigold Hotel was shot between Jaipur and Udaipur and is based on the hotel Ravala Khempur, located 1.5h drive from Udaipur, and its long-term guests.
This comedy drama starring Dev Patel and Judi Dench, tells the story of seven retirees from the UK who end up in Rajasthan, at what they had assumed would be an idyllic and affordable hotel to retire to a quiet life and live well with their low British pension.
The movie is based on a book written by Deborah Moggach called These Foolish Things and tells of the comical moments and stories as the pensioners immerse themselves in that part of India, where foreigners are rare.
Expecting to be heading to a peaceful existence, the long term residents of The Best Exotic Marigold Hotel end up in the chaos of India, the unexpected, the inability to plan and the many adventures that await them.
The Best Exotic Marigold Hotel won several awards and was one of the highest-grossing movies in the UK and Australia in 2012.
This is a great movie to learn about India and the culturally important elements of love against the background of the cultural shock experienced by the characters.
Language: English
Where to find it: On Amazon Prime
The Second Best Exotic Marigold Hotel
The sequel to The Best Exotic Marigold Hotel is a continuation of the same stories, adding some more tribulations as the hotel manager, Patel, gets engaged to his girlfriend against her parent's will and tries to expand the hotel with the help of Dench, actively involved in the hotel's management.
Language: English
Where to find it: on Amazon Prime
Hotel Mumbai
You never know when terror strike. I often visit some of the most amazing luxury hotels, particularly those in India and this movie shows that no one can escape the evils of the world, even celebrities in 5* resorts. This movie is based on the true events that took place at the Taj Mahal Palace Hotel in India. It shows the horrors and atrocities that members of the Lashkar-e-Taiba, one of the largest Islamist militant organisations, put on guests and staff of the hotel. This was only one of a series of coordinated attacks throughout the city.
Yet this inspiring movie shows how some people rise above the chaos, amid gun shots and mayhem, to help their fellow men and women to reach safety. The main characters are the brave chef (Anupam Kher) and a kitchen worker (Dev Patel) who decide to risk their own lives to protect the frightened guests. On a separate, yet intertwined, storyline we follow another couple who try with all their heart and wit to rescue their newborn baby.
While the acting is exceptional and cinematography and editing spectacular, this movie is not everyone and the senseless horror inflicted on innocent lives can be disturbing. All in all it is a brilliant portrayal of how we can fight the evils in this world and come out on top.
Language: English
Where to find it: on Amazon Prime
Movies set in India
India has such stunning landscapes and evokes so much magic and mystery that a lot of directors choose to shoot movies in the country.
While some of the movies shot in India may not tell you a lot about the country itself, they do give insights into what the country looks like and probably inspire some wanderlust.
These are some of the best known movies set in India.
James Bond Octopussy
This is one of the few Bond movies that was shot in India, more specifically in Udaipur.
The movie features some of the most iconic palaces and hotels in the Lake City including the floating Taj Lake Palace hotel one of the most beautiful luxury hotels in the Udaipur and the world.
Other scenes were shot at luxury palace hotel Shiv Niwas Palace, Monsoon Palace and Jag Mandir all of which were included in scenes of this 1983 classic Bond movie.
Octopussy is obviously not an Indian movie or a movie about India but it is a great opportunity to admire some of the country's most stunning palaces. They are filled with romance and decadence and look very much the same today as they did in 1983 when the movie was shot.
While the James Bond saga is usually a major box office success, Octopussy was also voted by GQ magazine as one of the best bond movies ever made.
Expect the usual villains, fast cars, gadgets and of course, the British Secret Service's best known agent, Mr Bond.
Language: English
Where to find it: On Amazon Prime
Zero Dark Thirty
Zero Dark Thirty is an Oscar winning movie set in India that depicts Seal Team 6 and their mission to take out the United States' most sought after terrorist: Osama Bin Laden.
While the movie is set in Pakistan, it was shot in the historical town of Manimajra in Chandigarh, and made to look like Lahore and Abbottabad.
Language: English
Where to find it: On Amazon Prime
Eat, Pray, Love
Eat, Pray, Love is a famous Hollywood comedy-drama based on a biographical book of the same name and starring Julia Roberts and Javier Bardem, which was a massive box office success.
The movie takes place between India, Italy and Bali, in Indonesia, where the main character escapes to after realising that her perfect life was missing something.
The Indian scenes of Eat, Pray, Love focus on life in an Ashram where the main character seeks spiritual enlightenment. These scenes were shot in Pataudi, at the base of the Aravali Hills, outside of Gurgaon, and in Delhi.
Language: English
Where to find it: On Amazon Prime
Jobs
This movie about Steve Jobs has a few scenes set in India where Jobs escaped to in his youth and which he credited with changing his life.
The hippie trail that he followed and which is still very much a reference point, showcases several parts of India, most notably Delhi, and were shot on location.
You can see several of the city's most famous landmarks including the always crowded Chandni Chowk market, hipster Hauz Khaz, UNESCO-listed Red Fort and Humayun's Tomb and other well-known places.
Language: English
Where to find it: On Amazon Prime
Mission Impossible 4 – Ghost Protocol
The fourth installment of Tom Cruise's famous movie saga includes some scenes in the famous Burj Khalifa in Dubai and in Mumbai and Bangalore.
The Indian scenes show Sun Network's offices in Bangalore and an automated multi-level parking in Mumbai which was constructed just for the movie.
While Mission Impossible does not have the same level of photography as other movies set in India, it shows the largest TV network in the country and in the whole of Asia.
Language: English
Where to find it: On Amazon Prime
Life of Pi
Life of Pi is a movie about a Indian family emigrating to Canada from India. The family sell off their zoo in India and decide to travel by ship, taking their animals along.
Tragedy strikes while out at sea as the ship sinks during a storm and only their son survives along with some animals, most notably a bengal tiger. The adventure that follows highlights how nature and man can survive side by side.
Life of Pi is a truly artistic marvel of a movie and visually stunning, so it would be best seen on a big screen to capture every perfectly crafted scene from Director Ang Lee.
A lot of scenes from this movie were set in India, more specifically, in Pondicherry in the State of Tamil Nadu where the French colonial influence, unique in India, is evident, and at Hill Station of Munnar, in the state of Kerala.
I love this movie set in India because it shows parts of the country that are not known to foreigners.
In fact, even my Indian partner was not familiar with Pondicherry's French colonial past. The city was a French settlement in India until 1954, when it officially became part of Tamil Nadu.
Director Ang Lee thought Pondicherry would be the ideal place to shoot the movie because of the vibrant mix of Indian and French architecture and colorful buildings.
Life of Pi is based on the novel of the same name and was nominated to 11 Oscars winning four.
Language: English
Where to find it: On Amazon Prime
The Jungle Book
There are several screen versions of Kipling's 1894 book The Jungle Book, from the Disney franchise of the 1960s, to the 2019 Netflix Mowgli movie.
There are also several book adaptations and even games and all sorts of merchandising as this is probably one of the best known tales set in India that was ever written.
The Jungle Book is the story of an abandoned kid raised by the animals of the jungle in India and a reflection of Kipling's childhood and upbringing.
Although this is a movie set in India, very few real references to specific parts of India are shown instead talking about the jungle in central parts of the country in general.
Language: English
Where to find it: On Amazon prime
Documentaries about India
As you can see, there are quite a few Indian movies and also lots of others set in India. But to truly learn about the facts, life and traditions of such a complex and intricately intertwined country, there's nothing better than a good documentary about India.
India is such a fascinating country. Many videographers and directors have attempted to gain access to a deeper level of the country, ending up with some great documentaries.
The below are some of the best documentaries about India which will surely give you a good insight into the country before you visit.
Monsoon
Monsoon is a documentary which was released at the Toronto International Film Festival. This documentary about India follows the annual monsoons as they move from south to north, bringing life and water to all, but also destruction.
This is a great way to understand more about a phenomenon that fills the skies and the lives of the entire country for 4-6 months every year. Monsoon is more a movie about India than a documentary and showcases the impact the rains have on everything in India, from religious festivals to superstitions, hopes and fears.
If you have ever been in Southeast Asia or India during the monsoon season you know that the force of water can change everything.
Language: English
Where to find it: Monsoon is not available on Netflix or Amazon Prime
The Story of India
The Story of India is a documentary series by the BBC which explores modern India and was released in 2007 in line with the 60th anniversary of the independence of India and Pakistan.
As a documentary about India, the narrator and main character, Michael Wood, travels through the country while visiting to important places. He explains its past and predicts its future through discussions and interviews with the locals.
This is one of the best ways to learn about India's past, going as far back as the origin of the Ganges, to prehistoric times or the origin of the country's major religions, both Buddhism and Hinduism.
The documentary shows many of India's and Pakistan's most beautiful landmarks including the stunning buildings of Rajasthan, the country's most beautiful temples, as well as the ancient cities of Agra and Lahore in Pakistan.
The Story of India goes all the way up to the British colonial rule and the massacre in Amritsar.
Language: English
Where to find it: On Amazon Prime
Born into Brothels
Born into Brothels is a documentary about India that tells the story of an American woman going to Kolkata and learning about the stories of the children of prostitutes.
One day, she explains to them how to take good photographs of daily lives. She then collects their pictures and organises an auction at Sotheby's with them. She then collects enough money to pay for their education.
The documentary won an Oscar for Best Documentary Feature in 2005.
Language: English
Where to find it: On Amazon Prime
We have also written about the best movies about Japan, if you're a cinephile.
This would make a great addition to your binge-worthy Pinterest boards!