"Oh, you have to try the mud baths"
Sounds great! I think to myself, who doesn't want a bit of TLC and pampering? After all, I'm on a girls' weekend out on Valentine's Day, what better way to top it off than with some me-time?
Without doing any research I suggest to Isa, shall we go to some mud baths and then get a massage? She jumps on it straightaway "I had a very stressful week, I can do with a massage".
Being Valentine's Day weekend the first three I call are fully booked but I get lucky on the fourth, Dr. Wilkinson's Spa. Admittedly, it is on a list of recommended places on a Yahoo Travel article so I presume it will be ok although the website looks more like that of a roadside Motel on Route 66 than a spa. At that point, I am also having a very busy week so my lack of research extends until the day of our appointment.
After a full day of wine tastings and food Sunday mud bath and massage plan sounds like Haven to us both. We drive to Calistoga on a beautiful sunny morning and, up until the minute we get shown the, literally, mud bath, I still expect it to be something like a mud wrap more than a bath. Well, let me tell you, it is a real bath, filled with mud.
At reception we already see some pictures and photos hanging from the walls but I continue to deny the obvious: we are going to soak in a bath filled with slimy, dark brown, cow poo-looking mud. Full stop.
In complete disbelief and, at that point, a tad confused, Isa looks at me with the face of blame. I am as disgusted as she is with the idea. We pay, I guess they are concerned we might run away, and we are shown in.
First off, this is the women-only section of the spa so everyone is female and everyone walks around naked. This is not like the massage places I usually frequent, this is a place that is as raw as it gets in the wellness industry. No privacy, no consideration for nudity or puritan behaviors. The staff are very kind and nice though, thankfully.
"Here is your bath rope, just take everything off"
"Everything?"
"Yes"
Needless to say the door does not close and basically you are left how you came into this world. We put on our ropes and walk to the end of the hallway where the main room is. And there they are, the two mud baths full of gooey gross mess.
At that point, despite the obvious, I am still in denial. It can't possibly be us getting into that bath full of cow poo? But we are.
We get taken our ropes off and asked to get wet under the shower then to sit on the edge of the bath and slide inside. Anything that I could write now would not even begin to describe the feeling.
The mud bath
It is hot, burning towards the end of our time there, and it is thick, gooey and moldy. And it smells absolutely disgusting. The best way to describe it would be to say it is a bath filled with cow poo, for real. It is not an exaggeration; it does look and feel like cow poo.
The lady is smiley, nice and kind, she must have seen hundreds of girls like us that come uninformed and shocked at what they see. Yes, that's right, that is exactly us!
We slide however we can into the mud and the ladies help cover us completely up to the neck. Then they place a cold towel on our foreheads and spray citrus oil in the air. This is very much appreciated because the mud smells just how it looks.
Isa and I can't stop giggling, wondering how we ended up there. She looks at me, I think of Jason, who gave us the recommendation, did he know what this was all about or, like me, had heard of it but never paid too much attention to the details? I can't think it is the former but I can't stop giggling and being in complete awe at how I got myself in a pool full of pine moss mixed with spring water and volcanic ashes. This is factually, the description of what we are seeping ourselves into. The cow poo was just how it felt to us.
The ladies reassure us this is all worth it. After this, our skin will look and feel as soft as a baby's belly. Well, she used other words, but they are P13. I never believed in these miraculous improvements and, in any case, I am spending the next 30h in a plane so even if my skin is gloriously bright and beautiful nobody is going to feel it. I plan to spend the entire flight touching my arm, soaking in all of the goodness of this horrific 10minutes. I assure you, they feel like an eternity. Not just because the mud is vomit-inducing but because it is getting hotter and hotter in there and I start to sweat. I can't wait for the entire thing to be over.
We are offered cucumber slices to cover our eyes, they would have probably helped with the smell, but I prefer to keep my eyes open and spy on the surroundings.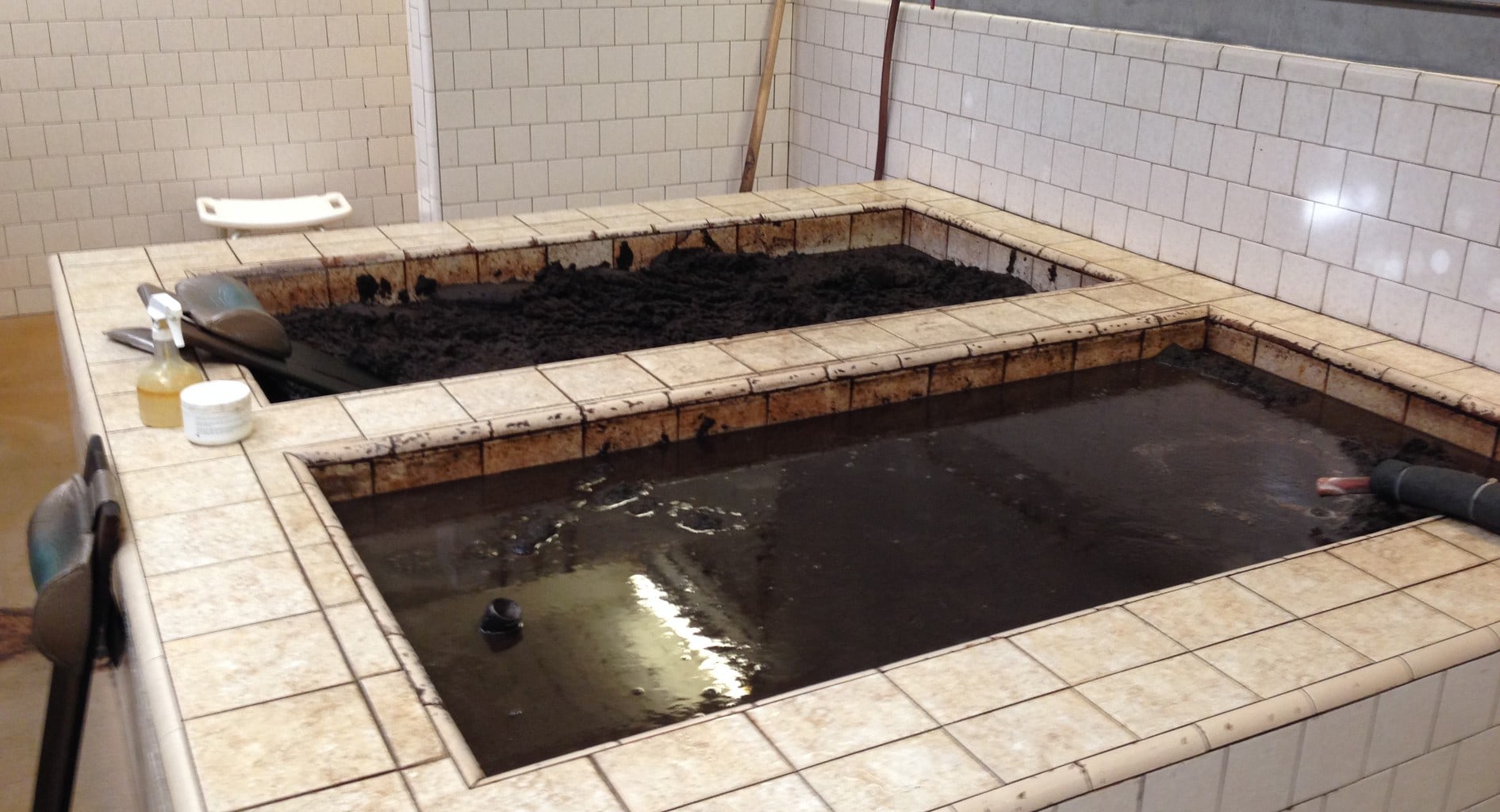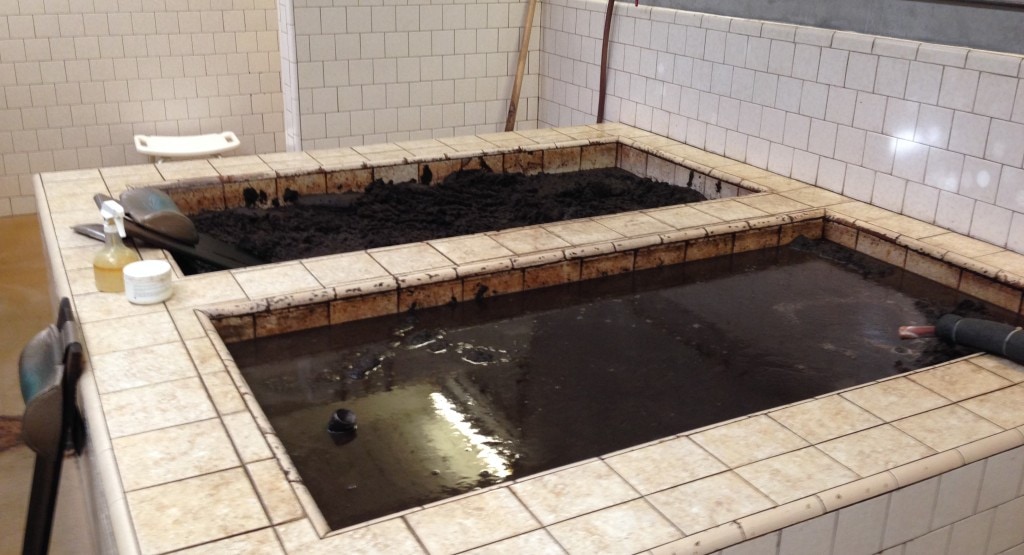 The baths are filled with water at 200 degrees after each guest and then they wait for the water to filter out. This is how the mud is sanitized after each customer because the same bath is re-used several times. I did not ask how many but given that you are in there completely naked I question the hygiene of the process. Even if scientifically adequate it does feel unpleasant to consider the amount of women that must have sat heir butts on the same wet hot mud before me. Better not to think about that.
The entire room is rather old looking and reminds me more of a mad house than a spa. The walls are covered with white tiles splashed with mud, the floors are made of micro cement and permanently wet as the girls try to keep it all clean with the water hose. I should have taken the cucumber slices when offered.
The ladies there are very nice, they are Mexican and decide to talk to us in Spanish, though they struggle as much as we do in the translation of some of the words, items, ingredients and instruments. We have all been Anglicized.
I try to move the least possible. Despite my weight, I am suspended in the pool, I have not reached the bottom and apparently nobody does, the mud is so thick it keeps you floating mid way. Every time I try to squeeze my hands I end up with the mix of ashes and moss on my hands drained of the spring water and all I can think off is the cow poo that littered every path in the small town in the Pyrenees we used to spend our summers at.
Since the area was full of cows they would go out every morning into the fields and come back up at 5pm on their own leaving a trail as they passed through town. It was idyllic in my memory but now that I am completely covered on it the bucolic feeling is gone and I am left with dark moss mixed with wet ashes.
Eventually the 10 minutes are up and we are offered to get out of there however we can and get into the shower. I have never been so eager to take a shower so I get out as fast as I can and try to rid myself of all the moss and ashes.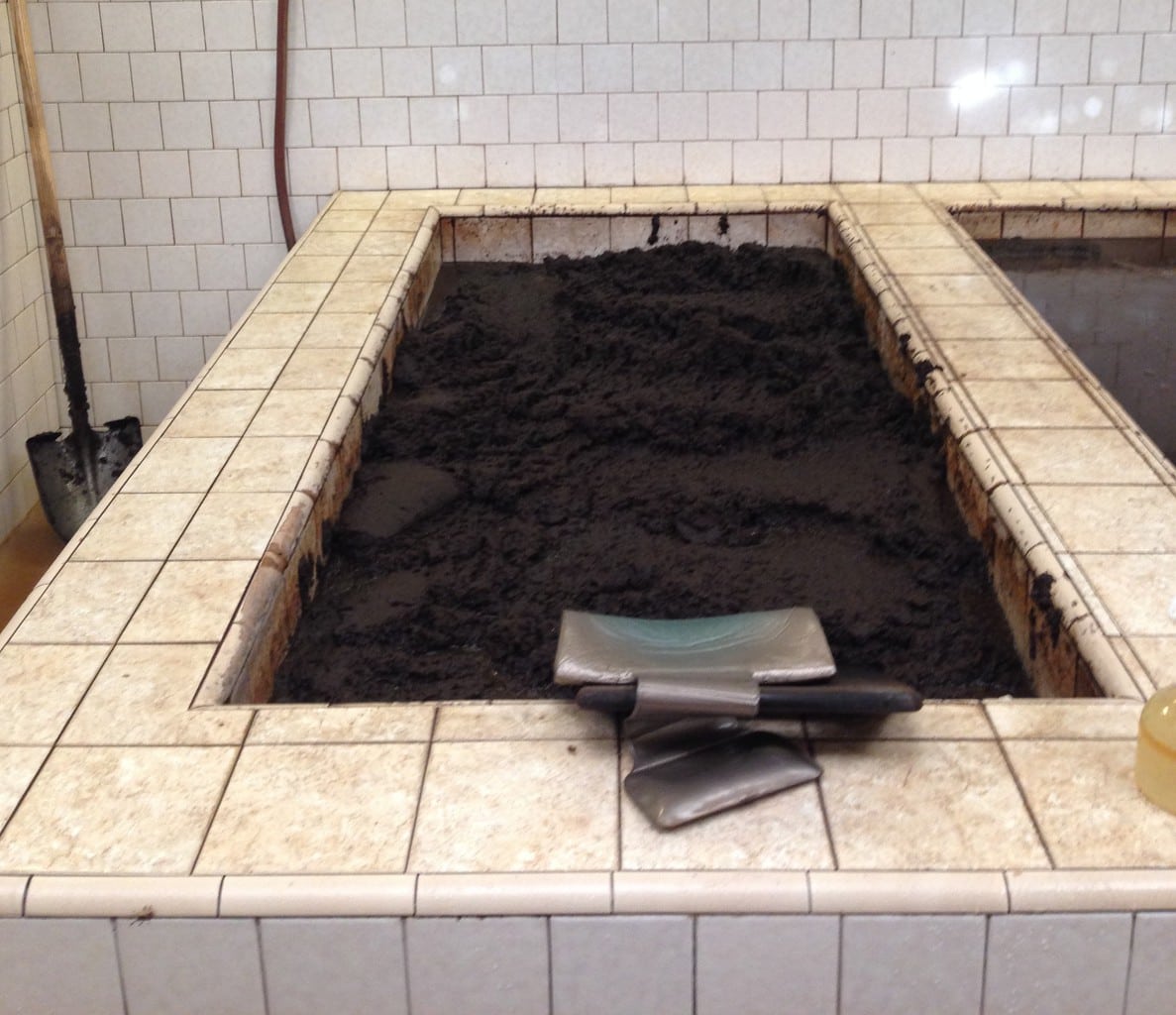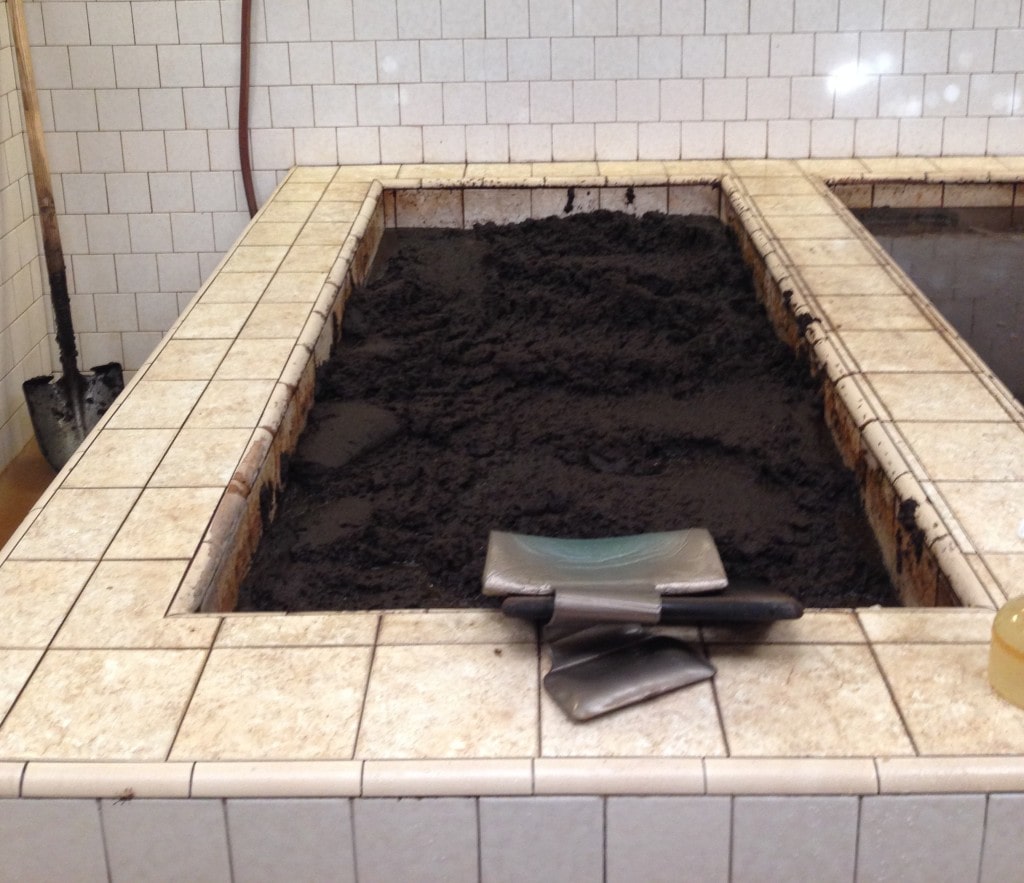 Spring water
Next up is the spring water Jacuzzi bath filled with bath salts. This feels like entering paradise. The water is warm, the bubbles big and we get given citrus water to sip on.
The bubbles are produced by a hose stuck under your butt and the bath is just a regular stand alone bath.
I completely drift away and relax completely. Curiously, these 10 minutes go much faster than the ones in the mud bath.
Steam bath
To finish off our smoothing treatment we get into the steam bath where we can stay for as long as we like. It seems that this place struggles with cover-ups so the towel that we get to cover our dignity is so tiny that I can barely cover everything that shouldn't be exposed.
When I sit down I am almost sitting straight onto the hot tiles. The steam bath is just what you would expect. We sip some more citrus water and we don't last very long, Isa's tolerance is low. I have got used to the heat of tropical countries and I am taken back to my 5 years in Dubai and the crazy summers we used to have which felt exactly like being in a steam bath.
Snooze
The last step involves some good old relaxation. We go back outside of the main room into a quiet area and lay down on a bed to get wrapped into clean warm sheets as if we were mummies. The cucumber slices make an appearance again and I am reminded that I should have taken them when in the mud because although I hate cucumber, the smells is refreshing and soothing.
Theoretically, we are supposed to rest there for 15-20min for our bodies to recover the normal temperature before our massage but I stay there for over half an hour. At some point I wonder if they forgot about me. I drift of and snooze a bit when the nice lady finally comes to get me.
The massage
If you do not book a massage your treatment is over after that but since we had a one hour massage we moved into the massage rooms. I have to admit that my massage was mediocre. It was supposed to be a Swedish massage, that is the only option, but it felt as if I was simply being stroked. Isa's however, was apparently the best she's ever had so I guess the jury is still out.
After all this and considering my 30h flying ahead I decide it is a good idea to have a proper shower and wash my hair off. There is a small vanity room with a hair drier and hair spray but no face moisturizer only body lotion so I am forced to slather some on my face for lack of a better option. Isa has confused the hair spray with deodorant, which is also missing, go figure. Apparently the most important aspect is to have a shiny perfect hair, the rest is unimportant. It seems that my priorities are the opposite of the majority.
I check my phone and realize we have been there for 3 hours total. Isa has been waiting for a good 20-30 minutes because I was relaxing in my cocoon for longer than expected.
Despite having showered, the massage oil, which smelled of lavender, is still stuck on my skin and it will remain there for two days, even after multiple showers; quite remarkable.
The verdict
I must admit that my skin was in fact smooth, as smooth as I have ever seen it after any treatment and for a few days after the visit.
Would I do it again?
Hell no! The feeling of steaming up in a mud bath full of cow poo is terribly unappealing.
I am glad that I did it once, for the adventure and the fun, and because we got a huge dose of happiness and joy giggling and laughing at ourselves.