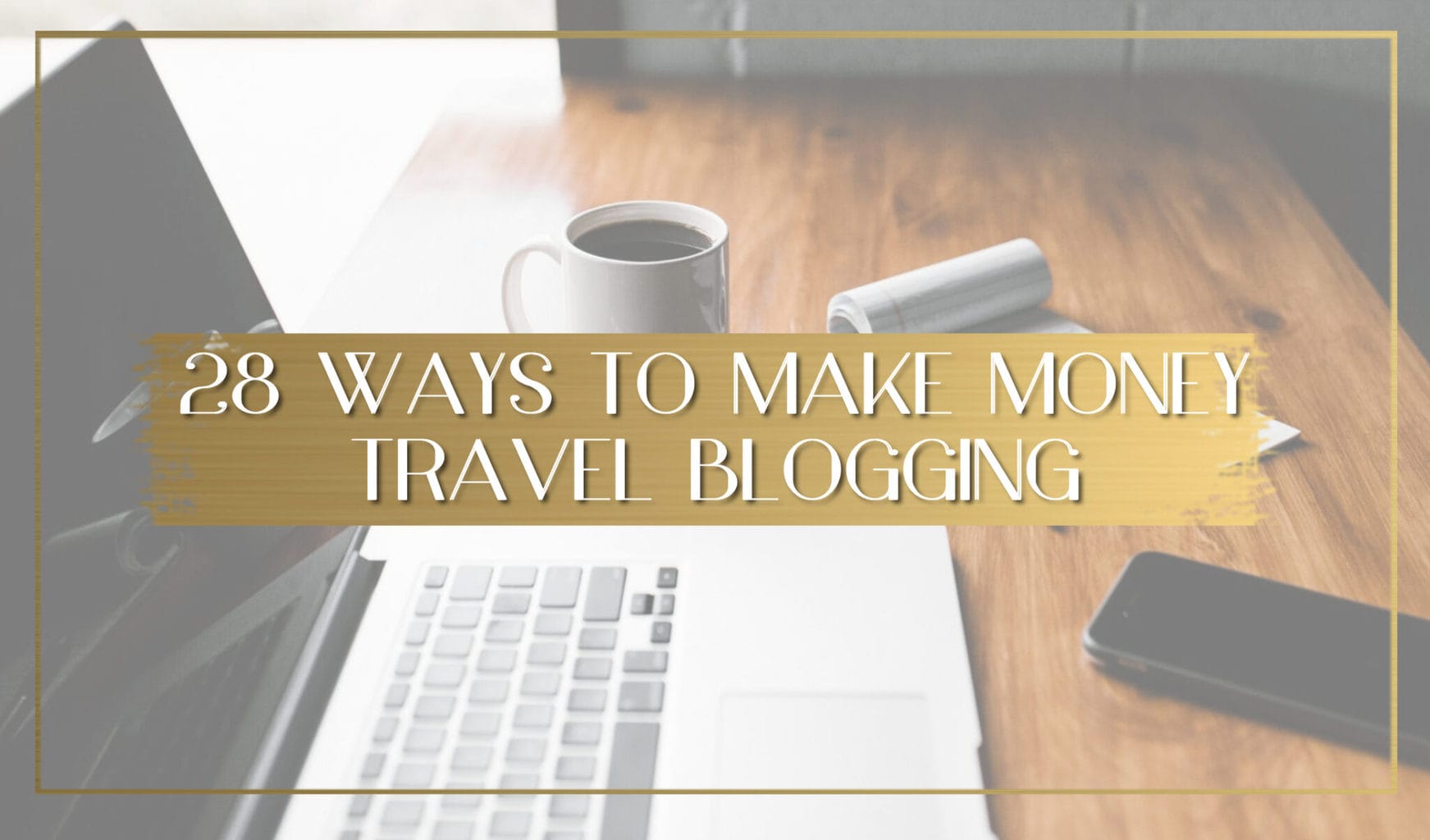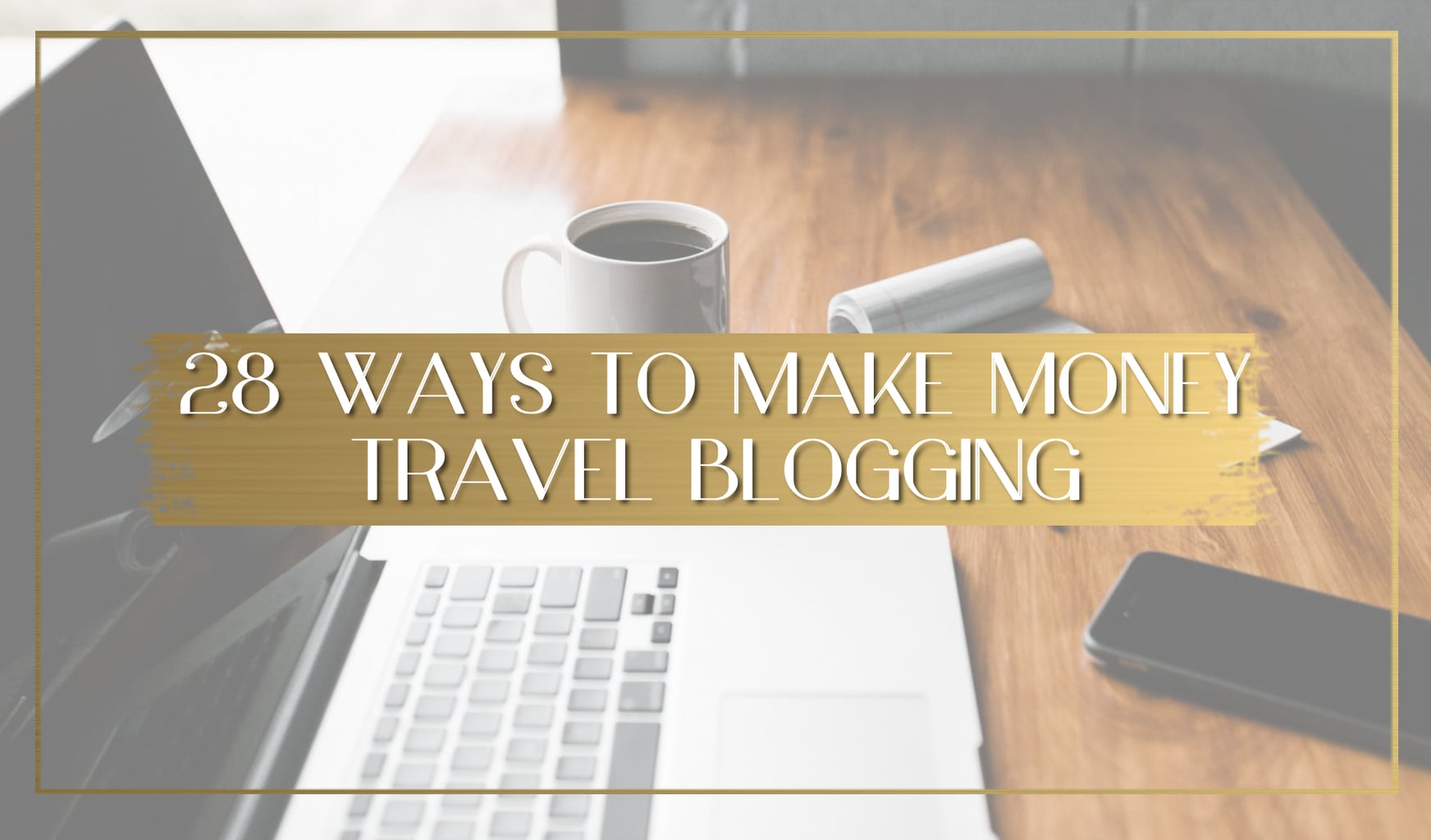 In this article you will read about a travel blogger's salary and how bloggers have successfully turned they travel blogging job into full-time careers where they not only make enough to backpack around Southeast Asia, but also to live in some of the world's most expensive cities like Singapore, Sydney or San Francisco.
We will delve into how travel bloggers make money, not just into how I make money, and look at a reasonable travel blogger salary.
You will also find a handy travel blogger income calculator that should help you gauge how much you could make if you started a travel blog.
This post is not about how influencers make money, that is a pretty straightforward discussion which we will discuss later, but about how travel bloggers make money.
HINT: There is no one size fits all approach, and you can make money travel blogging in many different ways.
I will venture to say that this is the most comprehensive and exhaustive post about ways travel bloggers make money I have found and it is full of tips and advice from peers who are succeeding at monetising their travel blog in a variety of ways. I hope you find a new revenue stream you didn't think of.
JUMP directly to How travel bloggers make money
Can you make money travel blogging? Some considerations
Before we get started, two pieces of advice.
Diversification is king.
Making money from a travel blog is perfectly possible and lots of people do it successfully, many in the six digit range annually (that is a minimum of USD8,000 a month).
But the most successful ones have diversified their portfolio significantly.
Contrary to regular jobs where one employer will pay your salary, being in the digital world and trying to make a living off a digital property like a blog requires you to diversify tremendously because most of the revenue streams are unpredictable and constantly changing.
They also *could* largely depend on someone else's business decisions (aka Google, Pinterest, etc.)
For example, if your income is mostly coming from ads and, suddenly, the platform which serves ads on your website decides to change its policy your income could go down to zero.
If you rely exclusively on selling Amazon products and suddenly Amazon stops working with the third party seller that you were advertising, your income could go down to zero.
You get the gist.
Depending on one revenue source in a world that is rapidly evolving is not a good idea. You need to hustle and you need to diversify. Most people will have their toes dipped in at least 4-5 different areas to guarantee a minimum income every month.
Secondly, and slightly related to the above, most bloggers have variable monthly income.
This is related to the fact that the industry is in constant flow, that is affected by seasonality and where some revenue streams are campaign-driven and one-off.
This is the scariest part of taking the leap and becoming a full time travel blogger: Not knowing how much you will make every month.
Dispelling the myths of a travel blogger job
Thanks to the overhyped media coverage of the influencers' and travel bloggers' life, everyone has an idea about what a travel blogger job looks like and that image is almost always incorrect.
It is important to go into this industry with a full understanding of what it entails. So here are a few myths about a travel blogger job that we need to dispel.
Most of the work happens on a computer not by the beach
Every single travel blogger will tell you this: Don't be tricked into believing that bloggers are living a life of constant travel and no work.
Working online is tough and it requires an incredible level of commitment and very long hours. You actually (surprise surprise) need to work, probably longer hours than with a regular job for someone else, because you need to generate an income.
And this is especially true at the beginning, when you are starting out and have no baseline passive income to live off.
Don't assume that because you see a new photo every day from a blogger where he or she is having fun somewhere that this is how they spent their days.
Heck, most times, the photo may have been taken at another point and when you see it posted the person is probably behind a laptop typing away somewhere far less fashionable.
Let me reveal a dirty little secret about a travel blogger's job.
We may travel for 3 days then be home for two weeks just working non-stop, 15h days, in front of a computer.
In the 3 days, we collected enough material to last us the two weeks, so our online persona is traveling for two weeks.
And let me add, this is not because we like to create an illusion, but because posting all the materials we collect in a day at once would bombard our feed and followers, so it is best to spread it out a little. Also, because when we are traveling, we try to enjoy the moment and spend time trying to create the content we will share. The editing and posting happens after we return to the office.
When I held a full time job at Google I wrote about how I spent about 40% of my time on the road. But that did not mean that my days were spent by the pool sipping a margarita, primarily because you cannot work on a laptop in the sun, it overheats in no time!
You rarely disconnect
Another side effect of having a digital, always-on life is that I rarely disconnect from it.
When I had a full time job at Google, weekends were my most productive time on the blog.
I was fresh and I could focus on the blog entirely. When I was at my day job at Google, I was usually disconnected from the blog. Now that the blog is my full time job, because of the nature of the job, I almost never switch off from the many social media channels I have.
This only ever happens when I visit a country that has no internet.
Keeping up with three email addresses, an Instagram account (OIALJ), a Facebook page (OIALJ), one Twitter profile, one Flipboard, one YouTube, one Pinterest and many other smaller networks such as Quora means everyone expects me to be online all the time.
Clients are in all time zones, other peers too, and the messages and emails come in at all times of day and night, 7 days a week.
The time fallacy
When I started to pay attention to my income report I focused on "value for time" and on fostering the passive income streams as opposed to the active ones.
The travel blogging income you can generate is directly correlated to the time you can invest plus the passive income you have been able to build.
To make more money you can either generate active income more efficiently (charging more or woking faster) or increase your passive income streams.
Because the objective of any travel blogger is not to work more but to work less, passive income is the key to success.
How much travel bloggers make
The salary of a travel blogger can vary dramatically from blog to blog and depends on how many revenue streams you play with and how successful you are with each.
The following sections are split into Passive income and Active income.
For the purposes of this blog, passive income is the one that is generated even when you are not working. If you take a holiday for a week, your passive income will continue to bring in a salary.
Active income is the income you generate when you work on a campaign or do something for a client.
So let's take a look at all the possible components of a travel blogger's salary.

Travel bloggers passive income
As discussed, passive income is the ideal revenue source.
You want it to have as much weight in your overall income as possible.
Sadly, this is also the hardest to master and to grow. If it was so easy, everyone would do it.
But don't get discouraged, it's not that hard.
By being a travel blogger you can generate passive income through your blog (obviously) and also, by using the assets and skills you have developed to generate income in other ways. For example, by selling your travel photography.
I call them passive, but the reality is that if you truly left your blog untouched, these revenue streams would eventually die out too so they are passive because you do not have to do anything to make them happen but they do rely on a successful and updated blog.
And this is more and more relevant because the industry is becoming more competitive every year so it takes a shorter amount of time of a blog to become obsolete if left untouched.
Display advertising (USD200 – USD1,000+)
This is the most obvious salary source for almost every travel blogger.
Display ads are those banner images that you find everywhere online which advertise a given brand, product or offer. Just check the ads on this blog post.
A lot of bloggers will proudly say that they do not like ads and that they have decided not to "clutter" their side bars with ads.
However, I would argue that we are all so used to ads being everywhere that we are not bothered by them. As long as you do not overdo it, you should be fine.
When setting up ads on your site you need to consider a few things:
Will you use an ad serving platform or get in touch with direct advertisers?
What ad serving platform you will sign up for?
How many ads would you want to show?
Do you show them on desktop or also on mobile?
Let me answer them all one by one.
Some people decide to have ads they have directly negotiated themselves with the advertiser. For example, if they are running a sponsored post for a hotel chain, they may also include a banner ad for that hotel for a month after the article is up.
These are not really passive income streams per se as you need to constantly find new advertisers and renegotiate contracts, but they may generate higher income than if you just use a third party ad serving platform.
Talking of which. Ad serving platforms are those which broker the relationship between advertisers willing to advertise their product or service and publishers (aka the bloggers) who are willing to take ads and show them to their readers. The most commonly known platform is AdSense, from Google.
AdSense is easy to set up and you get approved almost immediately after applying it if your blog is at least six months old. After you are approved, you need to include the ads on your site by copying and pasting a small piece of code on your articles or side bars. A very easy thing to do, even I can do it.
After that, Google will show ads to your visitors depending on who they are and their preferences. AdSense shares a percentage of their revenue from advertisers with you, usually based on the amount of people who click on the ads shown on your site. For every click, you will get a commission. In my case, with about 60,000 page views I used to generate about USD150-200 from Adsense every month.
If your blog is large enough there are higher end ad serving platforms that will offer more commission and which may work on impressions (number of people who see the ads) as opposed to clicks.
MediaVine is a well-established one which a lot of people use and are happy with, including myself.
They offer much higher commissions and returns because they are more targeted. As soon as I moved to Mediavine my ad revenue increased 10 fold overnight.
You can see the monthly evolution in my Income Reports section so you get the most updated values and how it evolved since I moved over from AdSense to Mediavine. Within the first month, my ad revenues were up four-fold.
To get on Mediavine, you need to have a minimum of 25,000 monthly sessions so as soon as you start a blog, this should be the objective.
How much you make from ads this way can vary from $10 to $40 per 1,000 sessions depending on your niche and on the location of your audience.
US/UK/Australia audiences pay higher RPM (revenue per 1,000 sessions). That mens that if you hit 25,000 sessions and they are all US-based you could be up to making $1,000 from ads.
Ka-Ching!
Sell online (USD50 – USD10,000+)
A major revenue stream for some people are online product sales, for example, merchandising or packing lists with the things to take on a trip.
You may have seen that a lot of blogs have online stores.
Usually, the blogger is not sitting at home packing and shipping your orders but rather a third party company is. Here are some of the types of things you can sell on your blog.
1. Own products
Selling your own products online is a good idea if you have a specific skill or product that is unique. Doing it through your blog is a means to monetise the traffic that you are already generating.
If you decide to setup an online store page on your blog, you have three options:
Do the end-to-end fulfilment yourself
Outsource it to companies like Amazon who would receive your stock, keep it in consignment and then shipping it every time there is an order
Or use third party fulfilment companies without any stock
If you do the end to end fulfillments yourself then you would have to keep stock at home, setup all the shipping and customer care functions and take the order.
This is unpractical if you are a travel blogger.
It would also not make it a passive income stream because you would be tied to the business 24/7.
If you do not do that yourself, you can either create the product and have Amazon do the selling for you – this is how all sellers on Amazon do it, or you could use a third party to manufacture the items every time there is a sale.
If you sell via Amazon, you need to make sure you take care of the manufacturing and give Amazon enough inventory at all times but they do all the end-to-end fulfilment of each other and even handle customer service.
If you use a third party fulfilment company then you don't hold stock anywhere.
For example, Jodi from Legal Nomads, generates most of her income this way. She has been selling her own designs on t-shirts, bags and posters through her Shopify store. She designed the prints and got a friend to hand draw them beautifully.
Her designs are related to food and travel, her niche, so they perfectly align with her audience and she is able to monetise the visitors to her blog this way.
What is more, Jodi draws additional income from her Gluten-free cards which she sells on Gumroad because Shopify does not let you sell digital products.
She designed the cards herself and got them properly translated into other languages to help Celiacs on the road eat safely.
To replicate Jody's model, you can use Shopify to create the online front store (they charge USD20 per month) and then use third party companies like Printful, Merchify or CafePress to manufacture the item with your artwork every time a customer places an order.
These third party companies fulfill your sales and print to order so there is not stock maintained and you do not have to worry about shipping or handling orders.
This formula allows you to sell standard products like phone covers, t-shirts, posters, mugs, etc. with your own artworks so they are unique and aligned to your niche.
The downside here is that you will have to manage the customer service part and if there are issues with the address or returns, the printing company will only take responsibility for faulty products and not for wrong orders, etc. so you need to make sure your T&Cs are specific.
2. Third party products as an affiliate
A lot of people have gone the Amazon way via the Amazon Influencer store.
The difference between selling third party products and having your own store is that when you resell third party products you are basically only getting a commission whereas with your store you get the margin you decide based on what the printer gets and your selling price.
Setting up a third party store is possible through Amazon because they give you the tools to create an entire store on your blog that looks like it is yours but is in fact powered by Amazon.
Your job here would be to curate a selection of products that you would recommend to your visitors and then place them on your online store following Amazon's guidelines.
Every time someone orders from your Amazon store you get a 4-6% commission.
The effort is much lower but so is the return.
You don't do anything else here so, once the store is setup, you just need to ensure your Amazon sellers and products are not discontinued and let Amazon do the rest.
A good example is Mapping Megan. She set up her Amazon store selling adventure gear and products. This is directly aligned to her Adventure Travel Blog motto and helps her visitors locate products she likes.
Even though the store is new, she is already able to make USD50 a month this way, totally passively, except for keeping an eye on broken links if a product she is promoting is discontinued on Amazon.
Despite having a full blown store, Megan is more successful at monetising the contextual links because her articles are heavily promoted and rank high on Google Search results, as opposed to her Store page which is visited by her regular loyal audience.
3. Merchandising
This is a bit like Jodi above in the sense that you can use the same channels and tools to make it happen but, instead of promoting a destination or artwork, you promote your brand. It is a common revenue stream for celebrities.
Take Doug the Pug.
Not a travel blogger. For one, he is a dog, but I completely love him and since the girl who owns the dog must have struggled to find ways to monetise her close to 10 million followers across Instagram and Facebook, and the dog is such a personality, merchandising makes sense for her. If your brand is such that you can monetise it, then this can be a great revenue stream that also builds free advertising for you.
Affiliate marketing (USD100 – USD10,000+)
Affiliate marketing is basically the same as referral marketing, it's the way to monetise word of mouth.
When someone comes to your blog and clicks on an affiliate link to a website you are referring, you will get a commission if the reader buys something. This is perhaps the panacea for most bloggers, the true passive income.
Affiliate revenues apply to almost every online blogging industry and make up for the entire travel blogging salary of many people.
You can make thousands every month through affiliate.
For example, I have been following Matthew Woodward ever since he started and it has been impressive to see him go for USD2,000 a month to over USD20,000, a month.
His blog is a great example of how an open-affiliate-links and honest approach can work well. He reviews digital services and tools for hosting, email marketing, outreach, etc. extensively, tells you all the goods and the bads and then clearly explains how he makes money if you buy it through his referral link.
His reviews are honest and have all been fully tried, many with A/B tests over several months, so he adds real value. Therefore, you are happy to use his referral code.
In fact, I have learned so much from him that I always go to his site to find his referral codes when I am buying a tool I know he must have reviewed, it is my way of paying him for sharing his knowledge for free.
On the flipside, there are plenty of people who will recommend a product just because of the affiliate revenue they get, even if it's a product they do not use and would never recommend to a friend.
Everyone needs to make their decision here.
These are some of the most common affiliate programs used by travel bloggers to generate an income.
1. Accommodation booking
Hotel booking engines are one of the easiest and most convenient affiliate programs there are.
Almost every blogger generates some income from hotel booking sites.
The most commonly used are:
HotelsCombine which is a meta search engine, that is, they show you the prices on all the booking sites and then you click to book directly on that site. You can make money per lead (ie. every time someone clicks on a HC link on your site, or per booking made by those who click.
Booking.com as the largest hotel booking site is a very popular choice. The downside is that they don't have a cookie, that is, your reader has to read your article, click and book for you to earn. During th same transaction.
Agoda is a popular booking affiliate used for those with a lot of content from Asia because it has high recognition there.
Airbnb pays a referral fee like it does to any regular person but it is known to limit that to $5,000 at which point you will stop earning and may have to create a new account (you never heard that from us). You don't get cash out here but Airbnb credit so you need to be a user of the site to benefit
2. Amazon affiliates
Similar to the stores I mentioned in the previous point but instead of setting up a separate front end store, you just sell products in your posts. There are two strategies here: contextual links, adding them when talking about a product in an article, or full-blown stores.
Contextual links are the most common. A good example is packing guides where you can include links to products on Amazon you are recommending to take on a trip. This may work well if you have an engaged audience and a specific niche.
A lot of blogs make significant revenue streams from having very optimised sites that review products.
Foe example, you could write a very optimised post that reviews all the best travel scarfs and recommends the best. Those that land on your page are looking to buy one so they have purchase intent.
Some bloggers set up specific Niche Sites that are primarily optimised just for affiliate sales of Amazon products, for example sites that are focused on camping equipment, or kayaks.
The advantage with Amazon is that they will give you a commission on anything your reader purchases after arriving at the store through your link, whether that was a product you recommended or not.
It is easy to get lost down the rabbit hole on Amazon because the site is so optimised to make a sale that you get bombarded with other things you didn't know you needed and end up making a purchase. At which point,
Ka-ching!
You will get a commission.
There are also a few downsides to Amazon too.
If you do not have your audience in one of the main Amazon countries you may experience issues with the products you want to recommend not being shipped there.
This happens to me in Singapore where there is no local Amazon store and a lot of the sellers on Amazon do not ship to Singapore. Even though Amazon is global, you will need to set up a different account in each of the countries you want to advertise from.
In my case, I have UK, US and Spain because these are three countries where Amazon and my audience coincide. Amazon is only in Spain, UK, US, Mexico, India, Italy, Germany, France, Japan, Canada, Australia, China and Brazil.
Lastly, Amazon only makes payment via bank wire if you have a bank account in the country where the store is. So if your audience is from the US but you do not have a bank account there, the only way for you to get paid is with a cheque or using TransferWise account.
There are other sites that work similarly to Amazon like Lazada in Asia or eBay, but Amazon is the best known.
3. Travel Insurance
Another great affiliate program for travel bloggers or nomadic people in general is World Nomads.
They have a great rapport and customer reviews and I personally know a lot of bloggers who use them and have successfully and painlessly submitted and received claims.
They are highly recommended and have a very generous affiliate program, so hat makes them a great affiliate.
4. Affiliate portals and aggregators
Although I usually prefer to sign up directly with the affiliate program of the company I want to promote, there are aggregator portals for affiliate programs.
Some of the most popular ones are Share a Sale, Awin (previously Affiliate Window) and Commission Junction (CJ).
A lot of individual companies don't set up heir own programs instead using the services of one of these aggregators.
They work like Amazon in that they will provide you with the links to be added as contextual links and you can also include banner ads to go with it. They collect payment from the brands, aggregate them, and pay you.
The advantage of using an aggregator is that a lot of individual programs will have either geographical constraints or require commissions to reach a minimum thresholds to make payment (eg. $100 or $500).
With an aggregator you can achieve the minimum payment amount faster because you can accumulate sales from several companies, and they may offer a wider range of payment methods like Paypal or international bank transfers.
Additionally, their reports are usually much more detailed as this is their bread and butter, and focused on helping you optimise your links.
The downside?
Some of these programs are constantly removing and adding new companies so you may have added all the links from CJ in your article only for the company to leave CJ.
This has happened to me and it is incredibly frustrating so make sure that the links you add are from long standing companies.
Also, if you do not reach a minimum number of sales they may drop you from the program which is even more frustrating.
Lastly, make sure that the geographical reach of the program matches that of your audience's (going back to my previous comment on the Amazon stores) so that you don't waste your audience's time by referring them to a site where they cannot buy what you told them was so great.
5. Teaching English abroad
Teaching English as a foreign language is great if you want to work and travel the world.
A good way to leverage this experience and create a passive revenue stream is through affiliate sales of the companies who offer courses to become a certified English teacher abroad.
Alice from Teacake Travels, has several articles on her blog about teaching English abroad including five articles on each of the countries she has taught English in and also a comprehensive guide to getting started.
She also helps people who email her directly with tips and advise. Every time somebody decides to purchase the course from MyTEFL she used and recommends, she earns a $35 commission.
The commission is usually higher than what you will get from other affiliate programs and once the guides are set up correctly and rank with the right keywords, they should convert better as well.
Donations and tip jar
This may sound either obvious or strange but you are providing a value to your audience, for free, and you are trying to make a living of all the possible ways except from the people who get value from your site.
Why not ask them to contribute?
For example, The Guardian does that at the end of each and every article and with a pop-up.

If what you are providing is unique, not easily and freely available elsewhere and you offer a genuine value your audience appreciates, implementing such donation boxes may help with paying the bills.
Like The Guardian, you may choose to appeal to people's honesty and integrity and simply ask them to support you with or without a stipulated fee or recurrence in payment.
A lot of people think this is begging, tacky or cheap but you could also see it as a way to let people who enjoy your content support you. I have never seen a problem in asking for what you are worth.
Another interesting idea in this realm is what Jean from Traveling Honeybird does just that on her Patreon page. Patreon allows her to set different levels of contribution and she offers to send the subscribers her posts first and also to send postcards from her travels. She makes around USD100 a month this way.
Subscription services
Nowadays we are not used to paying for anything that comes from the online world but the word Freemium or Paywall still rings a bell for many companies who offer a range of online services for free and then have a subscription-based area only for members who may pay a small fee.
This is usually the case for newspapers and online magazines like The New York Times but may also include members-only reviews, offers, in-depth content or value that cannot be found elsewhere for free.
This is not an easy revenue model to master which is why it is not a typical element of a travel blogger salary, but there are some successful cases.
Here are the variants of this model:
Membership – Where access to a reserved area is only accessible to monthly paying customers
Freemium – Where a part of the content is free and part is paid for
Micro-payments – Where you pay per piece
Selling photography
A lot of travel writers started off with strong photography backgrounds. Others, had to learn the hard way.
Travel writing is closely linked to appealing visual images and videos so it is logical that a lot of bloggers generate an income from selling them online.
Often, the photos that sell best online are not those which are more stunning. A bowl of apples or a landscape can sometimes do best.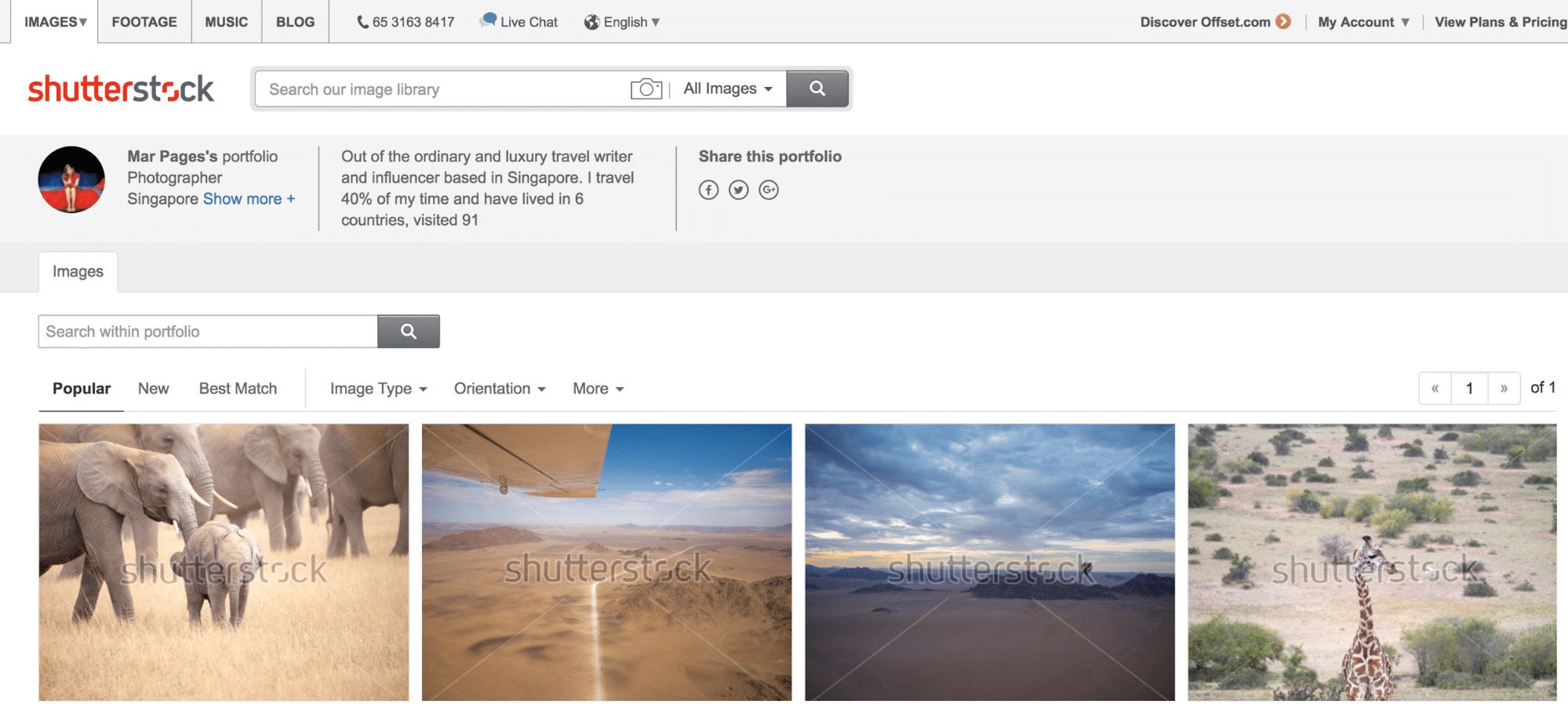 A popular site tos ell your images is Shutterstock. As a photographer, you get a commission every time someone downloads your image.
The amounts are low, USD0.25 per photo downloaded, but this is basically a long-term passive income stream that will survive whether your blog is active or not.
The good news is that the more you sell the higher the individual payout per photo you will earn.
To join Shutterstock you will first need to apply by submitting your first 10 images and then wait for them to be approved before you can upload an unlimited amount. Every photo uploaded is approved by their staff so it may take some time but their tagging capabilities are intelligent and allow you to tag away quite quickly.
Bear in mind that photos need to be a minimum of 20 MG and that models in the shots need to sign release forms for the photo to be on sale – without the release form the photo will be rejected. Shutterstock also has a referral program (<- this is my link) where you earn USD0.04 per photo your referral sells for the first two years.
Publish a book
Most bloggers are good at one thing: writing. Unless you are a social media maverick or a photographer/videographer, words are still the strongest weapon for most of us. Communicating a thought, conveying a message or telling a story is what we do best so it comes as no surprise that a lot of us have decided to put pen to paper in a real book in order to monetise our writing skills.
When it comes to writing a book there are two types of topics: related to the blog or unrelated to the blog. There are also two ways of selling it: on the blog or on third party stores.
If you are writing about a topic that is directly related to your blog, you will most likely consider marketing it to your audience through your channels.
If you are writing about a topic that is not directly related to your blog audience's interests, you may choose to sell it primarily via third party stores. Both have their advantages and disadvantages.
Writing about a topic that is in your domain makes it easier to market it and it gives you an additional revenue stream to monetise the eyeballs on your site. However, when you write about a topic that is not related to your blog you are opening doors to new audiences.
Most bloggers will use a combination of own channels and third party distributors, harnessing the power of Amazon and other publishing networks' reach with the engaged audience and higher profit of a direct sale.
What needs to be considered is that your publishing and marketing strategies will be different depending on the channel.
If you are thinking of self-publishing on Amazon, CreateSpace will be a useful resource to help you edit the book, design the cover, convert to a kindle-friendly version and create the paperback.
What is more, CreateSpace will also print the paperback version on demand so you do not need the budget to make a print run and pay for storage, a copy will be printed every time someone orders the book.
To illustrate, I wanted to share two different approaches to self-publishing books: a food travel guide series and a prolific, bite-sized writer.
Amber, from With Husband in Tow, wrote and published a book on Emilia Romagna's food which she sees sales of every day. As her blog is primarily aimed at food and travel, this is a topic that is very much on point. To publish and review the book, she used PressBooks. She had used them before for her guide to Myanmar and is happy enough that she will use them again. Her book is available on Amazon, Barnes & Noble and iBooks.
On the other hand, Ryan from Blogging from Paradise, has published over 120 books on blogging life and coaching on three storefronts: Amazon, Selz and iTunes.
His books are also available in audible version and are concise and specific. Instead of publishing in-depth books, Ryan focuses on getting out short, topic-based ebooks with a specific objective in mind, like helping you write your first ebook or overcoming writer's block. He uses ACX to create and distribute the audibles for iTunes and Amazon.
They shared their experience writing and publishing ebooks with me.
For Amber, the process was not easy as it required an in-depth understanding of the region and detailed research on the ground. Her and her husband Eric spent six weeks in Emilia Romagna in an 18 month period, talking to local producers, restaurants and business owners, which they complemented with talks with the tourism board.
Ryan has taken the opposite approach. He focuses on creating short, 6,000-word ebooks that can be written and published quickly, even within the day. Over the years, Ryan has focused on honing his writing skills and is able to produce thousands of words per day. Depending on which type of book you are looking to write, your approach may be more like that of Amber or like Ryan's.
But regardless of how you get to the final product, the promotion is what will determine whether you succeed or fail at creating a passive revenue stream. Amber and Eric agree that publishing an ebook is not a fully passive income stream as promotion is a time-consuming always-on effort. They leverage their social media reach as well as the local and national tourism boards looking to promote the area to reach relevant audiences. And are constantly promoting the book.
Ryan believes that the secret is to build the relationship with your readers through valuable free content on the blog so they keep coming back and are ready to buy your product when you have one. He uses his mailing list and social media channels to promote the ebooks.
I also decided to embark on publishing a book: 100 trips of a Lifetime. My first ebook was a compilation of my best trips of a lifetime most of which I have never taken as this was my curated travel wishlist.
I decided to self-publish it as a PDF sold on Gumroad on my website. My biggest learning is that writing a book is going to take much longer than expected. I also learned that books which contain formatting (tables, lists, etc.) as well as high quality images, are not suitable for Kindle so if you plan to sell mostly books through that channel, make sure your ebook is text based.
Update: I have also completed my second ebook to date which is titled 30 Proven Ways to Make Money Online with or without a Blog and is a comprehensive look at how anyone can make money from the internet. It's basically a more in-depth and detailed version of this article. So if you're enjoying this post and you want a more structured way of making money online, give my new book a try. Get it on Amazon here.
Podcast or audio books
Like with books, podcasts are a good revenue stream you can monetise by selling them online or through your blog.
Although there are lots of free audiobooks and podcasts available, creating something engaging and unique could warrant a revenue stream. The advantage of a podcast is that the editing is minimal, significantly lower than with a book or a video so they are low cost to produce and distribute as they are light.
You can sell your podcasts on iTunes as well as on Amazon. Who knows, you may create the next Serial.
Active Income generation
This section includes the bread and butter of a blogger, the 9-5 part of the blogging job, even if that is only a couple of hours a day in the case of part-time bloggers. This is the part that does not get done if you are on holidays because it requires active involvement and effort.
Just like with passive income, you may generate active income from the blog or from other sources.
Destination Marketing (USD500+)
Directly promoting a destination, instead of a property or hotel, is called destination marketing. A destination can be promoted via:
Group set trips: These can also be called Press Trip and are usually organised by either the Tourism Board or a Destination Marketing Organisations (DMOs) who represents them. They tend to come on set dates and with listed deliverables and include a group of influencers, sometimes both from online and traditional print media
Individual trips: Where the campaign is tailored-made for the blogger
Although most trips organised by tourism boards and the DMOs who represent them tend to be free, they rarely include daily fees or payment for the services. However, if you pitch your idea and are a good fit, you might be able to command a marketing fee for the work.
The Crowded Planet draws most of their income from destination marketing campaigns charging anything from USD1,000 for a weekend trip to USD5,000 with photography and videography deliverables. A good example is their Stopover Finland campaign with Finnair and Visit Finland. These campaigns are usually integrated and cross-channel and may include photography, videography and articles as well as social media.
Marketing campaigns for brands
As opposed to a destination, when a campaign is made for a specific brand, they are the focus. A destination may also be included as part of the campaign, but the main promotional effort is devoted to the brand.
Marketing campaigns for brands are specific to the blog's audience, focus and the brand's objectives. They may include anything from articles reviewing the property to social media campaigns or even the sale of photography or videography services. In this case, bloggers will define their fees based on either daily rates or detailed rack rates per service. The preference is entirely personal.
I prefer to charge daily rates including a type of coverage because I will price the inclusions per day depending on my equivalent daily rate. My rates can be anything from USD300 to USD700 depending on what is included in the package. I may then price additional services like photography or video editing on top as additional costs.
My friend Scott Eddy makes a full time living with this. He promotes luxury hotels, airlines, wineries and destinations on fully comped extended trips including a daily rate. Most of his coverage will be on social media where he has a combined 1,4 million followers with the biggest portion coming from Twitter where he has 1,1 million. He has been named one of the most influential people on travel on the platform and so he can command high daily rates reaching up to USD1,500.
Looking through his feed you can easily see the campaigns he works on. I particularly like the Star Alliance Round the World campaign where he went on a wine and luxury themed round the world trip with the Star Alliance airline partners.
Influencer Events
Like celebrities, some bloggers also make money from making appearances at events.
Although this is not a very common revenue stream, it is possible in cases of people who promote specific destinations and are based there. For nomadic travelers with global audiences, this is more difficult. I have been invited to numerous events in Singapore because of my Singapore-focused blog, Singapore n Beyond.
If you are a highly regarded and very engaged influencer with an audience that truly listens to your opinions you may be able to command a fee to attend certain events. I have been told that Lady Iron Chef, from Singapore, will do so. He (it is actually a man) has one of the most highly engaged audiences I have ever seen and so when they promote a place the business feels it straightaway and people come queueing.
Brand ambassadorship (The sky's the limit!)
Brand ambassadorships are a more comprehensive form of influencer marketing. The ambassador represents the brand in several fronts and may also provide content for the brand to reuse. Each ambassadorship is different and will include some elements or other.
Cacinda, from Points and Travel, has acted as ambassador to several brands such as Travelocity, Yahoo Travel, Delsey Luggage, Rocky Mountaineer, TripAdvisor, Club Carlson or FlipBoard.
You can click on the links for an example of the work she does. She tells me that each contract varies significantly based on what the brand wants.
Sometimes, she provides content for the brand including photography or write-ups for their sites. Other times, she has represented them at events.
Because the conditions and the work varies significantly, so does the pay. From some she gets free products whereas others can pay up to USD40,000 annually and include other perks.
Brand ambassadorships are a relatively new income stream for bloggers and a very nascent strategy for brands looking to tap into the potential of influencer marketing without the hefty tag of a celebrity.
Finding them is not easy as there aren't established channels for this. Cacinda has found hers though Facebook forums, Craigslist, and Classified Ads but the largest source is word of mouth. Once her status started to become more visible, it was easier to find and successfully win the contracts.
Social media campaigns (USD150+)
Social media campaigns are the most widely spread of all the online marketing campaigns. They have existed for some time and even the social media platforms have finally added tools and ways to make these collaborations smooth (even if that often means that you will have to advertise a campaign to get any reach).
Once your presence and vanity numbers reach a certain level, you will start receiving offers from brands. The certain level may vary depending on the niche you are in and the fit with the brand. If you are a perfect fit, have a small but engaged audience and a very specific segment, you may be able to monetise your channel early.
Lots of large social media celebrities make a full time living off this even without any other online presence. There are several tools to calculate your approximate fees based on reach and engagement but, ultimately, it will come down to your ability to negotiate.
If you are looking to proactively reach out to brands or to expand your outreach efforts beyond the offers you receive, there are dozens of influencer marketing platforms which aim to do just that: connecting brands with influencers.
There, brands are able to post offers and get influencers to apply or directly shortlist influencers they are interested to work with and send them a personalised offer. I have made the most money from these platforms.
1. Social media sponsored posts (USD100+)
Social media sponsored posts are the most basic of all the brand collaborations.
A brand wants you to promote them with a video or a photo on your channels and will pay you to do so. Some brands will also include a budget for advertising so they reach more of your audience. The post may be provided by the brands (like this campaign I did with Avoya) or they may give you the chance to come up with the post yourself in keeping with your personality, brand and tone.
2. Twitter chats (USD250+)
Some bloggers with large Twitter reach make money hosting twitter chats. If you have a good following and you co-host it with another Twitter user you could be making it a weekly or monthly activity that you get a new sponsor to pay for. Twitter chats are usually themed, they have a maximum of 10 questions which are numbered (and so are the answers) and a hashtag you can follow.
Some of the longest running and largest Twitter chats you can have a look at for reference are:
#TTOT (Travel Talk on Twitter) which uses the hashtag #ttot hosted by Travel Dudes (270k+ followers) and Roni Weiss (founder of TravFest and other travel companies) on Tuesday at 9:30am/pm GMT
#RTWChat hosted by BootsnAll on Tuesday at 3:30pm PST
#TL_Chat hosted by Travel + Leisure on Tuesday at 2pm ET
3. Product placements (USD150+)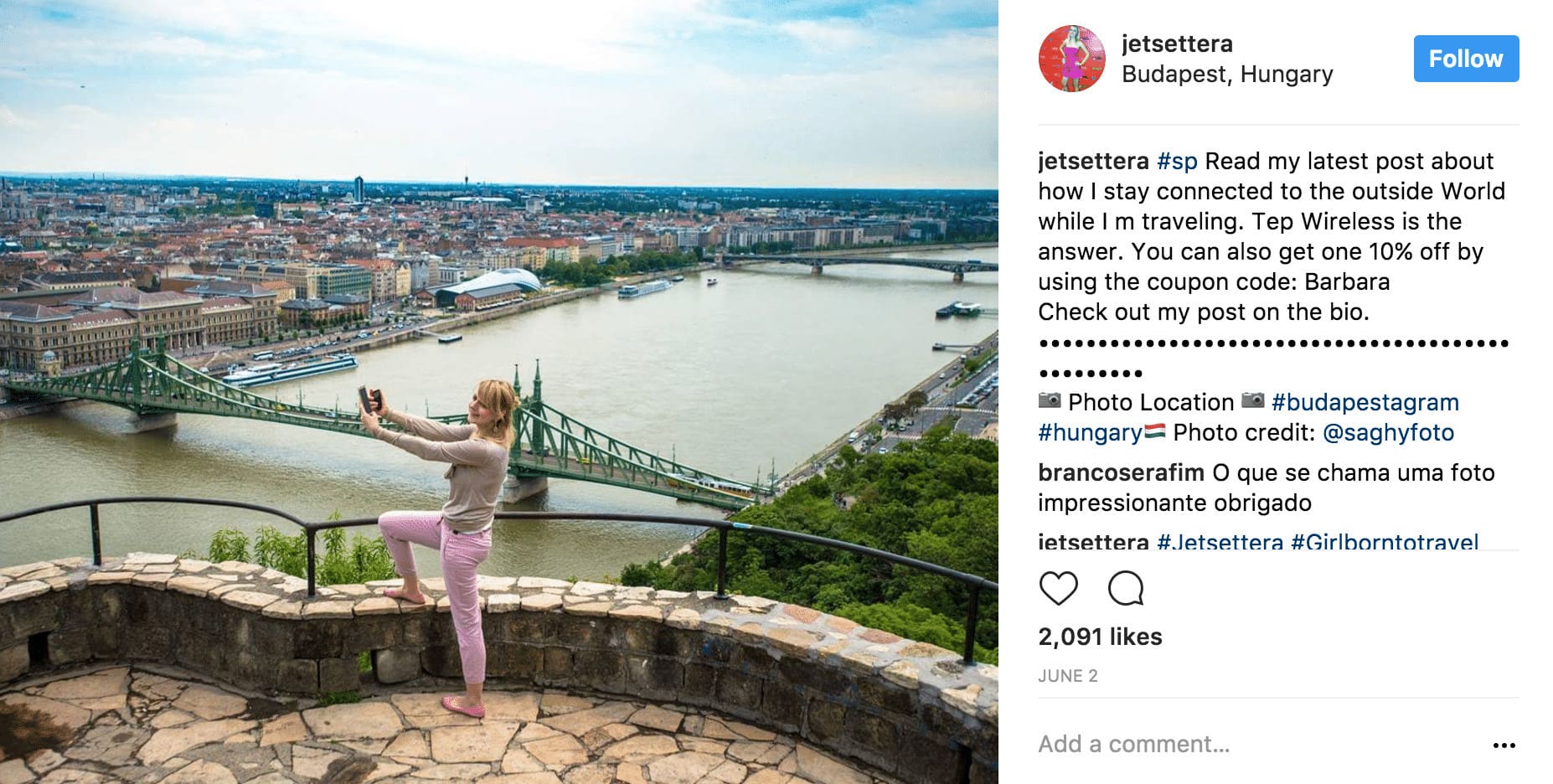 Mostly common for platforms like Instagram or Pinterest, which are more visual, product placements are the online world version of the TV product placement of your childhood.
Some Instagram influencers can charge up to USD1,000 just for one photo (celebrities like the Kardashians charge more than USD200k for a photo!) where the product in question is mentioned. The fees vary vastly depending on your reach but someone with 20,000 followers could easily command USD150-250 per photo and much more if it is a video.
Barbara, from Jet-Settera, has thousands of followers on Instagram and occasionally posts photos for brand collaborations. She started to work with brands when she reached 25k followers and the work has kept coming. In order to determine her prices she uses Influencer Marketing Hub's Instagram calculator. To find opportunities she signed up to influencer marketing sites.
Like Barbara, you should remember to indicate when a post is sponsored – i.e. someone paid you do it. If it is something you genuinely love and recommend, studies prove that you will get the reach and engagement anyway so play fair.
4. Social media take overs (USD150+)
Another way of monetising your online influence is by taking over social media channels of other brands.
As a brand, it is difficult to keep generating new and original content. Some brands resort to reporting the content from their customers and some of them have started to engage with influencers to let them take over their online social media channels and publish their own content.
Usually, the take overs will also include cross-promotion on their personal channels so the brand gets both the content, the endorsement and the reach out to the blogger's social media followers.
Social media take overs usually involve little extra effort on top of the regular coverage you would provide on a given campaign so they are a great added revenue.
On the downside, the administrative part of it may require defining the details as the brand is unlikely going to give the login details to their social media channels so you either get a phone they provide that is logged in already or send your posts and hashtags to a contact person who posts them as if he or she was you, in the case of Instagram or Twitter.
Social media take overs are usually charged on a daily fee based on deliverables specifying the number and angle of each post. If you include sharing on your own channels as well then you should adjust your fee based on your social media promotion rates as well.
5. Contests on social media (USD150+)
Another way in which you can monetise your reach is by hosting a giveaway with a brand willing to reach your audience.
Giveaways differ from direct promotion in that there is something in it for the audience too. People are very used to giveaways and the noise makes it hard to get traction unless what you are giving away is of very high value, very relevant to your audience and they have a high chance of winning.
Giveaways are usually charged in bulk with a list of services which detail the number of posts for promotion, the costs of running the giveaway (I always use WooBox) and whether there are any associated articles on the blog linked to it.
Advertorial posts (USD100 – USD1,000)
This is perhaps the most traditional way of advertising.
Advertorial posts are the online version of the print magazines and newspapers' ads. Typically, advertorials will include a write up about a brand along with a review and relevant information.
Most bloggers provide advertorial services that can start at USD50 depending on the size, reach and audience of the blog.
Advertorial posts help brands with awareness. As a blogger, you should not be expected to endorse the service or product and can openly describe it, or you can test the product or service and provide an honest and open review of its pros and cons. I do some of these and charge USD450 per post including social media and full disclosure to my readers.
As these are sponsored posts that a brand paid for, the links must be marked "No follow" in the HTML code. This is so that it aligns with Google's guidelines for SEO and Search results. By marking them "No Follow" you are telling Google that you have been paid to write the post.
This is important, as Expedia found out when Google penalised it and it disappeared from the search results. However, brands will insist that they want "Do follow" links because this is one of the main reasons they are paying for a sponsored post. This is an ongoing battle in the online publishing world. If you decide to leave the links "Do follow" and take the risk because it is the prerequisite for the brand, do so understanding the risks.
Link building (USD100 – USD1,000)
I make a point to differentiate the sponsored posts from the pure link building strategy, especially when talking to brands about their Influencer Marketing efforts, because the objectives are very different.
Link building is perhaps the most talked about concept in online marketing, together with SEO, which is closely related.
Everything in the digital world starts with driving traffic to your blog. Once you have the traffic, it is easier to monetise a blog. The best way to grow the traffic to your site is through organic ways. That is, by appearing top on the Google search results page when somebody is looking for information.
As Google is very customer oriented, it shows search results based on what it believes will give you the best answer to your question. And this accuracy and relevance is determined by millions of aspects in Google's algorithm among which is how knowledgeable you are on the topic, something which we call Authority.
For example, if your website talks exclusively about how to boil an egg in New York City it will likely have a lot of people linking to it when they talk about boiling eggs. Because it is exclusively devoted to the subject and a lot of external websites have linked to it, every time somebody living in NYC searches "How to boil an egg" the chances of the egg boiling site appearing at the top of the search results page are high because Google will consider you an authority on egg boiling.
In order to tell Google that you are an authority on your subject, your site needs to be about the topic being searched for and you need to have a lot of inbound links (links to other articles on your site) because that is considered an endorsement by Google. A lot of endorsements means higher authority.
By now you realised why brands would pay to have links pointing to their websites and this is what they are paying for when they are buying a link. Sometimes they do not really care where the link is and they might be happy to include it in an existing post, but they will be keen to decide the text where the link is placed. In this case, the only value of a link is in the endorsement hence the link will be "Do follow". A "No Follow" link is of no value, so wanting to disclose this is probably a deal-breaker for them.
Email marketing (USD500+)
In my opinion, Email marketing is making a comeback.
After years of near-death, email marketing seems to be reviving into one of the higher return rates there is. However, building a marketing list is tough, takes time and a lot of consistency and perseverance. Once you have it, if it is an engaged and targeted audience, it can be a source of income both as an advertising channel, like social media, or as a way to upsell and promote your products or services further.
Those with a valuable audience will be able to monetise this in very high figures given the low return that other social media channels produce as a result of their algorithms. But be careful not to alienate your audience with newsletters filled with ads or irrelevant content or they may unsubscribe.
Some good examples of monetisation of this channel can be found in the traditional media publications which had a relevant base of subscribers and are now monetising it by sending them email offers. Conde Nast will send you daily emails where they promote new and old content and regularly send sponsored newsletters. So will DestinAsian.
Travel planning services (USD50+ per session)
I have decided to include this in the section that is related to a blog, but you could also offer this service standalone. However, having a front store that shows your knowledge on a destination is the best business card you can have.
One of the most common things travel bloggers get asked for (after how do you make money!) is help with organising a trip. As a result, some bloggers have started offering trip planning services for the destinations they know well or live in. There have also been a number of startups that focused on brokering this service.
Backpacker Banter set up two travel booking services: Epic Gap Year focused on surf, dive, snow and adventure and RTW Backpackers, focused on travel in Australia, New Zealand, Fiji and Southeast Asia.
Freelance remote work
Most bloggers will utilise their skills in a variety of ways to freelance, these are some of the most common freelance opportunities.
1. Article writing (USD50 – USD800)
Article writing can take the shape of a ghostwriting assignment or a submission as a contributing author to well-established sites who pay writers for their work.
I have written for BBC Travel before and they pay anything from USD400 to USD800 per piece and you do get authorship. They are very strict in their editing though, so for the first few times you will spend a lot of time revisiting the piece.
There are a number of sites that provide writing opportunities. The most common ones are:
Some bloggers make several thousands of dollars a month from writing. It is all about having the right content and contacts with the publishers who pay the best and then making sure to minimise the editing loops after that. If you are able to score writing opportunities at USD250 for a 1,000 word post (that is USD0.25 per word), then you need to produce one a day to make USD5,000 a month.
2. Translation work
Some bilingual bloggers have sites on two languages and sell their translation services online. Some of the sites listed above also advertise translation jobs. Guru, for example, will offer good rates for experienced translators.
3. Copyediting and proofreading (USD15+ for 500 words)
The same as above. Most of the writing sites also offer copywriting services as this is a very similar skill. Copyediting is usually low priced quick work, unless the writing is terrible, in which case you might have to get very involved in correcting it.
Before I hired a full time content manager for the site I used a company to do the copyediting for me and I paid a monthly fee to review all the articles that I was publishing.
The best way to find such opportunities is to go directly to the publishers because intermediaries are a sure way to reduce prices. Most companies needing copywriting will need it on an ongoing basis (like me) so aiming for that ensures a regular revenue stream with the added flexibility of being able to do your work whenever and wherever.
4. Video and Photo editing (USD1-10 per photo)
Many of the freelancer sites will also sell photo and video editing services. I have in the past used Fiverr for photo editing. The good thing in this case is that you can showcase your skill easily if you already have a blog with a photography portfolio.
If you are a videographer you can easily charge anything upwards of USD250 for a 1min video editing job. Your contact list is a better way of selling this service as the skill is even more relevant than with photography so referrals and business colleagues (or other bloggers) who may be looking for such services will be more inclined to go with someone whose work they like and follow. Freelancing sites are a good place to list your services.
5. Graphic design (USD500+ for a logo)
A lot of bloggers were graphic designers in a past life and still make a living from offering this service to others.
Although there are a lot of sites (namely the ones in point 1 above) who also list graphic design jobs, the best way to get opportunities is to network in the Blogosphere as a lot of bloggers will eventually need this service and referrals are the best way to grow in these circles.
If you go to Fiverr there are hundreds of them offering anything for SGD5 so it is not a good place to make a decent living.
Content Creation (USD120+)
Another way of utilizing your skills is to create content for destination marketing organization (DMOs) and companies.
This goes beyond just the written word and may include image and video. To maintain a travel blog, you always need fresh content which means you are creating material all the time. You can then use these enhanced content creation skills to generate material for other people.
Inma from A World to Travel says that once you have developed your own style, understand the workflow and are ready to keep learning and in the know; you might as well create content for others. As you are traveling to a destination or using some products already, it could be beneficial to pitch some content to be published through other companies.
There are a variety of factors determining what you can charge for these services, such as your experience, the hours you will be putting in, the equipment you might need to make it happen, the deadline and the actual value you are providing.
Inma charges upward of USD120 per day, but this will grow depending on the factors mentioned above. The most important part of content creation is the quality that you provide. As the content will be broadcast somewhere else than your website and social media networks, your quality needs to be top notch if you'd like to generate content frequently. If the content you produce has good quality, no matter how big your blog is, you can make a significant amount of money if you put yourself out there.
Here's a video A World to Travel did for Aptece in 2014 for a great example.
Mentoring of other bloggers (USD50 per hour)
Some bloggers get asked for help planning trips. Others, like me, get asked for coaching on the business of blogging.
Consulting services in the wide sense of the word, are a great revenue stream, especially once you have developed the base materials and knowledge from where to pick and choose the areas that each client needs the most help on.
It will take time to set it up the first time around, but then the additional production cost with every new client will be marginally lower and you will learn and improve the materials with every consultation.
If you are good at what you do and you have done it successfully you are the best banner sales ad for yourself. A lot of people ask me about tips for success and I offer such support on an hourly fee basis.
There are weeks when I spend 2-3h with different people sharing things that worked for me, other weeks I spend no time as I am traveling and have no time. I do not proactively market this so people approach me in an organic manner. Many are interested in juggling a corporate job with a profitable blog. I had a full time job and my two blogs for 3,5 years before going full time in February 2018 so I have a lot of experience in trial and error.
Some bloggers have formalised this, like Trisha from PS I'm On My Way who offers travel coaching services.
She covers areas like digital nomad life, volunteering, itinerary planning and professional blogging and charges hourly rates between USD50 and USD175. Her services are so popular that all the slots she makes available every week are quickly filled up. Her success is the result of building a strong relationship with her readers, who she interacts with on a regular basis and constantly offers value for free. When they need her, she is there.
Ryan, from Blogging from Paradise, has also branched into live blogging coaching. He offers one-on-one hour-long sessions for USD200 or an 8-week package including eight sessions of one hour and unlimited email support. If you are only interested in the advice part but already know your way around, Ryan offers a comprehensive report to help customers build their blog successfully for USD1,000.
Your hourly rates can be anything you set it up for, going back to my initial statement, so be sure to charge what makes sense to you. Something to consider is the local timezone of your audience and that of your own, as these coaching sessions tend to be in real-time.
Blogging retreats (USD1,000+)
For those looking to offer this coaching in a more structured manner, the idea of a blogging retreat may be appealing.
Here, the teaching happens in a group environment in a physical location and for a duration so learning is more intense and concentrated. There are lots of retreats that are educationally focused and some have sprung up to offer blogging coaching either to those looking to start up or to those looking to take their businesses to the next level.
Digital Marketing Agencies – Consulting to brands (USD1,000+)
The same way you can coach bloggers you can consult companies in digital marketing. The type of consulting is different because their objectives are different but a lot of hospitality brands have not yet fully landed in the digital world and need a lot of help, sometimes just to start up.
Consulting to brands tends to be focused on social media where a blogger is strongest and has proven success but it can also be more integrated and look into online or influencer marketing and its various aspects. At the core, a consulting project will answer a problem that a brand has so you just need to decide where your expertise is and where you can help.
Some topics that I have engaged with brands on which will hopefully stir your imagination:
Startups looking to launch their social media presence and needing help to set off
Brands looking to work with influencers and not knowing where to start
Improving social media presence and driving more traffic
Content strategy: how to generate, promote and convert content
Designing and implementing marketing campaigns
Strategies to target a specific audience (i.e. Millennials)
Improving visibility and SEO
I consult to brands on a regular basis. Sometimes, this is as a follow up to a campaign, sometimes it is the starter for a campaign. After you have showed you know what social media and influencer marketing is, a brand will be keen to test out your knowledge and expertise with your audience, if you fall in their segment.
Consulting services can be charged at varying prices because they are normally tailor-made for the client. Usually, the project is scoped for focus and duration, then priced based on team and daily rates.
I was a management consultant for eight years (this is how I got to travel the world on a weekly basis) so I have extensive experience in consulting.
Consulting fees are usually charged either by the day or by the hour. More senior people or experts who may only come for the project at certain times are charged by the hour whereas the core project team is charged by the day. The more senior a consultant, the higher the daily rate he/she commands.
As projects bloggers work on are sometimes part-time and with a very narrow scope, the price can be set based on deliverables instead, although you will be calculating your effective hourly rate in the background to make sure it is a profitable project for you without a high opportunity cost – i.e. you could not be using your time to do something with a higher hourly rate instead. Either way, your consulting proposal should have a problem statement and a suggested approach and end with credentials and fees.
Sarah, from Deep Blue Digital Marketing, quit her job to travel the world and shared her experiences at Gluten-free Travellers while continuing to freelance as a digital marketing expert through sites like Upwork.
She realised there was a large opportunity to offer these services in a structured manner so she set up her digital marketing agency to offer copywriting, web design and development, SEO, social media, content creation, influencer marketing, email marketing, Facebook ads/lead generation and Google Adwords among other.
Sarah charges a monthly fee starting at AUD1,000 and including some of the services above which she delivers through a roster of freelancers who are experts in their domain. She takes care of content writing for Rad Season, Instagram marketing for Go Real Escapes, SEO work for Scuba Shane Diving and digital marketing strategy for One Life Adventures. She has found her clients via SEO, Facebook ads, email marketing, networking, word of mouth, referrals and LinkedIn.
Speaking arrangements (USD500+)
Some bloggers have made a name for themselves in a specific area and are able to command a speaking fee at conferences. In the travel world, most conferences are unpaid. But there are opportunities to speak about your niche if you have managed to create a public persona who has a unique skill others will be interested to hear about. The best way to get these opportunities is to start practising at conferences which may be free. Once you have a few under your belt choose a topic that you can be an expert in and pitch to get paid for conferences.
A good example is Scott Eddy who has built a strong social media brand, especially on Twitter, and is regularly speaking about this. Here is a sample of his speaking. For those looking to offer this coaching in a more structured manner, the idea of a blogging retreat may be appealing. Here, the teaching happens in a group environment in a physical location and for a duration so learning is more intense and concentrated. There are lots of retreats that are educationally focused and some have sprung up to offer blogging coaching either to those looking to start up or to those looking to take their businesses to the next level.
Leading or hosting tours (USD5,000+)
A few of the large travel bloggers have moved to the real world by leading tours to some of their favorite places. One that I love is Wandering Earl, one of the best known and longest traveling bloggers. He has been offering tours since 2013 as a response to his audience asking for it. In 2017 he will offer 10 trips. He also offers private planning, though I'm not sure he would be leading those. Although his travel style is that of budget, his trips are not cheap, they start at USD 2,100 and above for places like India or Romania.
Shane from The Travel Camel, has also started to lead tours with the help of local travel agencies. He would design the itinerary in conjunction with a tour company and market it via his channels. Traveling with him means exploring a country he has been to before with the extra knowledge and anecdotes of someone as well-traveled as he is.
I have been approached by several brands to lead tours as well. If you have the right audience and niche, this can be a very successful revenue stream. You get to travel to a destination for free, all expenses paid, make additional revenue from the commission on each customer and the brand gets your endorsement and your marketing power.
Localised tour sales
Some travel bloggers are static. They have chosen a locale and have specialised in that destination. As a result, they are able to forge close ties with local travel companies and broker bookings of their tours or services. My Tan Feet is a good example of that. They have a discount page where you can book a lot of the local Costa Rican tours and they get a commission from that. Their readers also get a discount so it is win-win for everyone.
This is only possible if you know a place so well that you can develop these relationships as a lot of them might require manual booking in the back end rather than directly connecting to the booking sites of the local tour companies. On the flip side, your commission on these tends to be higher than with any other passive income stream like Amazon or affiliate marketing because you are able to negotiate them directly with companies who don't have access to affiliates.
Online courses or webinars (USD100+)
I talked about the fact that passive income is the ultimate objective to most.
The second most important objective is that of scalable revenue. That is, revenue that you can make with low additional marginal cost. Passive and scalable revenue streams are the panacea for any blogger.
Webinars and online courses are some of those. Once you have created the materials, you only need to tweak them minimally to re-sell them again. There are different types of online courses:
The best ones are those on demand because you do not need to be there for them to happen. Revenues come in passively. However, live courses tend to be the most successful ones because the audience has the chance to ask questions.
Having social reach and a mailing list is the starting point to marketing these courses. But you can also promote these courses without any reach if you are good at getting the word out there and you have enough referrals and endorsements. Some of the largest online marketers will have such courses. In the travel blogging world, some of the most popular courses are related to starting a travel blogging business or taking yours to the next level.
Nomadic Matt, the internet's largest travel blog, started the Super Star Blogging online school for bloggers. He has courses on starting a blog, photography, videography and taking your blog to the next level.
But you don't have to be the largest travel blog to make a living out of this revenue stream. Lots of smaller bloggers have done so with niche and segmented approaches. If you are good at a specific skill, you can create webinars or courses on that one specifically. If you want some experience and also practice, you can offer a free webinar on Travel Massive's platform and test the waters for your content then move it in-house and sell it to your audience.
There are also bloggers who have created online conferences. Meg and Tom from Food, Fun, Travel did that with their Travel Blog Summit where they aired the summit over two days with speakers from all domains and then put the course online for anyone to buy it. In their case, the content wasn't even their own but created by the speakers they hired, in a true conference style.
Host or presenter
Some bloggers make a full time living out of hosting travel shows for brands.
On a campaign with Accor and Scoot I met Boy Eats World mum and kid. Raffles, the boy, is a TV host for Accor hotels in-room TV travel channel and has a crew following him on his trips and recording the episodes. Talk about being a celebrity. Of course, he has a personality that is incredible for a kid his age, but there are other bloggers like Fly with Maggie who have also done it. She hosts her own Chinese travel show and is a bilingual vlogger having also hosted programs on other channels.
Influencer Marketing or Blogger outreach (USD20+ per link placed)
Similar to consulting services, some bloggers have started offering outreach and influencer marketing services to brands.
It probably started with a conversation with a brand they approached who was keen to getting more bloggers come stay with them. Thanks to the connections and the tight knit community of bloggers, sourcing others for brand campaigns is easy.
A blogger may not have the tools and data that an influencer marketing company has, but the accumulated knowledge based on experience, pedigree and professionalism observed through hours reading threads and seeing people behave are hard to codify in an algorithm.
In this case, outreach campaigns can be for sponsored posts or contextual links where the blogger takes a cut for sourcing other sites willing to host the links.
You may wonder "Why don't brands do that themselves?" From years of interacting with brands you realise that most don't even know where to start and that, what may seem trivial and obvious to a blogger, is an opaque world to brands.
This revenue stream can be unofficial and informal or it can evolve into a full fledged social media management company.
Social media management (USD150 – USD1,000)
If the blogger outreach efforts work and you start to devote more and more time to this you may find yourself getting wider scope requests from clients and offering social media management services may make sense. This is the case for many bloggers who take care of social media accounts of other brands formally or informally, and may or may not couple this with integrated online marketing companies.
For example, Love and Road have been managing social media accounts of hotels and brands for a few years. The work here may come from previous campaigns with brands or from directly pitching to those who may benefit the most from professional help. They change monthly fees including a certain number of posts and social media channels and get the content from the brands themselves.
Transitioning out of the blogging life
Although many bloggers go from regular jobs to a digital nomadic life, a few are also going back.
This is the case for Mark Anthony and Camille, both from the Philippines, who embarked on an 18-month honeymoon they documented at 365 Travel Dates only to return to the Philippines and put all their experience to work by building a tented glamping camp in Palawan.
The Birdhouse El Nido is where they set up shop and settled down. However, the learnings and experiences they gathered traveling across the world and talking to hoteliers has helped them make sure their beautiful home is permanently fully booked with happy guests.
Because a life on the road is not always a permanent solution but an adventure we embark on to finally find ourselves.
Are you a digital nomad or blogger? Do you have experience on any of the above revenue streams or perhaps a different one? Share it with us!
Read further: You might also be interested in my 2019 Professional Content Creator Survey which shows exactly what a content creator does and how they work, busted the myth that they are all sipping cocktails on the beach.
Pin this 28 ways to make money travel blogging post to your #digitalnomad Pinterest boards. It's going to help you a bunch!