Christmas meals around the world are a very interesting insight into the local culture. Differences across tables can be due to regional traditions within a country, religious believes or even multi-culturality of the family members. Some traditions are wacky, others steeped in history and some just full of superstitions. What do you eat in your home?
Greek Cyprus
"I was raised in a Greek Cypriot family in London where we used to spend Christmas growing up. Food, and particularly pork, plays a huge role during Christmas though poultry has been added "recently" (since the 1800s)", says Stefan, from Nomadic Boys.
"My favorite part of Christmas are the desserts. Everyone knows baklava, which we make at home but we also eat melomakarouna cookies, made with cinnamon, clove and orange based cookies. A Greek Christmas doesn't get started until you bring out the "kourabi-ethes" (κουραμπιέδες), a buttery almond-based cookie (with a dash of brandy) showered with plenty of icing sugar to give them that Christmassy snowy effect".
Argentinian Christmas Eve meal
Being in the Southern Hemisphere Argentina enjoys warm weather during Christmas so meals are usually enjoyed outdoors, in the garden or the BBQ. Some popular dishes include roasted turkey, sweet and sour pork and, most importantly, a parrillada, a range of grilled meats.
Turrones and Christmas sweet bread 'Pan Dulce' or Panetone top the meal. The evening culminates with fireworks and "globos" a sort of paper lantern that is lit and released into the sky. There are similar traditions in some parts of Asia at other times of the year.
Read my guide to the best food in Argentina for some more ideas.
Bulgaria
Christmas is celebrated on Dec. 25, according to the Gregorian, not the Julian, calendar from Orthodox Christians Bulgarians are. Both Christmas Eve and Christmas Day are important but, as the last day of meatless Advent, Christmas Eve meals will contain no meat. The most important part on a Bulgarian table is the pita bread.
Usually decorated with ornate designs the bread is split by the oldest person and a piece is passed to everyone. A coin is hidden inside and whoever finds it will have good luck all year.
Costa Rica
The traditional Costa Rican Christmas food is tamales, baked pork legs and delicious eggnog made with milk, cream, sugar, eggs yolks, infused with a lot of rum and spiced with cinnamon, nutmeg, coconut, and vanilla.
Tamale making is a tradition that brings people together as the entire process is time consuming and large quantities of tamales are eaten during this period. Families start by choosing, cutting and smoking the banana leaves then milling the corn, cooking the meat and making the dough. Once wrapped in the banana leaves, tamales are boiled for two hours.
Croatia
"Growing up, Christmas day was celebrated at our house with all our extended family. It was always a huge celebration, and being Croatian, the food was a big part of that celebration. Every Christmas my father would cook a spit roasted pig for a couple of reasons.
The first is that it is a family tradition which stems from Croatia, where spit roasted pig and lamb reign supreme. Secondly it's a practical solution to having to feed all the hungry relatives. My Father and I would get up early in the morning prepare the pig, the fire and get to roasting the pig.
The process of cooking the pig, watching over it, the entire family coming outside to check on it eagerly awaiting, pulling bits of crispy skin off the pig and lastly chopping it up and serving it at lunch is absolutely wonderful. If you're a food lover, spit roasting a pig is something you must try for yourself.
My father is no longer with us, but, my brother and I have continued this tradition and I hope that one day my son will do the same", says Mate.
Denmark
Danes usually eat roast pork, boiled potatoes, red cabbage and gravy but roast duck and goose have become popular. Dessert is the star. Ris à l'amande is cold rice pudding with whipped cream, vanilla, almonds and hot cherry sauce.
A peeled almond is hidden in the dessert bowl and the lucky finder of the almond gets a present. This is a tradition that extends to other Nordic countries like Finland.
Egypt
Christmas is only celebrated by the 15% of the population who are Orthodox Christians. For them, Christmas is on the 7th of January and so the important meal is on the 6th in the evening, after a service.
Since they have been on a vegan diet for 43 days before that day, the meal includes plenty of meat, eggs and dairy. A sweet called Kahk is also eaten and given as present.
Ethiopia
Ethiopians, like Egyptians, are Coptic or Orthodox Christians, and so celebrate Christmas on the 7th of January. The typical dish in Ethiopia is injera, a flat bread that is placed at the bottom of a dish and topped with various gravies and stews.
Injera is used both as a plate and as a tool to scoop the food and eat. It has a slightly bitter taste. On Christmas Day, injera is topped with wat, a thick and spicy stew made with meat, vegetables and sometimes egg.
Greenland
Inuit inhabit these rather cold lands belonging to Denmark. There are some rather unusual and maybe even gross foods eaten at Christmas time in Greenland. 'Mattak' is whale skin with a strip of blubber inside. It is supposed to taste like fresh coconut, but is often too tough to chew and is usually swallowed. Another Christmas food is 'kiviak'.
This is the raw flesh of little auks (a type of arctic bird) which have been buried whole in sealskin for several months until they have reached an advanced stage of decomposition. Although it sounds strange, it is a delicacy in Greenland. Turkey sounds more appetizing to me but then again, we have some pretty strange Christmas traditions in Spain too.
Other popular foods in Greenland include 'suaasat' which is a soup/stew, barbecued caribou, fish either as raw sushi or cooked and a popular desert is berries and apples with a crisp Topping. Lots of Danish pastries are also eaten.
Ireland
Traditional, historic, Christmas food in Ireland include a round cake, full of caraway seeds. One is traditionally made for each person in the house. Now it's more common to have a Christmas Cake like those in the UK, a rich fruit cake covered with marzipan and decorated with icing.
And an addition to turkey for Christmas dinner, sometimes spiced beef (spiced over several days, cooked, and then pressed) is eaten. This can be served hot or cold. Dessert is commonly a Christmas Pudding.
Hungary
Christmas eve meal consists of fish and cabbage and a special kind of poppy bread/cake called 'Beigli'. Gingerbread is also a traditionally eaten at Christmas. The poppy seed bread I am told tastes much better than it looks.
Thanks to my friend and published writer Carlos for providing the photo.
Madagascar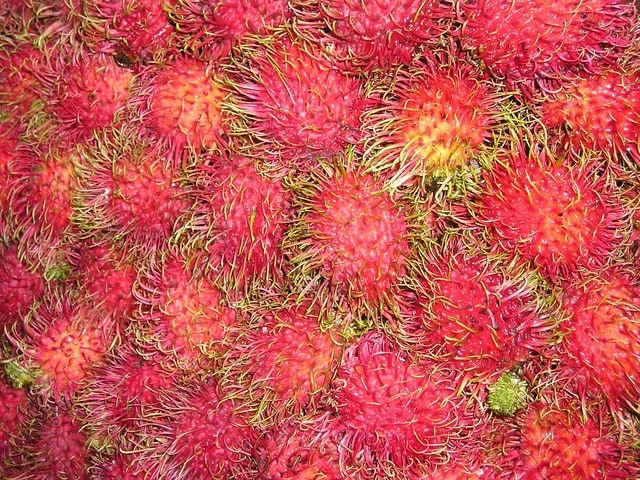 The Malagasy Christmas meal consists of chicken or pork with rice, the major staple in the country. What makes the country interesting is the tradition to eat fresh lychees on Christmas Day.
These are bought from shops and street sellers, fresh from the trees and fill the streets with lychee skins.
Portugal
Being so close to Spain, Portugal shares similar Christmas traditions. Apart from eating roasted chicken or alike and for bacalao or cod fish to be a common staple, Portuguese also end the meal with a Bolo do Reis, or a cake of Kings, alluding to the Three Wise Men that brought gifts to Jesus in the stables.
We eat the same in Spain, but on Epiphany, 6th of January, when presents are exchanged, because it is the day the Three Wise Men reached Jesus. The tale says that whoever gets the hidden hard bean in the cake will have bad luck and has to pay for the cake whereas whoever gets the little king figurine will be lucky all year. The cakes often come with a paper golden crown to crown the lucky person.
Thanks again to my friend Carlos for the photo, he is married to a Hungarian hence the multi-cultural Christmas.
Catalunya, Spain
At home, we eat a traditional meal that is served only on Christmas Day. In Catalunya, traditionally, the 24th Eve is not really a celebration but Christmas Day is big and may involve a whole day of eating.
For starters a sea snail shaped pasta broth called "escudella" is cooked for hours with chicken, beef, pork and bones to give it a yummy taste. The soup is also filled with many vegetables and with minced meat balls cooked in the soup. As a main, some families cook duck or chicken or others may opt for a seafood feast.
The most important part are the sweets. From the sugar and almond based turrones to soft polvorones, marcipans and neules, a rolled waffle biscuit. Since lunch is eaten late, it may finish at dinner time.
Venezuela
Traditional Venezuelan Christmas foods include 'Hallacas' – a mixture of beef, pork, chicken, capers, raisins, and olives that is wrapped in maize and plantain leaves and tied up with string into a parcel.
It's then boiled or steamed afterwards; the Pan de Jamón – a type of bread that's made with puff pastry, filled up with ham, raisins, olives and bacon and shaped like a 'swiss roll'! Chicken Salad and Pernil (a leg of pork).
New Zealand
New Zealanders, like Aussies, celebrate Christmas in the middle of the summer. Think flip flops and beach barbecues and you have the typical Christmas meal. For dessert, they tend to eat fruit puddings and ice cream or the famous pavlovas.
Thanks to my friend Steve for sharing the photo of his wife's wonderful pavlova.
Mexico
In Mexico a lot of people eat typical Mexican dishes on Christmas day, especially tamales, like in other parts of Central and South America, as well as bunuelos, an essential Mexican dish usually served with syrup. It is the desert dish at the end of the meal. My friend Marisa, who gave me the photo, also eats bacalao a la Vizcaina, a cod fish with peppers.
Here are some more options of things to eat in Mexico City.
This post was completed with the help of Why Christmas, a complete guide to Christmas traditions around the world.