This post my third part in a series on Tuscany slow travel. I was extremely fortunate to travel in a new, slower pace with a wonderful couple from Km Zero Tours. They take travelers on journeys in a slow way, showing them that travel is more about experience than checking off activities on a list. This post will focus on the wonderful experience of combing cashmere goats in Tuscany. For more articles see the links at the end of this post.
Nora's cashmere goats in Tuscany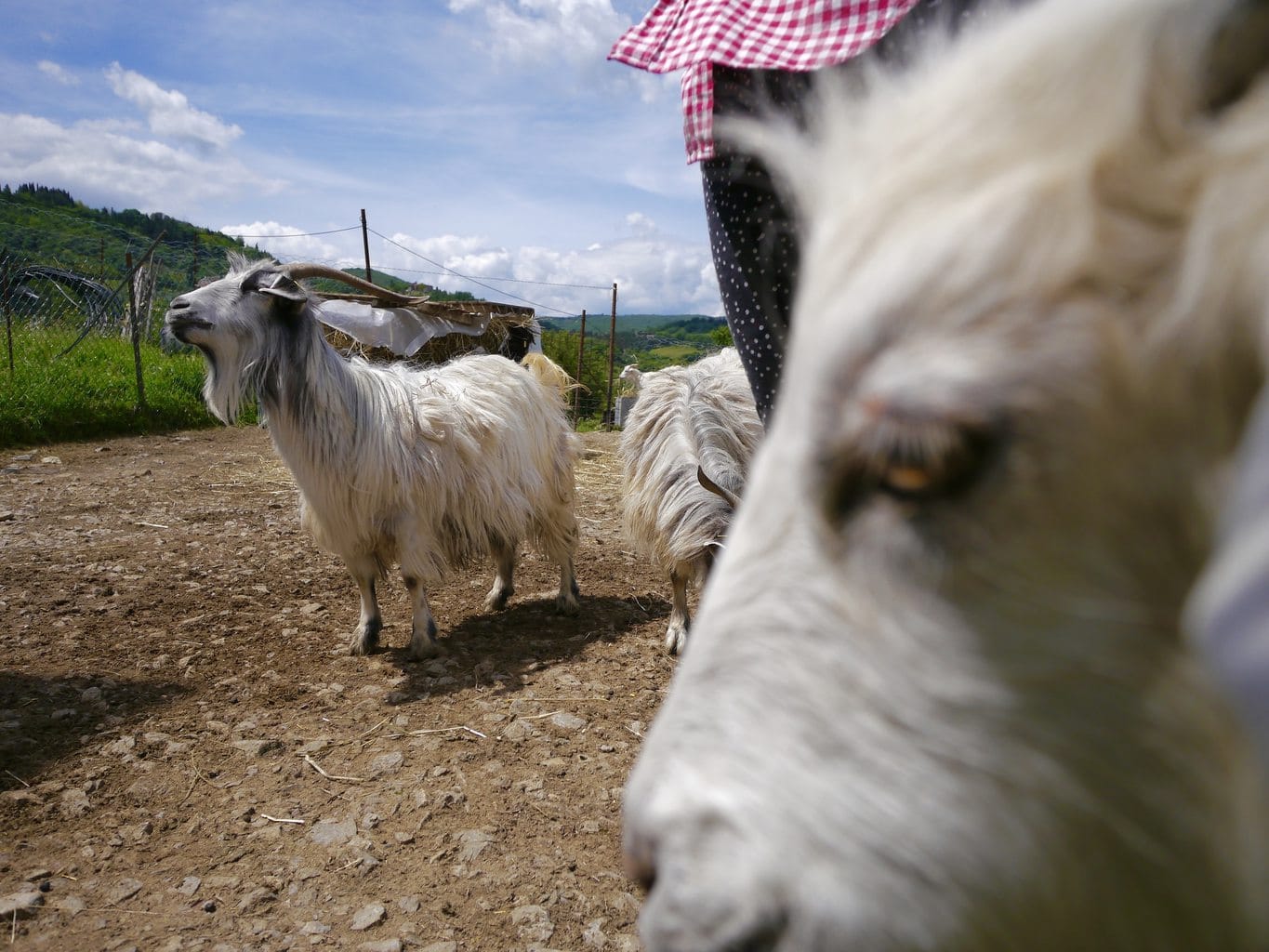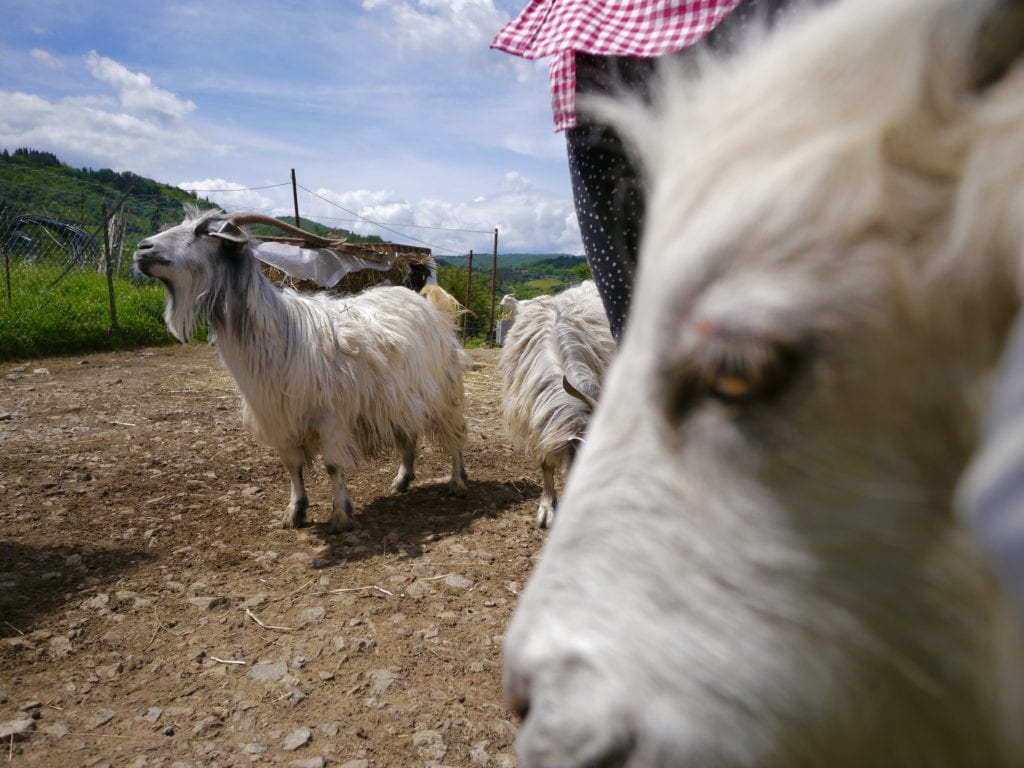 In the 70s, Nora decided that the busy New York life was not for her anymore and moved to Tuscany. At that time, Tuscany was not a famous place nor did it have any tourism infrastructure, but it was an idyllic and happy place in which Nora found peace.
She started to raise cashmere goats to harvest the hair for scarves and other garments and forty years later, she has one of only few sustainable goat farms in the world. Her life is sustainable in all other aspects. She has a vegetable and herb garden and she even grows the hay that the goats eat when there is no green grass in the fields. As expected, she is also vegetarian.
Aside from about 300 goats, there are also several huge guard dogs as hairy as the goats, and a couple of other small fluffy ones. To supplement her income, Nora also rents out a holiday home next to hers to repeat clients who come every year, some of them even help her out in the farm.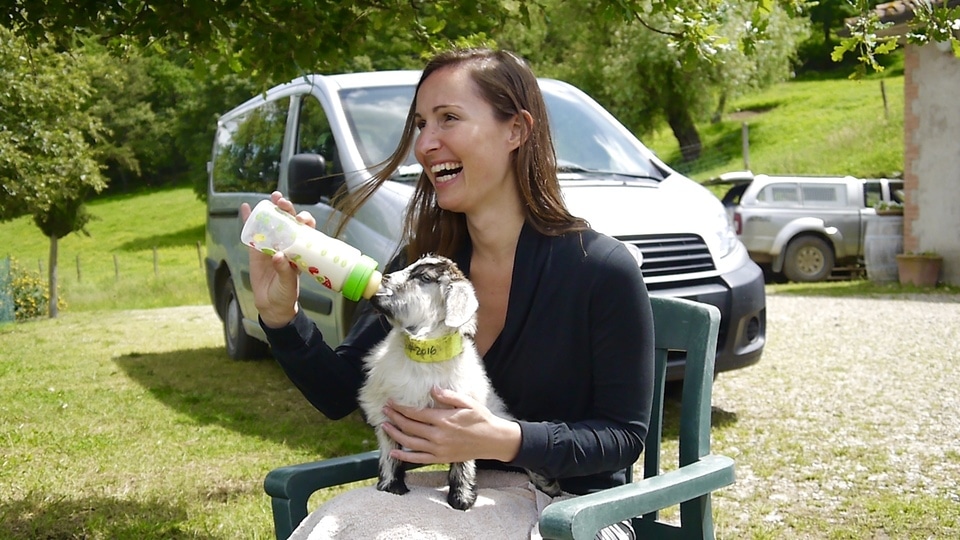 Spring time is also the time of the year when the baby goats are born and Nora had a one day old and a two day old little goat running around. They were the most adorable animals I have ever seen. Jumping and playing with their mothers, one of them, Jelly Bean, had to be hand fed because her mother was too young to produce its own milk.
And I got the best job in the world: feeding the little goat, and, boy was she hungry! Surprisingly, only at two days old, Jelly Bean saw the bottle and knew what was coming so she ran towards it. I don't think I will ever have a sweeter experience.
About cashmere goats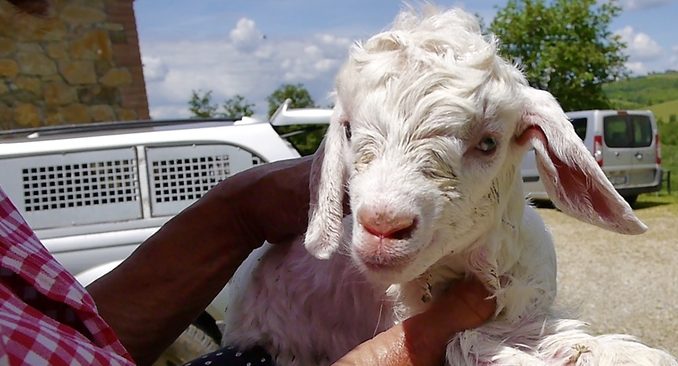 Cashmere goats are typical of Central Asia countries, Northern India, Pakistan, Afghanistan, China and Mongolia and get their name from the disputed geographical area of Kashmir, in India. The cashmere wool is the undercoat the goats grow in the winter months, the goat's second follicle, which they lose when it gets hotter, and it is praised for its extremely fine touch.
The difference between cashmere goats and sheep or mohair goats is that the later two have only one hair follicle and they are sheared once or twice a year. Cashmere goats have two hair follicles, one of which falls off in the hotter months. Therefore, the perfect time of the year for cashmere goat combing is April and May because that is when the hair falls off naturally and it is easier to comb.
Combing Cashmere goats in Tuscany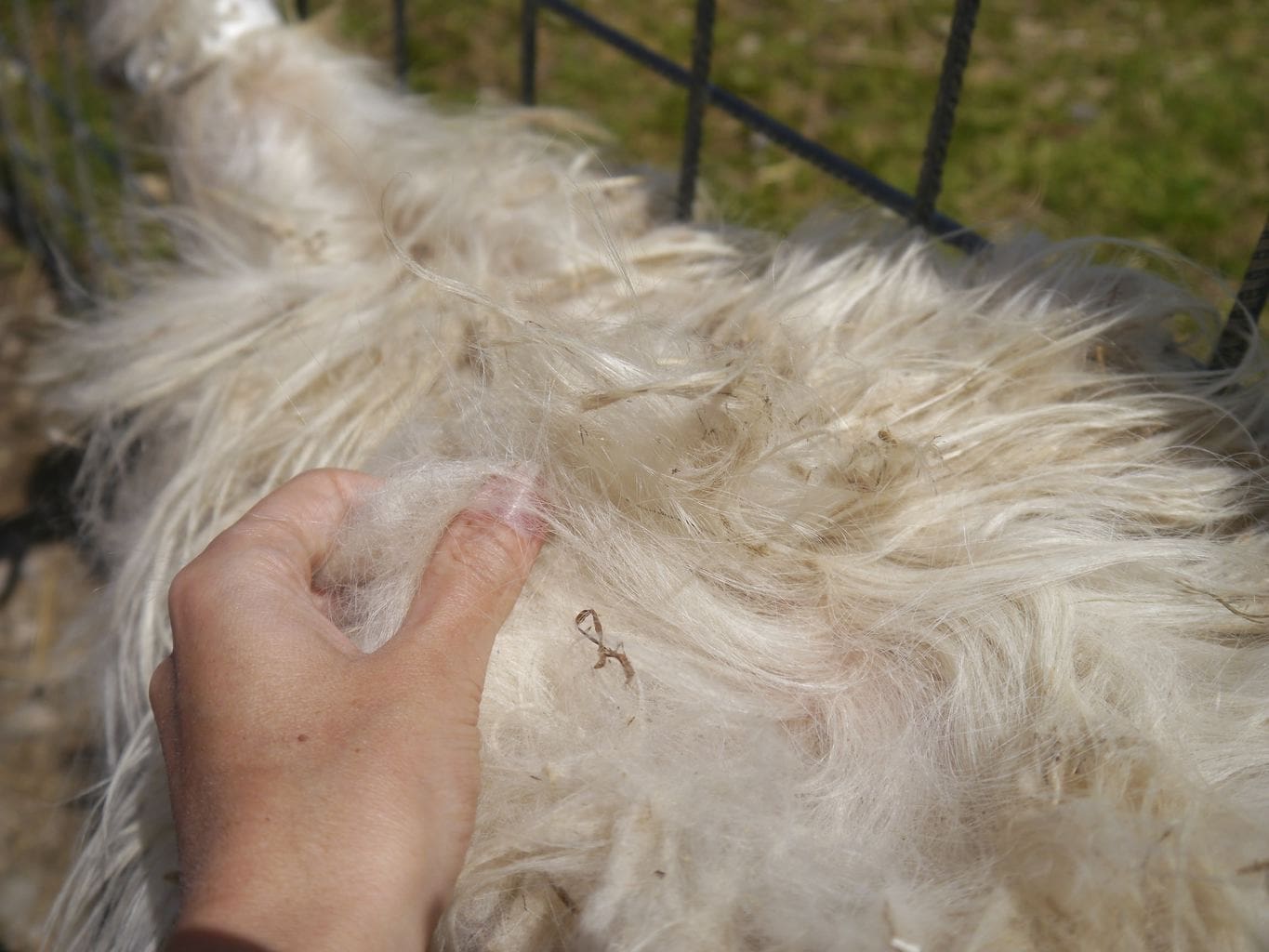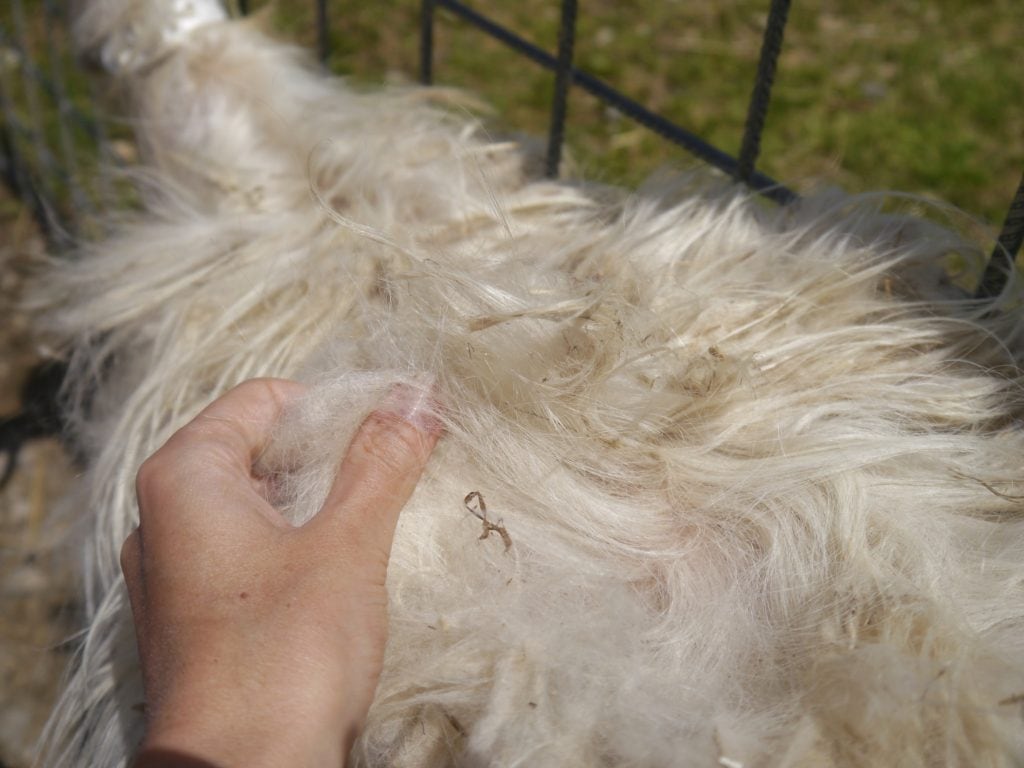 Nora spends a lot of time and effort testing the goats for genetical information and diseases. She is very interested in furthering the breed and wants to raise happy animals. When we speak about genetics, we speak about the colour, finesse and length of the hair. Nora sends samples to the lab every season to determine what goats she will breed in the next season and is now trying to breed the red hair goats that are so rare. She already has a red haired goat called cappuccino and is trying to see if she can breed more but it is difficult because red hair is a double recessive gene.
Before we started combing our Cashmere goat, we took a small sample of fiber from the same place she takes it on all goats for consistency and comparison across goats which she will send to the lab.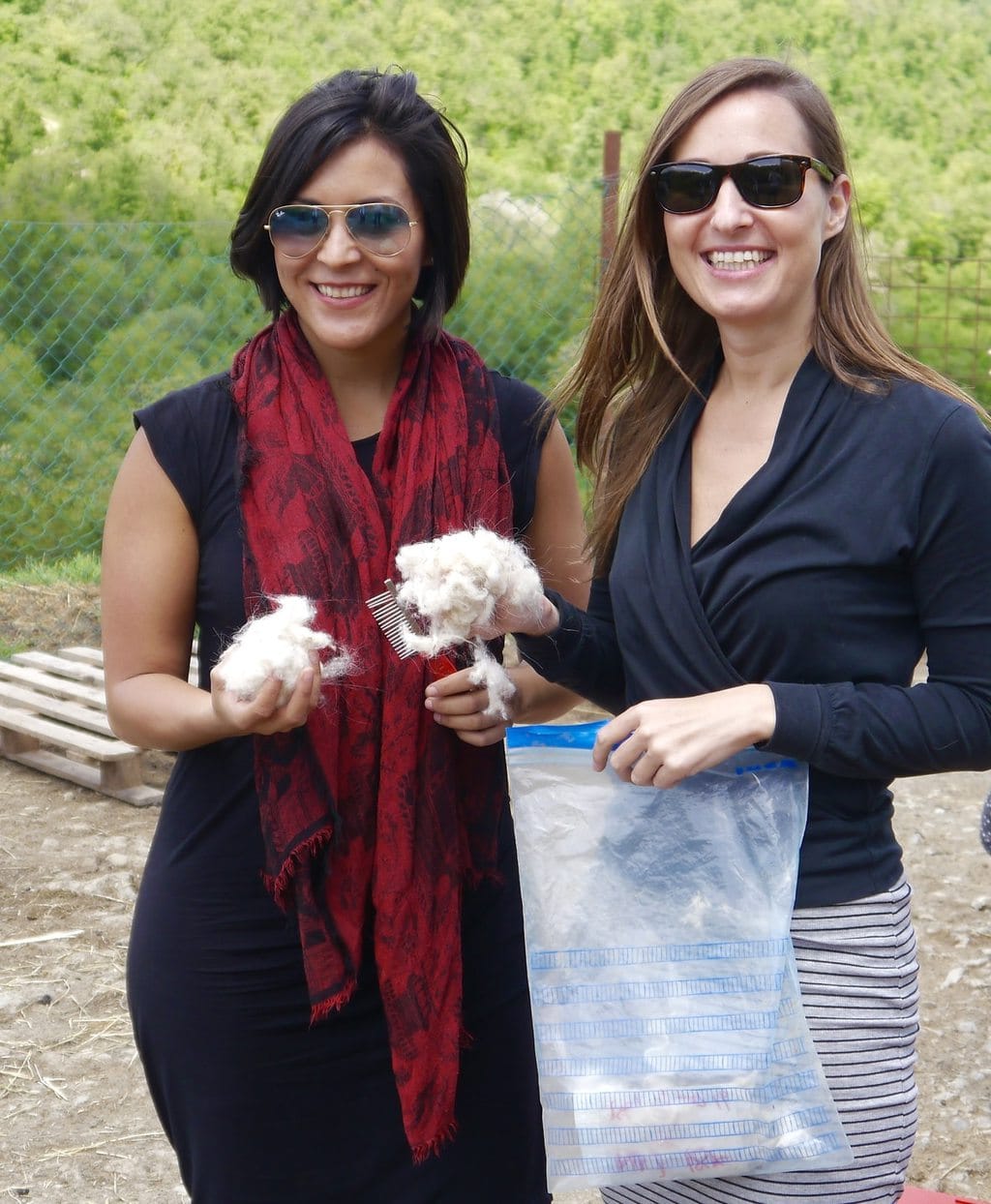 We got to comb a one year old goat with very knotted hair. It was her first time being combed so she did not seem to like it too much at the beginning but she probably does not remember anymore today. Usually, combing is easy as the hair falls off naturally but since this had been a rainy and colder than usual year, the goats were constantly wet and could not be combed so Nora had to wait. Living in synch with nature also means living with the challenges of climate change which are affecting everyone, including the cashmere goats.
Our goat was loosely tied to the fence so she would not move too much and Marisa and I sat down on plastic stools and started combing her. She was pretty still, occasionally bleating. Combing was not easy but girls usually know the tricks. Since the cashmere hair is the hair hidden under the main coverall coat we had to look for it with our fingers.
We used a regular comb tip to comb the hair out. Because it was the right season to comb the goats the hair fell off without any effort and without hurting the goat. After a little while she almost seemed to like it.
Sustainable cashmere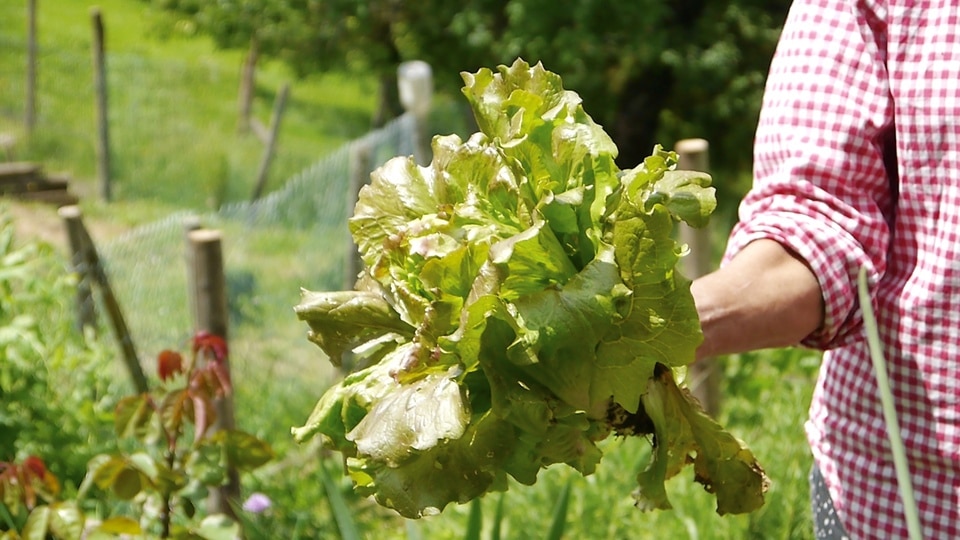 Nora is committed to organic and wild raising of the goats in her land and she has trade marked the name "Sustainable Cashmere" because her goats are fed on overgrown weeds in marginal farming and she is improving the breed and the environment. Sustainable cashmere implies that the production of the garments uses less than it consumes. Nora is probably the largest sustainable cashmere producer in the world, though there are a few smaller herders in the US.
Contrary to what I had originally expected, life in the countryside surrounded by 300 goats is anything but boring or monotonous. Nora is actively and internationally involved in cashmere goat breeding. She has organised several networking events with other cashmere goat herders across the world and spoken at several conferences in which she preaches on a betterment of the breed and a reduction in mass farming. But it has not been easy.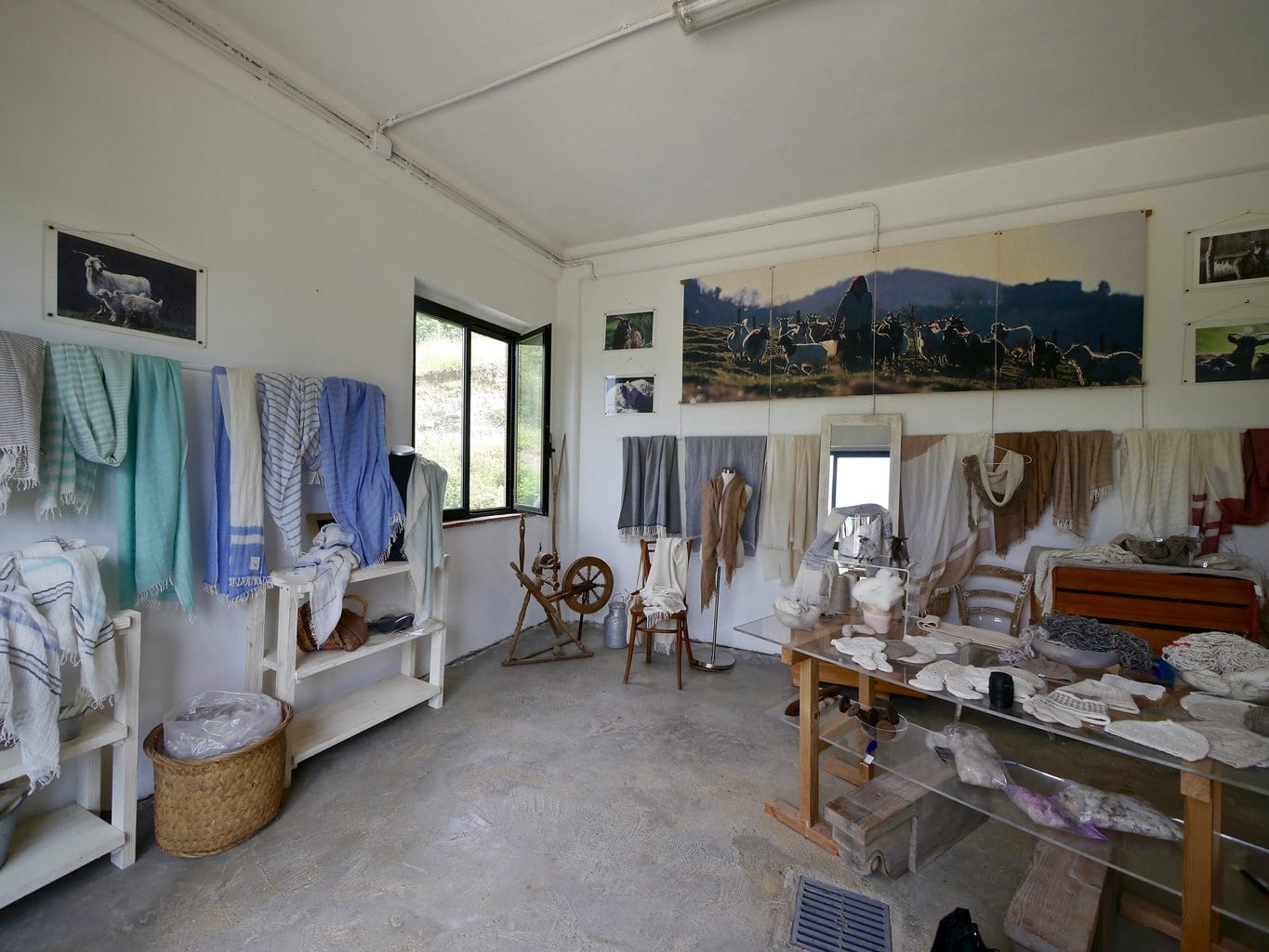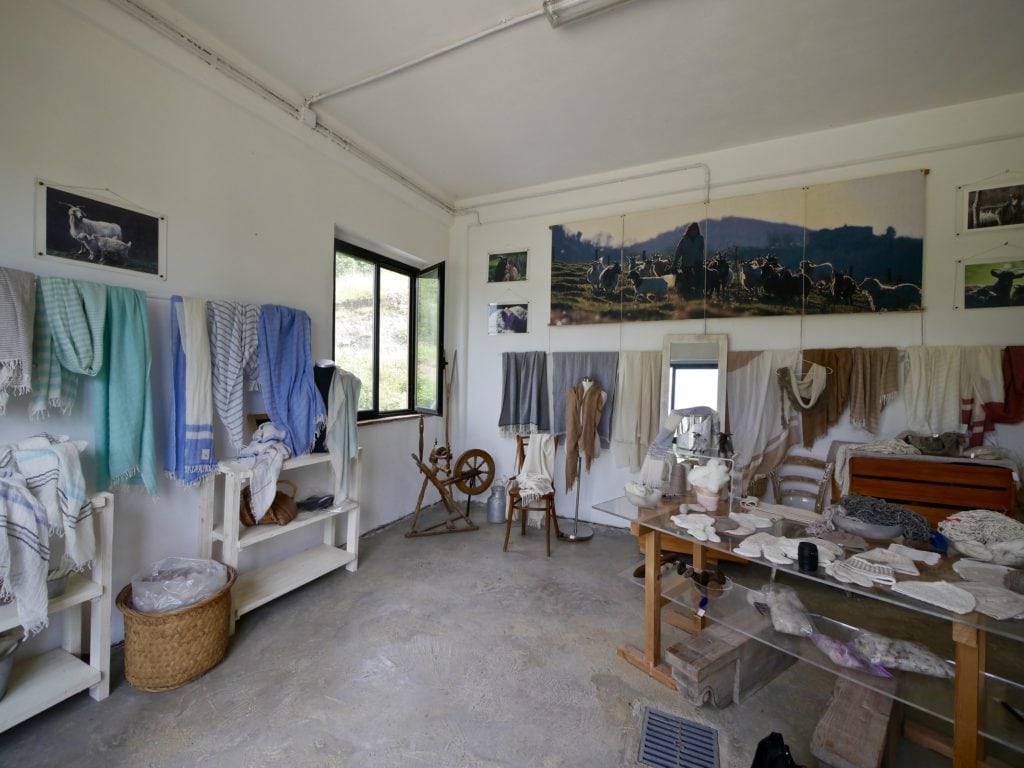 Most of the countries in which cashmere goats are raised are only producers of the raw materials and do not have any influence or revenue share in the final products.
To them, more goats means more income. Moreover, to the goat herders in Mongolia, where there are 10 million cashmere goats, the value of the cashmere fiber in the market is unknown and their worth and wealth is measured by the cattle heads they have so they aim to have bigger herds rather than healthier or genetically better animals.
When Nora tried to make them understand that mass feeding was causing the genetics of the goats to worsen and disease to spread, the herders did not want to know anything about it. As soon as a Chinese manufacturer would come and buy their cashmere fibers they would sell straight away.
With the vast range of quality in the raw fibers across the world and the genetical weakening of the breed, the fibers these Chinese manufacturers were getting from the Mongolian herders were nothing like the fibers Nora combs off her goats. But consumer information is scarce and most of us cannot tell the difference after the fibers have been threaded and treated.
When I visited Mongolia during the Nadaam festival two years ago, I bought a cashmere scarf which I still keep. Armed with my experience with Nora, I felt the scarf when I got back home and I understood Nora's predicament. But when I bought the scarf, I thought I was buying a high quality garment, after all, I was in the country with one of the highest concentration of cashmere goats, surely they knew what they were doing.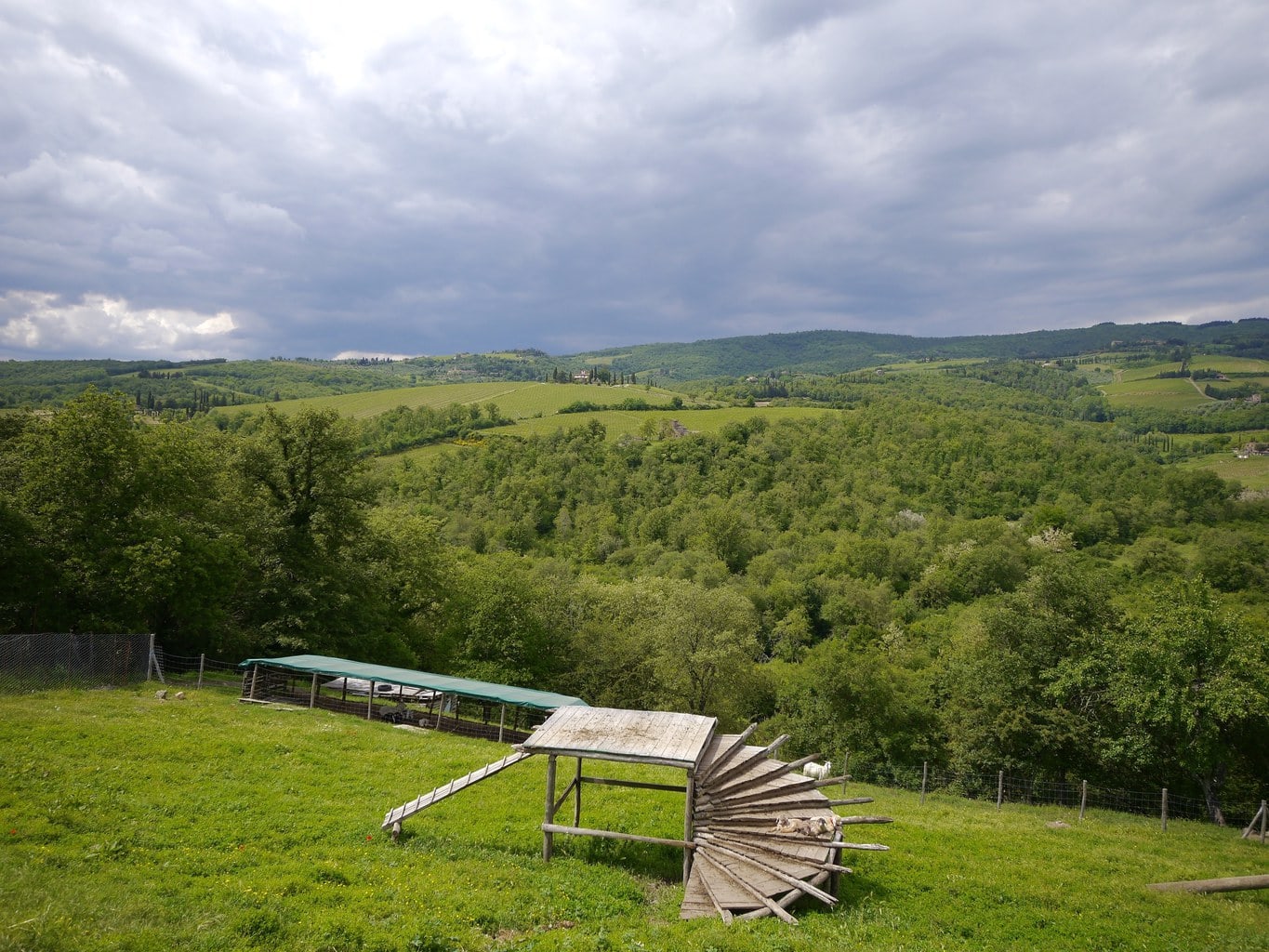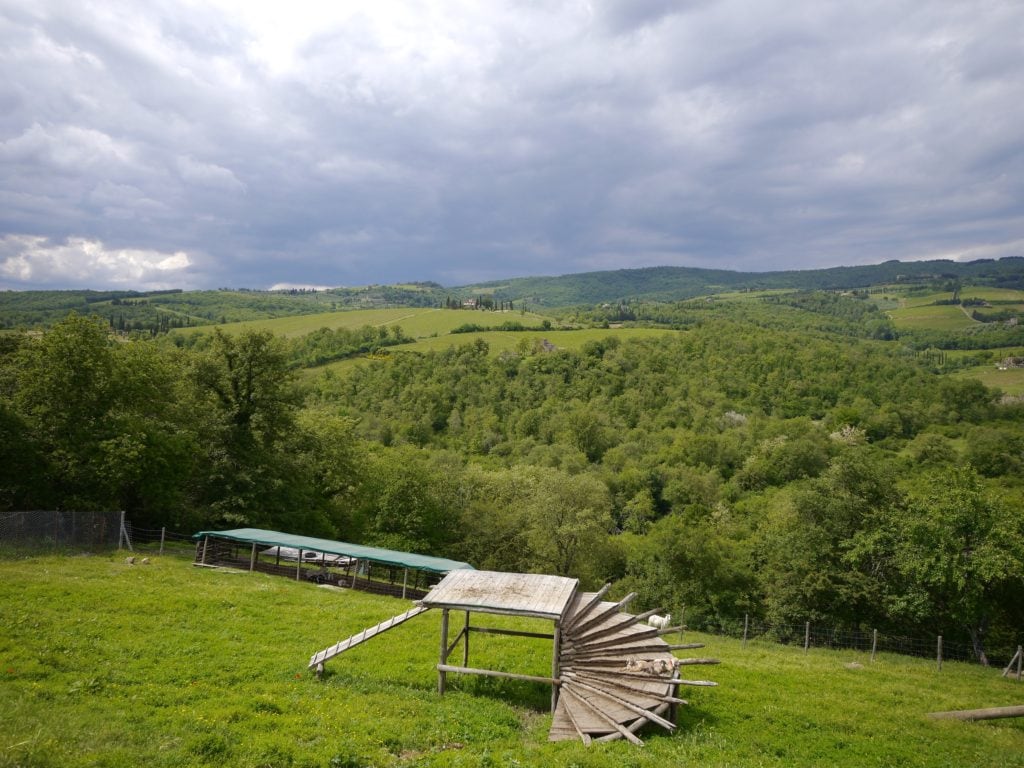 Nora is very concerned about diseases being transferred across countries so she also spends time testing fibers from other countries to understand the risks and also advising other governments on how to improve their practices. But diseases are not the only problem with cashmere, fake fibers being sold as cashmere are a greater threat.
In order to control the authenticity of cashmere, 100 of the largest producers of cashmere in the world like Italian Valentino or Loro Piana decided to finance the Cashmere and Camel Hair Institute, an international institution devoted to testing the authenticity of cashmere sold in the world. The CCMI found that 86% of the fabric sold as cashmere was not actually cashmere but all sorts of other equally fine wool, from fine sheep hair to even human hair.
Sharing cashmere goat stories around the table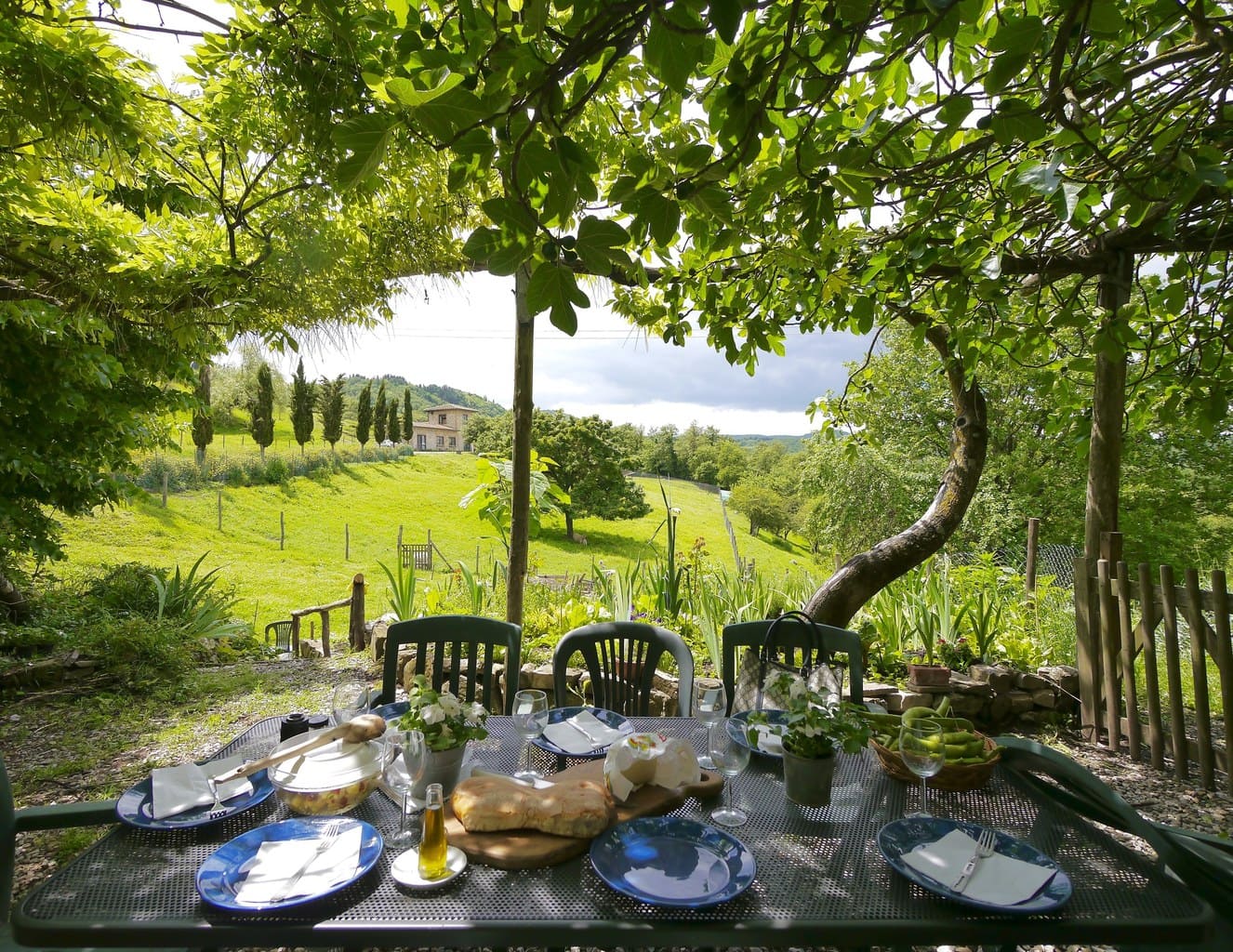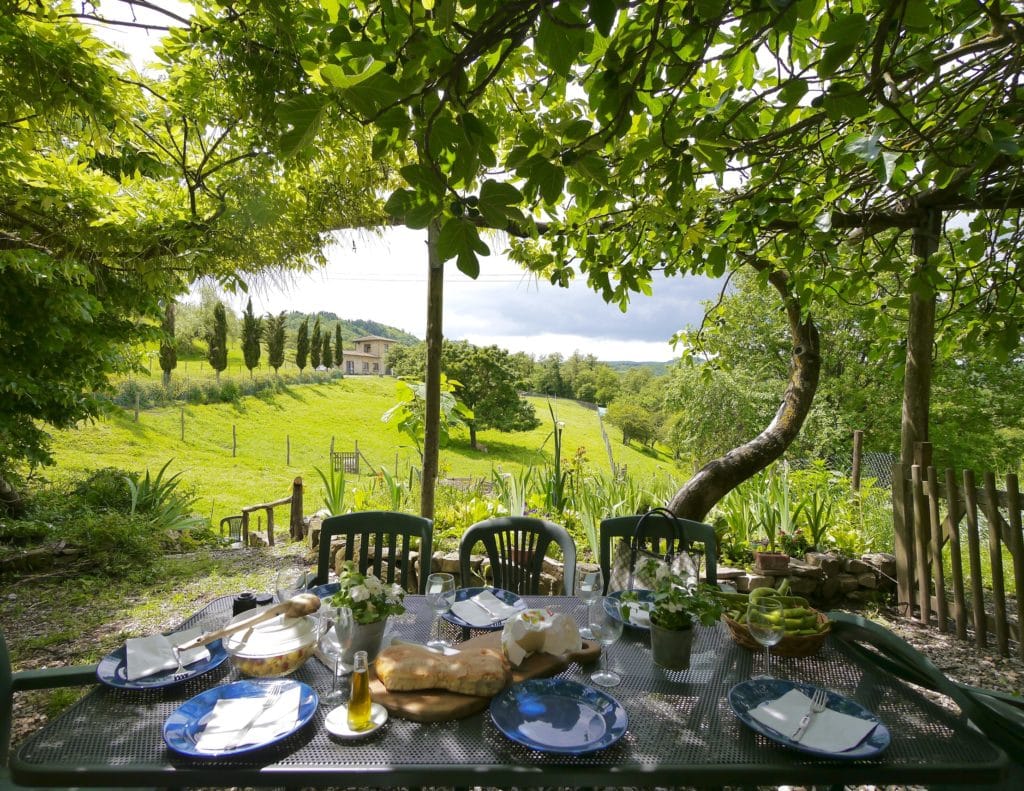 We talked goats and sustainable farming with Nora and her friend Christine over goat combing and lunch under the shaded patio. We plucked lettuce from Nora's garden, picked up a few green faba beans from the vine, cut some pecorino cheese and enjoyed a wonderfully fresh lunch of potato salad with sun dried tomatoes, Tuscan bread and fabulous olive oil as the sky turned grey and blue in a moody spring day. The meal ended with strawberries, so sweet and gorgeous looking. A dessert we had at almost every meal as they were in season.
Nora's life was anything but the quiet and peaceful life of a goat herder. She organises and attends conferences, she investigates genetic development and she even participated in a development program financed by the US Government in Afghanistan to improve management practices in cashmere goats raising. She has more recently been contacted to carry out a similar project in Nepal.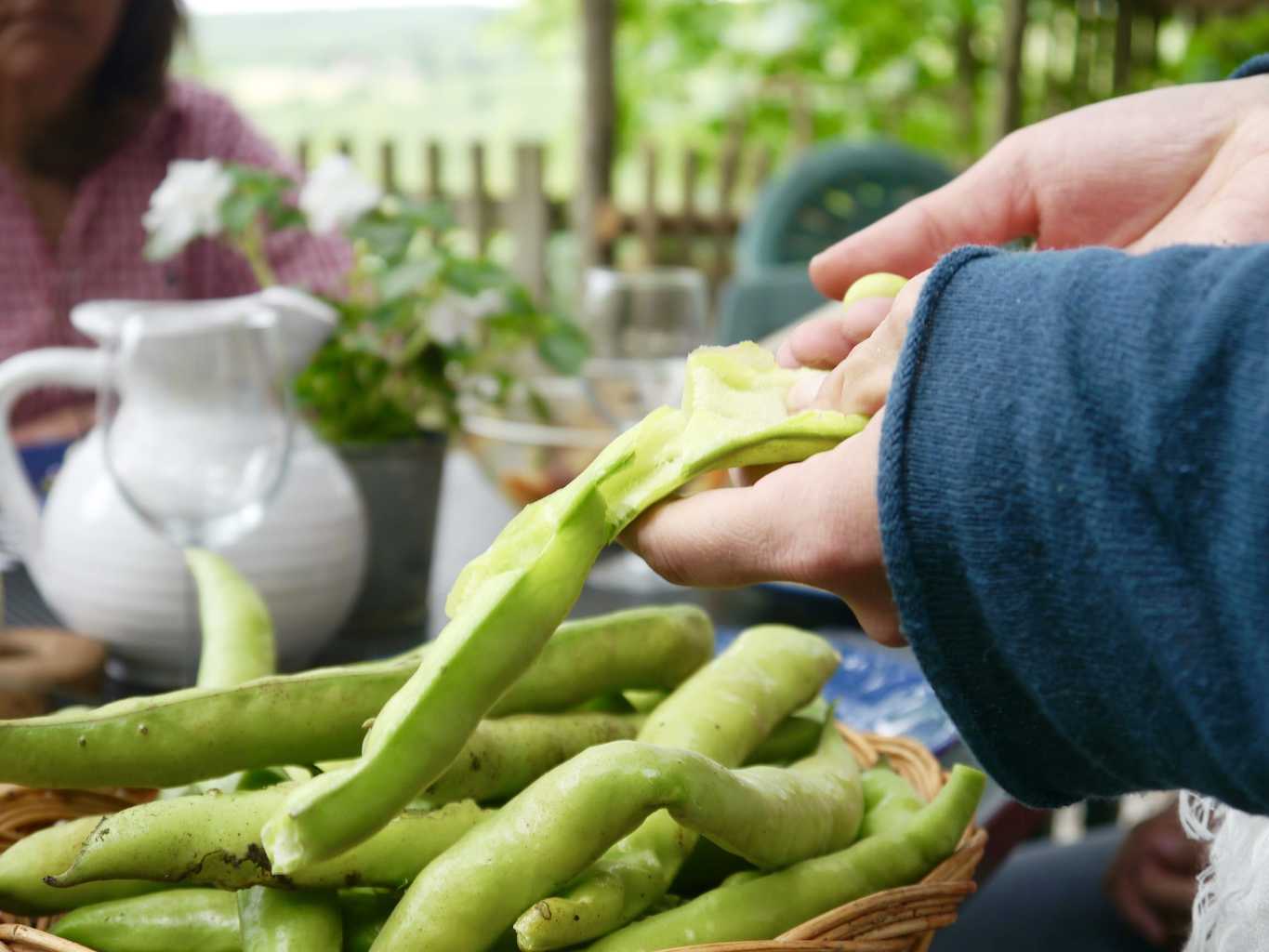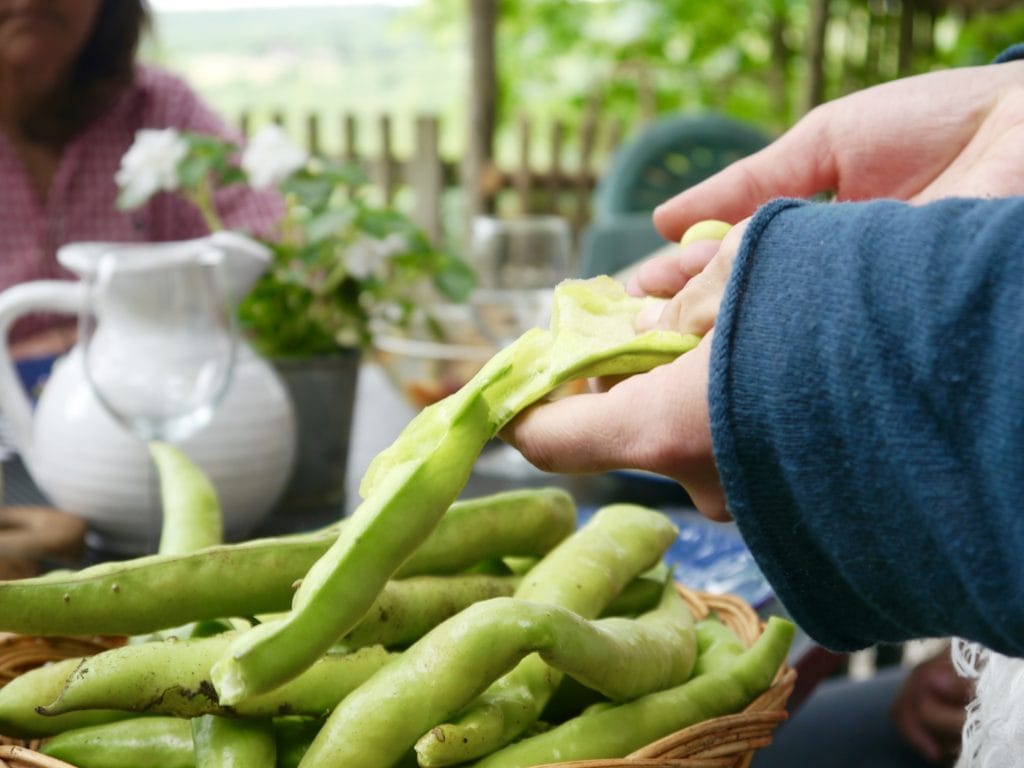 But the Afghan project is one which got her on TV at the BBC and other US channels when scandal broke about mismanagement of the project's money. The headlines hit Washington earlier this year. The project involved ten of Nora's goats which she traveled with to Afghanistan's northern province in order to improve the genetics of the goats Afghan herders had and move up the value chain from purely raising goats to producing the final cashmere product.
But she soon realised that everyone in the project was getting kick backs and that management malpractice was rife so she decided to abandon the project, not without fascinating stories about her journey through Lufthansa's Animal Lounge in Frankfurt, a terminal devoted to the transport of wildlife across the world, from polar bears to giraffes or goats.
110 million animals, mostly cats and dogs, pass through the terminal every year, that is almost twice as many as human passengers. Lufthansa does not transport dolphins or sharks and does not allow for the transport of any animals caught in the wild, unless they are being sent back home, like the two black rhinos that will be transported from the Frankfurt zoo back to Swaziland for reintroduction into the wild.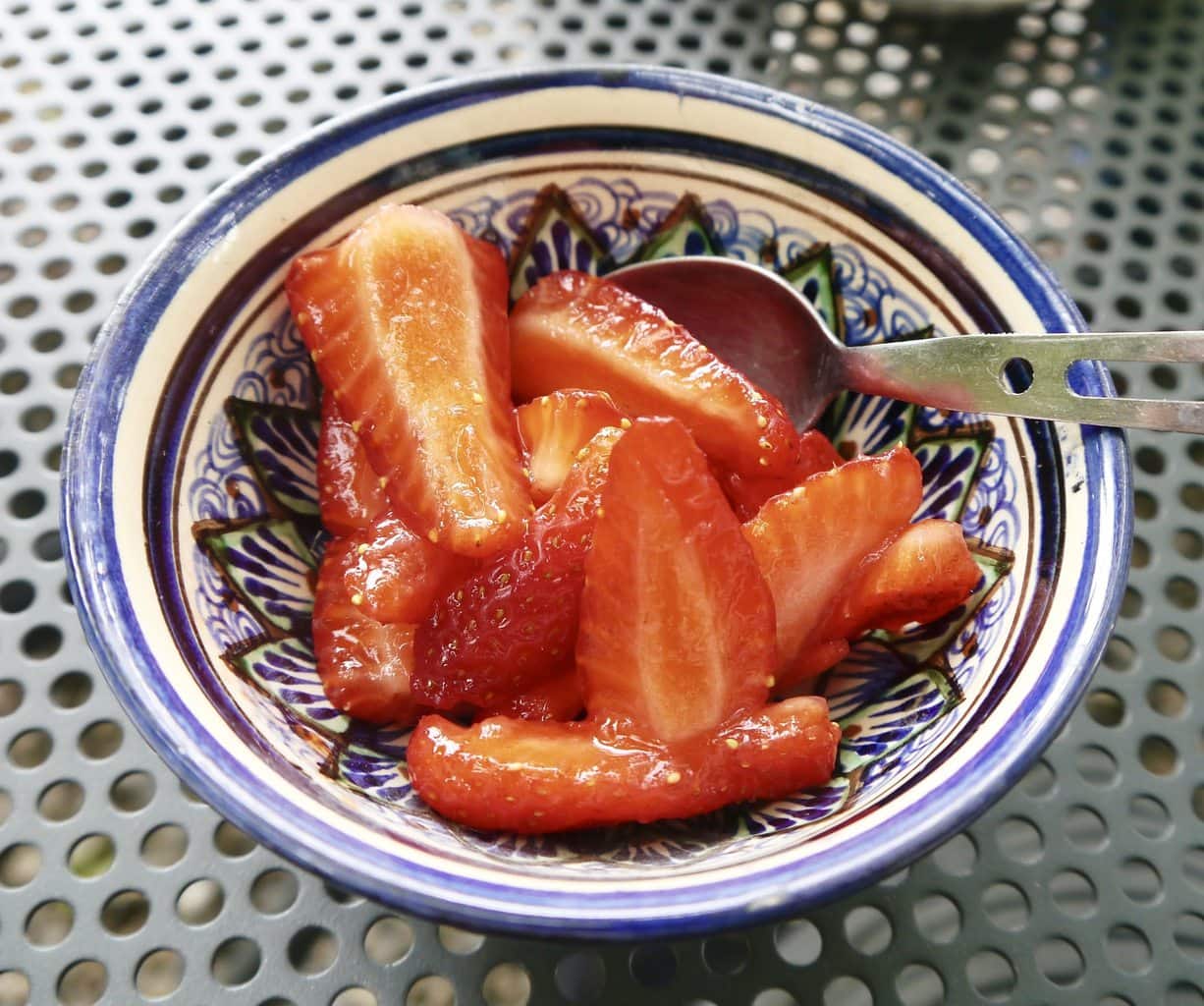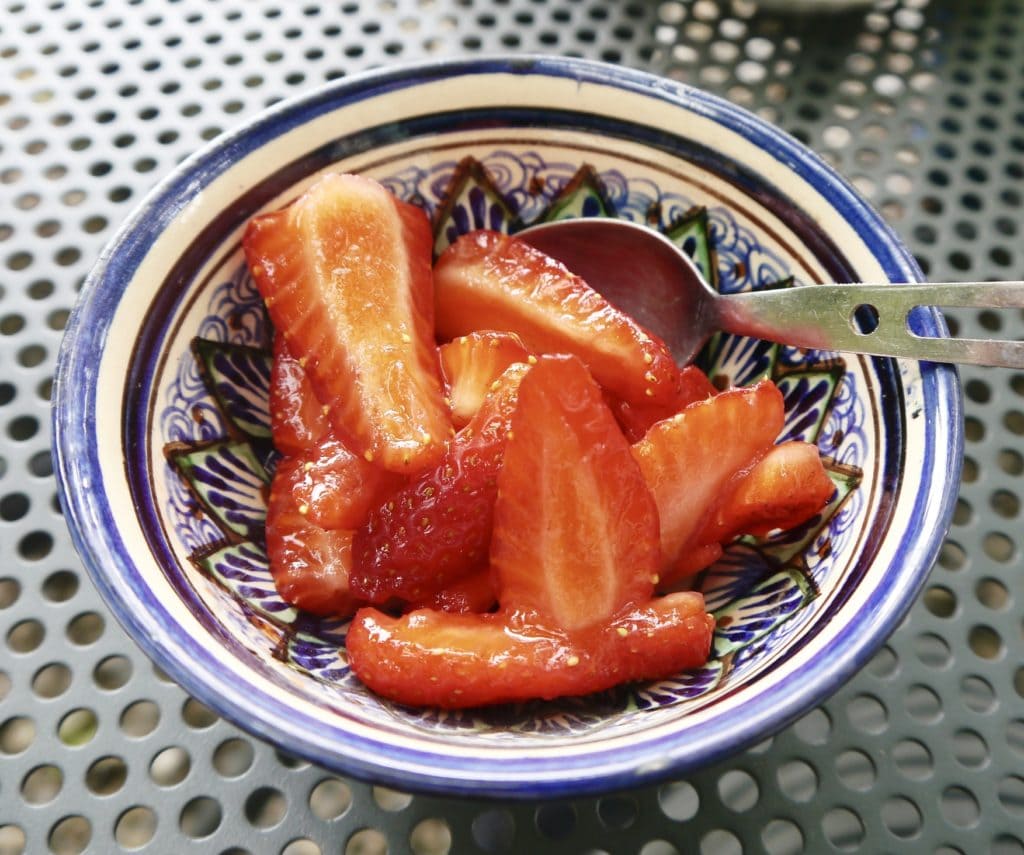 Cashmere wool: yesterday, now and tomorrow
Visiting Nora's goats gave me a renewed point of view on rural development. Nora lets the goats graze freely on reclaimed agricultural land which she is recycling with the free and organic grazing of the goats. Because they roam freely and naturally, the goats are happier and the cashmere wool finest. Nora's goats did indeed look like they were having a great time jumping and playing in the vast green fields. And they were adorable.
As per the finished product, we purchased some incredibly soft scarves that were incredibly useful in rarely cold spring in Tuscany and we took away wonderful memories from the one and two day old goats and the new appreciation for an ancient tradition that Nora has managed to maintain in a sustainable manner.
Having grown up in the countryside and felt the reality of trying to make a living in the harsh and usually unpredictable weather conditions, it was encouraging and inspiring to see that there are alternative ways to make it work and that the impact can be widely spread across continents.