In the sixth instalment of my slow travel in Tuscany journey I talk about very special hand made biodynamic wines in Chianti. With the help of the amazing couple at Km Zero Tours I learnt, watched and tasted the sweet nectar of Chianti. For more articles on slow travel in Tuscany see the links at the end of this post.
The philosophy behind biodynamic wines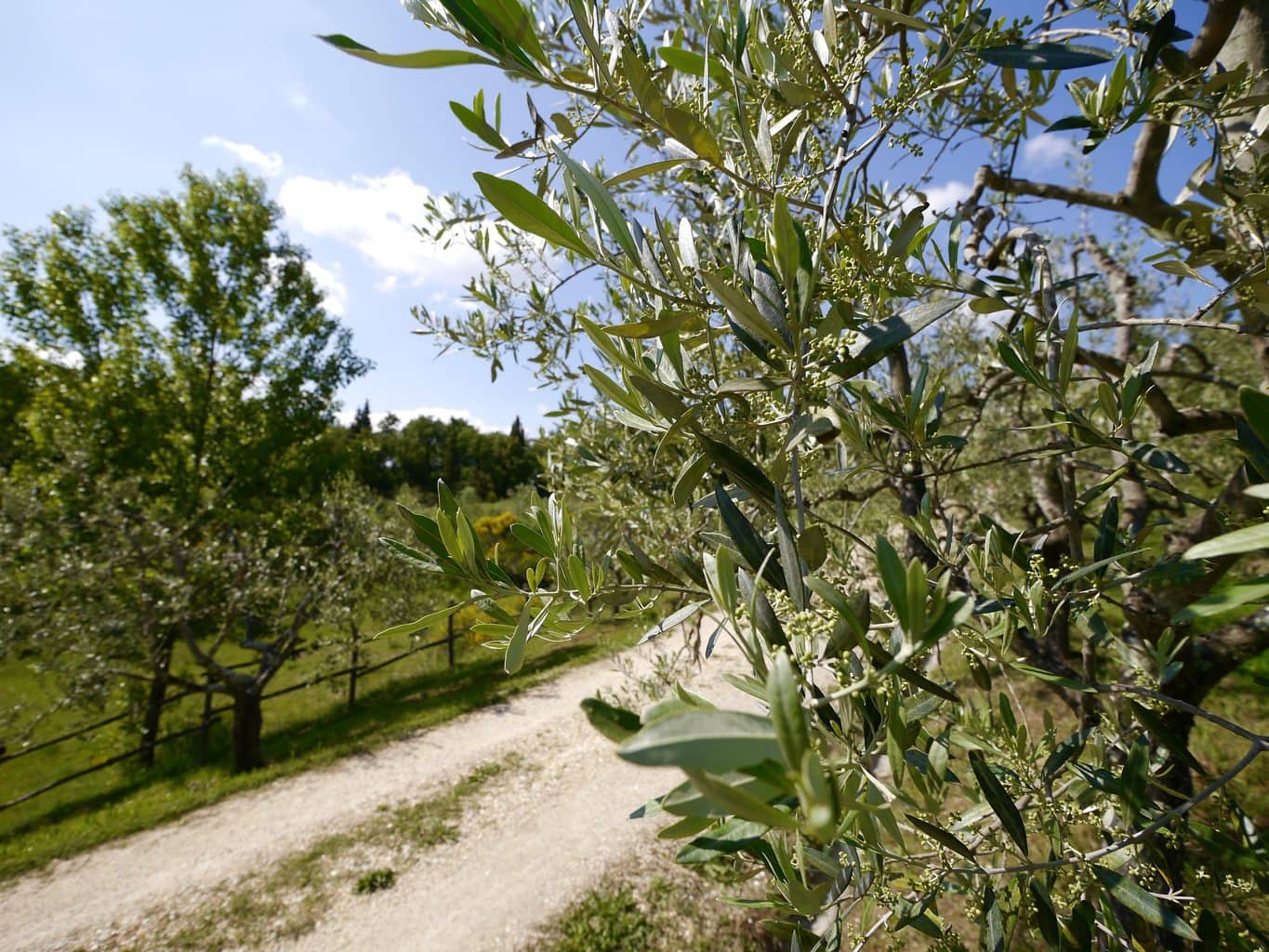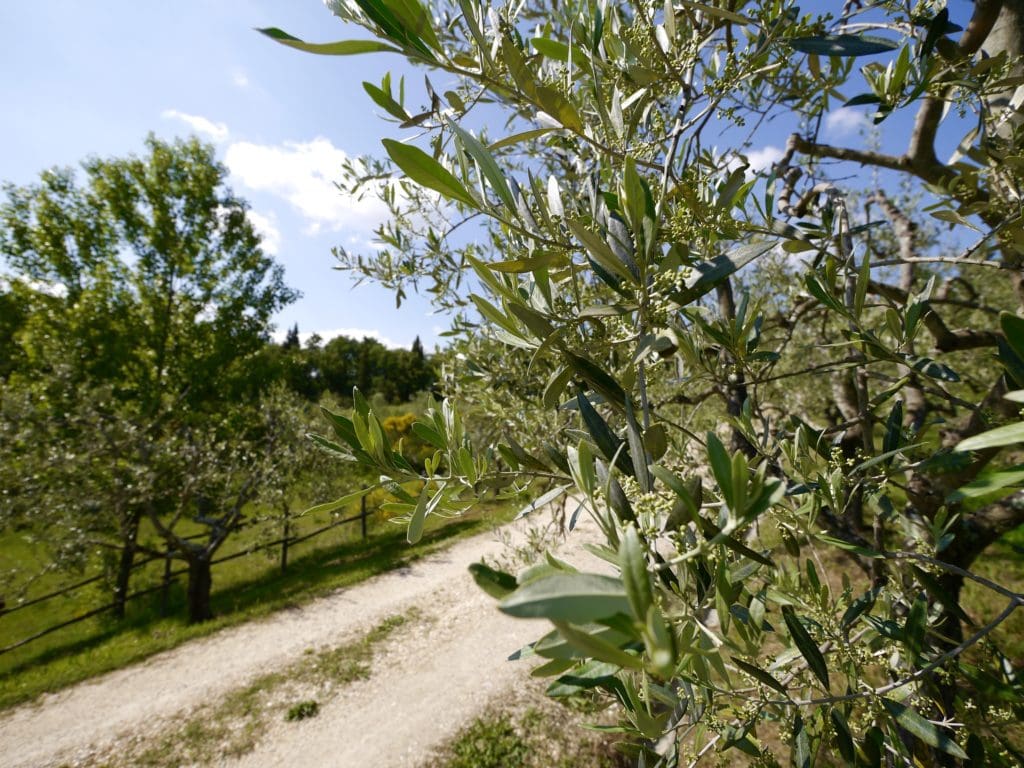 Biodynamic agriculture was a concept invented by Rudolf Steiner in 1924, well before any organic theories took momentum. Philosopher, writer and doctor, Steiner was asked by a group of farmers about his views on sustainable agriculture to which he responded with a proposal to return to a more sustainable model where no chemicals pesticides or fertilisers were used.
His approach went a step further suggesting that a farm be a self-sustaining organism where manure and food for the animals would be available, and for all the farm work to align to the moon cycles. This is one of the most relevant parts of biodynamic thinking and the visible difference with organic farming. This and the very odd "500 series" materials that need to be applied to the soil, involving in many cases, cow horns as vessels.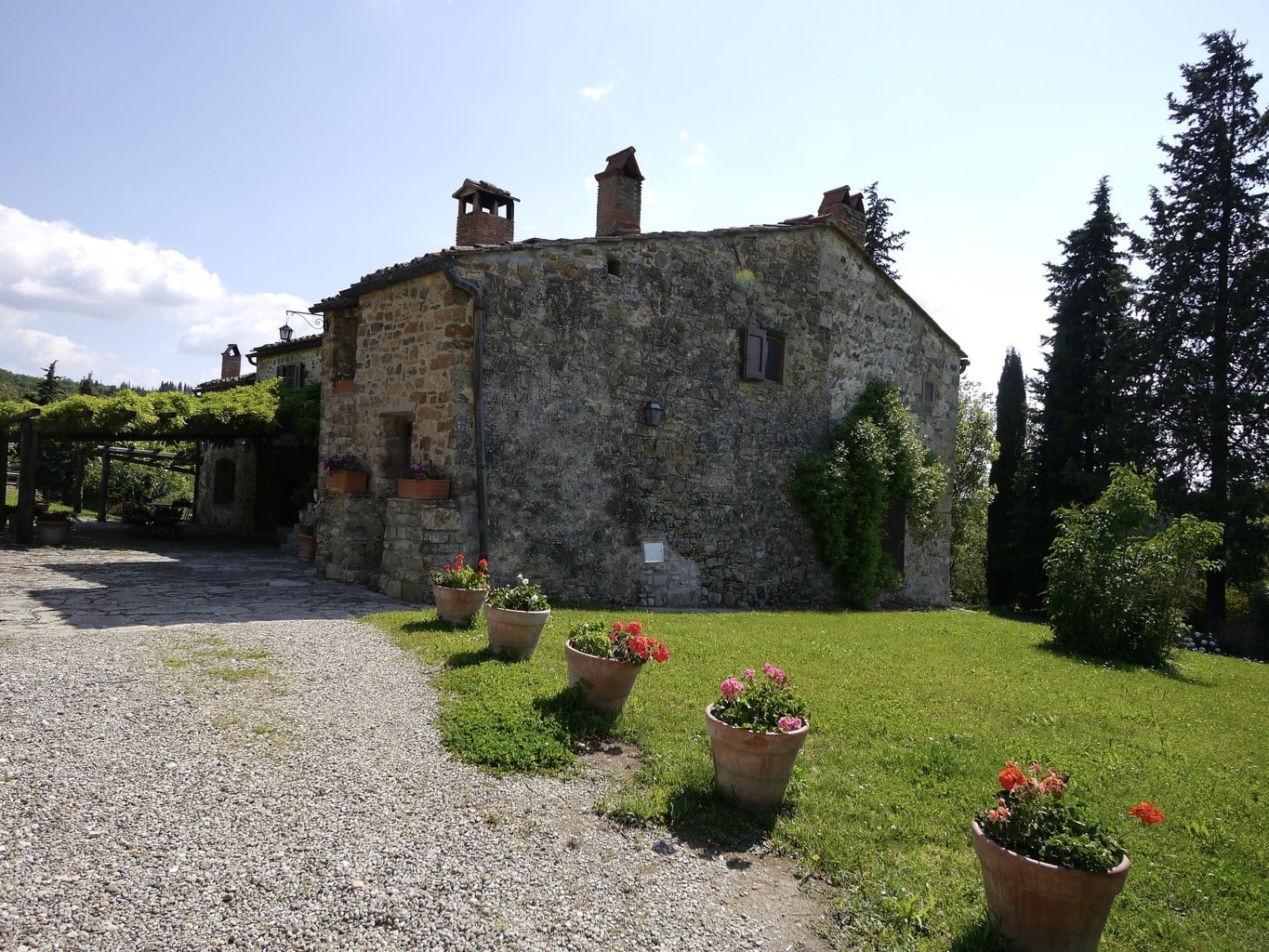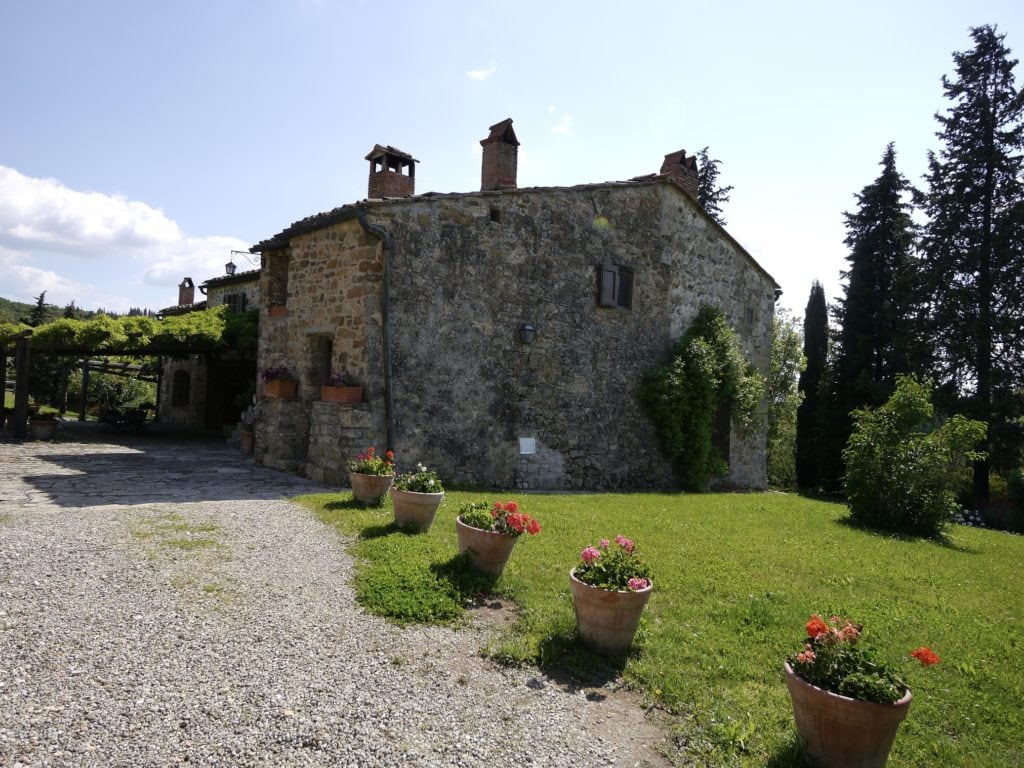 Biodynamic wines have started to pick up in both Old World and New World but most wine lovers need to take the winemakers word for it. Although organic wines are eligible for certification in most countries, biodynamic wines are yet to have a common framework and not all "500" preparations recommended by Steiner are always applied by the wine growers and makers.
Some of the preparations include flowers, cow manure, intestines, bladders, stinging nettles, flower juices or horsetail always buried in the soil and dug up at different times of the year for their contents to be mixed with water and sprayed or sprinkled on the vineyards.
As a well known and pioneer Slow Travel region, one would expect Tuscany to be home to a few proponents of biodynamic wines, Marco and Podere Erica is one of them.
Podere Erica biodynamic wines in Chianti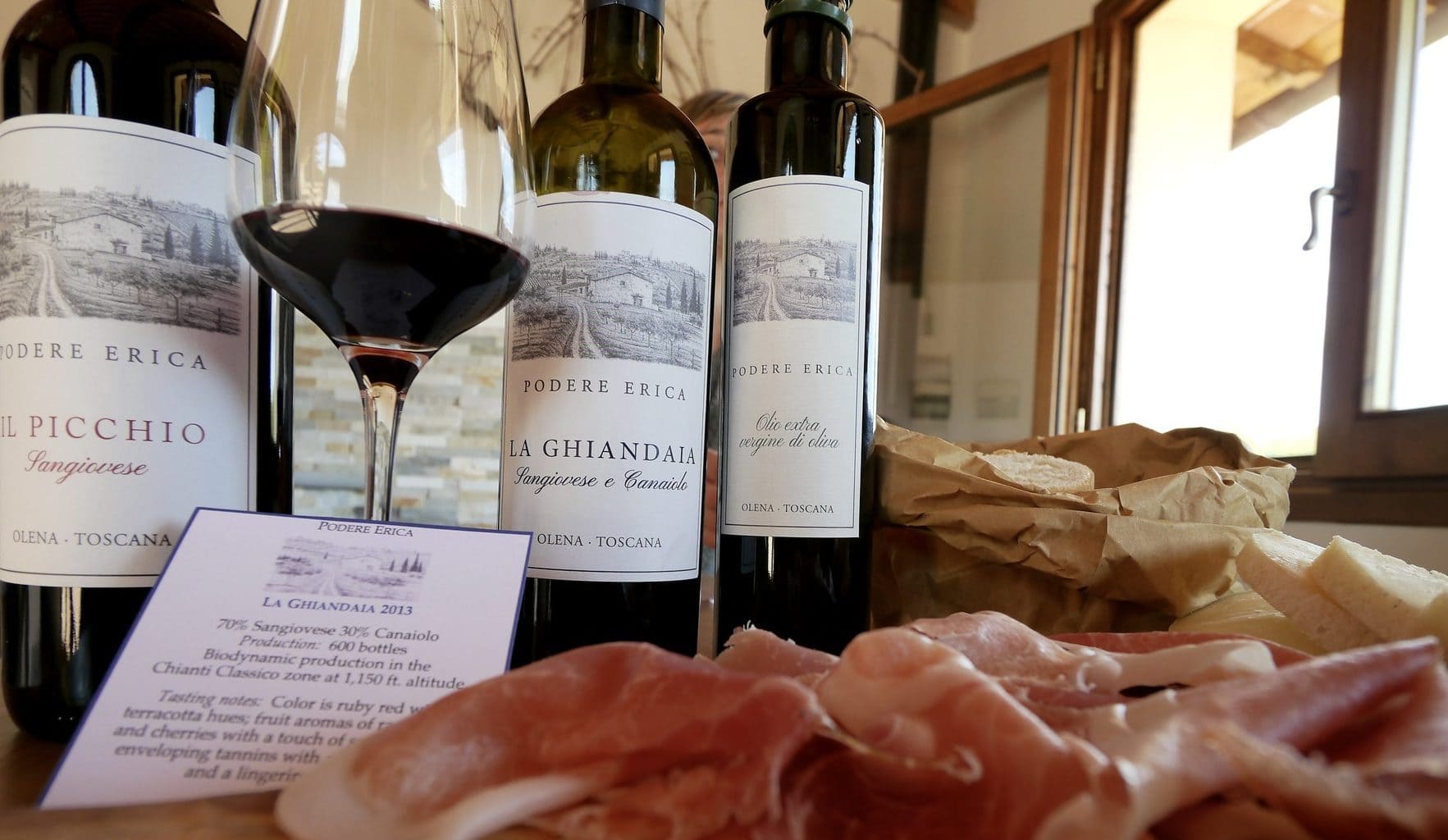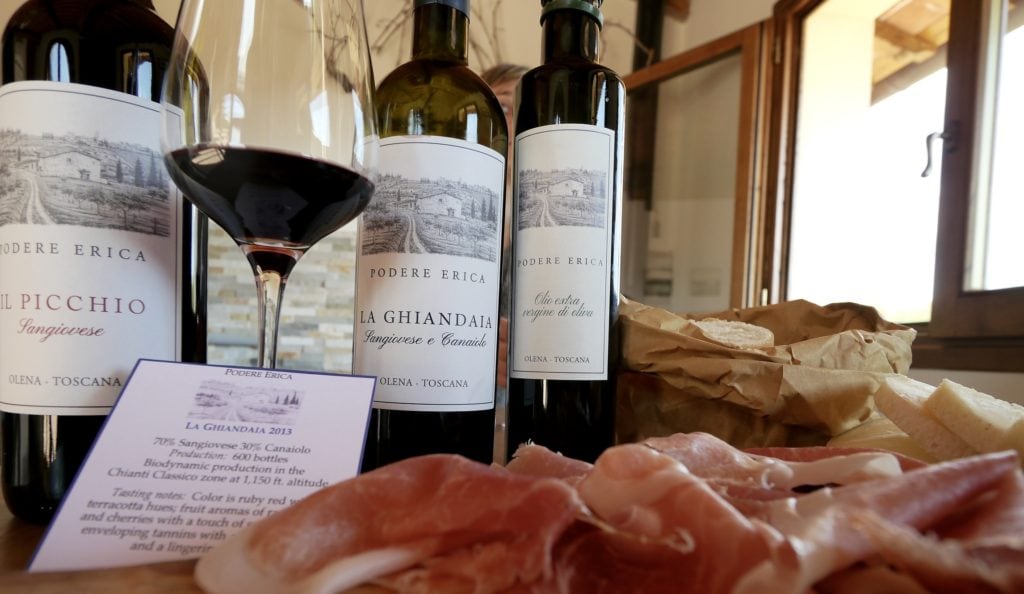 We had been spending a glorious time in Tuscany when our last visit arrived. This time, it was the tiny biodynamic winery at Podere Erica.
He who works with his hands is a labourer, He who works with his hands and his mind is an artisan, He who works with his hands, his mind and his hart, is an artist" St. Francis of Assisi.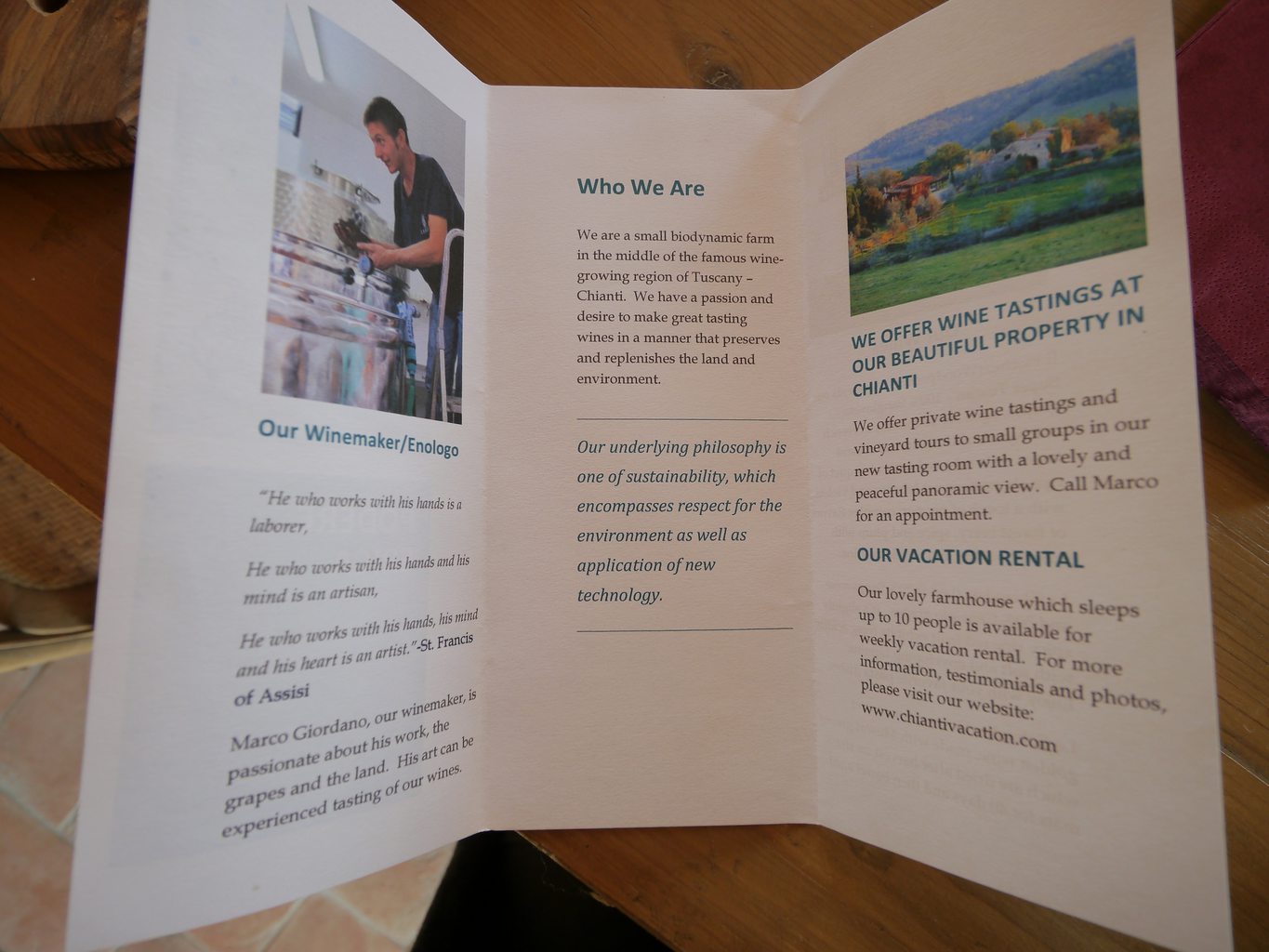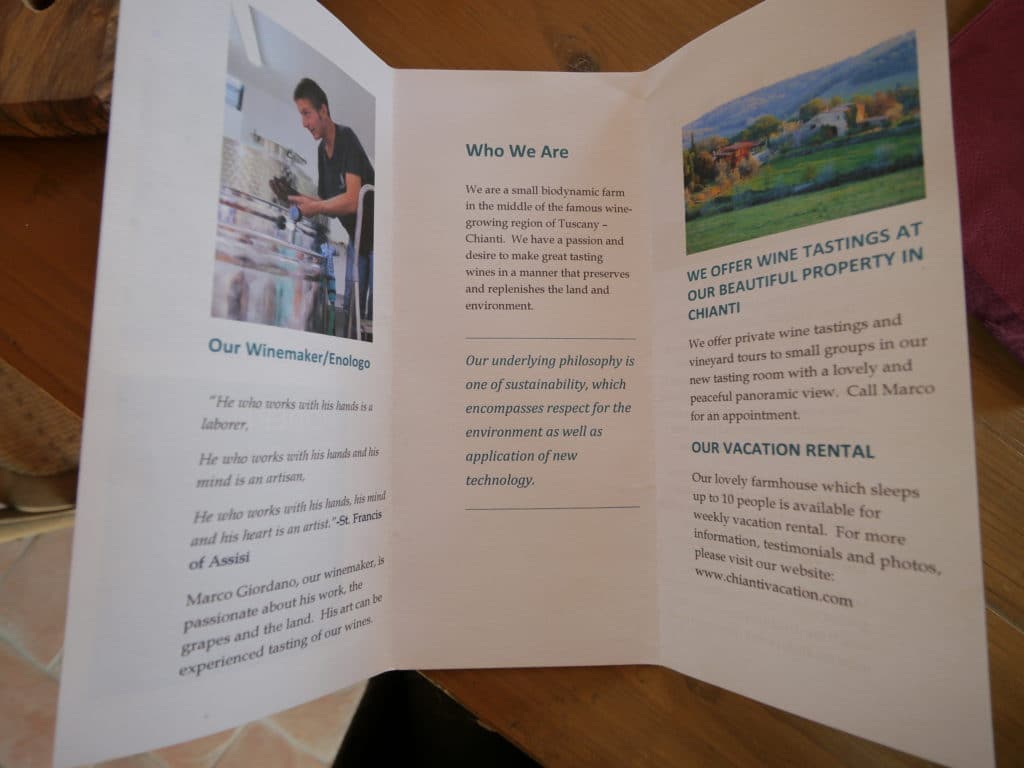 A farmhouse owned by an American couple from California beautifully resting on 30 acres of vineyards and olives cared for by winemaker Marco was the centerpiece of our last memory. Marco planted only one hectare of grapes and started making wine almost by hand. He takes care of the vines, prunes them, follows biodynamic wine principles, picks the grapes, processes them and ages them in two small rooms under the tasting room on a building next to the main farmhouse at Podere Erica.
Most wineries produce several cases a year. Some can be quite boutique, but they still need to produce a minimum amount to make it worth the investment and the work. Marco started making wine out of love and passion for the land. Being a qualified wine maker, he asked the owners of Podere Erica to let him test some ancient traditions and make truly hand made wine. He produces only 1,850 bottles of wine a year of three different types.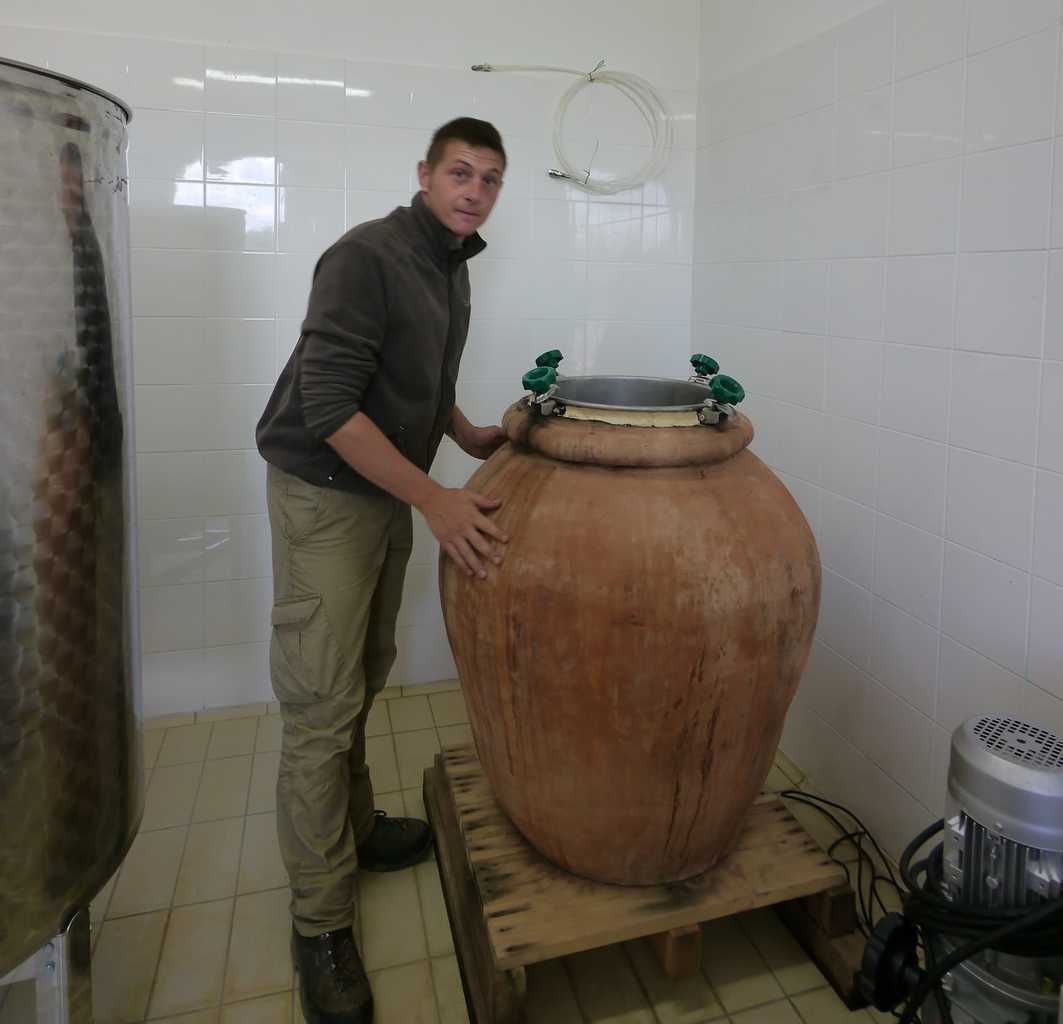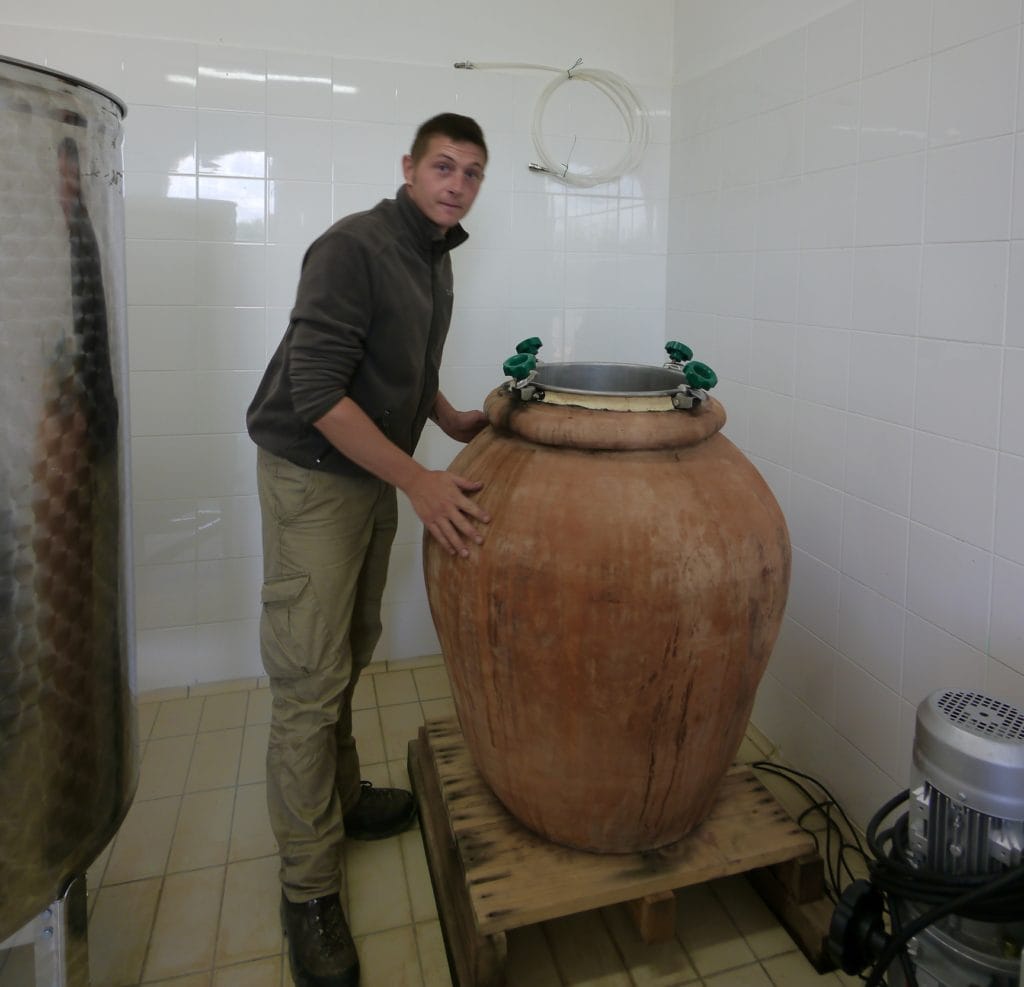 Le Colonbe 2013 is a 100% muscat dessert wine. Being a sweet wine you would think that a little is enough but it was in fact a very drinkable wine with floral and fruity aromas and honey apricot palate. Marco lets the grapes partially dry on mats after picking them up.
As Podere Erica is in the Chianti region most of the grapes Marco planted were of the traditional Sangiovese variety and are used to make Il Picchio, the woodpecker, a 100% Sangiovese Chianti Classico wine aged for 18 months in French oak barrel and cement tanks.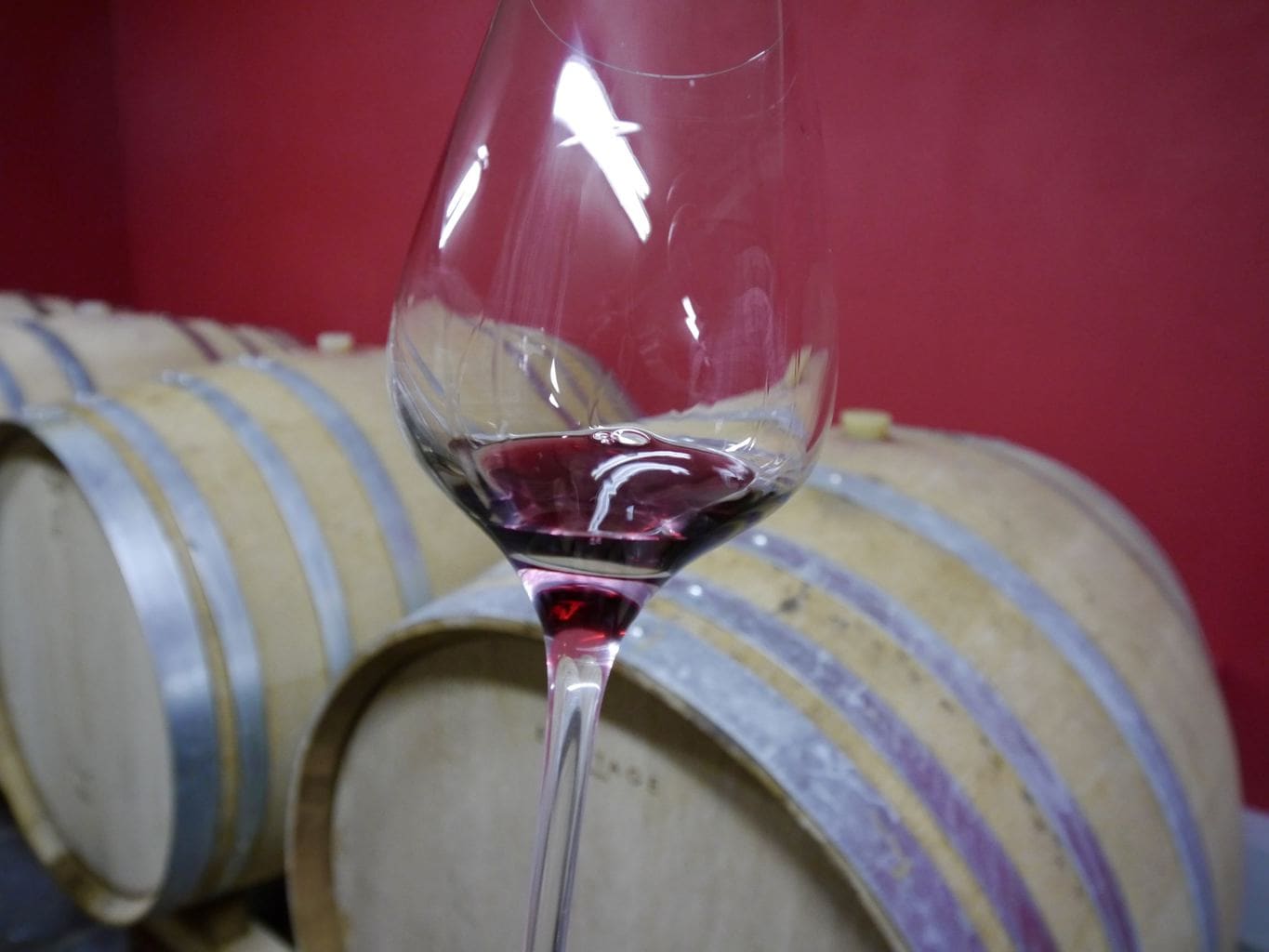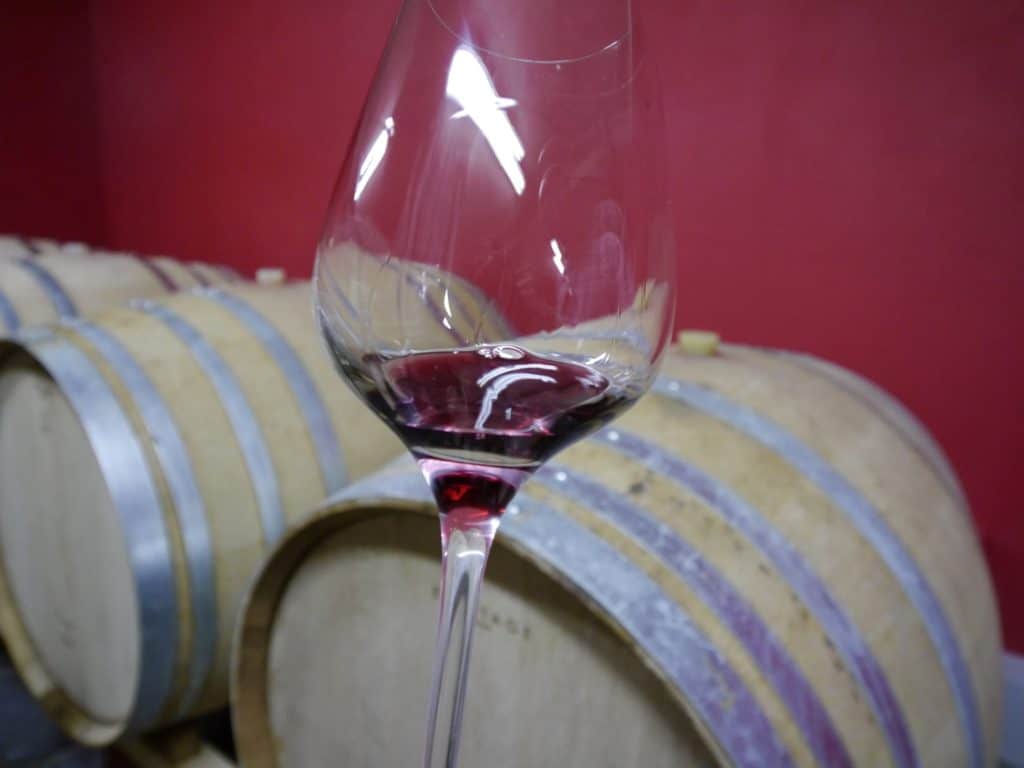 Marco also produces the typical 70% Sangiovese and 30% Canaiolo wine which is lighter and goes well with typical Italian staple dishes like pasta.
All of Marco's wines were amazing. After having visited 15 wineries across Spain and Italy and tasted several dozen wines during the week prior to our visit, I must admit Marco's hand-made biodynamic wines were some of the best. He experiments with cement tanks, ancient glass bottles, terracotta jars and other interesting ideas. He lets the skins soak with the juice for up to six months and transfers the wine from steel tanks to oak barrels by hand.
The result is a personal and fabulous wine that could not have been a better companion to Podere Erica farmhouse vistas over the Tuscan hills and Medieval towns.
The power of good wine and food to bring us all together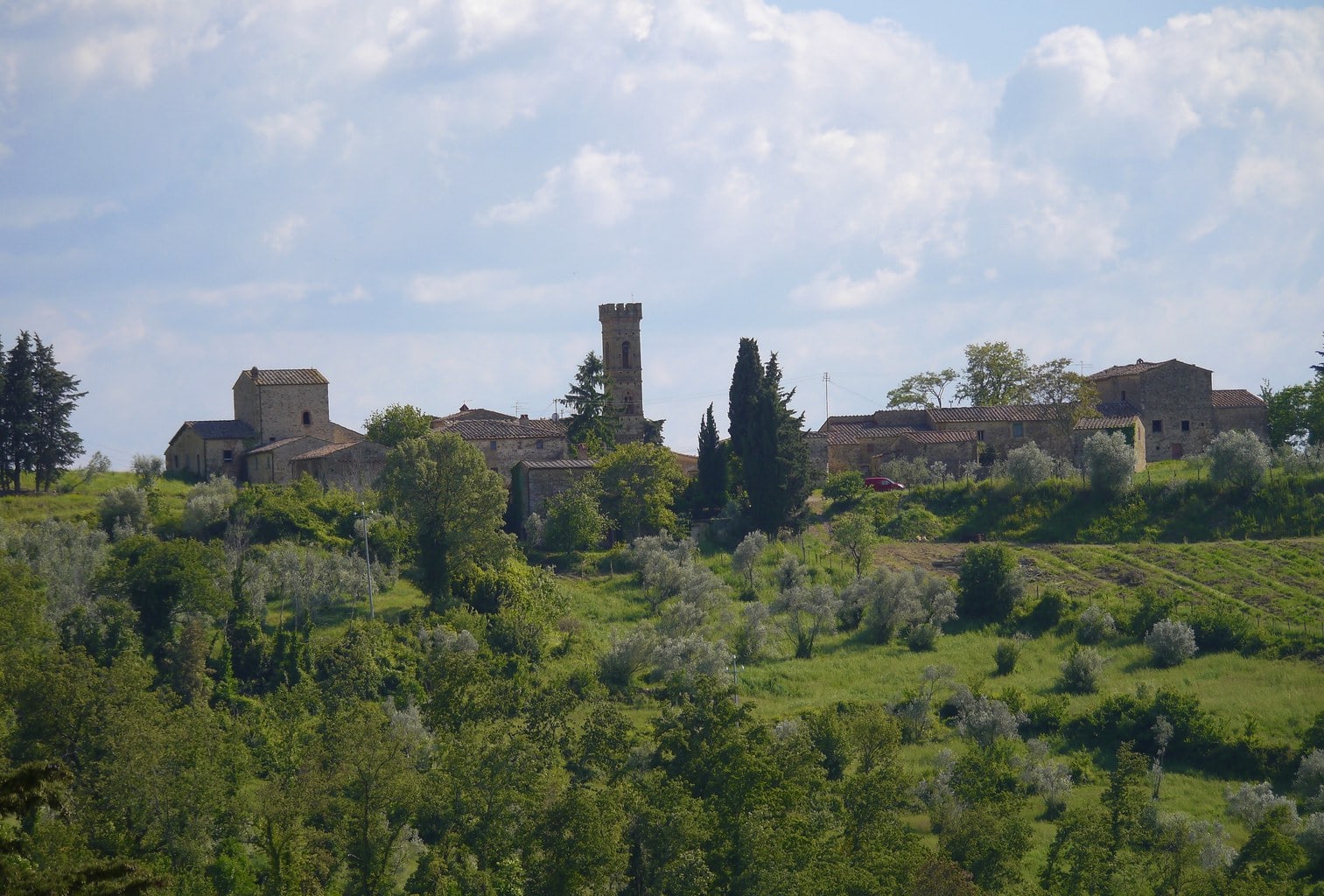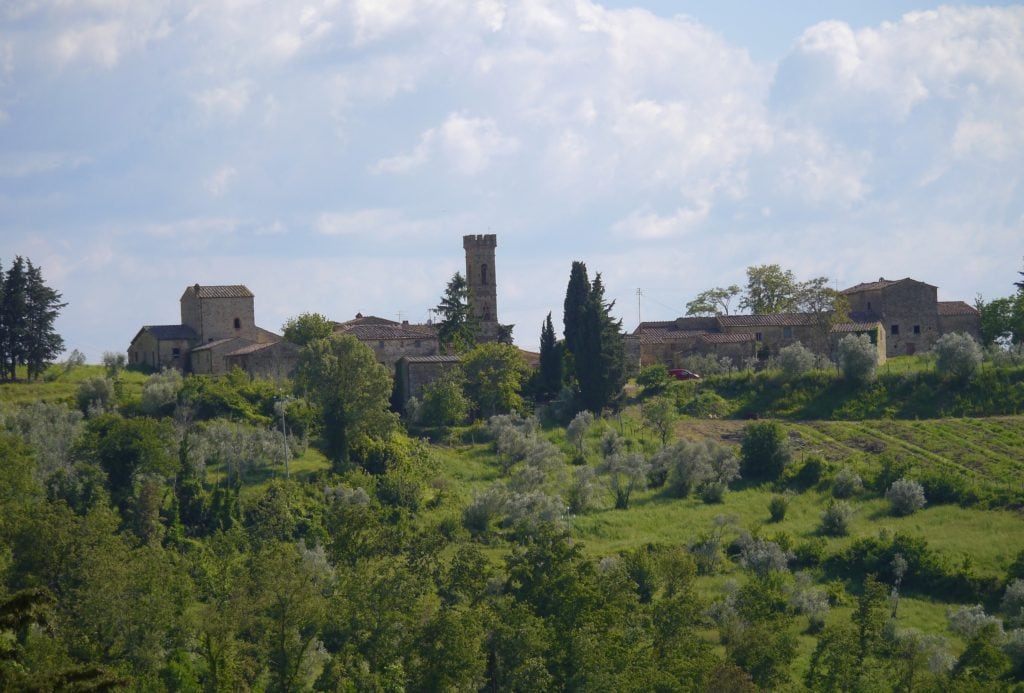 Sitting in his newly opened tasting room, above the winery, with wrap around wood framed windows as the sun started to go down, we laughed and chatted over bottles of wine, large chunks of cheese and parma ham. There was some of the bland, by that time lovable, Tuscan bread and Marco's extra virgin olive oil, bottled and sold under the Podere Erica brand and a group of friends around the table. Wine brought us together and this could not have been a better way to end our Slow Travel journey through Tuscany.