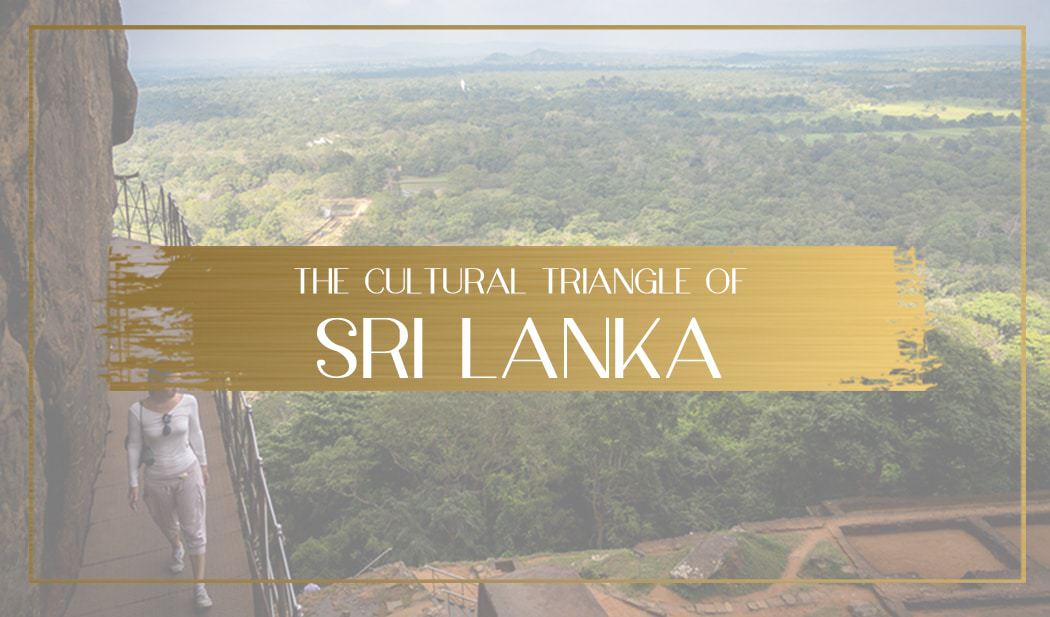 This itinerary for 4 days in Sri Lanka covers the Central-North part of the country and six of its UNESCO sites otherwise known as Sri Lanka's Cultural Triangle or Sri Lanka's Golden Triangle.
How many days do you need in Sri Lanka's Cultural Triangle?
A lot of people ask me that question. Although my itinerary in the Cultural Triangle covered the five UNESCO listed sights in that part of Sri Lanka in four very packed days, it would have been much better to do this over a week so you have some time to enjoy the gorgeous hotels and add in an early morning safari in Yala or Wilpattu National Park. This would be my suggestion for a one week itinerary in Sri Lanka's Cultural Triangle.
Day 1 in the Cultural Triangle: Colombo to Anuradhapura. Sleep at Ulagalla
Day 2 in the Cultural Triangle: Visit Anuradhapura. Sleep at Ulagalla
Day 3 in the Cultural Triangle: From Anuradhapura to Polanaruwa and relax by the hotel. Sleep at Kalundewa Retreat
Day 4 in the Cultural Triangle: Visit Polanaruwa and drive to you next hotel. Sleep at Elephant Corridor Hotel so you are near the majestic Rock
Day 5 in the Cultural Triangle: Get up early and climb to Sigiriya to see the sunrise then visit Dambula Cave. Sleep at Mandukelle Tea and Eco Lodge
Day 6 in the Cultural Triangle: Explore the tea plantations. Sleep at Mandukelle Tea and Eco Lodge
Day 7 in the Cultural Triangle: Go on treks around the UNESCO listed Central Highlands of Sri Lanka and learn more about tea. Sleep at Mandukelle Tea and Eco Lodge
Day 8 in the Cultural Triangle: Visit Kandy's Monastery and Tooth Relic on your way back to Colombo
Best time to visit the Cultural Triangle in Sri Lanka
If you are looking to find the best weather in the Cultural Triangle, you should visit from January to May when there is less rainfall across the country. Remember that Madulkele and Kandy are at 2,000m above sea level so temperatures at night can drop. These are also the peak months of the year so prices will be higher and hotels, especially the ones mentioned in this article, will book out soon as they are mostly boutique hotels.
Below you can find a graph with the monthly average temperatures and the days with rain in Anuradhapura, scroll down for Madulkele.
Below you can find a graph with the monthly average temperatures and the days with rain in Madulkele.
The above graphs come from this site which has all the info on the weather in Sri Lanka per month.
Summary of my 4 day itinerary in Sri Lanka's Cultural Triangle
Before we begin with my detailed 4 day itinerary in the Cultural Triangle, here is a summary by day and a map of the Cultural Triangle with the 5 UNESCO listed sites so you have an overview of where everything is in this 4 day itinerary.
Day 1
Day 2
Day 3
Day 4
Day 5
Arrive in Colombo and check-in at your hotel. If you have time, take a walk along Galle Face Green and sample local flavors
Get up early and start your drive to Anuradhapura. Visit the ancient civilization, the first one to inhabit Sri Lanka and take it all. Make sure to visit Boddhi Tree, said to descend from the tree under which Buddha attained enlightenment and believed to be the oldest human planted tree in the world
Wake up in your own jungle villa to the sound of the birds and set off to Polanaruwa, the next capital of the Sri Lanka Kingdom after the demise of Anuradhapura. Have a look at the remaining ruins and the large Buddha statues carved out of solid rock. Relax at your hotel for the night
Sigiriya is one of the most famous sights in Sri Lanka and the most visited. Get up early to go up the 300m rock before the crowds and the heat arrive. The views from above are impressive. In the afternoon, Dambulla offers a glimpse into the most colorful caves in Asia. Drive through tea plantations and jungle up to Mandulkelle Tea and Eco Lodge, one of the most breathtaking properties in the country
Slowly return to Colombo via Kandy where you can visit the Monastery and Tooth Relic. Kandy is a refreshing and bustling city favorite of the British colonialists. Wander the Botanic Gardens before driving back to the airport
Itinerary of Sri Lanka – Day 0: Arrival in Colombo
As this is a Sri Lanka 4 day itinerary, the first day is only arrival. Many of the flights land in the evening so chances are you will just be arriving in Colombo, recovering from any jetlag, enjoying a meal and perhaps a drink and getting a sound night sleep. If you have any more time the most fascinating part of the city, to me, was Galle Face Green, the large and long expanse of greenery, people and stalls along the seafront adjacent to the Galle Face Hotel. There are children playing cricket, families taking a stroll, lovers holding hands and a variety of stall owner offering all sorts of snacks and local foods. Plus kites flown above. The beach is not nice per se and you cannot swim but it is lively and happening.
I have written an extensive guide to Colombo if you're staying a bit longer. You can read it here.
Sri Lanka Cultural Triangle itinerary –
Where to stay in Colombo
Colombo has a multitude of hotels to stay at and more and more are opening every month as the country experiences a real boom. If you land late and can't be bothered to go into town, a beautiful place to stay near the airport is the colonial and luxurious The Wallawwa.
If you have time and prefer to get into town Galle Face Hotel is a local institution and one that has been there for over a century. Galle Face Hotel is in the same history table as The Raffles Singapore, which you can read about here, though perhaps a little less grand and well maintained. Located at the end of Galle Face Green, this grande damme of the 19th century was once considered the best hotel East of Suez Canal. First starting as a Dutch House, it was turned into a business by four Englishmen. Galle Face Hotel remains a family business ran by the grandson of the original owner. You want to ask for a room in the recently refurbished North Wing and enjoy egg hoppers for breakfast, in the courtyard and a long drink hearing the sound of the waves. Check latest prices here and my full review here.
Itinerary of Sri Lanka – Day 1: The ancient Kingdom of Anuradhapura
As you only have 4 days in Sri Lanka, you'll want to get up early, like 7am, so you can enjoy a leisurely breakfast, ideally featuring Sri Lanka's famous egg hoppers and then jump on the car to Anuradhapura by about 8-ish. The drive will take about four hours and the roads are in perfectly good state. Ask your driver to stop for drinks or a bathroom break along the way.
You should arrive at the Sacred city of Anuradhapura by midday and should first enjoy lunch at Tissawewa Hotel. A good serving of Sri Lanka's curry and rice dish will give you plenty of energy. They prepare everything fresh so it takes half an hour to get the food. In the meantime you can relax on their outdoor chairs under the courtyard fans.
The hours between noon and two in the afternoon are the hottest so it is best to avoid them. At around 1pm head to the Folk Museum or the Archeological Museum and ticket office of Anuradhapura complex to get tickets. All UNESCO sites in Sri Lanka cost between USD30-40 per person, quite a steep amount. There are guides around ready to be hired. Although not necessary, without them, you are bound to miss half of the legends, the stories and the tales. A guide should cost you about 1,500 rupee after negotiating. The entire tour will take 3 hours. Bring socks to walk around the temples as the marble and rock with which they are made literally burn under the blazing sun and you will have to remove your shoes. Read more about Anuradhapura here.
Sri Lanka Cultural Triangle itinerary –
Where to stay in Anuradhapura
After Anuradhapura, head to your lovely hotel to see the sunset over the rice paddies. For tonight, I would highly recommend staying at Ulagalla, one of the most romantic and beautiful hotels I have ever stayed at. Francisco and his team will make you feel like visiting a long lost friend who escaped urban life and retreated to the peace of Sri Lanka's rice fields. The hotel is made of 18 villas set among lush jungle and foliage and located in perfect isolation and privacy. Get ready to enjoy the outdoor jacuzzi and a romantic dinner under a blanket of stars. Be sure to call ahead to book one of these romantic experiences in advance. Aside from the more "standard" dinner by the pool the hotel can also arrange a special meal in the rice paddies or on the observation deck from where sunset will be unforgettable. Not to be missed. Check latest prices here and my review of the property here.
If Ulagalla is a bit out of your price range, Cinnamon Lodge is a more affordable alternative offering colonial architecture and the professional service of Cinnamon properties. Check latest prices here.
Scroll down for Day 2
Read more about my 4 days in Sri Lanka's Cultural Triangle in the below articles
Sri Lanka Cultural Triangle itinerary – Day 2: The Medieval Kingdom of Polonnaruwa
I won't blame you for wanting to lay in bed until a bit later, enjoy Ulagalla's pool or even an early morning yoga class or one of their massages. The hotel offers a wealth of activities including kayaking in the nearby lake or archery. They even have horses in house. So wake up a bit later to the sound of the chirping birds and the noise they make jumping from tree branch to tree branch and enjoy a lazy breakfast for your Cultural Triangle Sri Lanka stay.
When ready, leave Anuradhapura behind and head to Polonnaruwa, the next ancient city, chronologically, and another UNESCO site. The drive should be between 1-2 hours depending on where you are staying so you should have lunch when you arrive. Drivers usually know where to take you in this case.
The Sri Lankan Kings retired to Polonnaruwa when Anuradhapura came under attack of the South Indian troops. Polonnaruwa therefore hosted a later civilization and so some of its ruins are better preserved. Expect to see more statues, temples and remnants of old buildings. Arrive at the Museum and ticket office and do the needful. The museum is a little better stocked than the one in Anuradhapura and will tell you a bit more. Hire a guide if you must and explore the ancient city. A lot of people decide to do so on a bicycle as the ruins are more accessible and compact than Anuradhapura. You can read more about Polonnaruwa here.
Sri Lanka Cultural Triangle itinerary

–

Where to stay in Polonnaruwa

Once you know everything there is to know, go to your next hotel for the evening. Tonight you want to stay at Kalundewa Retreat, another beautiful property in the middle of the rice fields. This is an exclusive property which has only 6 rooms and which is focused on minimizing impact on the environment. Check latest prices here.

If Kalundewa Retreat is not available, another option is Heritance Kandalama a beautiful property on the shore of a lake. Check latest prices here. Whatever you do don't stay at Jetwing Vil Uayana. I made that mistake, I booked a night in the most uncaring property in Sri Lanka. Charging over $500 the rooms were filthy with oxidized faucets, thick spider webs, cockroaches coming out of the shower when we turned on the water and unprofessional management who has yet to reply to my email with feedback.
Sri Lanka Cultural Triangle Itinerary – Day 3: Sigiriya's Palace of Pleasures
Sri Lanka's most famous and most visited place is another UNESCO listed site: the ancient city of Sigiriya. Formerly a Buddhist monastery turned into Palace of Pleasures and back into Buddhist Monastery, the 300m high rock can be climbed. Go early morning before the crowds arrive, ideally be at the gate by 8am. It will take a maximum of 45min for an averagely fit person to go up the set of stairs. Don't look dow, trust me. Once atop, take it the 360 degree view all in. But don't leave just after seeing the views, wandering around the area will be ever rewarding. As most locals and visitors just go up and down, if you take time to explore the area you will be able to enjoy peace, quietness and pure spirituality. Sigiriya is surrounded by a network of canals and dams that provided water to the city and which are believed to be the oldest irrigation system in the world, Don't miss getting lost in this labyrinth. Pay another USD30-40 per person to get in. Prices increase fast so who knows how much it will be when you visit! Read more about Sigiriya here.
Once you are done, make your way to Dambulla, another UNESCO site. Stop for lunch at one of the many restaurants on the main road in the city. Your driver will be able to recommend before walking up to the Rock Temple of Dambulla. This is one of the most impressive sights on the trip. Five caves covered from floor to ceiling with paintings and Buddha statues. get ready to be amazed. The caves are on top of a hill and, again, bring socks because the stone floors are extremely hot.
Sri Lanka Cultural Triangle itinerary – Where to stay in Kandy
After Dambulla, it is time to drive to the next destination for your Sri Lanka 4 day itinerary, and it would be great if you could make it there before sunset, so ideally you leave Dambulla no later than 2pm. Trust me on this one, once you make it to your destination for the night, you will thank me to have seen the light go down. The drive to Mandulkelle Tea and Eco Lodge, the hotel for the last night, is dramatic but it takes two hours even though the distance is only short and it is not for the faint of heart. You have never seen such breathtaking scenery and drive, especially in the last 3km to the lodge. Mandulkelle is an impressive African safari meets Sri Lanka's tea plantations in the country's most fabulous glamping lodge. The location provides some of the most impressive views and the most romantic setting I have ever seen in what is otherwise a relatively simple place made memorable by the location. You will fall in love with the place. Get the latest rates here.
Enjoy dinner under the stars and bring a jumper because temperatures drop at night in this hilltop location. Snuggle up in bed and enjoy a cup of local tea.
Scroll down for Day 4
Most luxurious and unique stays in the Cultural Triangle, Sri Lanka
Part of the Uga Escapes boutique hotels in Sri Lanka, Ulagalla is a fabulous property hidden between a lake and rice paddies. Formerly a mansion house built 150 years ago, the hotel's noble past is visible through the architecture and rich wooden carvings.
Mandulkelle Tea and Eco Lodge is a romantic getaway in luxurious tents. It is glamping at its best, with plush beds, proper bathrooms and a balcony perched above the rolling hills and tea bushes. You will not be able to take your eyes away from the epic view.
Sri Lanka Cultural Triangle itinerary – Day 4: Kandy
I will not blame you for wanting to stay in bed a bit longer an watch the sunrise from the warmth of your sheets with the tent's door open. The show of lights as the sun come from behind the Knuckles Mountain Range and the mist dissipates is well worth the early morning. In case you didn't know, the Knuckles range is part of another UNESCO site in the country, the Central Highlands.
Organize an excursion to a local working tea factory and a tasting before heading out to Kandy and then leaving this slice of paradise behind in exchange for the buzz of the city life.
Kandy is the second largest city and known for its busy but refreshing hill life. It is also another UNESCO site. The most relevant sights in the city are the Monastery and Tooth Relic as well as the Botanic Gardens. Lunch should be enjoyed with the city's best views. Bring socks again because there is a lot of walking on the incredibly hot tiles of the Monastery.
The Monastery is a place of pilgrimage and so it is common to see locals coming to pay their respects to the Tooth Relic, just like they do at Singapore Chinatown's Buddha Tooth Relic Temple & Museum. Kandy was a very popular British colonial enclave and remnants of that are still present today.
It will take 4-5 hours to drive back to the airport because traffic can be tedious. You can make several stops along the way for drinks or rest. If you arrive back to Colombo too early you have two options. Either you head back into the city for a stroll along Galle Face Green or one of the fancier restaurants, or if you have shorter time, Negombo is a popular stop for those trying to spend an hour or so. It is a small coastal town very near the airport and, although it is not particularly inspiring or beautiful, it has a few dining options the best of which is the Jetwing Hotel Blue.
If you had one more day in Sri Lanka
If I had one more day then I would have spent it on a safari to Yalla National Park where leopards are almost a guaranteed sighting. This can be done from Uga Escapes Chena Huts as the resort can organize the trip for you. If I had two more days I would have included one more at Mandulkelle Tea and Eco Lodge exploring the area and trekking the Knuckles range.
My last piece of advise? When you land back home, nothing better than the comfort of a Blacklane luxury car ride. Book your ride in advance and forget about taxi queues.
Pin this article for your stay in Sri Lanka's Cultural Triangle
If you'd like to read more about Sri Lanka, check these posts…