The Philippines is one of those places that brightens your day. The smiles of the people, the singing in their voice, the way in which they press on with hope and positive attitude despite the poverty and difficulties naturally catches on visitors. After just a few days, you'll be smiling just as much.
But it is not just the Filipinos who guarantee a great vacation, the country is a 7,000-island paradise. I never understood why the country was not as popular a destination as other less rounded destinations. Lying on the Coral Triangle, one of the richest marine life area in the world's, most of the Philippine islands are picture perfect and totally undiscovered.
The country receives one tenth of the visitors of Thailand or Malaysia and has an unlimited list of worthy destinations. If you are looking for historical sights, the Spanish 400-year occupation can be seen in the many churches that remain. For diving and marine life the list is endless. Are you an adrenaline junkie? Volcanos and lakes abound.
The country's natural beauty is as stunning as it is diverse. Mountains, rice paddies, rounded chocolate hills, jungle, lakes, some of the best beaches in Southeast Asia, you name it.
These are 10 of the best resorts to take in the country's magic.
1. Dos Palmas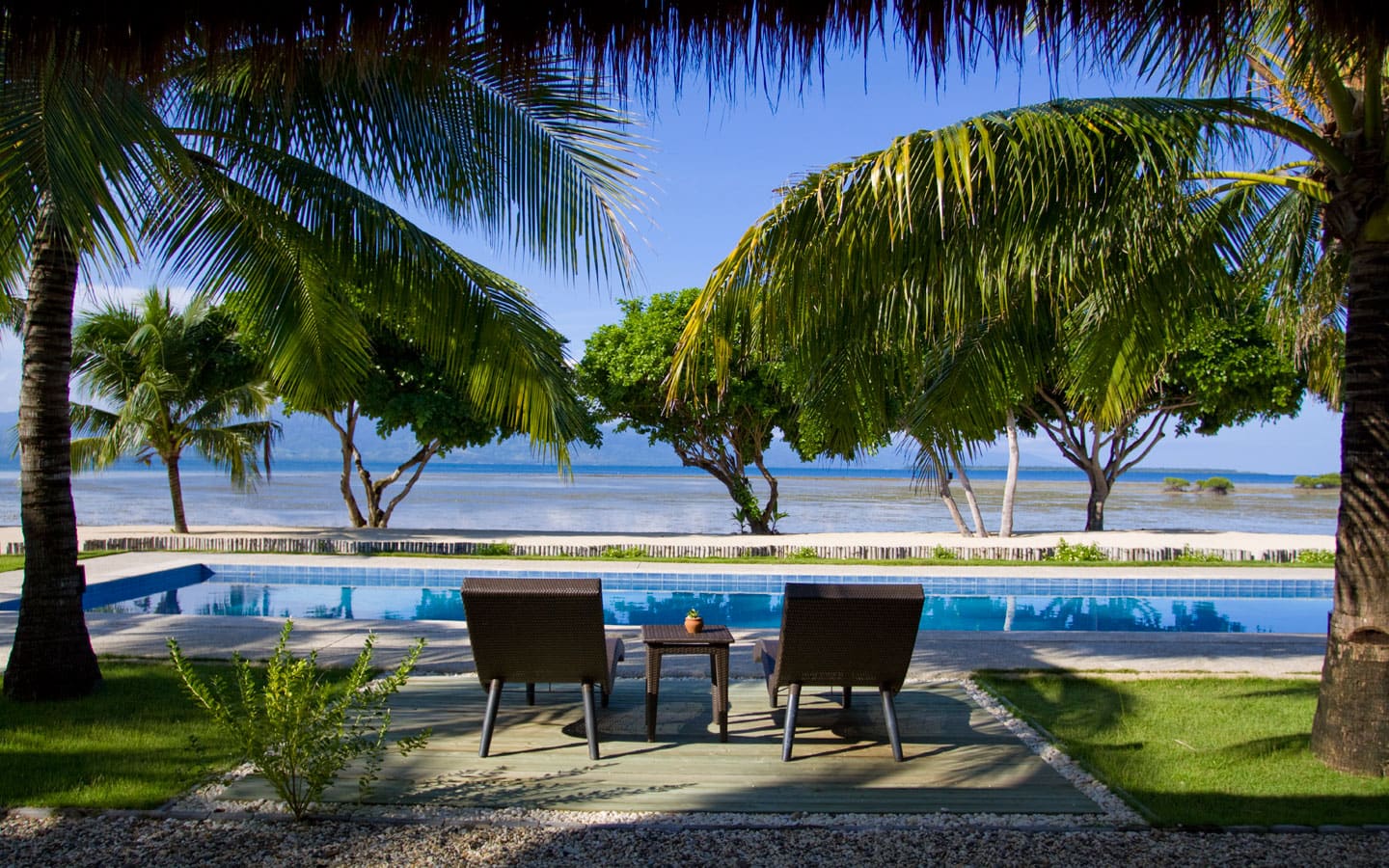 Palawan is the ultimate island. In recent years the area has developed dramatically and today caters to the savvy travelers with several high-end resorts. Dos Palmas is north of Puerto Princesa on its own private island. Villas overlooking the Sulu Sea and rates starting at $150.
Book your stay now on Agoda | HotelsCombined.
2. Atmosphere Resorts & Spa
In front of the rich marine sanctuary of Apo Island the resort is owner ran. The boutique resort has a misxture of suites, garden villas and penthouses. The pool blends into the sea and he gardens offer the perfect opportunity to relax.
Take advantage of its privileged location and immerse yourself into the marine paradise where whales, whale sharks and dolphins abound. Fly to Dumaguete from Manila. Rates starting at $250.
Book your stay now on Booking.com | Agoda | HotelsCombined.
3. Pearl Farm Resort & Spa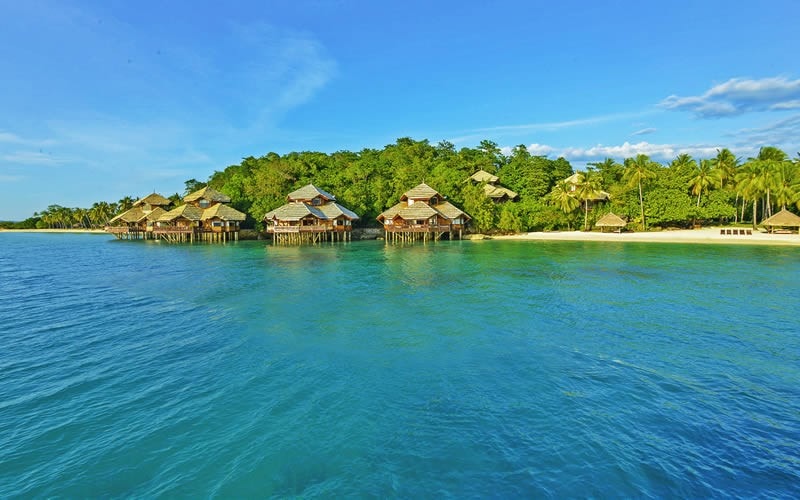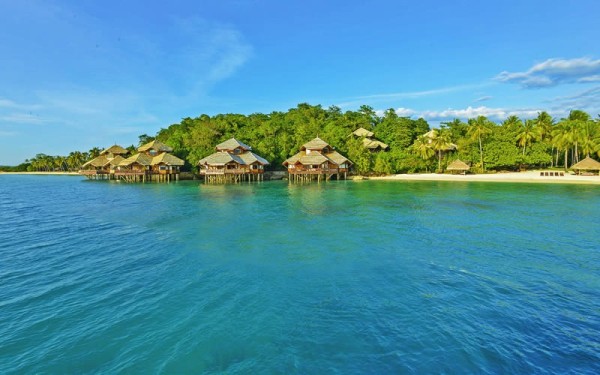 Located on Samal Island, the resort used to be a Pearl Farm. Stunning views of the ocean and locally sourced materials were used in the 70 guest rooms.
Some of the rooms sit on stilts and all have details of the Maranao and Samal cultures. Seven of the suites are located on a nearby island. For divers, two Japanese WWII ship wrecks can be explored. Fly to Davao. Rates start at $150.
Book your stay now on Booking.com | Agoda | HotelsCombined.
4. Bellarocca Island Resort & Spa (permanently closed)
"Discerning travelers in search of their next unexplored destination need to look no further"
Bellarocca is your own private Santorini-inspired island in the Philippines. White washed walls, lush gardens and azure waters. Choose from suites, casas or villas with their own infinity pools perched on the cliffs. A piano bar, a cigar lounge, a library, an entertainment room, a tea house, meditation sanctuary, a picnic grove and a natural spring water pool are some of the unique amenities the resort has on offer. Your home away from home.
Rates starting at $500. Fly to Marinduque or charter your own plane, helicopter or yacht from Manila.
Book your stay now on Tripadvisor.
5. Abaca
Opened in 2009, Abaca has been featured in several publications including Conde Naste Traveler and has won the hearts of many on TripAdvisor.
With just 6 Deluxe Suites and 3 villas Abaca is the latest addition to the Philippines luxury list. The guest rooms have large spa bathrooms, relaxing bathtubs and private pools. A designer interior and an award winning restaurant complement the beautiful location. Rates starting at $400.
Book your stay now on Booking.com | Agoda | HotelsCombined.
6. The Farm at San Benito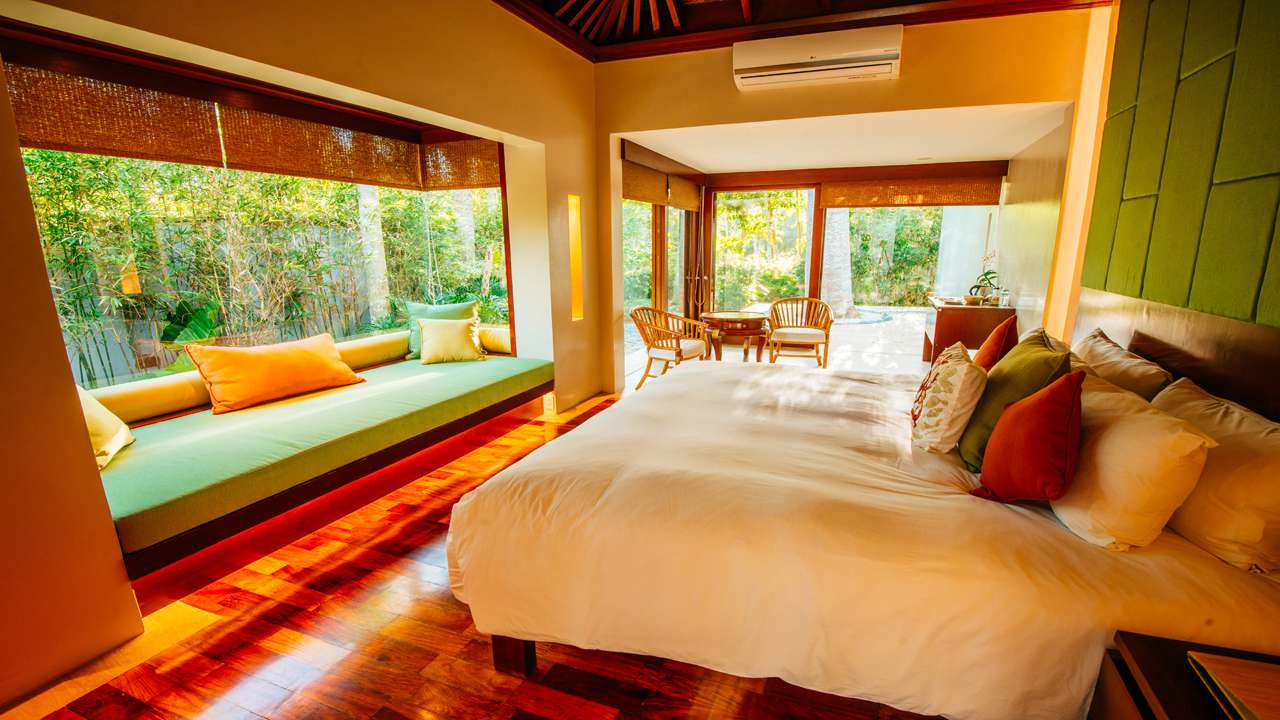 A holistic experience beyond a simple vacation The Farm bills itself as a life changing experience. Not too far from Manila and set in lush surroundings the resort is one of the few luxury destinations that is not located by the sea.
Winner of 29 wellness awards The Farm offers various healing packages and retreats and specializes in raw food, detoxing and healing.
Book your stay now on Booking.com | Agoda | HotelsCombined.
7. Dedon Island
Dedon Island was labelled as an Outdoor Living Lab created by design company Dedon to experiment with barefoot living. Elements of their pretty outdoor furniture are scattered around the gardens, pool and beach perfectly integrating with nature.
Nude, white tones, local materials and craftsmanship are out in the air. All is set for what the owners call "A barefoot state of mind".
Located on the surf mecca of the Philippines, Siargao island, the resort is on a reef-ringed island. If you want to explore the area, check out this Siargao island itinerary.
Rates starting at just over $500 per person for a single rate experience where even the use of boats, island hopping and all meals and massages are included.
Book your stay now on Booking.com | Agoda | HotelsCombined.
8. Misibis Bay Resort & Casino
Another private island getaway which also features a casino. Set on its own beach stretch and with swimming pool and expansive gardens Msibis offers a window into a naturally rich province. Active Mayon volcano, the boiling waters of Lake Nag-Aso or the hills of Damalig are some of the off-resort activities.
Fly to Legazpi. Rates starting at $570.
Book your stay now on Booking.com | Agoda | HotelsCombined.
9. Amanpulo
No list of luxury resorts is complete without a peak into the most decadent of them all, Aman's Amanpulo. Set on its own stretch of paradise on powder fine sand beaches Amanpulo can only be reached via a charter plane through the resort.
It is the only structure on a 5km island off the coast of Palawan. Guests have a buggy at their disposal to move around the island. Rates start at $950.
Book your stay now on HotelsCombined.
10. Pangulasian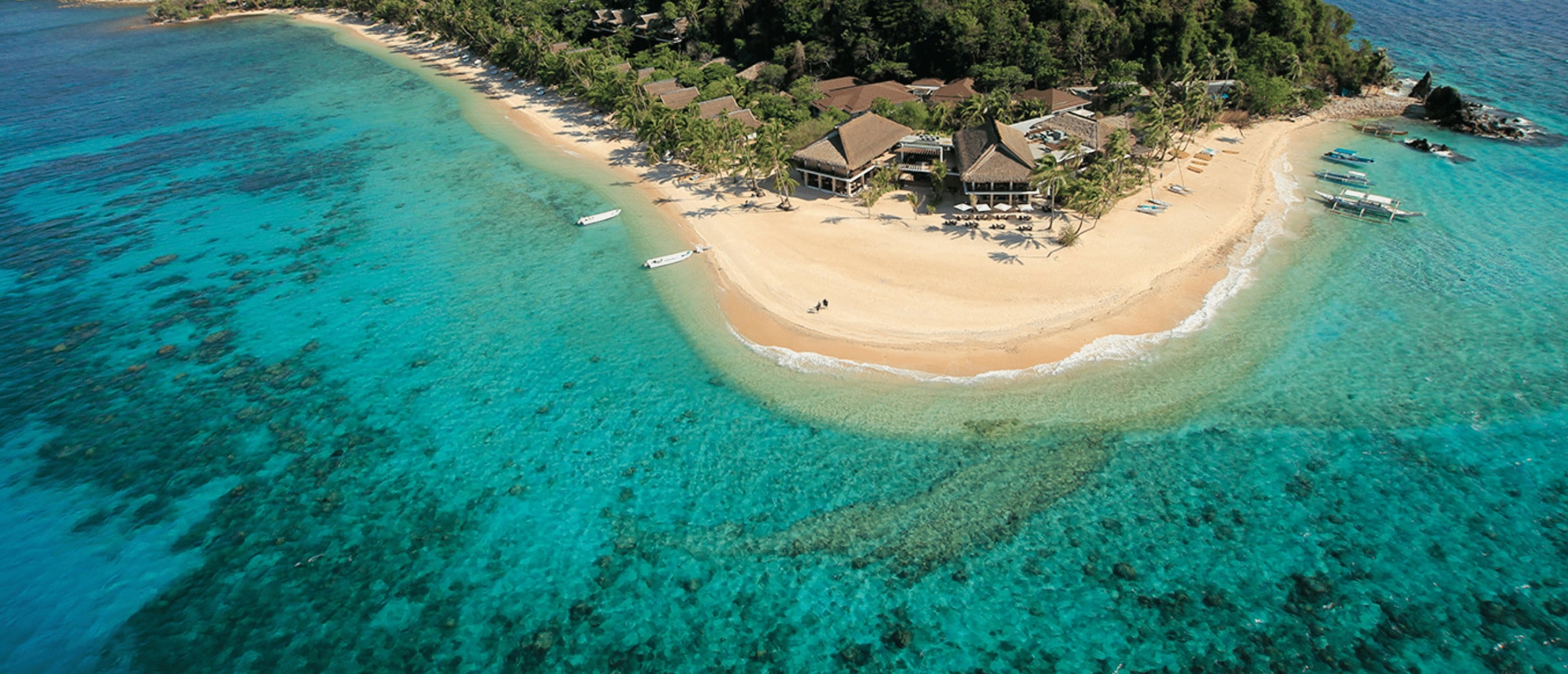 El Nido is one of the most beautiful places in the Philippines. The clear sea and the many islands and limestone cliffs give the area and air of magic. El Nido Resorts owns four properties in the area and handles all the transportation from Manila on their own propeller planes. The latest addition to the portfolio is Pangulasian, the highest end resort in the collection. A beautiful resort with pool villas and fabulous views over the ocean.
Book your stay now on Booking.com | Agoda | HotelsCombined.