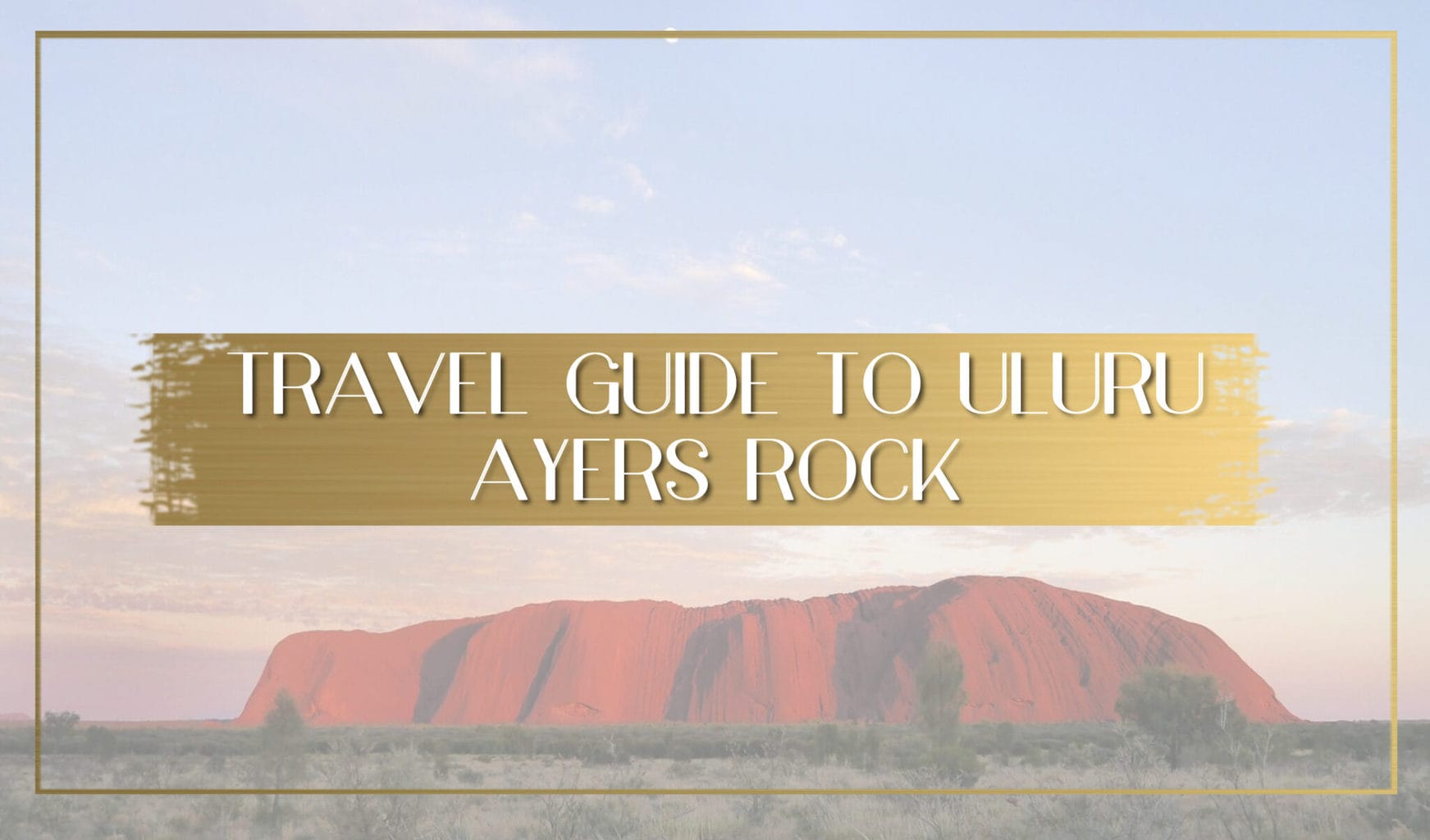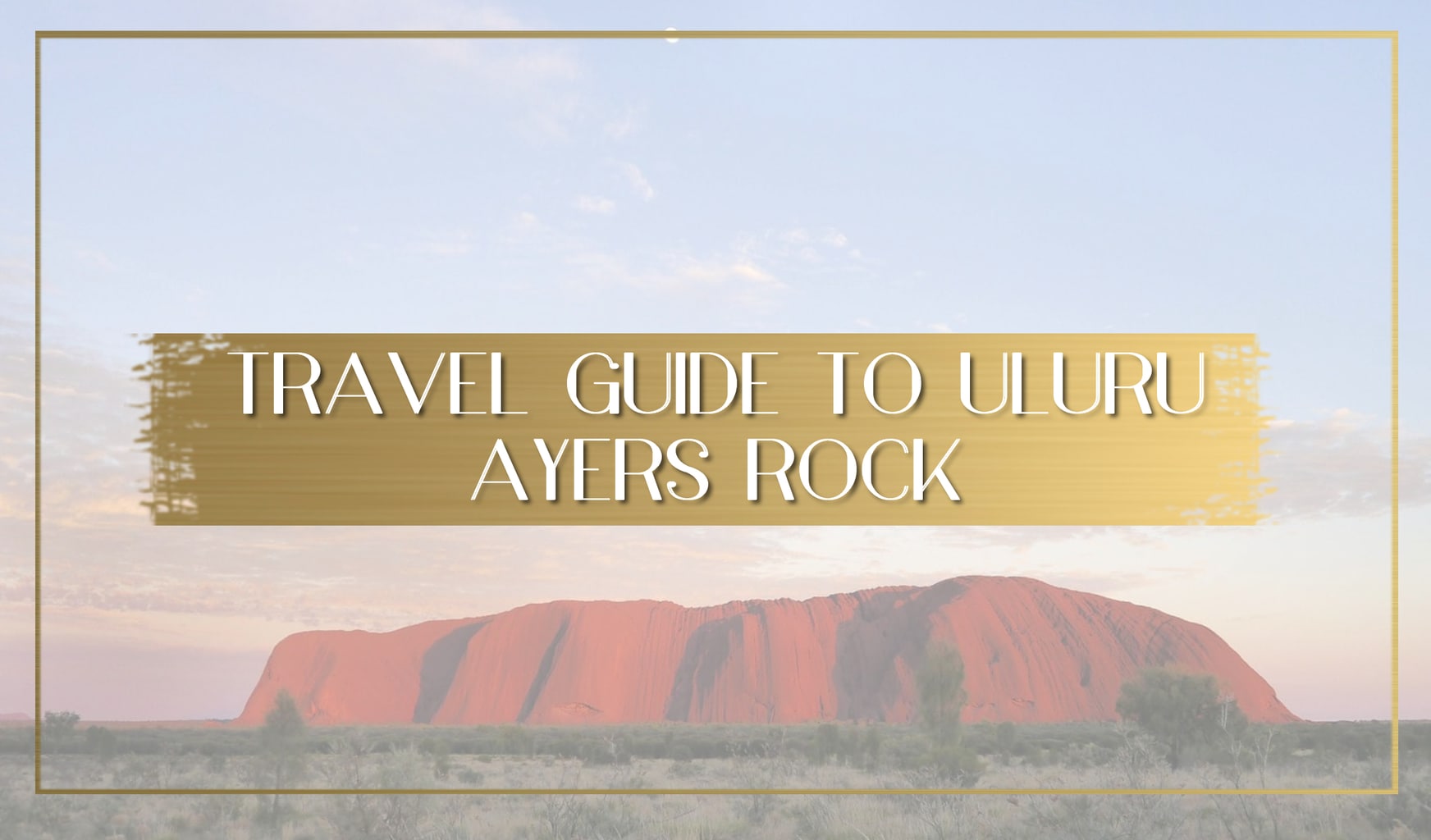 Uluru Ayers Rock and Kata Tjuta are located in the red center of Australia, in a remote and isolated part of this vast continent about 450km away from the nearest city of Alice Springs. The area around the red rocks that form both Uluru and Kata Tjuta are considered a National Park but belong to the Anangu aboriginal people.
In 1985, in a historical moment, the Anangu or "We" people, were given back the lease to their land as historical owners and then leased it back to Parks Australia to be jointly managed as a national park where both Australian laws as well as the Anangu law or Tjukurpa are observed.
Uluru Ayers Rock and Kata Tjuta are listed as UNESCO World Heritage sites since 1987 and are one of the few sites on the list to be included for both natural and cultural values thanks to the many endemic plants and animals and the Anangu aboriginal heritage.
Unlike most other listings or landmarks around the world, Ulu Ayers Rock and Kata Tjuta are living landscapes that evolve as new rock art is drawn or Aboriginal life develops.
The Anangu people
According to archeological evidence, the Anangu have lived in Central Australia for 35,000 years, since the time of Tjukurpa or Creation Time. This makes them older than the Egyptians, the Inca, the Mayan and one of the oldest cultures still alive today.
Anangu culture has been passed orally through magical and fantastic stories that you can hear through the tours and guided walks.
Today, the Anangu people live in a close community near Uluru in what used to be the former Ayers Rock Resort before 1983, when the government decided to move the resort farther away from the site, transfer the airport away from Uluru and give the old resort area to the Anangu.
The history of Uluru Ayers Rock
Uluru was created millions of years ago. Today's rock measures 9,4km in diameter and about 400m high above the plains around it but it is over 800m above sea level.
Its name has evolved in recent years from the historical Ayers Rock to Uluru and the media is encouraged to refer to it as Uluru Ayers Rock. Its original name was given by a European explorer who first sited it in 1873 and named it after the Chief Secretary of South Australia, Sir Henry Ayers.
Kata Tjuta was named the year before by the benefactor of explorer Ernest Giles who discovered it on a trip to the vast emptiness of Central Australia.
Things to do and places to visit in Uluru Ayers Rock and Kata Tjuta
I headed to Uluru thinking that all there was to see was just a beautiful red rock and realised the park has a lot to offer in terms of Anangu heritage, nature, hiking and stunning landscapes. Perhaps one of the parts that I was most surprised about is the fact that Uluru can be climbed.
The Anangu people have decided to let visitors decide for themselves whether they should climb it or not but strong discourage anyone from doing so and ask that you do not climb. Uluru is of great importance to the Anangu and their ancestors, the Mala people or rufous hare-wallaby people, used to climb this as a spiritual journey.
As this is their land, visitors should respect their wishes but, if you still want to, Anangu will not stop you from doing so. Since it opened, over 30 people have died attempting the climb. It is steep and there is only a rope at below the waist level to help you on your way up.
The rope was meant to be higher, but when it was requested at "waist level" to a local man, the management did not realise that he was only 1,5m high hence the rope is at his waist level.
It is also important to know that certain parts of Uluru and Kata Tjuta are culturally sensitive sites to the Anangu and should not be photographed at any times.
This is because in Anangu culture there are male and females ceremonies and affairs that should not be seen by the opposite gender. In fact, seeing them is punishable by traditional law. Visitors are therefore not allowed to take photos.
Several of the best activities in Uluru and Kata Tjuta can be arranged via the tour companies that offer their services through the hotels in Ayers Rock Resort. However, after having visited, I strongly recommend going independently for a few of the activities where you do not need the local knowledge.
Some of the walks, the sunset and sunrise viewing activities and the Cultural Center can all be down with your own rental car in a much more convenient way without crowds, without waking up much earlier to pick up guests from other hotels or leaving early because there are set times and the buses need to head to a different activity.
However, some excursions are best done with a ranger or guide that provides Anangu and park knowledge. I have specified below the ones I would suggest a guide for.
Uluru conservation center – Independent
A good place to start and read more about the area, especially if you plan to do all the sightseeing on your own. You can grab maps and brochures and check the schedules for the free Mala Walk guided tour, the cultural presentations and other activities such as art workshops.
Kings Canyon – Guided excursion
This a day trip to the Kings Canyon, a canyon that is equidistant both from Alice Springs and Uluru. The trip takes a whole day as the drive is about 3-4h. The canyon offers both flat easy walks as well as a 3h tough climb up to the top for the best views. If you are staying for a longer period at Uluru-Kata Tjuta, this is a great day excursion.
Watch the sun set or rise on Uluru – Independent
Perhaps the most stunning of the things to see in Uluru Ayers Rock is the sunset or sunrise. I personally preferred the sunset, but sunrise was also magical.
There are two viewing points from where these can be best seen and plenty of organised excursions with the pre-approved service providers to take you there but I found this to be best done on your own with your rental car so you can stay for as long as you want and are not on a schedule.
As most people visit as part of an organised excursion, going alone means you will most likely be there on your own at the end of the pre-established 20min on site from the tour groups. You can then see the stars and Milky Way appear or the oxidised iron rock take a fire red colour. Alternatively, you can join the Desert Awakenings tour which i a more private option with a gourmet breakfast.
Uluru Base Walk – Guided excursion
Perfectly marked, the walk offers a great glimpse on life around the rock. Although you can do this on your own this would be a good opportunity to join a tour so that one of the guides can teach you more about aboriginal life, the local flora and fauna, the many uses of the plants you will find and the ways of life of the Anangu people.
Without a guide, you are most likely going to have a lovely walk but will mist all the cultural and heritage rich background. Although not physically demanding, this 10.6km walk can take over 3h so consider your fitness level and the weather before attempting it.
There are water stations along the way. You can also rent bikes from the Cultural Center and cycle the 15km ride around Uluru instead. This walk is often sold as part of the sunrise experience. If you can, go separately to avoid getting up extra early just to waste time picking people up and then having very little time to see the sun rising and the colours of Uluru changing.
I would suggest doing this in the evening rather than the morning when everybody goes.
Shorter walks – Guided excursion
The pars is filled with several walks of shorter duration that are well marked on the maps both around Uluru as well as Kata Tjuta. One of the best ones is the Mala Walk which you can enjoy on your own or with one of the ranger-guided free tours.
The walks usually take you to a place of great importance to the Anangu's and pass through rock art and ancient locations of tales passed down through generations.
The Sound of Silence and Field of Light – Guided excursion
One of the most magical moments in Uluru will surely be The Sound of Silence dinner under the stars. The experience starts before sunset when you are taken to a lookout point from where you can see Uluru Ayers Rock and Kata Tjuta in the distance as the sun comes down.
Enjoy a glass of bubbly and some canapés before going down for a buffet dinner in communal tables. Before dessert, the in-house astrologer will tell you more about what you can see above your head. If you visit before March 2018 when the Field of Light art installation by Bruce Munro is on, be sure to get the package that will let you head to the installation area after dinner, such a breathtaking experience to be surrounded by 50,000 colour changing spheres.
Field of Light – Guided excursion
Even if you do not book the Sound of Silence dinner you can still buy a ticket for the Field of Light art installation. The tours start after sunset and you will have to join one of the tours as the park is closed at night. If you go on the fist tour time you will be able to stay until the last return time.
There are three schedules to arrive. The Field of Light, by Bruce Munro, is an art installation with 50,000 spheres that change colour through the night. They are installed across a field and linked by fibre optics cables.
The area is crisscrossed by paths where guests can walk and observe the installation. You can take photos but tripods are not allowed inside the installation area but can be used outside, on the outer edge. Seeing the Field of Light is an incredible experience, especially on a clear moonless night when the Milky Way shines above.
Garden walks – Independent
Both the Sails in the Desert and Desert Garden Hotel have garden plants guides you can get at the respective concierge desks. the little leaflets contain maps of the location of key desert trees, bushes and plants and descriptions about their properties and uses. A good way to spend an hour during the hotter hours of the day.
Helicopter rides – Independent
There are daytime, sunset and sunrise helicopter rides of various durations including Kata Tjuta or just focusing on Uluru. We went on the sunrise Uluru and Kata Tjuta 30min ride and realised this was not the best time to visit and a sunset trip would have been much better.
Although it is lovely to see the area from the sky, you can't get anywhere near either of the two sacred sites and so the view is from far away. On the joint ride, a lot of time is wasted getting to and from Kata Tjuta so the 30min go by flying over the empty plains. I would suggest a sunset ride or even a daytime one rather than going on the sunrise.
Camel tours – Guided excursion
A different way to see the park is on top of a camel. Perfectly adapted to desert weather, camels thrive. You can visit the camel farm near Ayers Rock Resort on the free shuttle bus for a quick ride or join one of the tours at sunrise, sunset or during the day.
Harley Davidson ride
A decadent and very appropriate way of touring the area is onboard a Harley Davidson. There is something decadently romantic about your hair in the air and the empty roads of the Australian Outback.
Everything you need to know to plan a trip to Uluru
When to visit – The weather
Uluru Ayers Rock and Kata Tjuta National Parks are cursed with extreme weather conditions that make adequate planning essential. As primarily desert environment, summer temperatures can easily surpass 40 degrees Celsius but in winter and at night, temperatures can drop to below freezing point.
It is not uncommon for the thermometer to show variations of 20 degrees in a day. Therefore, planning appropriately and bringing the right clothing is a must.
The best time to visit Uluru Ayers Rock and Kata Tjuta National Park is from May to October when daily temperatures are not scorching hot and the night can be frosty. In November, temperatures can easily go above 35 degrees Celsius.
Humidity is also very low in this arid environment and liquids evaporate fast so it is important to drink a lot of water. During every excursion that we went on, the guide insisted and kept reminding us to drink water at a rate of one litre per hour to ensure we were hydrated.
The dryness also meant less sweating, even in the very hot weather, so it was easy not to realise our bodies were losing liquid fast. Be mindful of heat stroke risks and stay out of the sun during the heat of the day. We opted to spend the middle hours of the day by the shaded area of the pool and went out for sunrise and before sunset.
It is also important to bear in mind that when the temperatures hit 36 degrees Celsius, the Park consider they have passed the "extreme weather" threshold and both the Valley of Winds and Uluru climb close earlier than usual (am in the case of Uluru climb). When temperatures reach 40 degrees Celsius further closures affect the Uluru Base Walk and Lungkata walk.
Despite the extreme weather, it does rain in Uluru and you will notice that both Uluru and Kata Tjuta rock walls have marks of water erosion on their walls. As soon as little rain arrived, the red soil is filled with green bushes and plants which turn the landscapes into an amazing green-red hue.
What to pack for Uluru Ayers Rock and Kata Tjuta
As the weather is extreme and the Australian sun is lethal, clothing is important. Bring a hat, long trousers to protect from the sun, sun screen and a water bottle that you can regularly replenish. A jacket for the early mornings and evenings when you are most likely to go out to visit the area will come in handy, even when daily temperatures are above 30 degrees as nights are cold.
Opening and closing times of the park
All the details about opening and closing times are available across Ayers Rock Resort and on the Parks of Australia website.
Getting to Uluru Ayers Rock and Kata Tjuta
Two airports serve Australia's Red Center, Ayers Rock and Alice Springs. Ayers Rock airport is the most convenient one unless you are also looking into visiting Alice Springs as it is a mere 15min from the Ayers Rock Resort area where you will be staying and there are free shuttles meeting every flight landing. Ayer's Rock is about 2h45min flight from Sydney.
Alice Springs is also served by an airport and there is a train station for those taking the Darwin to Adelaide trains or the luxurious train journey onboard The Ghan train. The drive to Ayers Rock Resort from Alice Springs takes around 4,5h.
Where to stay in Uluru Kata Tjuta National Park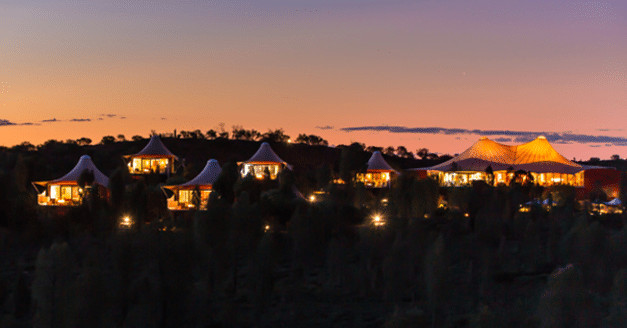 Although this part of Australia is devoid of any tourism infrastructure, to facilitate visits to the Uluru Kata Tjuta Parks of Australia jointly with the Anangu people have built Ayers Rock Resorts, a tourist village where accommodation, food, supermarket and other facilities can be found within walking distance from each other.
The resort offers a few accommodation options for various budgets. There is a campground on site, self-contained apartments as well as proper hotels.
The most luxurious accommodation can be found at Longitude 131 which is part of the Luxury Lodges of Australia collection. Longitude 131 is not in the Ayers Rock Resort area but in its own secluded location closer to Uluru.
It is the only accommodation with direct and uninterrupted views of Uluru Ayers Rock. The luxury tents are closest to the park and offer the highest level of privacy and pampering. Prices start at AUD2,700 per night and the lodge is often fully booked.
As a separately managed resort, Longitude 131 also offers private experiences sure to give you a unique and very magical view of Uluru Ayers Rock. For example, the resort organises its own private Sound of Silence meal in the outback but in your own privacy for that very special evening.
We stayed at Pullman hotel Sails in the Desert, the most premium option with regular rooms and suites with outdoor verandahs and sun loungers. The common areas are spacious with a large pool and lots of grassy space.
There is a restaurant on site that is open through the day and a pool-side bar. Rooms are comfortable and correct. Next to the Sails in the Desert you will find the Novotel collection Desert Gardens Hotel which is equally comfortable and has rooms with the only views of Uluru.
Outback Pioneer Hotel is part of the Obis family hotels and is the next level down in affordability and a good 3 star hotel with rooms that have bunkbeds. It is more relaxed and casual than the previous two and has the only bar in the area selling alcohol to take away.
Those looking for a self-catered option will be best staying at Grand Mercure Emu Walk Apartments, a premium option for families or groups of friends.
Lastly, camping, not available in the park, is possible at the Ayers Rock campground which also has a swimming pool.