The Beijing food scene offers everything from hipster Hutong eateries to street food, contemporary cuisine and innovative fine dining. Follow me as I explore all that culinary Beijing has to offer from creepy crawlies to refined plating.
Beijing Food scene: Duck de Chine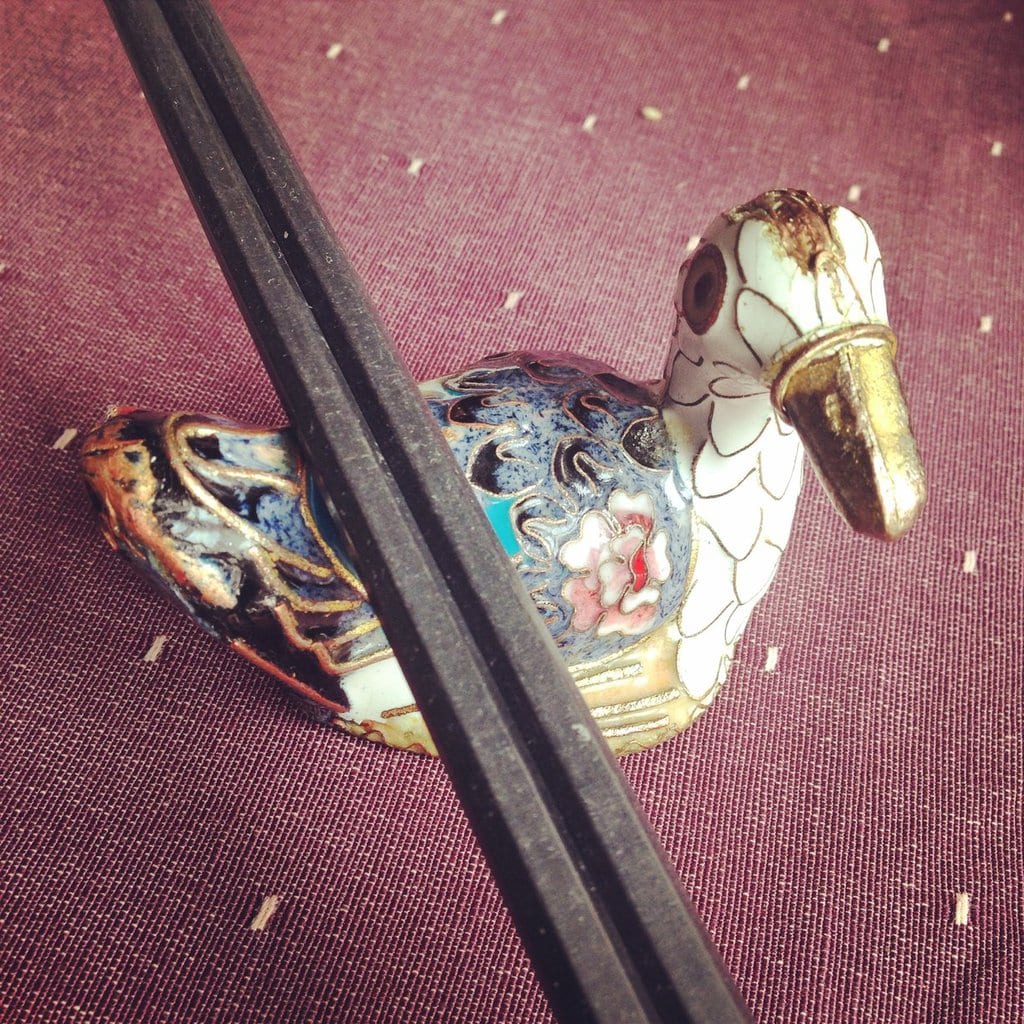 For starters, the famous local dish, Peking Duck, is a must try when in town. One of the popular spots to roll up some tasty bits of duck fat and condiments is at the Duck de Chine. A large venue with tables set up around a large courtyard and numerous rooms to sample the expected.
Apart from an A la carte menu, they also have sets for the Peking Duck and you can get a whole one to share with all the condiments. If you look like a tourist, the waiter will show you how it's done without asking.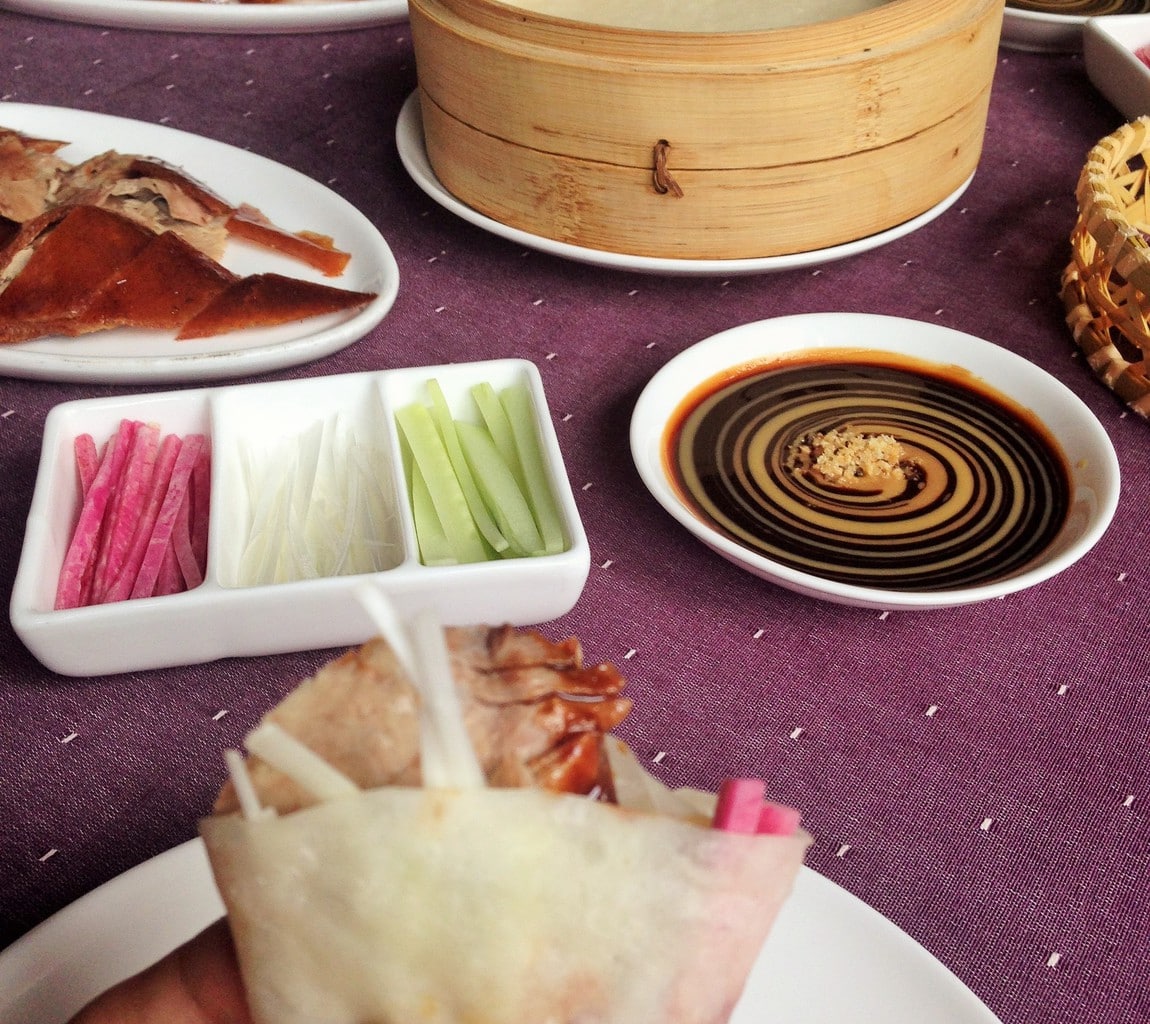 Although modern, rather than traditional and with a matching price tag, the setting is inviting, warm and marries the old and the new. With a location so close to the Forbidden City, it makes for a perfect stop after battling the crowds in the city's most popular attraction.
The duck was crisp and juicy with plum sauce and condiments that paired perfectly well with the food. The decor is a modern take on Chinese Imperial designs in purple and black shades. Go for dinner for a more dramatic setting.
Beijing Food scene: Temple Restaurant Beijing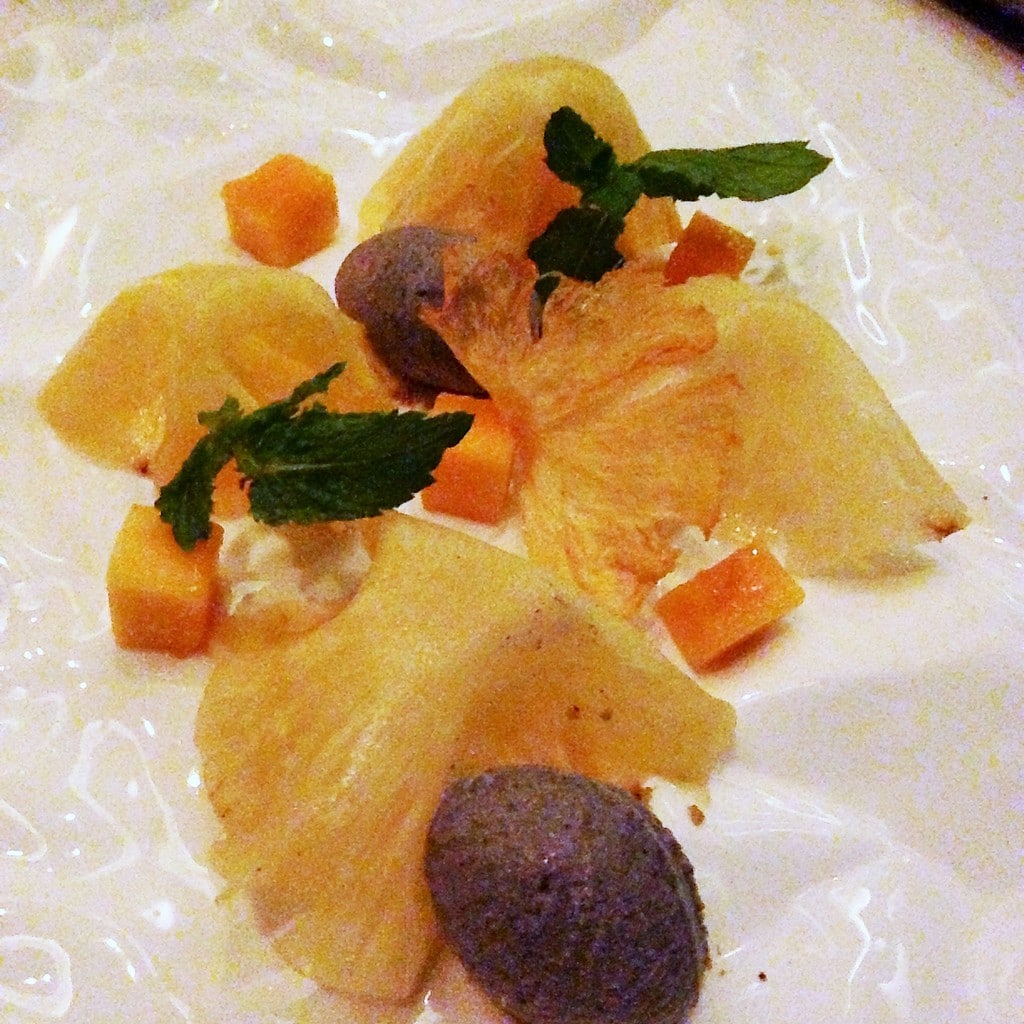 Entering Temple Restaurant Beijing is like stepping into a world of attentive service and anticipation. The compound is 600 years old and it also includes a sister hotel. Recently renovated, the place maintained it's historical past, with factories built after the Communist take over and slogans from the Cultural Revolution.
Although we were on time, we were offered a glass of champagne to enjoy in the eclectic, dimly lit bar. The dark ambiance with neon spot lights and warm textures was perfect. Through the window, we could gaze at an old temple. We were shown to our table after our glass had been refilled. The main dining room is sparsely decorated except for the large windows facing the courtyard at the entrance and this was enough to bring the place to life.
Choosing a set menu guarantees a feast. The service is impeccable and a constant reminder of what vocational servers, maitres d'Hotes and Someliers should look like.
We were offered several complimentary amuse bouche, palate cleansers, snacks, post-desert and drinks. For being shown the wrong restroom, I got a glass of wine and because we had to wait slightly longer for a taxi we were offered a digestif. The bread basket was selectively replaced only with the types of bread we devoured. The food was deliciously gourmet without being over complicated. Fine dining without molecular surprises.
Diners were a mix of business meetings, celebrations and visitors with a dash of local foodies and despite the relatively high bill the value for money was indisputable. Go to be treated like royalty and enjoy a wonderful meal.
Beijing Food scene: Brian McKenna @ The Courtyard (Closed)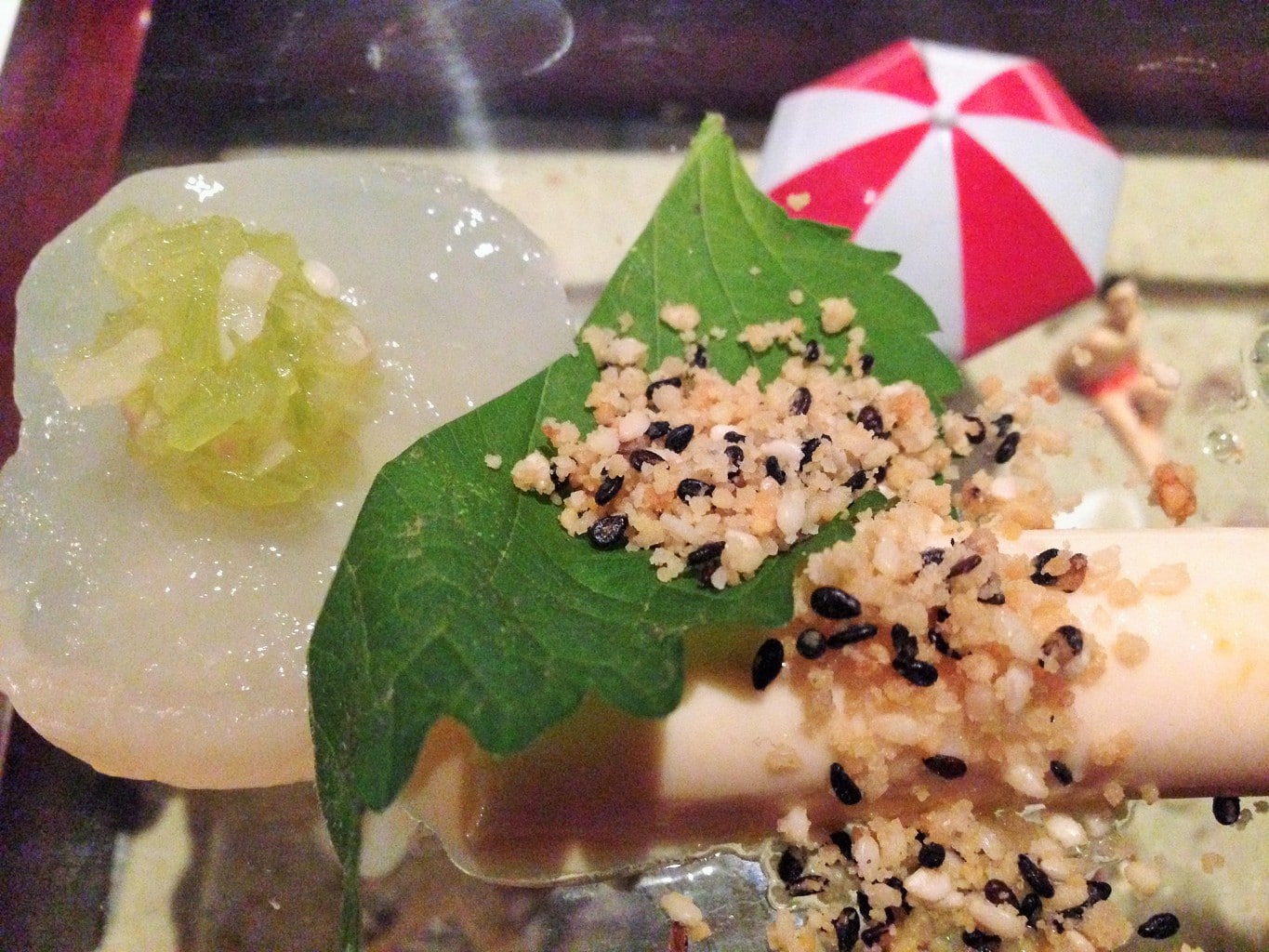 This venue changed hands to become TRB Bites and finally TRB Forbidden City. Hedonistic Brian McKenna @ The Courtyard was a much anticipated molecular fine dining dinner. Expectations of an all-round unforgettable meal were high and the sophistication of the dishes did not disappoint.
McKenna promises to show what he is capable of with creations that "Push the limits of what's possible with food" and also may put a smile on your face. The menu is hard to predict with only one or two recognisable ingredients in each dish and the rest left to fantasy. So surprises are guaranteed.
The dining room received much criticism for its bare decoration and lack of soul. Just 9 tables filled the small space facing the Forbidden City moat and walls, with little on the way of charm. The tables were lit by spot lights and, unless on a booked out night, the lack of ambiance music made it very easy to hear the clicking sounds of fellow guests cameras. You may forgive them for the dishes are Instagram worthy.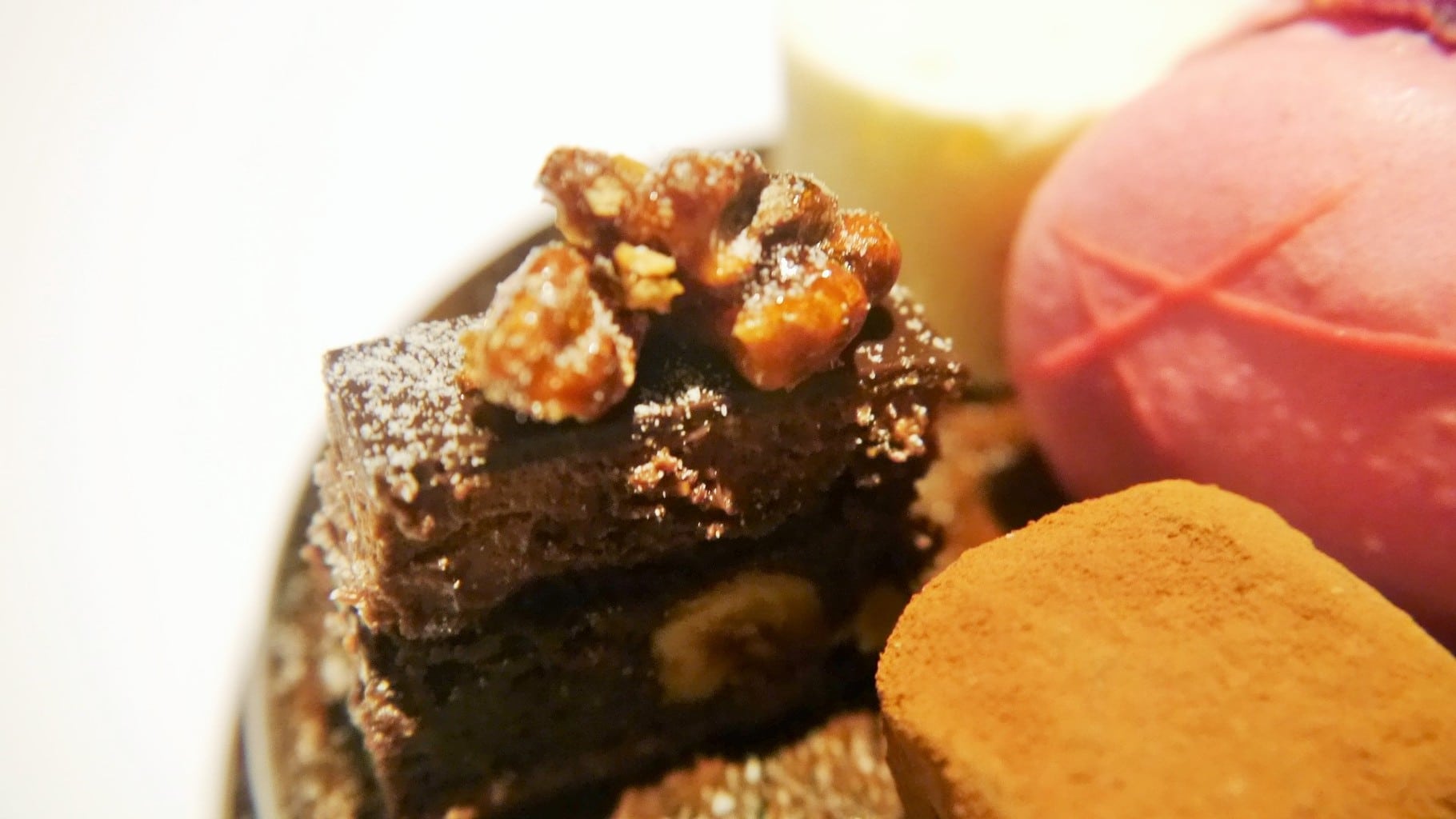 Each dish was sophisticated with tens of ingredients, lengthy cooking times and delicate combinations. They were also the creative work of a genius in the kitchen and an authentic delight to the eyes.
A starter of "Seafood on the Beach" was delightfully laid on top of a glass surface with a beach goer sunbathing underneath on a patch of beach. Sand and sun umbrella included.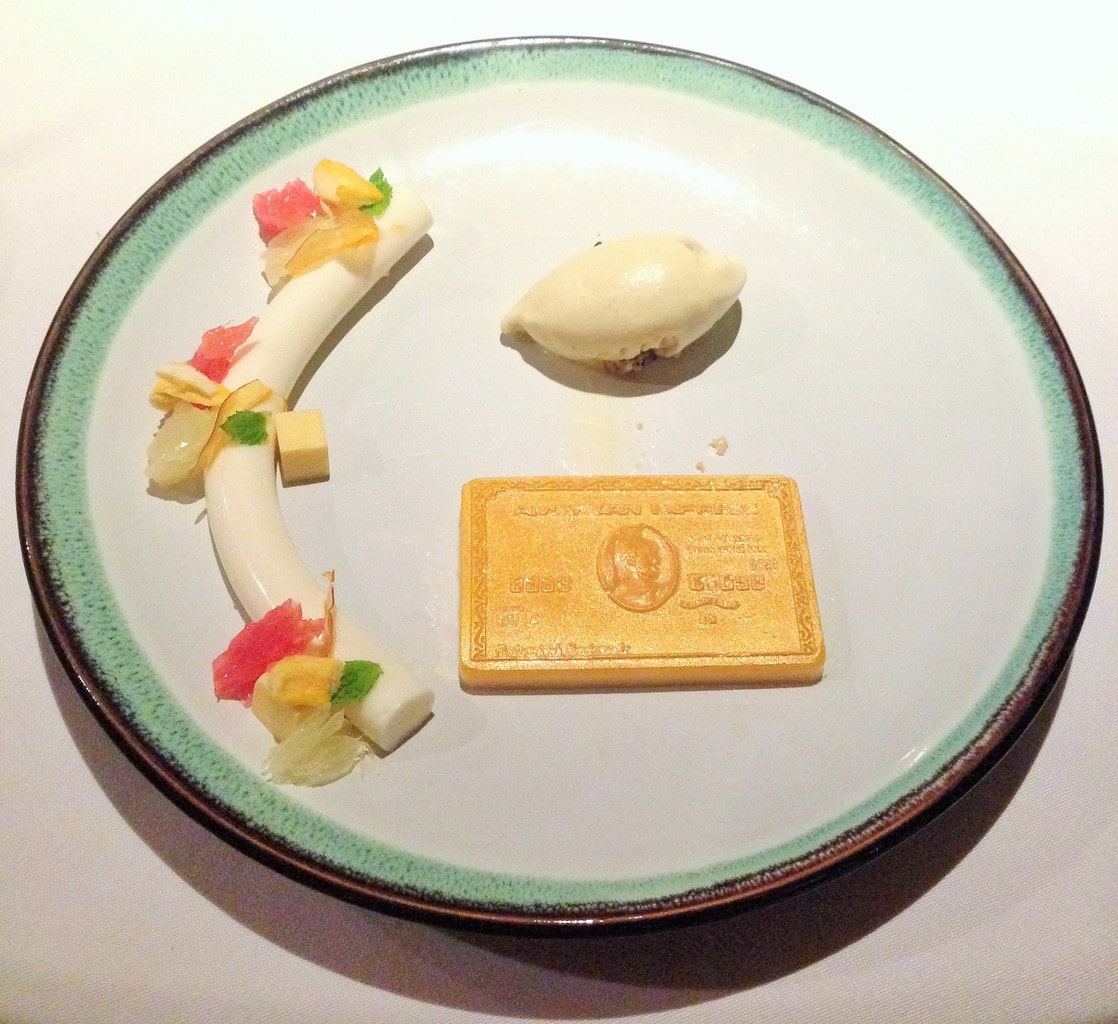 I was looking forward to the terracotta warriors famous dessert but instead, the chef had chosen to serve up the sweet finale he created for Mr Parker's world tour kick off, the most famous wine critic in the world. There was a perfectly designed sparkling gold American express sponge cake with colourfully beautiful decorations that were not only delicious but extremely pretty.
Sadly, on our visit, the service did not match the innovative and truly playful tasting menu. Waiters were uninterested and with unintelligible English, felt very much like they were repeating what they had been told to say on each dish without much intention of conveying any sense of grandeur.
They made dishes feel uninteresting and we sadly missed half of the story despite repeatedly asking for a better explanation. A shame given the price tag and the refined cuisine which was truly made with love and lots of care.
The iconic Courtyard space and its memorable views, was taken over during the summer of 2015, by The Temple Restaurant Beijing with the opening of Bites by TRB@Courtyard. And as mentioned above has since been relabelled TRB Forbidden City.
Beijing's Food Night Market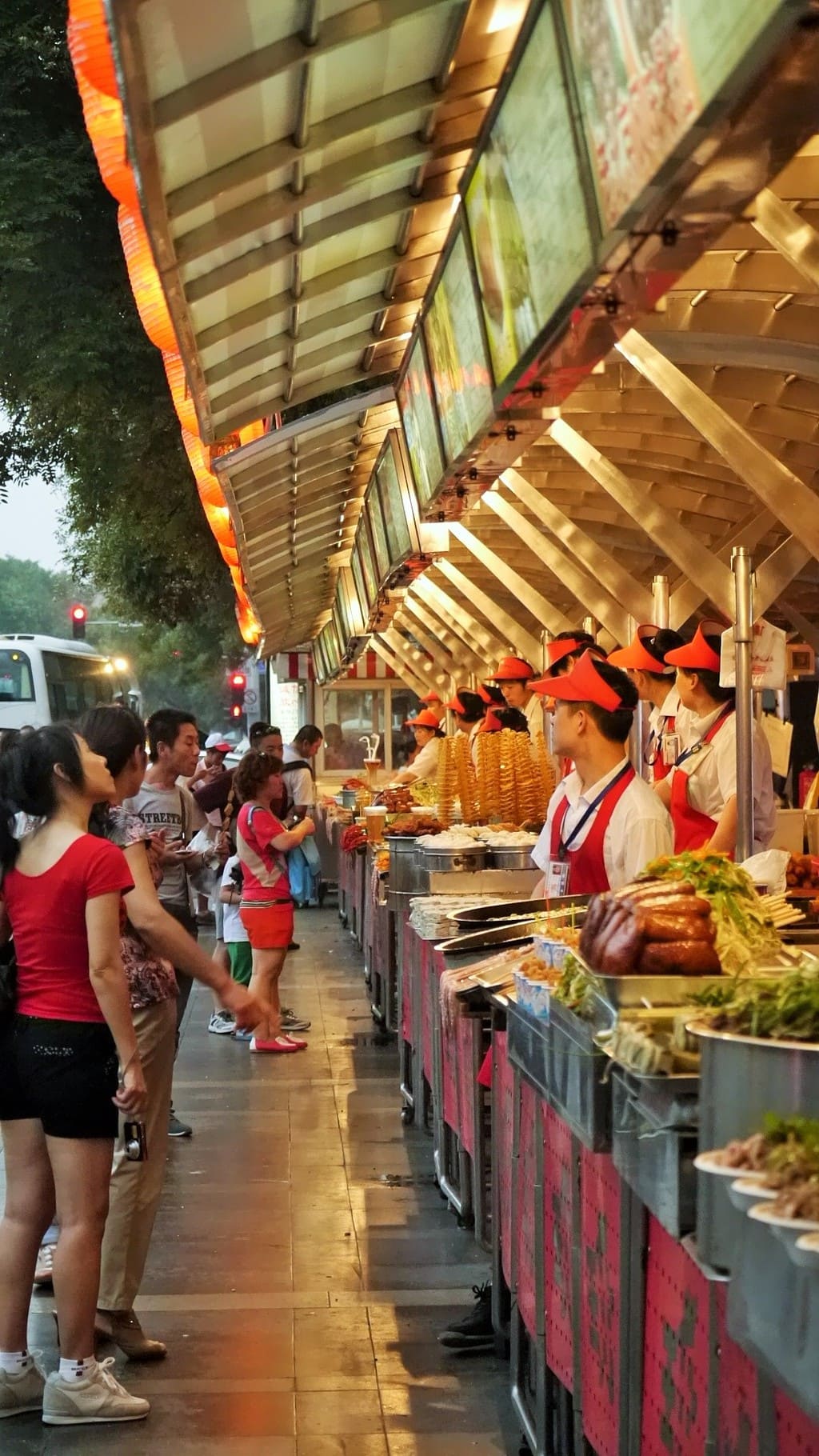 At the other end of the culinary spectrum Beijing is also known for the critters on offer at street food markets. If that is the type of thing that gets you most excited and you are the daring type looking for bragging rights, Beijing has the right place for you.
On a short strip off the main shopping area and across from the big brands, shinny red lamps light the stalls where sellers wave all sorts of insects, bugs, critters and other larger versions of the unheard type. Prices will be perfectly displayed in English and charging Western rates.
Stall owners try to get visitors to try all sorts of strange items such as grasshoppers, giant beetles, cockroaches, millipedes, liver, fruit, pancakes, tofu, kebabs, seahorses, scorpions, cicada, worms and all sorts of crawlies.
For the less adventurous you can also feast on sweets, steamed buns in the shape of cute cartoons and animals and pretty much anything that can be worthy of a photograph and a dare with friends.
There are several foodie tours you can go on with trusted guides. Here are a few options:
In Wangfujing's Night market gets its name from the Qing Dynasty when ten aristocratic estates and princess residences were built in the area. Shortly after, a sweet well was discovered completing the name. Wangfujing means "Prince's Mansion Well".
Aside from exotic and vomit-inducing foods, the area is also home to dozens of international and local luxury brands in shinny shops along the main street.
Have you been to Beijing? What restaurant did you enjoy most?