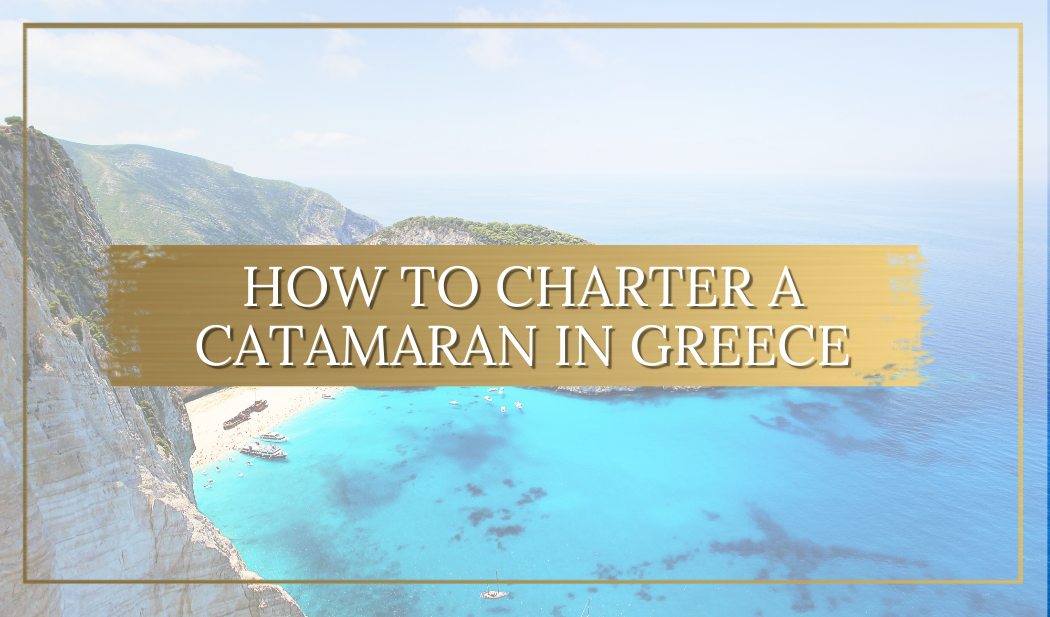 With more than 2,000 islands, 170 of which are inhabited, there's no better way to explore Greece than by boat. Scattered throughout the Aegean and Ionian seas, Greece benefits from the warm Mediterranean climate, rich culture and great food that will have you yearning to stay in Europe forever. 
While yachting vacations may only seem like an option for the rich and famous, it's easier and more cost friendly than you think to hire a boat in Greece, in which there are several options available to suit your budget and requirements. Below, we'll look at everything you need to know about a catamaran holiday in Greece.
Why a catamaran
Unlike traditional sailboats with just one hull, a catamaran is balanced on two hulls which makes it much easier to handle. Not only is a catamaran more stable than a traditional sailboat, it also provides a roomier living situation for those on the boat, with more room both underneath deck and uptop. A catamaran typically has two double cabins which is ideal for a family, although there are more luxurious catamarans available for larger groups. 
What if I don't know how to sail, we hear you ask? That's not a problem! There are a few different options for your catamaran vacation, including:
A crewed catamaran charter: A crewed charter includes a captain and a full team of staff who will take care of everything on the boat, from sailing and navigating, to managing provisions, planning where to go, and even cooking and cleaning.
A skippered catamaran charter: A skippered charter is a little more budget friendly for those who don't know how to sail, but don't quite have the budget for a full crew. A licensed skipper will take the helm and navigate those unfamiliar waters for you, while also teaching you a thing or two along the way. However, you'll be in charge of everything else, including raising the sails, cooking, cleaning and generally maintaining the catamaran.
A bareboat catamaran charter: If you have sailing experience, you can reduce the cost and benefit from complete freedom and independence by taking the lead of the charter yourself! A bareboat charter means there will be no one on board other than your party, so make sure you know how to navigate the waters, plan provisions and maintain all other duties on deck. 
A by the cabin catamaran charter: A by the cabin charter is great for small parties with a tight budget, or for those wanting some company on deck. By the cabin means you'll pay for your own cabin on a shared catamaran with a group of other people. The great thing about this is that you'll still benefit from a full crew who will do everything for you, and you'll maybe even make some friends from your vacation. 
Providers like BorrowABoat take the hard work out of the trip planning for you, with a range of different catamaran charters across Greece available and to suit different skill levels. 
When is the best time to go on a catamaran charter in Greece? 
While Greece enjoys a year round temperate climate, the peak season revolves around European school holidays which range from the beginning of June until the second week in September. During this time, Greece is bustling, with cafes and restaurants open early until late, top tourist attractions open, and vibrant scenes of international visitors.
However, bear in mind that the peak season means prices are highest and there will be crowds in many of the popular tourist hotspots such as Athens and the popular islands of Creete, Santorini and Mykonos.
If traveling around some of the more frequented islands, be prepared to lower your anchor and wait for a spot to moore in the crowded harbors. It's also likely that you'll be sharing those secluded ocean coves with a number of other boats that had the same idea. 
If you'd prefer a more secluded break, the best times to visit Greece are between April and May or October and November. During these months, you will avoid the peak tourist seasons and the sweltering heat, while still enjoying a comfortable and sunny climate and calm waters. If secluded coves for snorkeling, quiet ports and off the beaten track towns and villages are more your thing, this is exactly what you'll be able to discover during these months. 
Tips for a successful catamaran charter in Greece
A first-time catamaran vacation can be a daunting experience, yet once you set sail in the appropriate conditions, you'll feel right at home. However, here are some important tips to follow to ensure you have the best vacation:
Pack light: Remember you won't have as much space as in a hotel room to store all your things, so try to pack light. 
Be prepared to get wet: A catamaran vacation is no place for stilettos and designer handbags, so don't bring anything along you wouldn't want to touch the saltwater as it's likely that will happen. 
Watch out for the sun: Being out at sea, you'll be more exposed to the direct sunlight than on a land vacation. Be sure to pack the right factor sunscreen for your vacation to ensure you stay safe in the sun.
Overall, a catamaran charter is more accessible than many people think. With the right planning and research, no matter whether you're a complete newbie or a seasonal sailor, you'll be sure to have the best vacation in Greece.