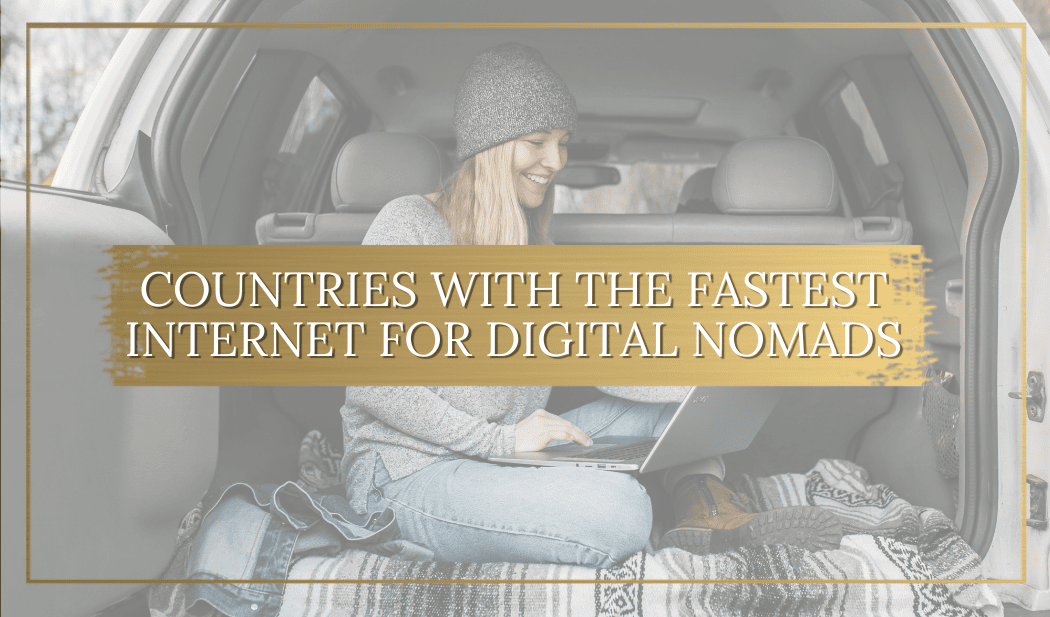 With more flexibility in the workplace for employees to work remotely, the digital nomad movement has really taken off, and more travelers than ever are working from the road.
With commitments like zoom meetings, and the need to upload large files, internet speed has never been more important, and is now a big consideration for expats and digital nomads when choosing their next destination.
So, which countries have the fastest internet in the world to attract digital nomads? If you have the need for internet speed, choose one of the following places.
Iceland
Iceland has some of the fastest and most reliable internet speeds in the world, though as a country which is defined by its wild, rugged nature, obviously the internet speeds decrease as you get further from the main cities.
Speeds in Iceland are around 216.56Mbps and in most places, the WiFi is completely free. While Iceland also has one of the world's lowest crime rates, we do still recommend using a VPN as a digital nomad while in the country, as you would when connecting to any public network as a digital nomad or expat.
A great way to stay connected in Iceland is to pick up a SIM card at the airport, and there are plans that will offer up to 100 GB of data for fairly reasonable prices.
South Korea
South Korea is a great destination for digital nomads beyond its internet speed, though it does boast some of the fastest average internet in the world, at 28.6 Mbps. This means that you can work efficiently and quickly and not have to worry about down time.
South Korea also has a thriving and innovative technology industry, which means that you'll have access to the latest technologies and tools to help your productivity, and allow you to learn and grow within your field.
It's a very safe and well developed country, and with a low crime rate and high standard of living, you don't have to worry too much about cyber or physical theft of your expensive electronics.
Norway
Next up is Norway, which has an average internet speed of 23.5 Mbps. Like South Korea, Norway has a strong fiber-optic infrastructure, and the government has made a concerted effort to ensure that all citizens have access to high-speed internet. Additionally, the country has a high penetration of broadband, with nearly 100% of households having internet access.
That said, a definite downside of moving to Norway as a digital nomad is the high cost of living. Norway is one of the most expensive countries to live in, and one of the most significant expenses here is housing. Rent and property prices are high, especially in the major cities like Oslo. The average rent for a one-bedroom apartment in the city can be as much as $2,000 per month. Additionally, utility costs such as electricity and heating can also be quite high, especially during the cold winter months.
Food is also relatively expensive in Norway, with prices for basic groceries being around 30% higher than in the United States. Eating out in restaurants and cafes can also be costly, with the average meal costing around $20-30.
So you'll need to consider how well your remote position pays!
Switzerland
Switzerland is another expensive country like Norway, though with an average internet speed of 23.2 Mbps it's a great choice for digital nomads wanting fast internet speeds.
Switzerland's high-speed internet is the result of a high penetration of fiber-optic networks and a highly competitive broadband market. You might think this surprising given the country's mountainous terrain, but this is exactly what has led to a focus on wireless internet solutions, which has helped to ensure that even remote areas have access to high-speed internet.
If you are looking to take your laptop and work from a relaxing environment, Switzerland is a great place to head out remotely while staying connected. Some of the best remote places in Switzerland include:
The Engadine valley, located in the eastern part of Switzerland, offers picturesque alpine landscapes, traditional villages and access to skiing and hiking trails.
The Valais region, home to the Matterhorn, offers a range of outdoor activities such as skiing, hiking and mountain biking, as well as charming villages and excellent local cuisine.
The Jungfrau region, located in the Bernese Oberland, is home to the famous Jungfraujoch, the highest railway station in Europe and offers breathtaking views of the surrounding mountains.
The Ticino region, located in the southern part of Switzerland, offers a Mediterranean-like climate and access to lakes, hiking trails and picturesque villages.
The Graubünden region, located in the eastern part of Switzerland, is known for its unspoiled natural beauty, traditional villages, and excellent skiing and hiking opportunities.
Denmark
Denmark has always had a strong focus on digitalization, which has helped to drive the development of high-speed internet. And the country is home to many innovative companies and startups, providing a great opportunity to network and learn from like-minded individuals.
With average internet speeds of 22.5 Mbps, Denmark is a great country for digital nomads. It's a relatively small country with a good infrastructure and it is easy to get around, making it easy to explore and discover new places.
And it's well known for it's high level of work-life balance, with many Danes valuing the importance of having a good balance between work and leisure time. This means that you'll have plenty of opportunities to relax and enjoy their time off, without feeling guilty about it.
Other Countries with Fast Internet Speeds
Other countries with fast internet include Japan, the Netherlands, Hong Kong, Sweden, and the United States. These countries all have average internet speeds above 20 Mbps, and have a combination of advanced infrastructure, high penetration of fiber-optic networks, and a competitive broadband market.
It's worth noting that many of these countries with the fastest internet also have high GDPs, and are generally considered to be developed nations. However, there are also some developing countries that are making progress in terms of internet speeds. For example, countries such as Qatar, United Arab Emirates, and Romania have average internet speeds above 20 Mbps.