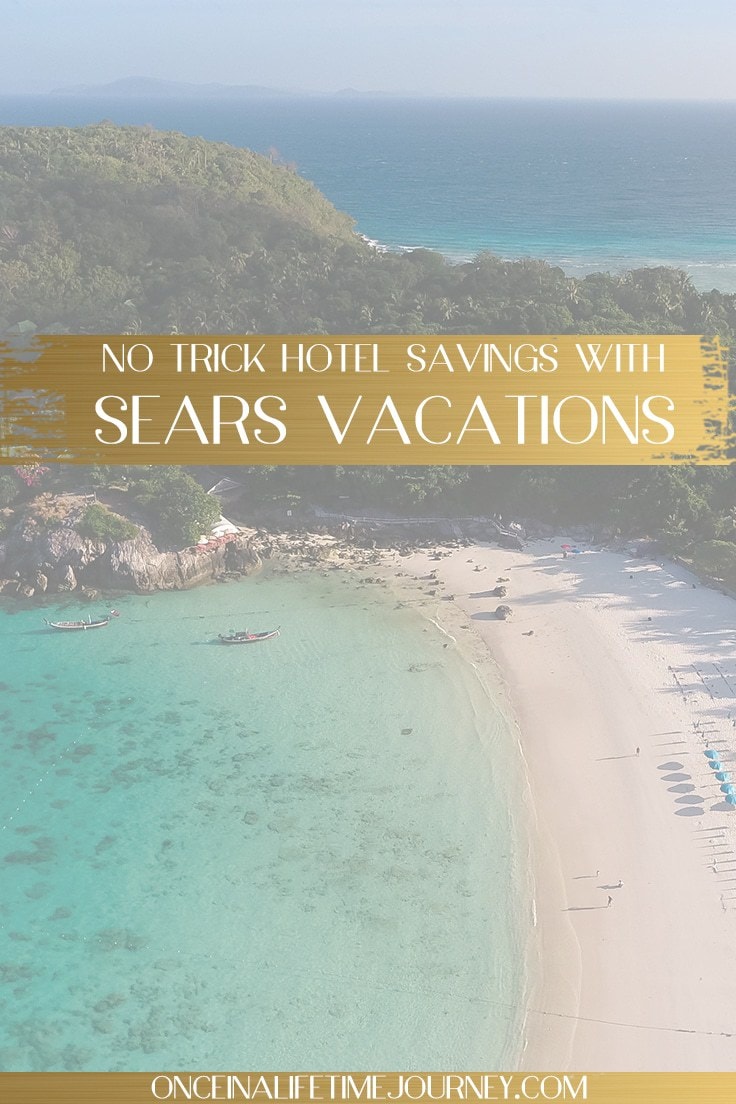 I have been traveling more than 40% of the year for the last 12 years. Historically, this involved business travel for two thirds of the time and personal travel tagged along business trips or separate from it. But regardless of the type of travel, I have always been obsessed with points, loyalty programs and deals. When Sears Vacations approached me to review their Vacation Club, I was skeptical and curious to find what the "catch" was. So I wanted to wait until my next vacation to make a real-life booking using their site, complete with all my detailed research and my independent review of their program's benefits. Here is how Sears Vacations travel club compares to other hotel search engines, loyalty programs and hotel booking sites. And continue reading to find out how I just saved $160 on my next vacation to Azerbaijan.

How a professional in the travel industry researches and books a hotel stay
Given my penchant for travel and the amount of days I spend on the road every year, I have extensive experience using many hotel booking portals, flash-sale sites, travel clubs and loyalty programs of pretty much every hospitality chain. Travel occupies so much of my time and mental space that I go on travel booking sites several times a day. Naturally, I am a savvy and advanced travel site user.
This may sound like I spend my days booking trips. My friends certainly think so. They envy my life of travel. Contrary to what they think, I have a form of a 9-5pm job, and do not spend my days sipping cocktails in Business Class plane lounges.
So then, why do I spend so much time on travel sites? Partially to stay abreast of the industry developments but also because of three reasons related to this review.
Firstly, I am a curious person (my "Things that surprised me from…" articles should have given it away already) and I like to carry out extensive research before booking any hotel or flight.
Secondly, I use a lot of resources for travel planning. When I say a lot, I mean over 30. Each of them has its niche.
Lastly, I take pride and pleasure in scouting for deals and discounts. There is a degree of satisfaction in knowing that, in a world where we are overloaded with information and online booking resources, I still manage to find the best possible rate.
How do I find the best possible deal?
This will sound crazy and a tad OCD, but apart from the usual booking portals and search engines, I always check all of the following:
1. The hotel's sites (they sometimes offer website exclusive promotions)
2. A few members-only portals
3. Discount websites
4. Deal sites
5. Hotels.com because their loyalty program is very generous
6. The hotel chain's loyalty program. I am a member of Intercontinental, Hilton, Starwood/Marriott, Shangri-la, Small Luxury Hotels of the World and Accor
7. My American Express and Mastercard loyalty program points, both of which can be converted into hotel points
8. My airline miles which can sometimes be transferred to hotel loyalty programs
The above level of research and comparison takes a lot of time because the hotel booking world is so competitive and there are so many alternative platforms that they all focus on misleading headline tariffs so you need to go beyond the headlines to understand the fine print: cancellation policy, room type, room views, payment terms, breakfast inclusions, earning of points with bookings, etc.
Every online hotel search engine claims to have the easiest and best available rates. As you can see, this is just not true, or I would only have to check one to get the best deal.
Now you know why each trip takes so long to book!
Looking at the time consuming effort above, does Sears Vacations help simplify the booking process?
Definitively! If you are not using points or miles for a free stay, Sears Vacations seems to be offering the best available rate thanks to the discounts you can get through the travel savings credits.
How Sears Vacations program works
Sears Vacations model is different from all the other hotel booking sites in that it offers discounts to the best available rate (the one you find in all the other hotel search engines) in exchange for travel savings credits, a form of points earned when you make a flight or car rental booking with them or by signing up to their mailing list as they regularly give away saving credits through email promotions.
Let me break this down.
1. Their headline rate is the best available market rate. So even if you don't have any travel savings, they promise to give you the best available rate and will beat any offer you find within 24h which is better, apples-to-apples. I like this, because even if I don't get any discount, at least I am not paying more than elsewhere. I put this to the test and found out that it is true. Where is the catch? There is no catch, but it is true that their inventory does not include all the hotels available. However, this is an issue of most booking sites and only the meta-search portals have a wider range. If you are not set on a hotel and open to various options, Sears Vacations will usually offer the best deal.
2. Travel savings credits can be earned every time you make a flight or car rental booking with Sears Vacations. Where is the catch? You may be inclined to think that they overcharge on their car rental and airfare in order to make up for the "revenue loss" from giving you a discount on the hotel bookings. It could be, but airfare is one of the most commoditised and easiest to compare travel items. As opposed to hotels, a seat in a plane is a seat in a plane, in the designated class and checking whether they are offering you the best rate or not is pretty easy to do. If they don't you should just not book through them. If they do, you will earn travel savings credit towards your hotel bookings. Additionally, Sears Vacations regularly sends offers and coupons to earn more credits via emails, so sign up for their newsletter and keep an eye on it.
3. The more points you have the more you can discount your hotel rate. Although you can never get a free stay because the discounts never equate the whole price, I have found discounts as high as 52% for my trip to Baku. The discounts are usually never below 12% and I have seen them hover around the 20%.
To illustrate, these are the discounts I found in Baku for the dates of my trip (for a double room).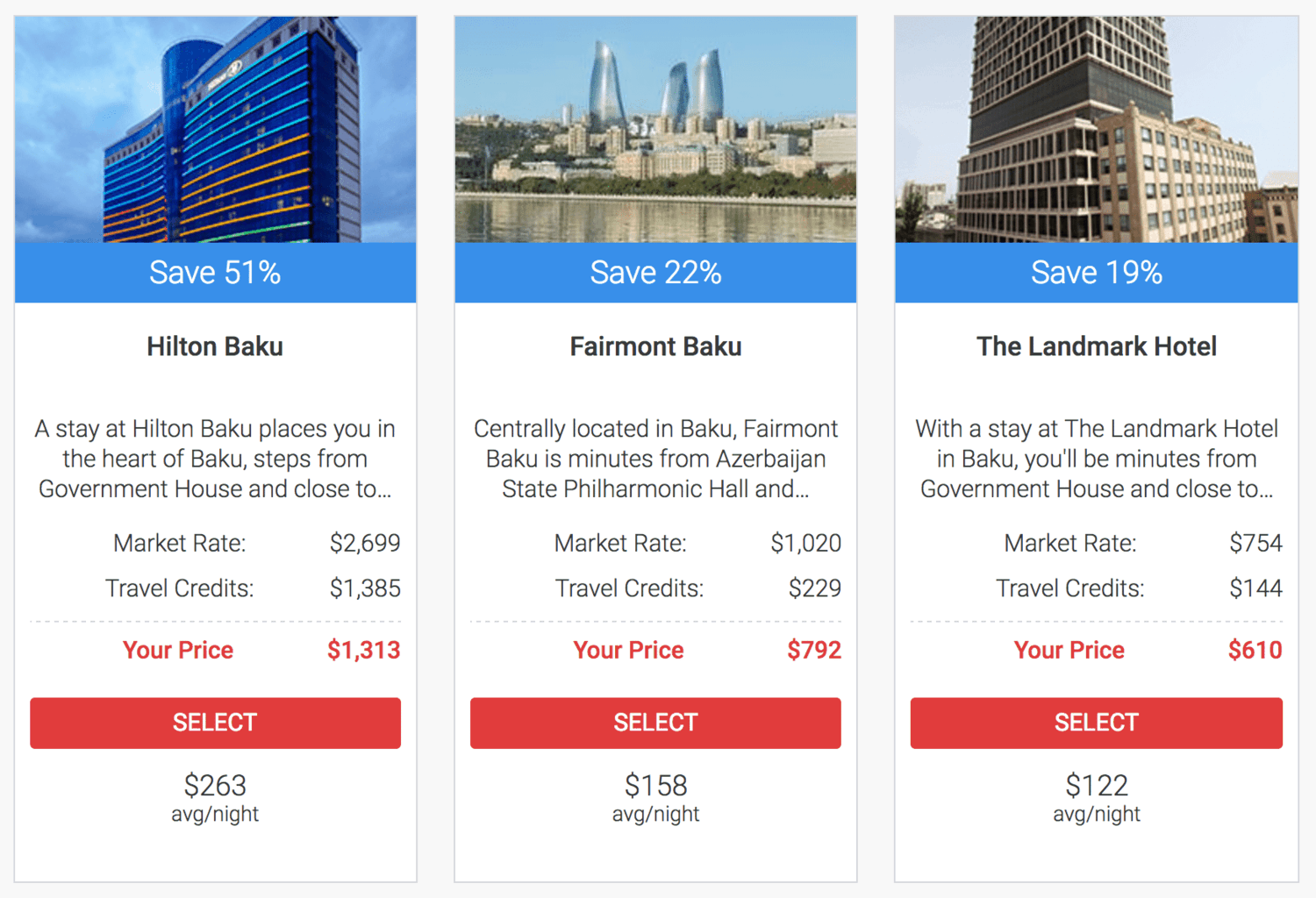 Putting Sears Vacations program to the test
I never share reviews or recommend products or services that I did not use myself. You come here for my opinion and I will always give you my honest one. As follows, my real experience booking a trip to Azerbaijan.
I am traveling to Azerbaijan in August before my birthday with two of my friends, Kate and Edwin. As I am a luxury travel blogger, I first research which are the best luxury hotels in the destination, then find the best rates for the short-listed options. In Baku, the best luxury hotels are the Four Seasons Baku or the, appropriately named, Fairmont Baku Flame Towers.
Price was a determining factor between these two as I could be persuaded to go for the old-world service level and elegant style of the Four Seasons or the prominent architecture and flamboyant design of the Fairmont.
I input my search criteria into Sears Vacations search engine, the hotels' websites and the main hotel booking sites: Hotels.com, Booking.com and Expedia.com. I also checked Hotels Combined because they are an aggregator and tend to have the largest inventory available.
I then looked beyond the headline rate each of these resources showed to ensure that I was comparing apples-to-apples. I excluded rooms that claimed to be for three adults but only had one king size bed (not sure how three adults fit in one bed!)
So I went for:
Bed type: Twin-bedded rooms (me and Kate sharing and Edwin on his bed)

Dates: 2nd to 7th August

Cancellation policy: Non-refundable

Breakfast: Not included

View: The most affordable one, as we were not planning to spend any time in the room

Taxes not included
These are the results that I got from Sears Vacations: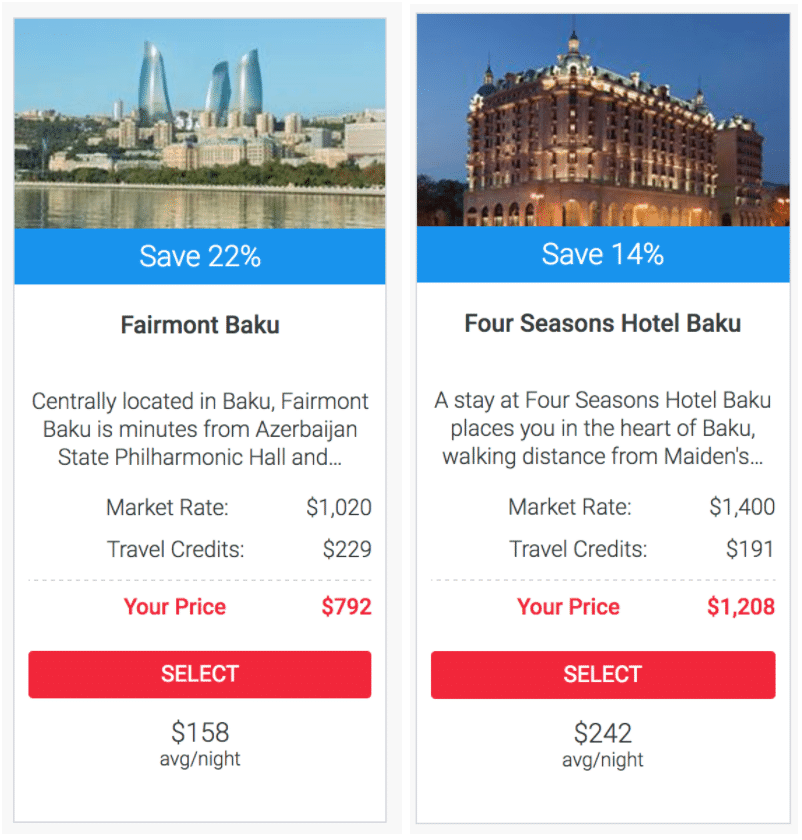 And here is the table comparing all the options and the discounts I could bag with Sears Vacations after I made sure to select the appropriate room type to sleep all three of us. Note that the Hilton did not clearly offer standard rooms for three adults and twin-bedded rooms were not available for the selected dates.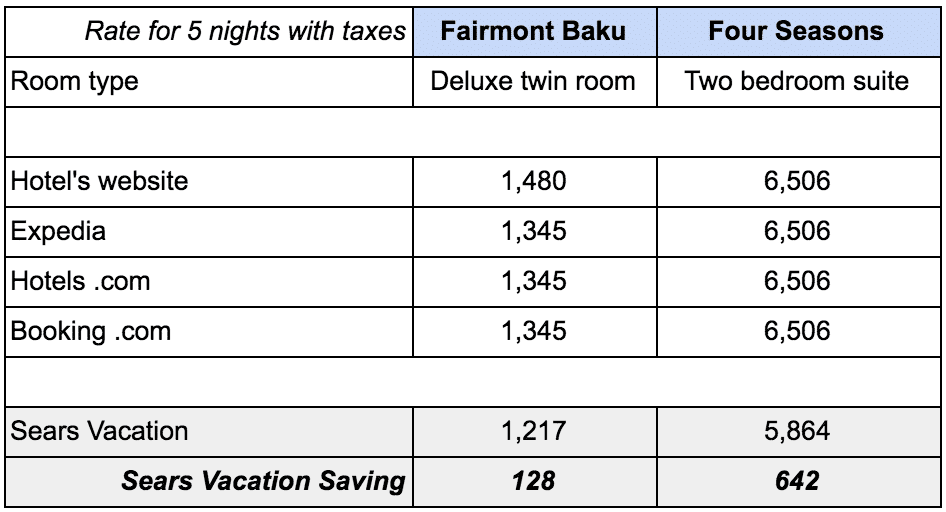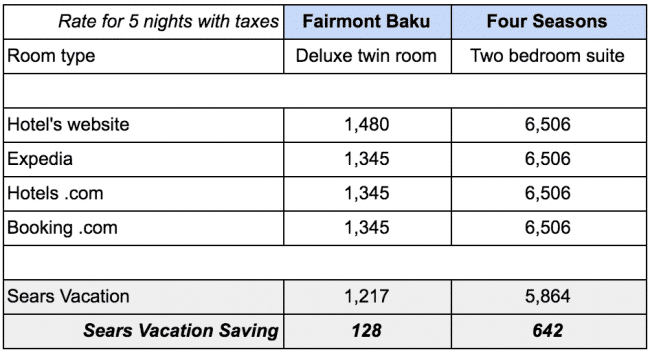 Sears Vacations was getting me and my friends a relevant discount.
The fine print on the Sears Vacations program
If you are still skeptical and thinking that when something is too good to be true… let me end with some additional considerations.
You need to create an account and be logged in to see the discounted rates. You can still use the site as a non-member, but you won't see any discounted prices
Joining the entry level Sears Vacations membership program is free and you will be awarded $100 in travel savings credit so you can already go ahead and make a booking. And save. You can earn additional points by booking your car rental and airfare with them or by joining their mailing list as they give away additional promotional credit through regular email offers.
If you are a frequent traveler like me, Sears Vacations has a higher tier membership called Select Access, which gives you higher discounts and even entirely free vacations. Contact them to find out more as this is an exclusive, by-invitation only club.
Although Sears Vacations has a very wide selection of properties available with over 300,000 resorts and hotel, you may sometimes not find the hotel or room selection you are looking for. This is not an issue that is exclusive of Sears Vacations but of all booking sites. I tend to use Hotels.com when I can't get any discounts anywhere and their inventory is always the most restricted of all the large players.
Bookings are non-refundable so if your travel plans change it is likely that you will not be able to get your money back in full. Either wait until you are sure or book a higher flexible rate via booking engines or hotel websites. I booked when all three of us had our flights and we were one month from the trip.
All prices are in USD and the currency cannot be changed. As I am based in Singapore, my default booking currency is SGD so I changed the prices in the other sites to USD for comparison purposes. Additionally, like in all booking sites, prices exclude taxes, these will be added when you proceed to checkout. The credit savings are applied pre-taxes.