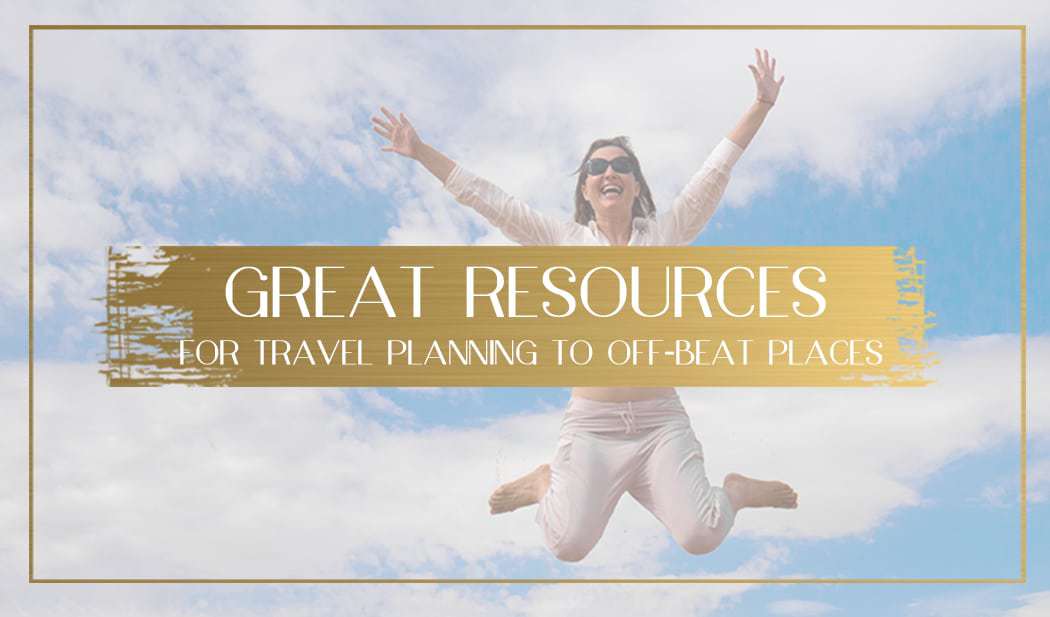 I can't say I am a huge planner these days. Instead, I rely more and more on serendipitous moments, fate and randomness. But I will admit to spending a significant amount of timing looking at places, checking out the best sites and finding recommendations on places to stay and ways to get there. And more than anything, I spend time every day looking for inspiration.
Recently, I have also become very obsessed with getting the timing, and the weather, right, after a few travel mishaps.
But when you travel to remote and unusual places, finding the right resources to plan is essential as the usual mass tools are not enough. Here a few of my most used resources which I check before almost every trip.
1. Skyscanner
I use this site for EVERY. SINGLE. TRIP.
Skyscanner will usually show you all and the best ways to get places and the airlines that will take you there. I never book through them though, they are my go-to research site but never my booking engine. I find that the airlines themselves will offer more flexibility and cheaper flights should you later have to amend the details.
But the truly great feature of Skyscanner is that it allows you to select "everywhere" as the destination from a specific origin thus giving you all the options when you are open to suggestions. Just set dates and origin and you'll get prices for all the routes. This way you can discover some off-beat places that are not the usual suspects.
2. Kayak
Skyscanner has one limitation: multi-journey flights. They are not able to provide this multi-city planner that I so often need so, for that, I use Kayak. I used to be a huge fan of Kayak but about a year ago I started noticing that they were not showing me the cheapest tariffs so I switched to Skyscanner. I always return when I need multi-city itineraries
3. TripAdvisor
I use TripAdvisor for very specific purposes. I find that the tool is great if you understand its limitations but you could go terribly wrong if you don't caveat your decisions.
Why do I say that? It is very hard for anyone to be able to recommend a place to someone else. What we look for, what we appreciate, what bothers us and what makes a place truly special is very personal. What is impossible to control in such review sites is your expectations. I often read reviews for places that I have been to and could not disagree more with the thoughts of the writer. If you are a very well-traveled person it is hard to agree with the average traveler because your expectations are just very different.
But obviously the net's most popular travel site is a great resource for two main purposes:
Research the hotels available: I often go to places where there are not a lot of accommodation options. TripAdvisor helps me find a relatively comprehensive directory. Being such a big site they are likely to catch all options. Don't overlook the less reviewed places which may be either very high-end and therefore receiving less visitors, or simply newer. Nowadays, few destinations are truly undiscovered so the boom in tourism industry is noticeable and new accommodation options pop up every month
Understand what could be the pitfalls of a place. I read the worst reviews and also some of the best ones to narrow down what could go wrong and understand if these are things that would bother me. Places that are regularly highlighted as dirty or as having bad service are big flags for me. As a frequent traveler I have high service standards and bad service is disappointing. However, there are things like how great the breakfast buffet was or the TV channels option that I care less about. Sometimes, destinations just don't have a perfect place or that is above your budget so you have to make trade-offs but it is important to make the right ones for you.
4. Wikitravel
In off-beat places there are times when the only resource available is Wikipedia. Don't get me wrong, I think Wikipedia is a fabulous resource and, their travel section, Wikitravel, a fabulous sneak peek into the highlights of a place. In my case, this is often the only available, and reliable, travel info source. I highly recommend anyone to always start here with the planning because it provides a great overview to a destination and it will be useful to set your bearings.
5. Lonely Planet online
May seem obvious but, aside from their travel guides, the Lonely Planet's online resource is a great way to get a similar high-level view on a destination similar to that of Wikitravel. And most importantly, I use Lonely Planet to find information on the best time to visit a place so I always go to their Weather section, which is always free online, to find out the right month for each place. They also showcase the shoulder season where prices are lower.
6. Luxe Guides
If it's Asia you are visiting or even some cities in Europe and Australia, Luxe Guides are a fabulous little resource to find out the luxe and exclusive things to do, places to eat and hotels to stay at. They are small, fit into your pocket and have done the filtering for you. They are absolutely awesome for one specific use: shopping itineraries. Their app version, although not the most user friendly, gives you the added benefit of constant updates which is tough in the world of travel sites and guides, especially if they specialize in the hard-to-track often short-lived hipster and fashionable destinations which constantly open and close.
Maybe not necessarily a guide for off-beat destinations but for a renewed view on those oft-visited cities and for a local insight into the life of hipsters, artists and la creme de la creme.
7. Hotels.com
I don't use Hotels.com because they have the widest or cheapest inventory of rooms but because their prices tend to be competitive and their loyalty program is the most straightforward and generous there is. You simply get a free night for every 10. So, if I am going somewhere where there isn't a hotel from my two favorite hotel chains for which I closely monitor loyalty points and nights I use Hotels.com to book so I collect free value to be used later.
Also, Hotels.com has a new feature to find a hotel tonight where you are which provides additional discounts on the go. This might not be the most useful site for off-beat destinations because their options are always narrower than Expedia or other hotel sites, but it might wroth checking it once you know where you want to go.
8. Seat guru
This is an extremely useful site to find out the best seat in each flight. We have all been there: last row in economy next to the constant flow of toilet traffic on a long-haul flight and no recline in your seat. I check here first to find out the yay and the nay of every seat configuration and book. Regardless of where you are heading, even for low-cost airlines, Seat Guru is the must of frequent economy, and dare I say even business, travelers.
9. Africa Travel Resource
A fabulous website that I have been using for the last decade. This is the little black book for safari and Africa lovers in general. They are a booking site for safari places, lodges and other camps in Africa but they are also an incredible directory for the best places to stay in the continent. A must before planning any trip to unearth the best lodges in each country, information that is very hard to compile from the many independent lodge operators. Consider it the hotel booking site for Africa lodges.
10. Google Maps
Such a simple resource that is free and available to everyone yet not exploited by travelers as they should. You can even download maps for offline use! Google Maps has an offline feature that can be used anytime anywhere to find your way to a place even if you don't have internet connectivity on the go. It also provides public transportation links within a city, or walking directions and it is a great way to estimate how to go from A to B and how long it will take so you can see if your plan for the day makes sense. Needless to say, it is essential in road trips where all you need is a local SIM card, a smartphone and a car charger to replenish the battery that Google Maps sucks, the only downside of using the app.
I could go on about the Google Maps benefits and features but I suggest you try it in your next trip. I also use it to get a feel for the landscapes and the territory. For example, on a recent trip to Margaret River I used the Google earth feature to see the beaches and the coastal line from the sky and see where it would be nice to watch the sunset from and where there was enough infrastructure to drive through.
And don't forget the street view option on Google Maps which shows you the facade of a building so you can't miss it even if you can't find the number.
11. Bradt travel guides
As you can see I am a big fan of real books. Bradt Travel is an excellent guide for those looking to go off the beaten path. They edit guides for places like Sao Tome e Prince, Sudan, Central Asia or North Korea which are not offered by many other publishing houses and their quality is of very high standards. Don't expect colorful photos but only true advise from people who like going places nobody else goes to. Like me.
12. Social media/ Crowdsourcing
I have recently started leveraging social media to crowdsource tips and recommendations for offbeat places. Because these receive practically no tourists, those who have been or who come from there will be even more inclined and passionate about sharing everything about their countries. I used this for Nepal where I got several recommendations on Twitter about local places to eat, to my delight. I also used Twitter to connect with other travel bloggers who I may know are in the area and, finally, I have used facebook for getting recommendations from my page's fans, for example, for Lahore.
13. AccommoDirect.com
This is one of the best travel accommodation portals in Africa, an area notorious for lacking behind in the online travel world. 
AccommoDirect
has over 15,000 listings in 3,000 unique destinations and over 20,000 listing reviews so that you can make up your mind about the best fit for you.  Some places have instant booking options available which is handy for same-day bookings and ensuring you secure your place right away. Most importantly, there are no booking fees, which is great when compared with other online booking sites. They also have travel agents available who can assist you with your travel and help recommend the best and most interesting places to explore so you are not overwhelmed when the choice is too much and you don't know the place well.