Exploring the untamed frontiers is one of the key tenets of motorcycle adventures. If you are used to seeing a bunch of bikers hanging out at their local hotspot don't be fooled into thinking that is all that they do. More than anything they love an adventure.
[/vc_column_text][/vc_column][/vc_row]
There is a deep-seated wanderlust in all of us but for motorcycle enthusiasts it takes the form of active adventure seeking, a passion that drives them to jump on the next road trip whenever fancy strikes. What was once an esoteric group of people is a dedicated group of global adventurers today. They are no longer misfits but trendsetters, especially when it comes to travel.
Mongolia is one of these untamed frontiers that more and more motorcycle enthusiasts feel drawn to. The high mountain ranges, the massive Gobi desert, the impressive northern mountain lakes and the mythical steppe make an unusual and definitely unbeatable topography for riding, perhaps the reason why new generation riders are so drawn to it.
Motorcycle traveling through Mongolia is an adventure of a lifetime with plenty of challenges thrown in. It's not just a lone ride either for one will have lots of opportunities to see the traditional Mongolian lifestyle up close and personal, an enriching experience for sure. Many riders say that this is a life-changing event. In the case or me and my friends, we found this to be true.
We opted for a guided motorcycle tour with an escort vehicle, a mechanic and all the necessary equipment. Luggage is stored in the car as is the food, water and that friend who does not want to ride a bike. The tour company will provide the bike too.
The route
The route we took offers miles of pristine nature and a variety of unforgettable landscapes. It is a 3,000 km trip so preparations are important. We started off in Ulaanbataar.
Khuvsgul Lake
Located very close to the Siberian border, this beautiful lake is surrounded by majestic tree-covered mountains, the peaks of which are easily over 2,000 meters high. The water is crystal clear and you can actually drink it. It makes a great place to set up camp, go fishing and hiking. The lush green meadows offer great pasture for the yaks and horses who you will find peacefully grazing away.
Shine Ider
Located about 839 kilometers from Ulaanbaatar this is the Mongolian village experience. Soak in the local colors and some local food if you have time. If not then simply ride through and stop at Moron.
Moron
This is a great place for a break. Beautiful and cosmopolitan, Moron has some great cafes and restaurants for travelers to try out. Most of them are great so you can't go wrong with the food. You won't have internet connection in the wilderness and it's a good idea to check in with the rest of the world here.
Terkhin Tsagaan Lake
Next is the Terkhin Tsagaan Lake located amidst the Khangai Mountains in central Mongolia. Popularly called the White Lake, it offers incredible views of the Suman River and the Khorgo volcano.
Otgon Mountain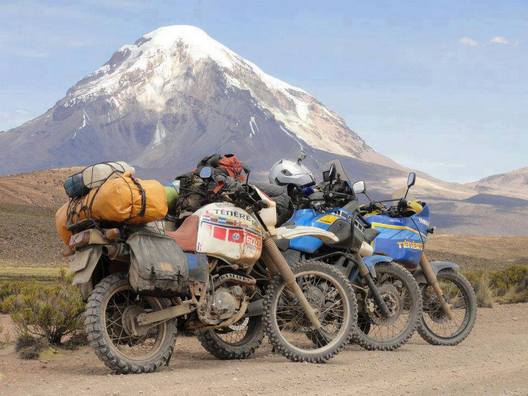 This is one of Mongolia's important destinations, not just for travelers but for locals too. It is considered to be the spiritual abode of the Gods which makes it a sacred place. It sees annual pilgrimages and it is a strictly protected area so permits are necessary. Tour operators can help with this.
Zorgol
This is yet another sacred place. This granite rock is very rich in medicinal plants and became important to ancient cultures as the basis for their mystical stories. Along with majestic peaks and mountain springs there is also the beautiful Khagiin Lake adding a picturesque landscape.
Tsetserleg
The capital of the Arkhangai province, Tsetserleg offers a good break with urban thrills like hotels and restaurants, theaters and an airport. It is located on the northeastern slopes of the Khangai Mountains and presents the perfect blend of nature and culture.
Tsenher Hot Springs
Hot springs coming straight out of the earth's core at 86.5 degrees centigrade makes for a great splash, literally! After a hard day's ride, jump right in to soak up the desert sand. All our pains simply vanished. A must stop.
Kharkhorin
This is the ancient capital of the Mongolian Unified Empire which has stood still for over 10 centuries. The Erdene Zuu Monastery was built without a single nail in the 16th century.
Orkhon Waterfall
Falling from a height of 20 meters, the falls make for a breathtaking sight.
Tukhun Monastery
Located on the border of the Uvurhangai and Arhangai provinces, is one of the most beautiful monastery complexes in the world. Built in the 17th century, the monastery is as serene as it is beautiful. Hop off your bike here and take the two-hour trek to experience the splendor closely.
Gobi Desert
Known for its extreme climate, the Gobi is one of the greatest deserts in the world. The terrain is incredibly treacherous and unless you are a veteran Mongolian traveler, traveling alone is not advised. Instead of sand dunes you will find more rocky outcrops amidst the gravel plains.
The huge barren expanse covers large parts of the southern Mongolia. It's extremely hot in summer (+40°C) and extremely cold in winter (-40°C). Yet, if you are planning to travel in spring or fall you have to contend with very strong winds, which can be very dangerous especially for motorcycle riding. Despite the barren landscapes, the Gobi National Park is one the largest biospheres in the world today.
A motorcycle tour through Mongolia is a life-changing experience but also a tough one. Even for a veteran motorcyclist the terrain can be quite a challenging. The environment is unforgiving, the terrain harsh and the climate at times unpredictable. Without proper road signs and decent maps getting lost is easy.
There are places where the GPS will not work so you need to have really good navigational skills, the old-fashioned way. If you are traveling without a guide you need to have more than passable knowledge of fixing and maintaining bikes while out there. Otherwise you will be stranded and in this terrain that can have fatal consequences. But if you are prepared for the worst then this will one of the best cross country motorcycle travel experience ever.
Important facts for a Mongolian motorcycle adventure
Renting a motorcycle
You can rent bikes from several tour operators. The price ranges from about $30 – $130 per day depending on the type of bike you choose, the length of your trip, the miles covered and of course the deal you choose. Opt for a Japanese or Russian bike because these work best for the Mongolian terrain.
You can also buy a motorcycle but it is a little more complicated and definitely a more expensive proposition. The bikes need to be registered at the local police station. You need you passport and driver's license as proof of ID. Registration fee, proof of contract for selling/ buying of bike along with original registration documents are needed. If you want to sell the bike before you leave the country you may not find a buyer in time. Chances of losing money are higher.
Luggage and accessories
This is an exotic and esoteric land so if you are expecting to get whatever you desire you may be disappointed. It's a good idea to have all your basic necessities as well as accessories for your bike prepared well ahead. You can carry the former with you and pre-order the latter if you want with a good tour operator.
It is a good idea to check and see if your travel insurance covers these motorcycle tours. Some insurance companies may prefer tours with guides rather than self-driving which is risky in such harsh terrains.
If you don't know the language request for a translator to join you on the tour. They can accompany the tour guide and the cook back in the service car. Also, if you are not too much into exotic food then make sure that the cook knows how to cook continental or simple American dishes. Trust me, you don't want an upset tummy in the middle of the desert.
Some tour operators include the price of hotels in the package. But if you want to save money then do some research and book them yourself. Just make sure that the hotels are located close to each halt so that you don't waste time going up and down.
Motorcycle tours in Mongolia are very different from the rest of the world. They need more expertise, professional skill, comfortable riding gears and experience with the terrain to make them a success. It is a good idea to opt for a professional company with excellent reputation. They will not only offer well planned tours but also ensure excellent rider safety and security.
This article was contributed by motorcycle enthusiast Ania Todua. She is an avid biker and has been riding a motorcycle from an early age and has her own motorcycle equipment online store, Motorcycle House. You can also find her on Twitter.