This is an advertorial post written in collaboration with Nustay who reached out to me to test the site and share my thoughts with my readers and join their team of #NustayExplorers. My opinions expressed here are unedited and honest as always.
In the second half of 2017 I started to help brands connect with Influencers to get the word out about their amazing products and services. I set up a Digital and Influencer Marketing Practice and started to liaise with brands. This has now become a major income stream for me (Did you know that you can read my Monthly Income Reports detailing what I make every month here?) and also a great source of fascinating conversations with travel entrepreneurs and brands. This is the case with Nustay, a Danish members-only hotel booking site that promises discounts of up to 72% and is one of the most interesting travel startups of 2018.
Nustay's story
Nustay was founded by Mathias Lundoe Nielsen, a Danish entrepreneur, in 2014. After a failed romantic trip to Thailand with his girlfriend where they managed to book a family-friendly resort filled with noisy children, he realised there had to be a better way of finding personalised hotel deals. He had spent a lot of time researching, he told me, only to end up at the wrong place based on incorrect information. The couple were looking for a secluded and private resort and found themselves in the midst of jumping and screaming children on their holidays. This was the origin of Nustay.
Mathias shared this eureka moment with me as we sat at a cafe in Dubai where I was sorting out some paperwork related to my property there. After our chat he was heading to the Porsche showroom to pick up his new Cayenne. I joked with him, thinking he was not serious, but he indeed was. Curious as to his impressive track record at the young age of 28, I investigated further.
Mathias had been an entrepreneur since the age of 17 when he founded an ecommerce fashion store in Denmark under the name of his father because he was too young to own a company.
It takes a few minutes chatting to him to realise that he is persevering and passionate, two essential components of any successful entrepreneur. And they pay off.
Nustay has managed to attract an unknown amount of capital I estimate to be over the $3 million mark from well-established professionals and organisations like the Danish serial angel investor Magnus Kjoeller, ($375K), British-based venture capital fund AppIdea.com ($125K), Danish comedian Casper Christensen and seed venture capital firm Seier Capital. There are other undisclosed Middle Eastern investors as the company is based between Dubai and Denmark.
Nustay is not Mathias' only success to date. He showed me a picture of a large 100,000 Dirham ($30,000) cheque he won at a furniture store raffle. "I did not believe it when they messaged and emailed me but I finally spoke to someone on the phone who convinced me it was not a scam, he knew my name, my phone number, my email address". Lucky for him, his furniture purchase gave him a few entries in a raffle and he was the genuine winner. Winning the raffle paid for the furniture in his new Dubai penthouse.
But it is not just luck that has brought Mathias to where he is today, but his ecommerce experience from an early age and his involvement in all types of ventures, from Bitcoin to startups in a variety of segments. Mathias is also passionate about Big Data and has given talks about the subject, including a TED Talk in Denmark. With Nustay, he intends to disrupt the travel industry.
Nustay's discount promise
For the traveler, Nustay promises unprecedented and unmatched discounts at 1.2 million hotels across the world. As soon as my friend Robert, who introduced me to Mathias, told me the underlying driver for these discounts I was skeptical. Having the lowest hotel booking prices available is a claim I have heard many times before.
The travel industry is so connected, so automated and so integrated in the world of ecommerce and the margins are so small for distributors that none of the booking sites like Agoda, Booking.com, Hotels.com or aggregator portals can offer any significant discounts. The differences you may see when you do quick hotel searches online are related to whether taxes are included or not and whether you are comparing the rates for the same rooms.
When you normalise rates and compare apples to apples, there are marginal price differences across booking platforms. I know this because I spend hours researching every day and because I have spent over 140 nights away every year for the last 12 years. Believe me, if there is a deal site or a hack, I would know it.
So what does Nustay promise and how do they find the cheapest hotel prices in the market?
There are a few elements of Nustay's unique selling proposition that differentiates them from other booking sites, here you can read about them all.
Nustay is a members-only site
That means that their discounts are not available to the general public but only to its members. This way, they are not directly comparable with all the sites out there and the hotels are more willing to provide them discounts than to the open booking sites because these discounts are only available behind closed doors. There are a lot of members-only booking sites so that is not new.
Nustay offers personalized discounts
That is, my discount is not the same as yours or the next person. They do this by asking you to fill in your profile. This is Mathias' way to resolve his Thailand's disappointment: if you are looking for a romantic getaway, the system will suggest a bigger match for hotels that are aimed at couples and a lower match for hotels that are family-friendly.
The rate of matching is used to sort the options shown in each search and the type of trip you are looking for can be used to filter the results. See my results when I search for a 5 star hotel in Venice and I sort results by price. These are the most expensive options available not the cheapest.
At the bottom left you can see my match with each hotel and the price of the lowest alternative available. At the top left you can see the discount in amount and %.
I first sorted by price and looked at the most expensive hotels available as they would usually be the most luxurious and, if I traveled to Venice, I would definitely want to super-splurge with a heart-stopping hotel. A few caught my attention:
1. The Belmond Hotel Cipriani, of course, who wouldn't want to stay at the historical and legendary luxury hotel? It was definitely on my top list even before I clicked the "Search" button.
2. The Gritti Palace was one I also looked at because I was not familiar with it. Turns out it was also an interesting option for me and I found myself spending some time on their site reading about it.
3. I then looked at the Hotel Danieli as well (although not appearing as one of the top-4 most expensive it was no. 5).
Interestingly, when I sorted the hotels by "% match" instead of "Price" to see what Nustay considered to be most suitable to my preferences (based on what I entered in my profile I valued), their sorting ended up showing the majority of the hotels that I had investigated originally and a couple others that I then looked further into out of curiosity.
Nustay claims that, the higher the match, the higher the discount they are able to offer guests so if you are the best guest for a hotel and a hotel is the best fit for you, then you should get a better discount than with a hotel you are not a good fit with, to discourage you from booking the wrong hotel and making sure hotels are filled with happy guests.
This personalized discount system is a way to distribute the overall commission from Nustay among its customers in a way that is most adequate to everyone. Mathias explains that a guest that books a hotel most aligned to his or her travel preferences is also more likely to recommend it to others and to spend more time on site, thus increasing the spent potential for the hotel. Happy customers means happy hoteliers.
A leaner organisation
Through the use of Big Data, Nustay is able to automate a lot of the work that other booking sites need a lot of people to manage. By staying leaner, they can distribute a higher percentage of their commission among their customers instead of pocketing it.
Mathias tells me that their team is much smaller and efficient and that the use of Big Data has managed to get machines to do the work that humans have to do at the other OTAs (Online Travel Agencies – basically booking sites).
Trying out Nustay – My experience comparing Nustay with the largest hotel booking sites and the hotel websites themselves
When Robert first told me about Nustay, I was skeptical and I did not believe it to be possible. I have heard that prerogative before and there was always a catch and trade-off that made the site less valuable to me than using Hotels.com which gives me about 9% discount through its loyalty program.
Bottom line is: if I cannot get at least 10% cheaper rates than what Hotels.com gives me, I will not use the site because Hotels.com gives me a free night for every 10 so I always use them unless they are not available or are more expensive by 10% or more.
So as soon as I heard about Nustay, I registered, filled my profile and tested it out with a few searches.
In order to fill your profile you can connect your social media networks and enter other information related to your preferences and likes.
After doing that I wanted to check if Nustay's promise of cheaper prices was real in a way that did not require me to spend hours comparing many hotels. How could I do that quickly and unquestionably?
I decided to check the prices of hotel chains I know never provide discounts, are not usually available on booking sites and tend to have the same prices all the time: Aman Resorts and Six Senses.
Both Aman Resorts and Six Senses are brands I love, trust and I am passionate about. I have stayed at a lot of their properties across the world and they never disappoint me. I also know the rates of their properties pretty much in all of their locations. They both have standard nightly rates between $800 and $1,200 depending on the resort, and run regular package promotions with additional value added (free massages, room upgrades, half boards, excursions, etc.) but rarely (if ever) discount their prices. They are also not commonly available for booking outside of their websites (although Six Senses is generally available on most booking sites). By checking Nustay's prices for Aman and Six Senses in Bali I could know immediately if Nustay was cheaper or just another gimmick.
I logged into Nustay, typed Bali and waited for the magic to happen.
To my surprise, Nustay's Aman prices were indeed lower, in fact, they were over $100 lower per night than Aman's website. As Aman is not available for booking on any other hotel booking site, this was unusual, unique and also a find I was very glad to discover.
I then checked Six Senses and the same thing happened. I was stunned and I let Mathias know when we met. At that point I was truly curious to hear how this was possible, but more on that later.
But I could not stop there, my skepticism didn't let me leave it at that.
What did I do next?
I went on to check the prices for a few more of the best luxury hotels in the world because these are the hardest to find a discount for – they don't need them, they rarely give them, and they are often fully booked.
How I went about comparing Nustay prices with the prices at booking sites and hotel websites for the best luxury hotels in the world:
1. I picked specific dates well in advance to ensure I would pick offers hotels sometimes make for advanced bookings. I looked at dates 60 days ahead. I set on 15th to 18th March 2018 for all searches to make sure they were comparable.
2. I made sure to avoid public holidays when rates may be skewed and availability tougher.
3. I used HotelsCombined to gather the rates from all the booking sites and verified the prices by clicking and going to the booking sites. In the cases where one of the larger booking sites was not available, I picked a third option with the best prices. This could sometimes be Trip.com, Priceline.com, Expedia, etc.
4. I checked each of the hotels' websites and looked for the best prices on the same dates.
5. I ensured that I was comparing prices for the exact same rooms with the same conditions: bed only or bed and breakfast.
Did Nustay's hotel discounts provide the cheapest rates at the best luxury hotels in the world?
See my uncensored selection below and check for yourself.
| Hotel | Country | Nustay price | Hotels com price | Booking com price | Other prices (Agoda, HRS, Hotels.de, Amoma, etc) | Hotel's website price | Nustay discount |
| --- | --- | --- | --- | --- | --- | --- | --- |
| Keemala | Thailand | $501 | NA | $575 | $575 | $559 | -14.84% |
| The Oberoi Rajvilas | India | $1,082 | $718 | $818 | | $823 | 33.59% |
| Jade Mountain | Saint Lucia | $1,695 | $1,696 | $1,872 | | $1,776 | -0.08% |
| Four Seasons George V | France | $983 | | $1,171 | | $1,178 | -19.13% |
| The Chedi | Oman | $456 | $473 | $513 | $513 | $513 | -12.48% |
| Aman Tokyo | Japan | $957 | | | | $1,113 | -16.00% |
| Alila Jabal Akhdar | Oman | $507 | $536 | $536 | $536 | $537 | -5.73% |
| The Strand Yangon | Myanmar | $580 | $568 | $568 | $497 | $598 | 14.37% |
| Mandarin Oriental Tokyo | Japan | $708 | $827 | $874 | | $863 | -16.85% |
| Taj Lake Palace | India | $709 | $752 | $752 | $752 | $751 | -6.08% |
| Four Seasons Bora Bora | French Polynesia | $1,350 | $1,407 | $1,442 | | $1,427 | -4.22% |
| Six Senses Laamu | Maldives | $1,135 | | $1,173 | $1,173 | $1,185 | -3.35% |
| Conrad Rangali | Maldives | $1,029 | | $1,099 | $1,113 | $1,111 | -6.84% |
| One&Only Cape Town | South Africa | $725 | $920 | $924 | $903 | $963 | -24.55% |
| Victoria Falls Hotel | Zimbabwe | $1,037 | | | $1,079 | $998 | -4.08% |
For each of the best luxury hotels above I compared the hotel's site with the prices on the major booking sites of Agoda, Booking.com and Hotels.com and calculated the discount vis a vis the lowest price available elsewhere.
I picked a variety of countries, in case there were geographical disparities, and I am showing you all the results above. I did not remove any hotel for which Nustay did not have cheaper prices, this was the complete list of luxury hotels I checked based on what was coming to my mind.
As prices are not the same for everyone and they have an expiry date of around 25 minutes (after which you need to refresh the page), here is proof that these were the prices I got.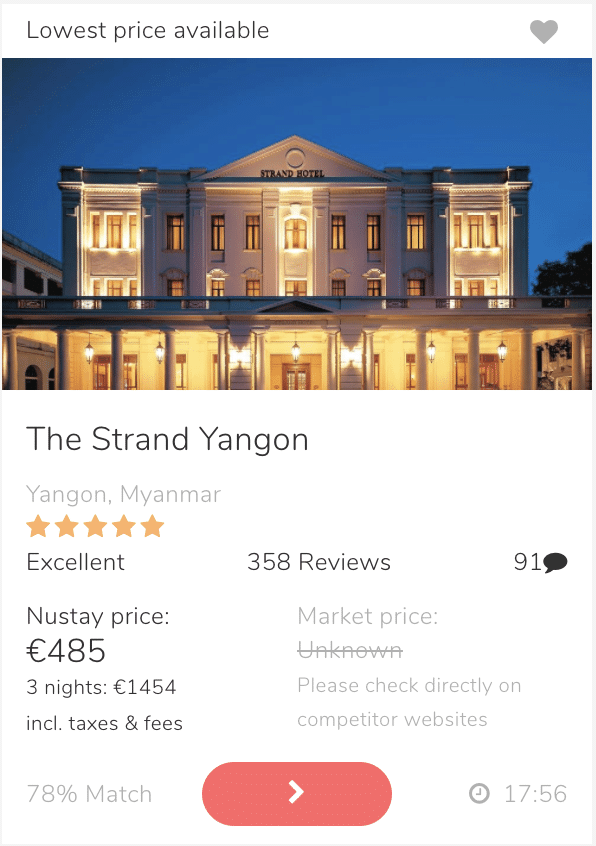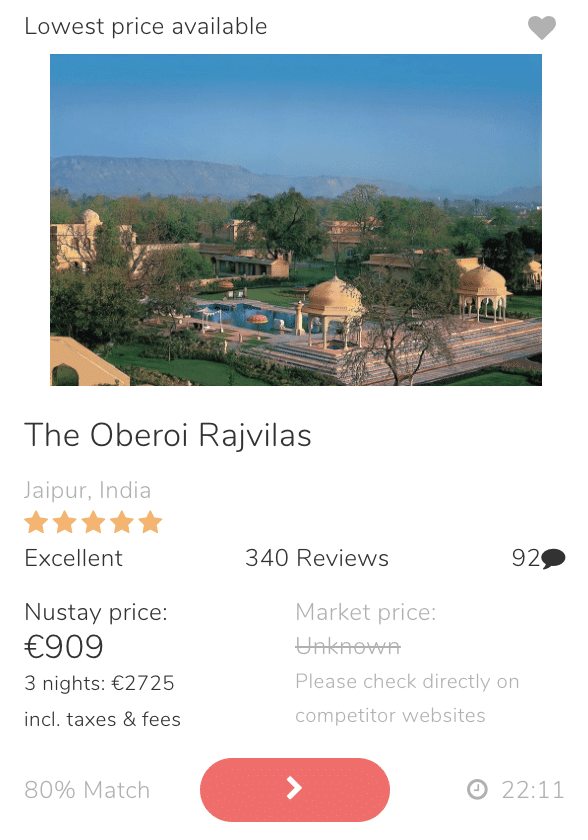 The results were stunning. Nustay was cheaper in 80% of the cases and only more expensive in two out of the 15 hotels I checked.
What I found most shocking is that Nustay's discounts were often highest when compared to the hotel's website.
Other things I liked about Nustay
The ability to filter hotels based on my preferences is something I have been looking for for a long time. I stopped going to TripAdvisor because of its blanket approach and mass-market positioning. Usually, the opinions of most people are not representative of what I would think of a place.
For a review or opinion of a hotel to be useful to me I need to ask peers and those with a similar view and preference to mine. I like luxury hotels, secluded, special and unique. I do not like ostentatious and over the top hotels and would trade a chic hotel in a remote place with personal touches and fantastic stargazing over a chandelier clad gold plated hotel. I am also much more demanding than the average on account of my long-term luxury travel profile, and much harder to impress, as my partner often reminds me.
Verdict – Does Nustay have the lowest hotel prices in the market?
After a good day of research and comparison I can testify to Nustay's prices being the lowest available.
In some cases, their discount was as high as 25%. Even when it was only 5%, when you are talking about a $500 ot $1,000 a night hotel, 5% can be a significant amount.
I would certainly recommend anyone reading this to sign up to Nustay (which is free) and use it for your next holiday. I will make sure to always check them as part of my extensive hotel research process.
The fine print: Things you need to know when using Nustay
Nustay is new, it is young and it is growing and learning every day. That means that things are not 100% working as intended and that, sometimes, pages can take a bit of time to load.
Given the prices and discounts above, it pays to wait for the page to load but in a world of instant gratification you may be tempted to close the window and move on. Don't, wait and you will be rewarded.
The more information you fill in your profile the better they can match you with a hotel so you spend less time filtering and checking all the options and get the largest discount. I linked as many social media profiles as I could to maximise my discounts and also filled my preferences.
Prices on Nustay are inclusive of taxes which is great. I hate going to Agoda and having to then click all the way to know what the real price is. Some of the hotel booking sites are so misleading you can't even see the price until you have entered your credit card details. I find this frustrating and a very dodgy sale practice so I love that with Nustay what you see on the main results page is what you get.
What are you waiting for, go on, join Nustay and make sure to get the best hotel prices for your next trip.