As part of an ongoing monthly series, I round up stories from travelers all over the world as they share a moment where their faith in humanity is restored. This is the 6th post so far, and all these short stories help to remind us to lend a helping hand to a stranger whenever we travel, just in case we may one day need some help from others as well!
Travel Stories Part 6: Claire
Recently TEFL trained (in China), passionate about the power of education to change lives and hopes to make a difference on her journey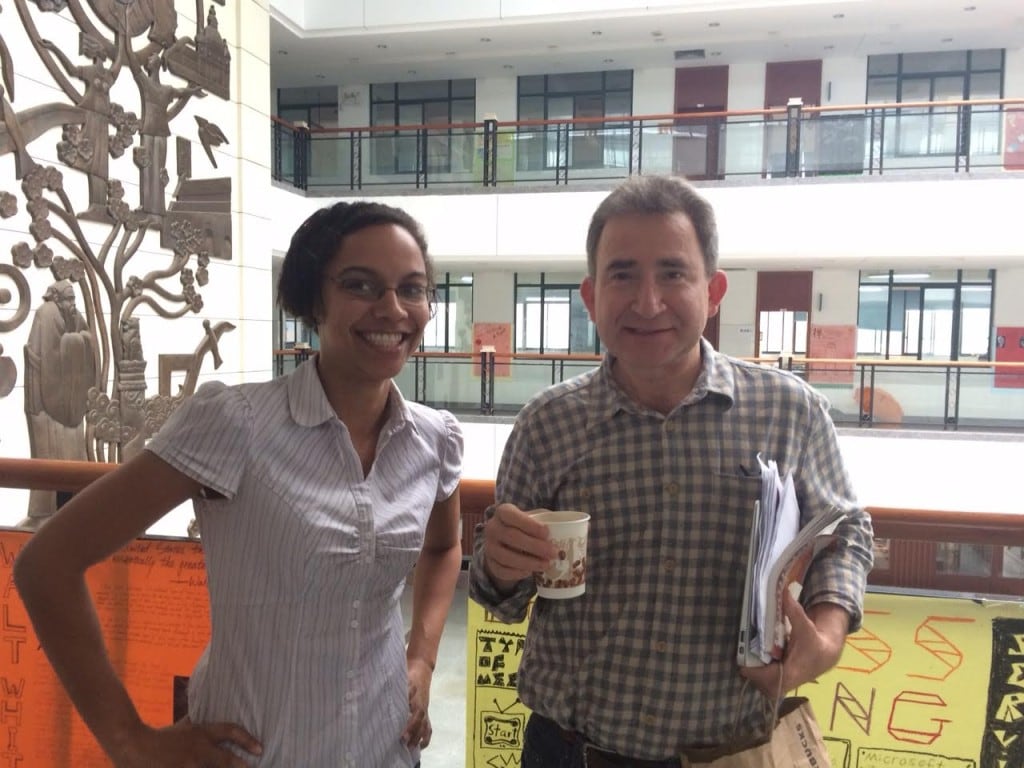 Moving to China with my fiancé in February 2015 had been a big step. We had literally given up everything we had – sold a flat, our cars, all our possessions as well as quitting jobs that paid exceptionally well. We had done this to become interns with no pay (living expenses only) & only carrying what we could fit into our rucksacks. The dream was to get trained up, experience living abroad and then use this as a way to travel around the world for a year or more.
However, on arrival to a very cold school (it was winter AND the heating was broken) in a town which seemed in the middle of nowhere, where we couldn't easily communicate we felt lost. We felt we'd made the wrong decision and we yearned to be back at home in the familiarity of our old lives.
Tony however, was that little glimmer of hope. He joked about the heating never getting fixed (it never did!), made us feel welcome and at the end of what must have been a long cold week showed us around that very night. Off we went after work trailing behind him as he led us to the bus stop, explaining how the buses worked and even paying our bus fare. As the bus engaged in a race against time to get Downtown (Chinese bus drivers seem to just slam their foot on the accelerator, honk their horn & hope for the best), Tony explained everything we would need to know, pointing out key places along the way. Even now in his ultimate act of kindness he makes us a burrito breakfast to an old secret family recipe at least once a week as he knows we are on a tight budget (as interns) yet miss the variety of food in the UK. There's no kinder guy in all of China!
Claire (one half of Claire & Anthony from To Love To Live) is a UK trained Physics teacher who gave it all up to travel the world. I will be embarking on a trip around some of the poorer communities in Asia to utilise my skills to provide free education to those who need it most. Read more about their adventures in China here.
Travel Stories Part 6: Lindsay Penrose
High school teacher from San Francisco
I started getting nervous in Chicago.  I had traveled before, but rarely by myself.  And never without some sort of in-country contact.  So as I waited for my connecting flight, I got nervous.
And then the flight attendant told me that my checked bag was not on the plane.  "Nervous" became an understatement.  My backpack hadn't made it, she said.  Ground crew is off duty in the middle of the night, she said.  Ground crew always keeps the same schedule — that bag never could have made it onto that flight, she said.  Thanks a lot, Travelocity.
I flew anxiously all night, then ran around Antigua in a panic when I forgot the location of my bus connection.  But I finally made it to Lake Atitlan.  And I was home.
As the days passed and it became evident that the backpack was not in fact coming "tomorrow," I found myself surprisingly content.  I had fun without my stuff because Kate insisted I use her shampoo and razor.  I had fun without my stuff because Aaron gave me his dress from the hostel's weekly drag party.  I had fun without my stuff because four different women offered me their swimsuits.  I had fun without my stuff because six of them — six people I'd just met! — got back on the boat with me on Day 9 to finally track down my backpack in town.
Everyone kept telling me how much they admired my good mood.  But it wasn't me; it was them!  It was the way these brand new friends unreservedly and tangibly supported me that truly made the bag a nonissue.  I will forever cherish my memories of Lake Atitlan, the hostel, and those great people.  That one outfit I wore for 9 days, however — I'm ready to get rid of that.
Lindsay has always loved traveling during school breaks, and is now very excited to travel around the world on a year-long sabbatical!  You can follow her adventures here.
Travel Stories Part 6: Fabian Asam
One-third of the trio behind Threesomewithtwins.com
The bikes Fabian and his friends used to travel round the world
We had this idea to go on three old used Honda Africa Twins around the World. We wanted to do it in various stages of 2-4 weeks length. So we three set out to find the right bikes. When we all had one we fixed them up as best we could and for the rest we just relied on the fact that the Africa Twin is a reliable bike. On our first day through Austria we abruptly awoke from our naive believes.
It was within the first 400 kilometers of our journey, in a stormy rainy night in Austria when Basti's Bike suddenly came to a complete stop. We had noticed a couple of kilometers before that his lights were allot darker than ours. But since it was pouring down we decided to go on and try to fix whatever was broken at our hotel. Sadly we never got to it. Denis was riding behind Basti when suddenly flames came out of his exhaust and Basti's bike had gone completely dark. We pushed his bike into someone's driveway to have a look at it. It turned out his alternator had broken so he simply ran out of batteries. The owner came out of his house and to our huge luck was nice enough to let us mend our bike. He even saved us by offering us a jumper cable! After switching batteries and jump starting one of the bikes we were lucky to be able to head on to our overnight location.
If it weren't for the kind house owner we would have been in big trouble because we had forgotten to bring our own jumper cable. Walking out at night and helping some stranded bikers is a big act of kindness for me and we will surely never forget it!
Fabian's team consists of his brother, Basti, his long time elementary school friend Denis and himself. They all share the passion of riding motorcycles and the adventure spirit of exploring new places and cultures. On their journeys, they have learned much about other peoples lives and are glad to be able to call some of them new friends.  For more stories about their journeys, click
here
.
Travel Stories Part 6: Juliana Chia
Recent university graduate and environmental youth activist
During the winter, I usually take the chance to use my phone during train/bus rides where it is much warmer inside so my fingers won't go all numb from the wind. I love scrolling through the photos I had just taken, or if I'm lucky enough to have wifi or am connected to the internet, you can find me responding to texts and emails, or getting updates from social media. This happened in Paris, back in 2013.
As usual, I was on the (smelly) train using my phone when a very tall don't-you-dare-mess-with-me kind of guy approached me and said something really quickly in French. I have some understanding of the language, but definitely cannot speak it as quickly as the natives do, and often have to pause and process what has been said before I can come up with a response. So after he rambled on about something I was completely unaware of, I immediately kept my phone in my pocket and told him "pardon, je comprendre pas" – french for "sorry, I don't understand". To my horror, he got really offended and I couldn't understand why, but before I knew it he was pacing up and down the train carriage and started picking up bits of trash from the ground and hurling them in my direction. I remember having to duck from a gross food container. Trust Parisien trains to always have litter! He also came really close to me and made these huge slapping actions with his hands – I seriously thought he was going to hit me at some point.
I didn't have any where to move – the train was travelling from the airport into the city and was not stopping at every stop, and this was very early in the morning so the trains were quite empty. Thankfully, there was a very kind person sitting close to me who shouted to this angry litter-hurling man "C'est cool, elle est une touriste" – french for "it's cool, she is a tourist". He was basically telling this angry man to stop throwing things at me because I didn't mean any harm, but wait – what exactly had I done to him anyway? After those few scary minutes, I curiously asked this other man what that incident was all about, and why/how I had pissed him off. Apparently, because I kept my phone right after he spoke to me, he was offended and thought that I was keeping my phone just in case he was gonna grab it from me and run. I was extremely stunned, because I only put my phone away to avoid appearing rude to this stranger and genuinely wanted to know what he was asking me! Luckily for me, the kindness of this other stranger on the train had helped to pull me out this sticky situation. Otherwise, I'm not sure if I would've made it back into the city centre without having trash on me. Ugh!
Juliana has an insatiable appetite for travelling, and tries to take a trip whenever she has some free time. She blogs about her travels on her personal blog – Chiary Round the World.