Part VII of this monthly series sees another set of travelers from all across the world share their interesting stories of moments which restored their faith in humanity. Traveling is all about meeting new people and sharing once in a lifetime experiences with them, so this series hopes to inspire you when you travel and to remind you to lend a helping hand when you see someone else in need.
Travel Stories Part 7: Donovan Leong
Recently graduated from university in Singapore
After an excruciatingly long 37h bus ride from Ulanbaatar, we finally made it to Khovd in Western Mongolia.
The bus ride was filled with ups and downs, literally, as 50% of the way was made of unpaved gravel roads. There were wailing babies, children sharing seats with their mothers and the whole aisle was packed with boxes and luggage so you had to climb over to get to your seat. Nevertheless, it was an interesting experience to travel the local way. Due to the language barrier, the passengers helped us order food every time we stopped for meals. We all shared snacks and played card games to pass time.
We were the only two non-locals on the bus and the locals were quite interested in knowing more about Singapore and why we chose to go to Khovd, a town off the tourist map. Sadly, there was no intriguing reason, we were simply trying to exit through the border in Western Mongolia to Urumqi, China. When we arrived at Khovd it was 2am and we did not have a place to stay. Luckily, we met, Turuu, a Mongolian boy who could speak some English and who invited us to stay at his place. Turuu was coming home after 9 months away in India.
We ended up staying three nights at Turuu's place. We were very grateful to him and his family for showing us Mongolian traditions such as sheep slaughtering, cooking meals for us and bringing us out to the local market and nearby mountains. He was very hospitable, repeating that we should make ourselves at home every time we expressed our guilt for abusing his hospitality. The only thing that we could offer in return was a Singaporean meal, which we cooked one night, an an ope invitation to visit Singapore one day. On the last day of our stay, he helped us bargain for a shared cab to the Mongolian border and we had an emotional farewell with his whole family.
Donovan describes himself as young, wild and free. An adventurous traveller who can live off a backpack and be on the road forever, it's a pity that reality beckons and he has to start work in the corporate world soon. His next target is Antarctica and he hopes to visit every single country in the world during my lifetime. Read about his travel stories here.
Travel Stories Part 7: Simone Lye
One half of luxury and adventure blog, The Aussie Flashpacker
I've been lucky enough to travel with my family, on my own, with friends and with my partner, Dan. At the end of my first year of university, myself and three friends decided to go backpacking around South East Asia for our summer holidays. We had planned the most incredible trip throughout the year & saved vicariously to set off to Thailand after Christmas.
Our first stop was Ko Pha Ngan for island hopping, adventures and the famous, crazy, Full Moon Party on New Years Eve. After a few drinks on the beach and the midnight fireworks, we headed up the beach to the fire skipping rope & fire slide area. Unfortubately, as I went down the slide I landed really awkwardly on my ankle and broke both my tibia and my fibula.
I needed to get to Ko Samui for surgery as there were no real hospital facilities on Ko Pha Ngan. So many strangers helped me along the way whether it was holding my hand, helping me into the 'ambulance' which was the back of a Ute, onto the ferry, all along wishing me luck and prayers. My friends continued traveling, as I wanted them to, and I spent eight days in hospital before I was finally allowed to fly home. A lovely Canadian girl whose boyfriend was also in hospital, befriended me and bought me girly magazines and chocolate. We sat together and chatted for hours. It was welcoming to have someone to speak in English to and who took such good care of me.
I was devastated to be going home at the beginning of our trip but I've now accepted that it just wasn't meant to be that time. These small acts of kindness showed me that there is good people everywhere you go.
Simone is a twenty-something Australia girl. She currently lives in the UK with her partner Dan whom she met in South America. Her favourite thing in the world to do is travel and explore the world and she loves to inspire others to do the same through her luxury and adventure travel blog, The Aussie Flashpacker.
Travel Stories Part 7: Brian & Noelle
An adventurous Irish couple who lives to travel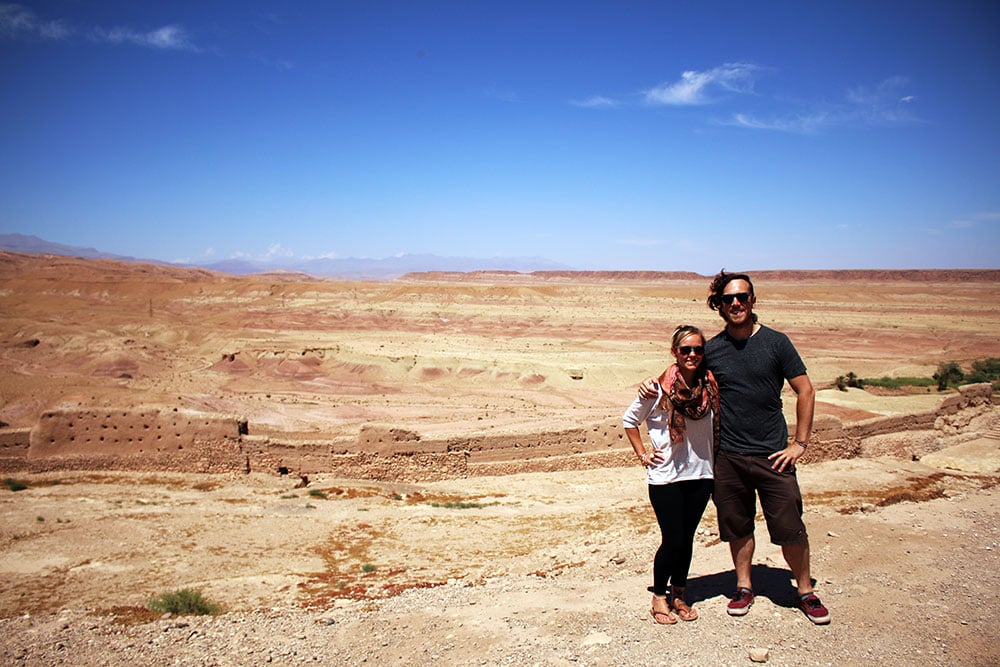 Arriving to Haridwar during the Kavad Mela (also called Kanvar Yatra) was probably one of the most unforgettable travel experiences we have ever had. We didn't know that this massive festival was taking place and maybe if we had we might have reconsidered our travel route.
During Kavad Mela millions of devotees to Lord Shiva make a pilgrimage to the holy cities of Haridwar and Rishikesh to collect water from the holy Ganges to use for the Shivaratri the following year. Haridwar is the most popular location to gather this holy water.
A couple of kilometres outside the town, we saw groups of orange clad men walking barefoot on the roadside carrying colourful shrines and chanting – what was going on? We were about to find out the hard way.
There were seventeen million pilgrims and us in this town and, because of this, all transport had been re-routed and changed to some degree. The bus dropped us four kilometres from the bus station. After dragging our bags through the throngs of people, many of whom were from small villages and had never seen a foreigner before, we luckily found a hotel to stay for the night.
Soaking up the atmosphere was an intense experience and at one stage police men had to diffuse a group of onlookers that had gathered around us just observing the two foreigners. The next morning we had to move on to Rishikesh as we had booked in to stay in an ashram on the banks of the Ganges. We started to make our way to the bus stand to catch the thirty minute ride. Our ordeal began as soon as we left the hotel; a cycle rickshaw took us to what was normally the bus stand where we were once again surrounded by curious onlookers. Enquiring about the bus to Rishikesh was a dead end; auto-rickshaw drivers swore blind that there was no bus and we should go by rickshaw, no surprise there. Bus drivers told us there was no bus, anyone we asked said there was no bus. It was as if there was some plot against us getting on a bus to Rishikesh.
Then, as if out of nowhere, a trendily dressed guy with big sunglasses who spoke excellent English approached us. There was a bus to Rishikesh but it was leaving from the other side of town because of the festival. He and his brother were college students and saw we were in a pickle. They were our shining light in a very stressful morning. They not only haggled with the rickshaw driver on our behalf but they also came with us, walked with us some of the way through the crowds and brought us all the way to the temporary bus stand on the other side of town. They refused to accept so much as a bottle of water in return. They even helped carry Noelle's bags in the sweltering heat!
We waited with our guardian angels at the side of the road for the bus to arrive. What we thought was going to be a thirty minute journey ended up taking a total of ten hours, due to traffic restrictions for the festival and us having to walk an incredible amount when we got to Rishikesh with all our bags. If it wasn't for our guardian angels, I don't know how we would have got out of Haridwar. These two strangers really went out of their way and helped us out of a jam all out of the goodness of their hearts. Thanks so much – you guys really restored our faith in humanity!
Brian and Noelle left Ireland in 2009 to teach English in South Korea and have since become digital nomads. They have visited over 30 countries, across 5 continents and have no plans to stop anytime soon. Through their entertaining stories, fun videos and stunning photos, they hope to inspire others to live a life of travel. Follow their journey, Wandering On, here.
Travel Stories Part 7: Sejal Patel
An outgoing introvert who quit her incredible corporate job to travel
I was nearing the end of a (mostly) solo (mostly) unplanned month-long trip to Bali and decided that a spa day was in my future. (If you've never gotten a 4 hands massage–do it. You'll thank me later). After four hours of being pampered, I emerged from the treatment room to go back to the reception area where some fruit and ginger tea would wrap up the experience. I noticed him as I walked out–something about his energy and presence just made me smile–and I sat down on the opposite end of the couch and dug into my post-bliss spa snacks. During this time, one of the women presented me with my bill to which I handed my credit card to charge, and went back to enjoying my relaxed state. It didn't last long–she came back to let me know that the card wasn't going through. I had two choices: go to the nearest ATM and get cash or call the credit card company to figure out what was going on. I wasn't in a rush so thought I'd try calling before heading out in search of an ATM. During this time, the mysterious stranger with the warm aura was finishing up his post-spa snack and heading out.
Just as I was getting connected to Skype, he walked back in.
"Hey, is everything ok?"
"Yeah, just having some issues with my credit card. I'm about to call them and figure it out." I said, confidently,
"Do you have cash?"
"Not on me, I need to go to an ATM. I'll figure it out."
"How much is it?"
"450,000INR (~$30 USD)."
"Don't worry about it, I got it."
(Wait, what?!) "Omg, that's really nice of you but I have the money. I appreciate it though!"
"I insist. I haven't done anything nice for someone yet today."
I was flabbergasted. I asked him if he had PayPal, if he was staying nearby, so I could bring him the money, if I could buy him lunch or dinner or something–and every offer was met with a refusal and a gentle ask. "Just pay it forward."
The funny thing is, I'm the person who would do something like that. I enjoy doing unexpected nice things for people just to see them smile. And now the roles were reversed. Through conversation with my "angel" as my mom dubbed him, I found out that he was also from Canada, he was about to start yoga teacher training in Bali and that he seemed like a genuinely beautiful soul. I still smile at the memory and feel this rush of warmth when I think about it–there are good people out there.
Sejal is an outgoing introvert who quit her incredible corporate job to take a leap of faith to travel, entering the world of 'funemployment'. While she's still figuring out what she wants to do with her life on a daily basis, she says yes to opportunities that cross her path, especially ones that help her tick items off of her bucket list. Follow her adventure at Someday Starts Today 
here
.
Travel Stories Part 7: Becky
English teacher in Japan
I was on a city bus headed towards Senado Square but, for some reason, the driver suddenly stopped and was shouting at everyone to get off. I had no clue where I was. There wasn't a taxi in sight. No one would help me, most just ignored me and others just brushed me away with a rude hand gesture.
I was actually starting to get worried and scared. I was hopelessly lost in Macau with not a single word of either Cantonese or Portuguese to help. It really must've shown because a cheerful, older woman about my grandmother's age came up to me and gently put her hand on my arm. She saw the sightseeing map in my hand and, when I pointed to Senado Square, she tossed her head back with a huge smile as if to say "Oh yeah, I understand," and motioned for me to follow her.
We walked for about 10 minutes through quiet, residential back streets with small businesses. She was trying to tell me (with gestures) to keep my purse close to me and closed, to be careful where I walk, to watch my step, etc. It was pretty adorable.
She, a complete stranger, saw that I needed help, and was so happy to help me. I'm so sad that it didn't even dawn on me to get my picture taken with her, but I'll never forget her face. I'm sure that she understood how grateful I was despite our language barrier, and I hope that people show her the same kindness. She restored my faith in humanity.
Originally from northern Ontario, Canada, Becky has been teaching English in Japan since Sept. 2010, and she take every possible opportunity to see more of the world. Her blog, Trekking with Becky, is full of tips, tidbits, and treasures about her travel experiences and living in Japan. Trek with her here!
I am in the look out for similar stories to be featured in the next release. If you would like to share yours, do email it to marpagesvidal@gmail.com.